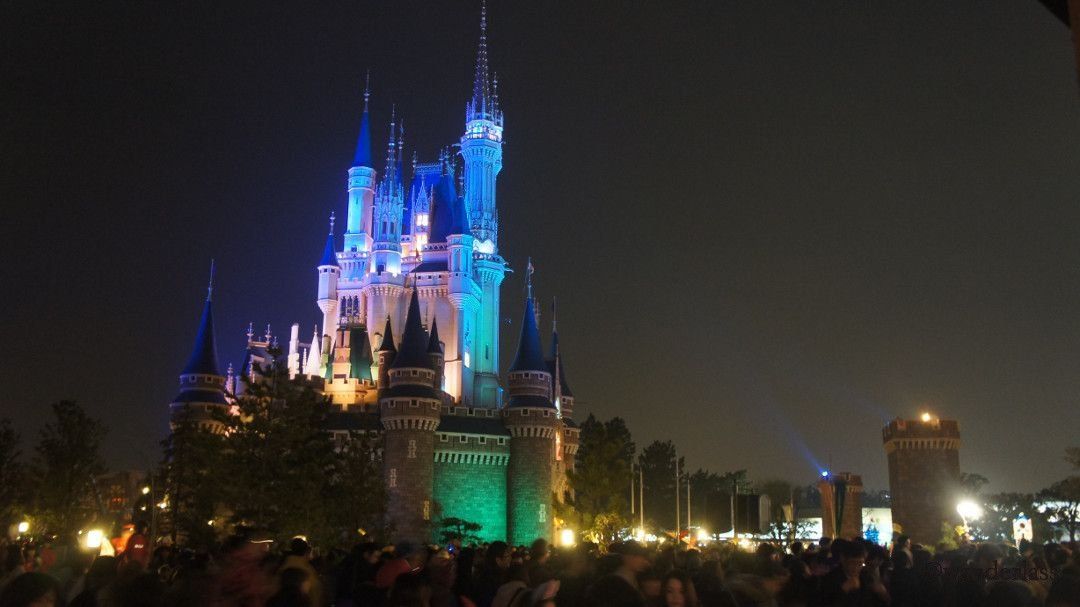 The iconic Cinderella castle at night
I'm a Disney kid and growing up I think I have watched most Disney classics like Cinderella, Aladdin, Sleeping Beauty and so much more. I admit that I have also dreamt of Prince Charming and I wanted to dress as a Disney Princess. Maybe too old for that but not for Disneyland!
This is my second Disney experience. The first one was in Hong Kong Disneyland but I enjoyed Tokyo Disney more as I was able to get to more rides and attractions. This was because we went to Hong Kong during the school break which made it more crowded with kids. Lesson learned: do not go during a school break.
Disneyland or Disney Sea? Why Not Both?
You need two days, one for Disneyland and another for Disney Sea. Each of these sites are just too big even for one full day.
It's a huge theme park so better get a map or else you'll lose a lot of time looking for the next attraction. These maps are free and I got mine at the entrance, it's hard to miss so you'll get one. Each park has several attractions that I find impossible to explore all. I will also just share my favorite spots, otherwise, it will take an entire book to discuss each!
Wander Tip: You can get a discount if you buy a 2-day passport but this should be used in 2 consecutive days.
---
Tokyo Disneyland
---
The iconic Disney castle welcomes you after arriving from the Disney train line. The one in Tokyo is Cinderella's castle. Other Disneyland castle's are for the other princesses. For instance, the castle in Hong Kong Disneyland is Sleeping Beauty's. And these look different. Cinderella's castle looks narrower and taller than that of Sleeping Beauty's castle.
According to our reliable source, Wikipedia, this Gothic revival architecture was inspired by a number of real and even fictional palaces in Europe which includes the Fountainbleu Palace, Versailles Palace, Castle Neuschwanstein among others.
Fantasyland
Disney parks are divided into different areas with different themes based on the books and movies. The castle is part of Fantasyland. Exploring the park felt like going to different countries and even a different world or dimension. Here in Fantasyland, you will see the Disney Princesses, and you have to watch out as they can just be out any time. Here's Belle a.k.a Sleeping Beauty with her no-longer-beast prince.
Most were kiddie attractions here like It's a Small World ride which didn't matter to me, I still rode it because everyone's a kid when in Disney. My favorite attraction here was the Philharmagic which is a 4D musical of various Disney stories. It was in Japanese here but any Disney kid will be familiar with the songs and stories.
Westernland
Then to Westernland which is the wild wild west of America, I cruised via the Mark Twain Riverboat. From here, you get to see the park at a higher point as it is a double decker boat. The surroundings look like a real river too.
Other "worlds" in Disneyland includes Toontown where you will see Mickey and the gang hanging out, Adventureland which is from the Pirates of the Carribean, Critter Town which is really small and mostly has those water rides, and Tomorrowland if you want to see futuristic rides like the Space Mountain. I didn't memorize all these, but I still have my Disney map with me for my reference.
There are a lot of things to see and do but event you shouldn't miss is the light show at the Cinderella Castle just before the park closes. The Disney princess stories are projected to the castle so the castle changes colors every time. It's like watching a film mapped on a castle plus fireworks.
Everyone was here so it was difficult to get a good view unless you've been waiting since 5pm or 6pm (some do!). This is the best spot I got with a tree covering part of the castle. Although the shadow of the tree adds a mysterious effect on this fantasy show.
---
Tokyo DisneySea
---
I went to DisneySea on another day. What stands out upon entering is the Mediterranean harbor. Unlike other Disney parks, DisneySea doesn't have a princess castle at its entrance. Instead, you will see Mount Prometheus volcano at the center from Disney's 20,000 Leagues Under The Sea. The volcano looks more dramatic at night when you see it spewing smoke.
Mediterranean Harbor
The submarine ride here is my favorite attraction because it really gives you that feeling of being in an expedition submerged in very deep underwater. You will see (man made) corals, underwater creatures and treasures and scary electric creatures in the underwater world. Another favorite attraction here is the Journey to the Center of the Earth which is like a roller coaster ride inside Mount Prometheus a volcano. Such a thriller!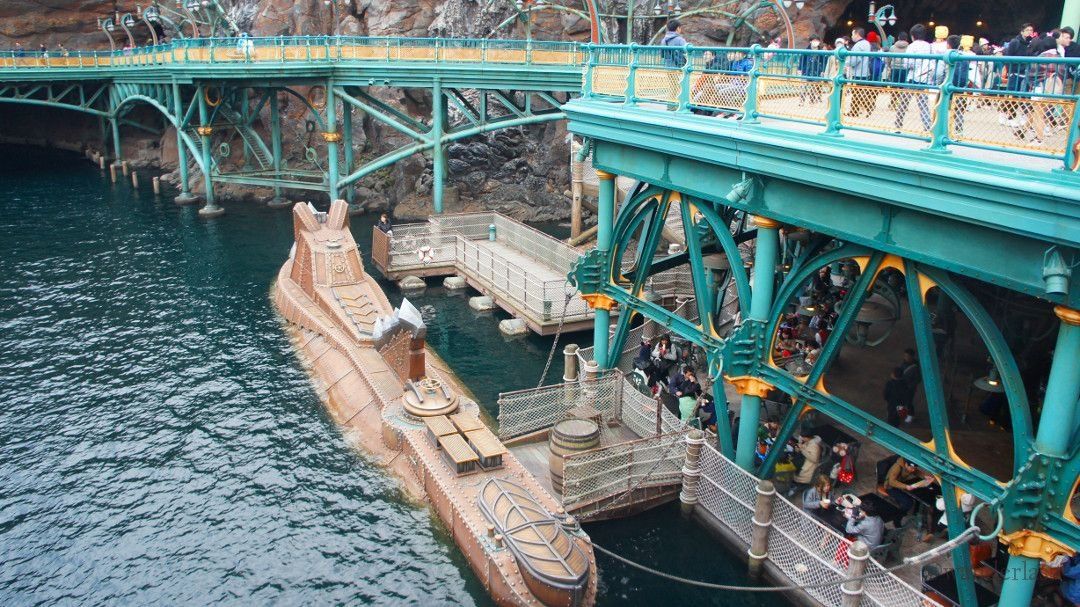 Since this is a different world, you will easily be transported to Italy with this Venetian Gondolas.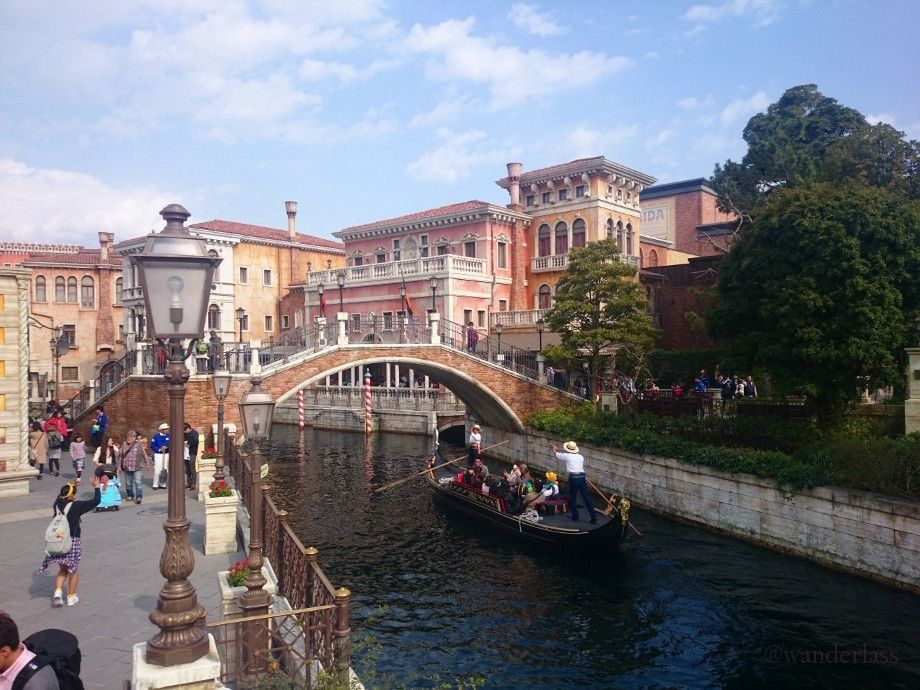 Arabian Coast
From Italy, it will just take a few minutes to arrive at the Arabian Coast and that's without the Magic Carpet ride. This part is based on the story of Aladdin and princess Jasmine. I enjoyed the Magic Lamp Theater here which is a musical theater and features the Genie, some illusions and actors. This is also in Japanese but it's easy to understand the story with those animated actions.
Mermaid Lagoon
The Mermaid is one of the first Disney movies I have watched as a kid so I cannot miss this one. Good thing I didn't see Ursula because she scared me when I was a kid. I love the coral design and it looks even more colorful when you go inside. The rides here are for really small kids like toddlers so I didn't push myself in those cute rides.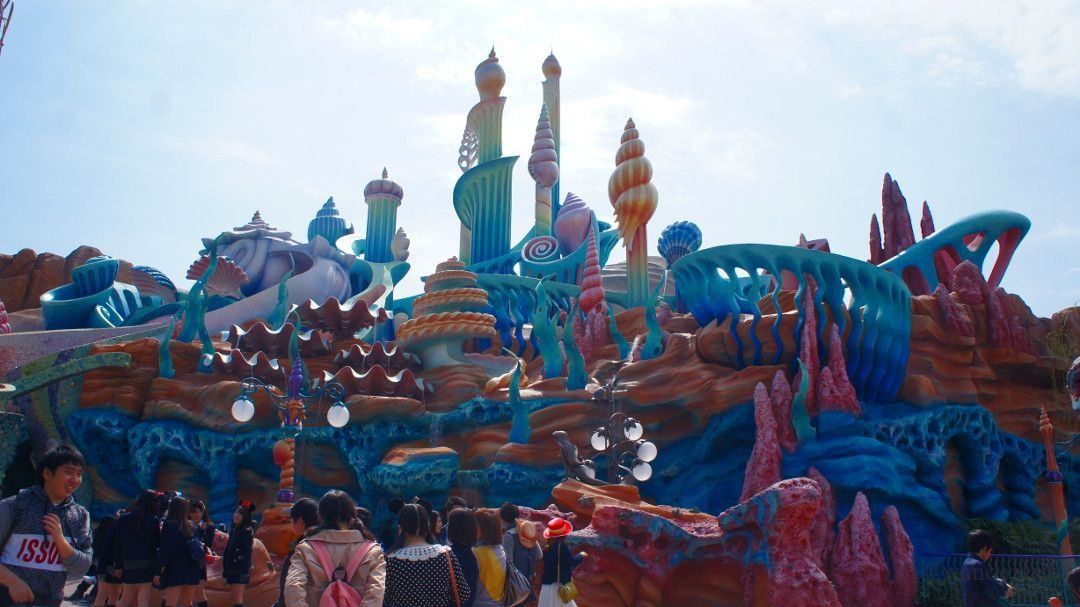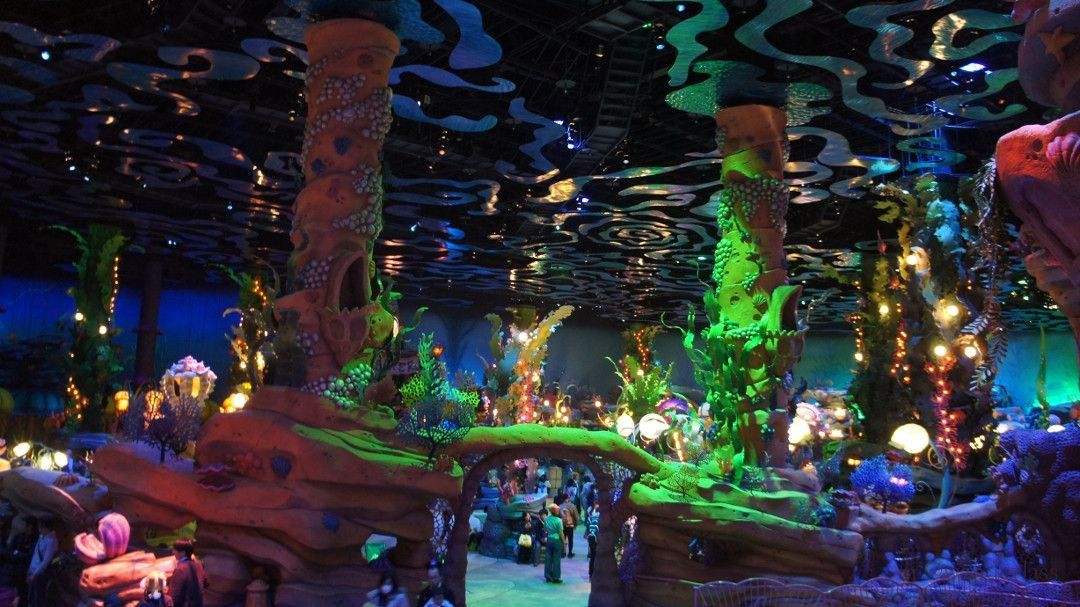 American Waterfront
We're still in Asia but everything feels and looks western in this area. There are several restaurants and shops in this part which are too expensive so I just watched the A Table is Waiting musical show. Here you will see Mickey, Minnie, Pluto and other casts dance with the living furniture and dining utensils from the Sleeping Beauty story.
Other "worlds" include the Lost River Delta where you can dare enter the Raging Spirits haunted house. It's a very tall mansion because inside it is a ride where you will be suddenly dropped from one spooky floor to another. Scary! You are seated with a seatbealt on so it is safe.
I checked out all other sub-parks but I didn't have photos because I have to enjoy these rides and forget my camera for the meantime. Other areas you should check out are the Port Discovery and like the others, this is a water attraction but with a futuristic theme.
Similar to Disneyland, a culminating event here is the light show just before the park closes. This is held on the waters of the Mediterranean Harbour. You shouldn't miss this extravagant showcase of lights and fireworks as Mickey and his good fellow Disney characters fight evil.
My gif isn't that sharp but that's Mickey Mouse emerging on top of that light show vehicle (I have no idea what that thing is called).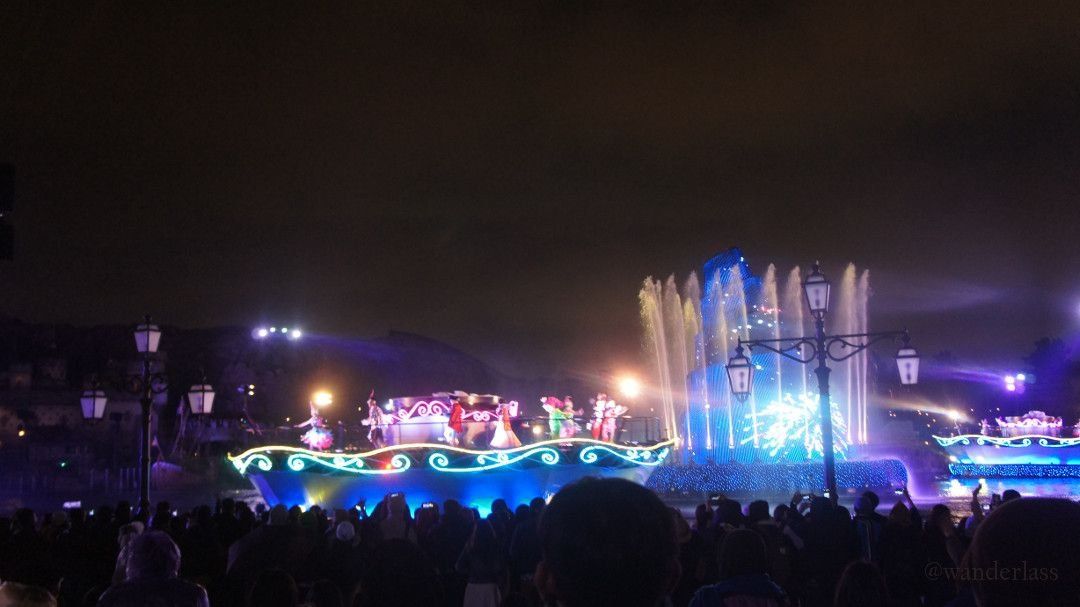 Hunting for Pluto
Pluto is my favorite Disney character because who wouldn't like a cute orange dog? In those 2 days, I was on the look out for Pluto and I wasn't disappointed. I saw him several times and look, he even held my hand! We had to move places for the picture taking and he grabbed my hand. I know that he's a mascot dog but I was still starstruck! It's a kiddie dream fulfilled.
Which one is better?
I really cannot compare these Disney parks because both offer something different. It would be best to see both. However, if you have a limited time in Tokyo, I would recommend the DisneySea because you can see similar themes in other Disneyland parks in other countries. The Tokyo DisneySea is quite unique. Unless you're a Disney princess fan, then you will enjoy Disneyland more as you will not see the princesses in their long gowns walking on the wet pavement of DisneySea.