I am not a local of Banaue but I stayed there for almost a month that I learned a lot of useful information that I'd like to share to my readers. This place is popular for the Banaue rice terraces, however, it seems most travelers just do a stop over at the rice terraces viewpoint and then head over to other more popular places like Sagada.
I also love Sagada but Banaue is also destination on its own. I was happy I made it my home base before I left the Philippines. It is a good base on the Ifugao mountains especially for digital nomads who rely on the internet to work and for anyone who needs some convenience such as having a local market nearby.
I lay out some of the few things you can do that will take more than a day, and some practical information.
THINGS TO DO
Batad is part of Banaue municipality. From the town center, it will take an hour by jeepney and another 20 minutes trek to reach the village. There is no network coverage in Batad that is why I was in Banaue when I needed to work.
If you are carrying a heavy luggage, you can leave it at your lodging in Banaue and bring only your valuables and things you need to Batad. It would be better if your lodging is connected to the place you're staying in Batad, they are more likely to accommodate keeping your luggage free of charge.
I stayed in Banaue Greenfields Inn which is connected to Banaue View Inn and Ramon's homestay. The owners are siblings so they kept my luggage for a week while I stay in Batad.
If you cannot carry all your stuff, you can also hire a porter. The porter charge varies depending on how heavy your luggage is.
I have written a number of blogs about Batad and I have compiled a complete guide just for Batad here.
2)
Do the Heritage Trek
You will need at least 3 days for this trek as you will cover Pula, Cambulo, Batad and Bangaan. If that is too much, you can also trek each of these places separately. I am not a mountaineer so staying in Batad for a week was enough for me.
3) Check out and shop at the Saturday Public Market
Banaue town has a small market but you have everything you would need there. But every Saturday, the entire poblacion is buzzling with vendors from ukay-ukay (second hand clothes), new merchandisers and fresh produce. Local villagers form neighboring areas like Batad or Cambulo come here once a week to sell their local harvest.
You can buy organic fruits and vegetables here for a really low price. I got a big bunch of bananas for only 25 pesos. They also sell rice cakes, seafood, and live native chickens.
Make sure to be there early from 7am to 10am. There are still vendors before noon but most of them would be sold out of their items.
Here's a video of what it looks like on a Saturday.
4)Go run uphill with the rice terraces view
While you are free to run on your own, there are a lot of dogs around. Most of the dogs are friendly but I'm not sure how they will react if they see a stranger running through their territory. Make friends with locals and find a running buddy.
We did an early morning run from Greenfields Inn to Guijob and pass through houses. For the most part, you get an amazing view of the rice terraces.
Just stay on the side and be mindful of approaching tricycles and cars. There's no designated sidewalk but everyone walks on the side.
WHERE TO EAT
Aside from cooking my own meals on some days, I would go to Poblacion, Banaue where most of the restaurants are located.
House of Ekolife - for a great view
If you want good food and awesome views of the Banaue rice terraces, House of Ekolife is the place for you. Their recommended dish is sisig, but they also have other appetizing dishes. I have written about this cafe here as they also have an advocacy.
Average price per dish is 200 pesos.
From Poblacion, you just need to climb the steep stairs going to the Tourism office. Turn right and you will see signs of the easy climb to House of Ekolife.
Uyami's Green View Lodge - for something local
Located near the public market, and they also have a souvenir shop by the entrance. I tried their Green View Express which is similar to Bicol Express but less spicy. They also offer Ifugao wine if you want to try out a traditional product.
Average price per dish is 200 pesos.
Mother's Eatery - for the real local experience at budget price
If you want to save money, there are carinderia's all over the market. I was a suki (regular customer) at one one the carinderia (local eatery) inside the fresh market. Their Filipino dishes vary from 40 pesos for vegetables, 50 pesos for meat and 10 pesos for rice. Their rice serving is huge and would be at least 2 servings.
Local Bakeries - if you're on a budget
The local market has a number of bakeries. Each bread would cost an average of 2 pesos per piece.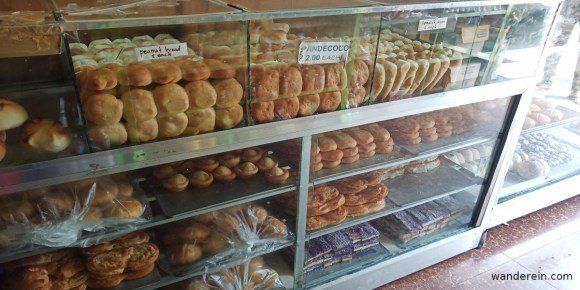 Street Food - for snacks
Around Banaue, especially in Poblacion/ public market, you will find various street food at affordable prices. You can buy a stick of fish balls for 5 pesos. Most of the street food are fish balls, kikiam, squid balls, barbecue and isaw (chicken intestine).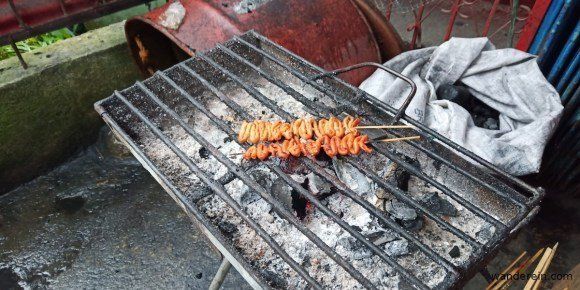 or... Buy Fresh Produce at the Local Market
There are other restaurants in Banaue that I tried such as Middle Ground Cafe and Seventh Heaven which also serve good food but the above are my top recommendations.
I was not really a tourist in Banaue. I made it my home for almost a month as I was beginning my digital nomad career. I like eating out but this isn't practical on a daily basis since I am here to live like a local. In some days, I would buy my groceries, fruits and vegetables at the local market. I would usually buy more on Saturday public market day because the fruits and vegetables are mostly organic at a cheap price.
Recommended Accommodation
I personally recommend Banaue Greenfields Inn & Restaurant if you're looking for a quiet place. The drawback is that it's a kilometer away from the center, but this makes this place peaceful. You wouldn't here the loud tricycles all day especially at night. It's just a 15-minute walk to the public market or 10 pesos if you'll take the tricycle (25 pesos going back from the public market terminal).
This is also a good base if you're going to Batad. You can leave your heavy luggage here and only bring your valuables and things you need. The owner of this place is connected to Batad View Inn & Ramon's homestay.
I had a really comfortable and homey stay here which is really important for someone like me with no permanent residence. This was my home and office for a month.
Getting In and Out of Banaue
From Manila, Ohayami Trans and CodaLines are the major bus companies that services Manila to Banaue. I personally have only tried CodaLines which costs a bit higher than Ohayami. The buses were clean and comfortable. It was off peak, the bus wasn't full and I was the only person on the row where I was seating.
The bus as scheduled at 10:30pm and we arrived at 6:30am. That was 8 hours and there were a couple of stop overs for toilet break. They also have the Express bus which is faster as they have a toilet built in.
The bus stopped first at Lagawe, Ifugao's trade centre, at around 4am. The next stop at 6:30am was at the Banaue tourism office where you will pay the P50 entrance/ ennvironmental fee.