I went to Tappiyah falls the day before with a local guide. Surprisingly, one of the dogs named Blackie from Ramon's Homestay joined us. Despite 2 guides – a human and a dog, I was scared to death walking through the narrow pilapil (ricefield dikes). I did survive that and you can read through my post about Tappiyah falls here.
I wanted to go to the Awa View Deck, however, I haven't fully overcome my fear of heights. Awa View Deck is a more difficult trek than the Tappiyah waterfalls. My last trek was a few years ago and I haven't done any warm up prior this unplanned trip so I dared myself to walk to the village and around the rice terraces on my own.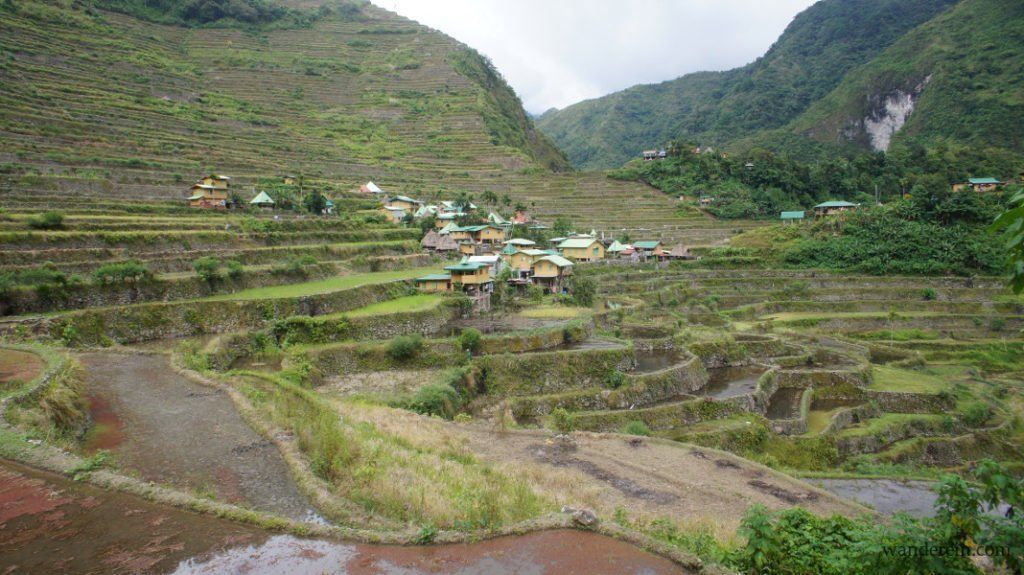 Luckily, I wasn't on my own. The dogs seem to be aware that I was going out once I had my walking stick and my trekking shoes on. I thought it would just be Blackie to guide me again because she is always following me around the homestay, and would even sleep outside my door like a guard! A total of 4 dogs were wagging their tails when they saw me walk out Ramon's homestay. Rambo, the original guide dog, Brownie and Brownie's puppy tagged along!
Meet Rambo, the original Batad tour guide dog
Rambo has become popular after the Philippines' Department of Tourism featured him as a Batad guide dog in a video. He has been joining tours since he was young and learned to trails as he would always join Sir Ramon, his owner, in his walks.
He is now over 10 years old (I can't really confirm how old, some say even 15 years old) and would prefer to just lounge around the homestay due to old age. Hence, I was surprised that he joined us on our stroll to the village. He is still strong for an old dog, it must be all those mountain work outs and natural food he get!
Blackie, the newest guide dog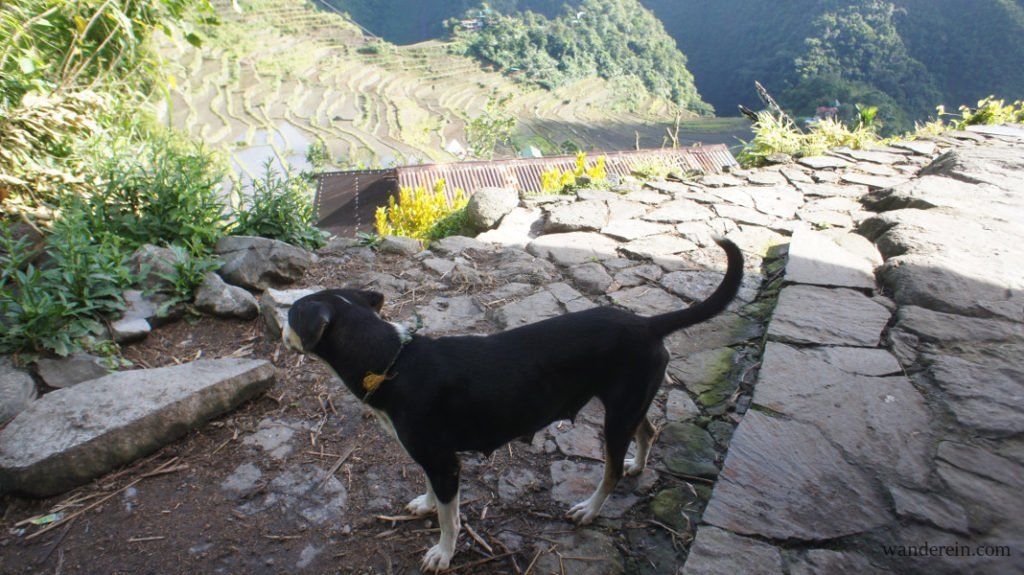 According to the staff from Ramon's homestay, Blackie hasn't joined tours previously so it was her first time when we went to Tappiyah fall with her. She is younger than Rambo and has a lot of energy.
Make sure you let her walk first. She likes being ahead on the trail so she would run past you whenever she's left behind which might surprise you especially on the pilapil trails. She's a lot faster than us so you don't need to worry about this. There were just some moments when she would wander off while waiting on us. You can see more of her in this Youtube video.
Brownie, the motherly and experienced guide
Brownie is Blackie and Apple's mom. Apple joined my trek to Awa View Deck but she wasn't present on this day. Unlike Blackie, Brownie has joined tours previously. She was a bit shy but she was very motherly, she would wait on me while the other dogs were ahead.
The staff at Ramon's homestay told me a story that she even joined a really long trek to the other side of the mountain. The group thought they lost her because they couldn't find her just when they were about to ride a jeepney on their way back. Brownie may have thought that it was the end of their trip and he went back on her own through the jungle. The staff were concerned that they lost him. After a day, she found her way home, panting and slept on a corner.
Unnamed pup, the trainee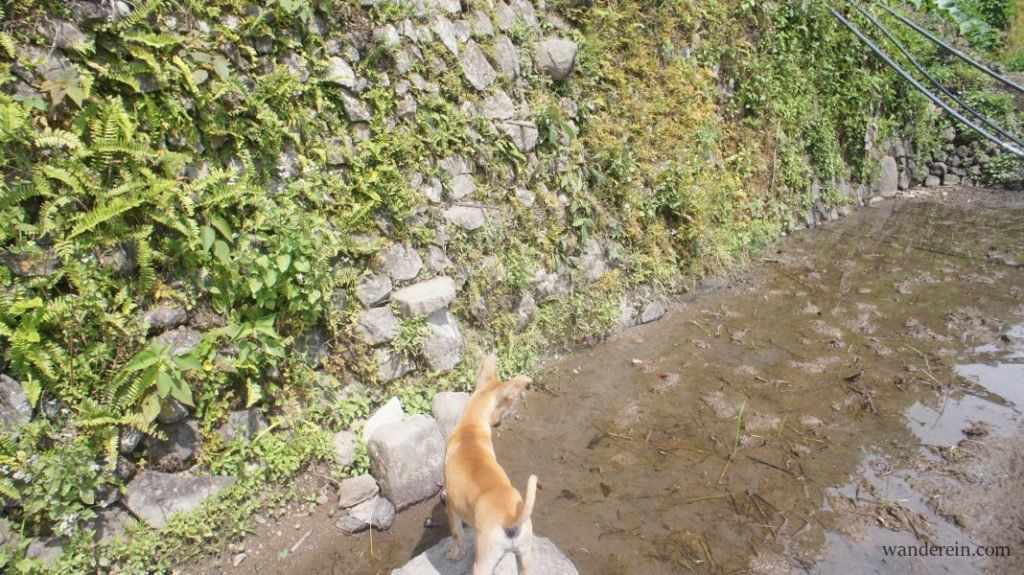 A puppy joined us but I didn't know his name. He is Brownie's kid but is now owned by the neighboring transient house so they haven't given him a name.
More than just guides, they were protectors
The dogs led the way, they were going up the stairs but I motioned that I wanted to go the opposite way, down. Perhaps they understood that I wanted to go to the village and not to the waterfalls.
Just a few steps down, a dog was angrily barking at us for passing through his territory. The dogs were barricading my way and weren't fighting back. We all safely passed through his territory.
The dogs were fast! I was scared to walk through the the narrow pilapil. I was walking really slow, testing every step, careful not to step on anything slippery. You have two options if you ever fall down – one to the deep mud and another one would be a painful fall of at least 6 feet. Either way isn't fun. This was also my first time to walk through these paths without a local guide.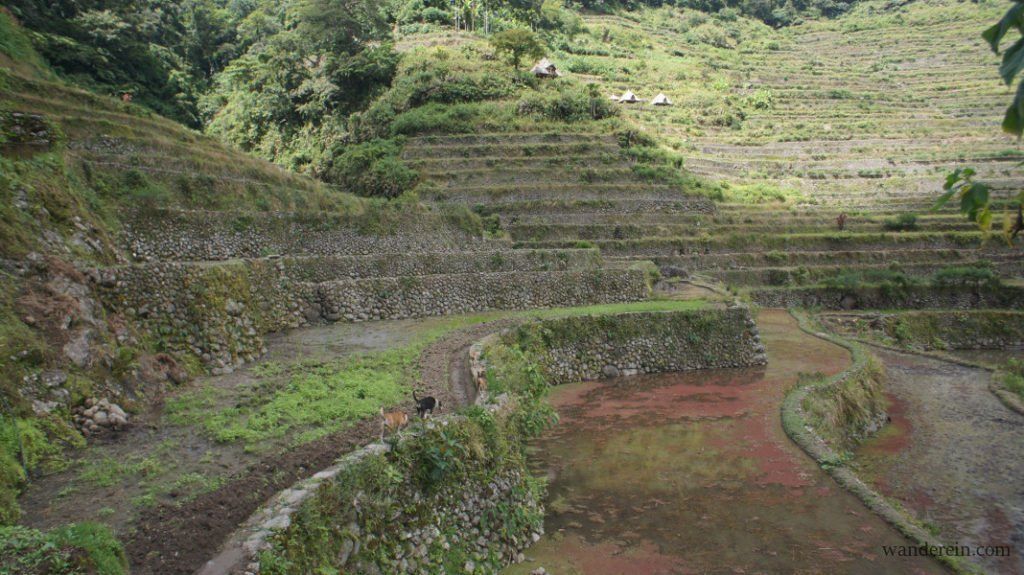 The dogs would stop and look my way when they see me slowing down. For a couple of times, the puppy would go back to me as if telling me to hurry up! They were all patient and they would wait for me so I don't get lost.
We passed through the villages where you would see the day-to-day life of the Ifugao/ Batad people. There are sari sari stores (small neighborhood convenience store) where you can stop over for a drink. There are also some restaurant such as the Foreigner's Inn and Restaurant.
One of the houses sell hand woven blankets and scarves which ranges from PHP1000 to PHP2000 + (USD 25 to 50 +). That may sound expensive but each piece takes 20 days to creat! To pay for PHP2000 for something that took almost a month is really undervalued, in my opinion.
We continued to pass through more rice fields and pilapil. At one point, the younger dogs were leading the way and they were running through really narrow and muddy pilapil. Rambo, took another way. He was showing a better path with concrete and safer walkway, so I followed the more experienced dog. The other dogs followed as well, I think this was their training from Rambo.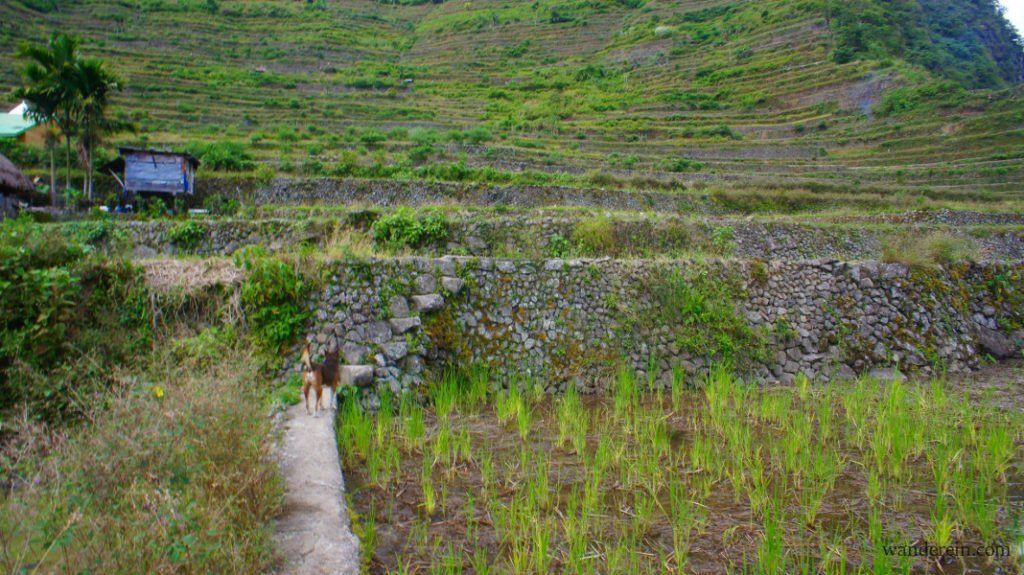 We went up through small stone stairs attached to the rice field's stone wall. The puppy was too small to jump to each step and I couldn't carry him due to safety. He was crying as the other dogs left him. I was showing him to jump to the steps. He tried a couple of times but he fell on the muddy rice field ☹ It must be painful for him and he continued crying. After several minutes, the puppy decided to go back. I was worried we might lose him but he found his way to Ramon's homestay!
We stopped over a small sari-sari store overlooking the rice terraces. There were a couple of foreigners who were lost and wanted to go to Tappiyah falls. They didn't have a local guide so they asked me for directions. I told them they could hire a guide so as to support the locals' livelihood as well but they dismissed the idea.
The girl at the sari-sari store saw dark clouds from the other side of the mountains. I asked if I should continue up but she advised I go back since I was alone. I was with my guide dogs but I still have to be careful.
The dogs were starting to climb up to lead the way but I called them back. I guess they were leading me to the waterfalls as there was a path there leading to it. They realized I wanted to go back when I moved the opposite way and I called them. They guided me to the same route again, stopping from time to time to wait for me.
We all safely arrived at Ramon's homestay after almost 3 hours of walking and climbing (and balancing through the pilapil!). I was happy to see the puppy was safe home. The other 3 dogs were tired and went to sleep around the restaurant.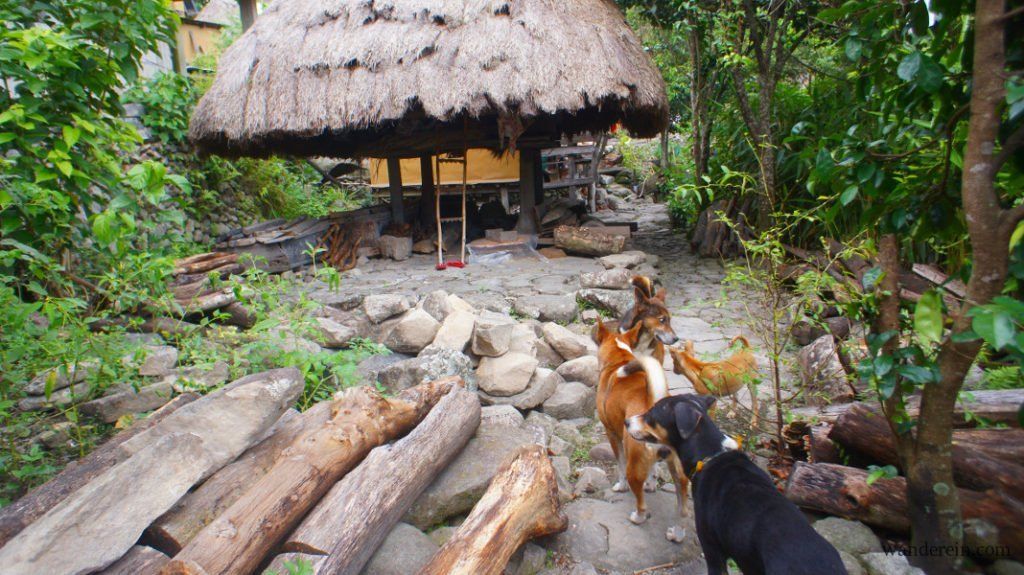 It was an amazing and almost unbelievable experience. The day before, my local guide had to sometimes hold my hand so I don't panic on some narrow and high pathways. However, these dogs taught me to have more courage and trust in myself! I decided to push through the trek to Awa View Deck the next day, of course, with a local guide - and 3 dogs joined!
Note that the dogs are not forced to join tours. They would voluntarily join and lead your trek whenever they feel like it, which they did in all my treks in Batad! I stayed there for a week so they must have become familiar with my presence :)
Here's a video of the guide dogs and pets at Ramon's Homestay:
Note: This was originally posted in my personal blog https://wanderein.com/2019/10/24/meet-my-guide-dogs-around-the-batad-rice-terraces/