Preserving the Ifugao Ethnic Tradition
Ramon Binalit, owner of Mang Ramon's Homestay, is known in the Philippines for all the work he does to preserve Batad and its tradition. He has been featured in several articles and documentaries. We can call him a legend not only for showcasing their Ifugao tribe culture, but also for fighting to keep it intact. In the 1990's, a foreign investor and corrupt local officials almost set up a zipline attraction around this UNESCO world heritage site but Sir Ramon led in stopping this so we can still see the real beauty and essence of the rice terraces.
I stayed in Batad for almost a week and got the opportunity to meet him. When he learned that I was a writer, albeit amateur, he generously shared a lot of information about their ethnic Ifugao culture. Luckily, he was scheduled to make rice wine for an upcoming ritual so I got the chance to see the process. Despite the various article about Ifugao culture, he still wanted the step-by-step process documented.
Writing is one way to preserve tradition and what better way to store this information than by publishing it on the immutable blockchain through TravelFeed.io. This was initially posted in my personal website.
Heirloom Rice Wine
Rice Wine is one of Ifugao's traditional products. A lot of tourists bring it home as pasalubong (souvenir). Some find it a bit too expensive for a local product. One bottle of about 500ml ranges from 150 pesos to 350 pesos.
After personally watching the entire process, I told Mang Ramon that their rice wine is undervalued for this price of 250 pesos per bottle. If you would consider the raw materials, it's just break even but I don't think they're getting paid for all the effort that was put in one bottle.
Some people think that it's just a matter of fermenting rice but the process is much more than that. The process of making traditional rice wine does not involve any modern machine. A lot of it is by hand, by manual labor.
The grains used are all sourced from their own farms, from the centuries-old rice terraces. Farming at the rice terraces are all manual and when they harvest the rice, they don't use any machine to separate the rice from its husk which is where the process starts.
The Traditional Process
The entire preparation process excluding fermentation took at least 3 days. I tried to document as much information in the following:
Step 1: Pounding the Rice
If you stay at Mang Ramon's Homestay and Batad View Inn, you are likely to experience rice pounding because this is usually an early morning household task.
It looks as easy as just hitting the grains with a big stick but these logs weigh more than 8 kilos. These are very heavy. The locals are also very skilled in winnowing which we didn't try, otherwise, we might accidentally throw these precious heirloom rice grains.
Step 2: Roasting
About 10 kilos of rice was roasted on a big pan by a native Ifugao man – Lolo Junior. He continuously stirred the grains to ensure that these are roasted evenly. It took more than 30 minutes for this process. I tried to watch it but the smoke was making me teary eyed.
The roasted grains were transferred into rattan containers. Lolo Junior placed straws to serve as warning signs to the spirits not to touch these grains. They believe it will taste bad if the spirits touch these.
This stems from their animists beliefs which they have still retained despite most of the village converting to dominant religions.
Step 3: Boiling
They let the rice cool down for about 2 hours while separately heating a big pan. The pan was already smoking before they poured about 20 liters of water. The roasted and cooled rice was then poured into the boiling water. After some time, some of the firewood were removed and the pan was covered to let it cook in steam. Putting more fire would cook it like porridge and they have to avoid that.
Step 4: Adding Yeast
The yeast used to ferment these grains went through a similarly tedious process, however, I no longer had the opportunity to see how this was made.
The cooked rice was transferred again to the rattan containers. The same warning straws were placed while they wait for these to cool down.
After 2 hours when it has cooled down, they added their home made yeast.
Step 5: Straining
Once the yeast has been mixed carefully, the grains are transferred to a woven basket dressed with banana leaves as strainer. They carried it to the nipa hut where where they placed a wooden bowl under the strainer to catch the rice juice that would come out.
The temperature must be warm to get more juice out of the rice. They would boil water here for the area to be warmer while they wait for it to drip. They would also cook under the nipa hut to make it warmer. The general climate of Batad is cool, I was here on October when the average temperature was 20 degrees. This process would have been faster during the summer season.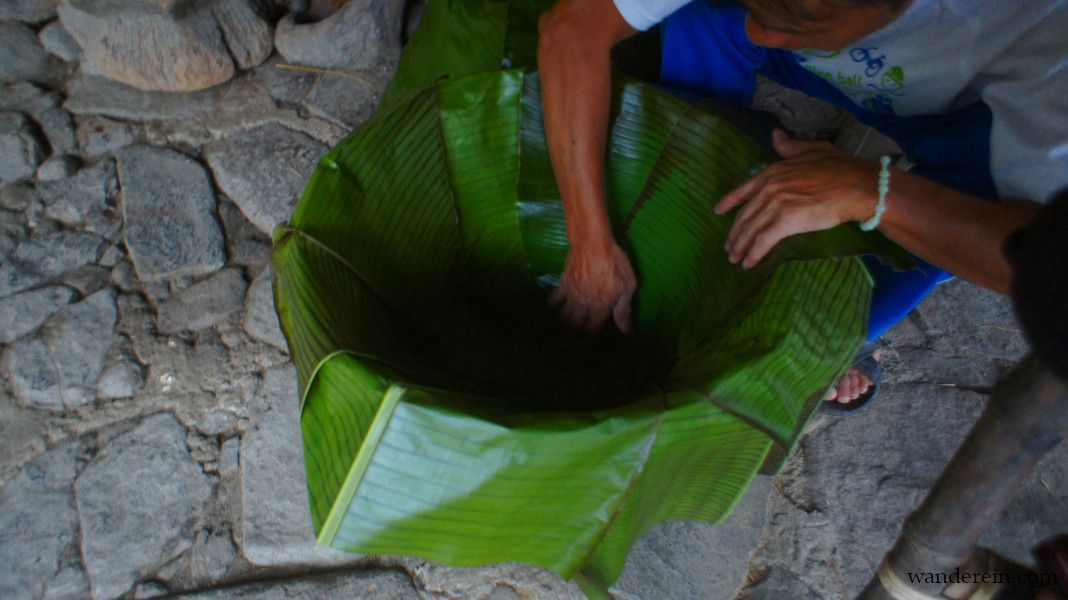 It was already night time when they did this process. The roasting process started at 11am and we were about to have dinner when they transferred these to the strainer.
Step 6: Fermentation
It took 2 days for the rice juice to fully come out which would make up about less than ten 250ml bottles. They cooked daily under the native hut to maintain the warm temperature so more juice would come out. The open area on first floor of the native hut is multi purpose, they would cook bigger meals here to keep the temperature warm, at the same time preserving the nipa hut from termites.
One week wasn't enough to cover the entire process. It will take another week for the wine to ferment. I got to taste the pre-rice wine product because they also ate the semi-burnt rice. It tasted like rice cake high on alcohol. Of cource, I did not leave Banaue without tasting rice wine. I got one at a local restaurant.
The wine was used after a week during an Ifugao ritual where they offered a native pig and where some of the local tribes men and women performed traditional dances and songs. This gives me a reason to go back to Batad.
This was originally posted in my personal website: https://wanderein.com/2019/12/05/batad-cultural-experience-how-to-make-traditional-ifugao-rice-wine/