I am no mountaineer nor have any warm up prior my trip to Batad. My only preparation was a morning run around Banaue, a day hike to Tappiyah waterfalls and a solo walk to Batad village with four guide dogs. I was hesitant until the last minute because it rained the night before and in the early morning.
I heard that the trails that can be very slippery and steep, raining earlier that day would make it difficult. My first tour guide backed out because he wasn't sure he can handle a beginner like me who is also afraid of heights. Kuya Jeff, a more experienced local guide from Ramon's homestay, took over and so we went off.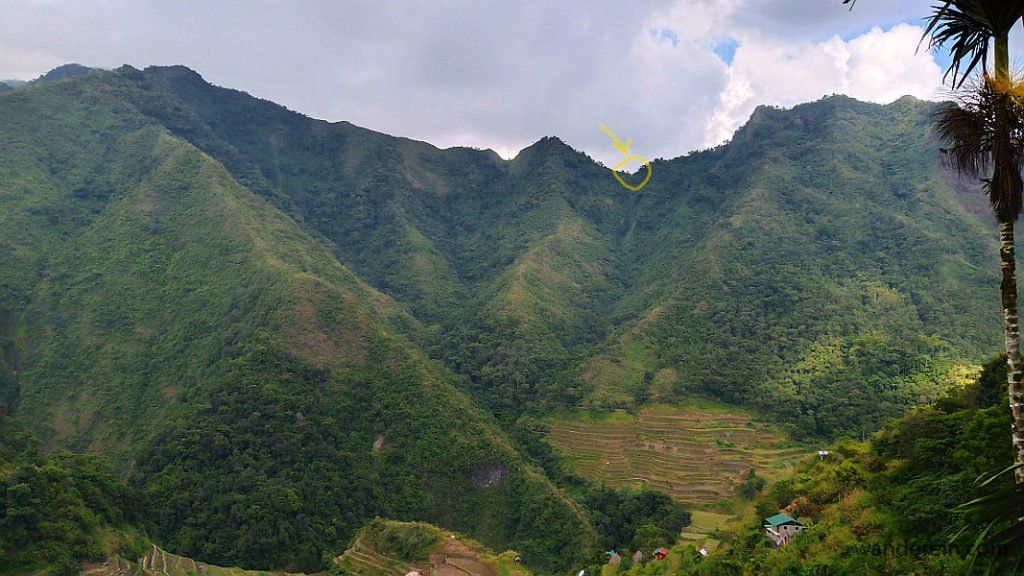 What's the deal with Awa View Deck? I can see the rice terraces from the village anyway.
Yes, you have a good perspective of the staircase terraces from the village, but the Awa View Deck gives you the entire picture – you will see the amphitheater that the rice terraces have formed. It's the highest point where you can get a good view of Batad's rice terraces.
To get there it can take up to 3+ hours, or maybe 2 if you're fast. I chose to be slow and careful.
Similar to the previous days, the dogs joined us. They seem to know that we're off to another trek when I had my shoes and walking stick. Rambo (the original Batad tour guide dog), Brownie and her 2 daughters – Blackie and Apple joined the group.
However, Rambo went back home when he realized that we were off to Awa View Deck. He was scared to pass through the hanging bridge, afraid he might fall off those holes.
I was super slow, careful not to slip. After passing through some pilapil (ricefield dikes) and steep stone stairs, we reached the bridge where Rambo would be afraid to pass. The 3 dogs weren't scared but we let them pass through first so the bridge wouldn't be wobbly, it might scare them. Brownie waited on us and he carefully walked avoided the holes.
The hanging bridge was made of metal, it looked sturdy but I still hanged on to the railings as I walked.
Unlike the trek to Tappiyah waterfalls, we passed through fewer pilapils. I was not as scared by this time after walking through narrow paths this week.
However, there were dangerous paths if you were not careful. Some stone stairs lead all the way down a cliff, I hugged the wall as I try to make sure I don't make a mistake with every step. Kuya Jeff was also there to support me and ensure I don't fall. He also doubles as a motivational coach!
The pathway through the irrigation looked simple but it was already covered in moss, thus, very slippery. We slowly walked sideways with a walking stick on the irrigation and another hand on the wall.
We passed by a natural spring water. Locals drink this, Kuya Jeff didn't bring his own water bottle because he is used to drinking from this source. I tried a few sips and washed my face to cool down. On my way back, I refilled my water bottle with this. I didn't bring enough water which was a mistake. Luckily, my stomach was fine with the water from here which was surprising considering I have a sensitive tummy.
The water was indeed clean, this comes from the uninhabited mountains. However, locals still advise visitors to be careful as they may not be used to the water from here.
Brownie waited on us as usual, while her daughters led the way. The serious ascent started again, now with slippery stones. I find it easier to climb up, although exhausting, because I don't see the cliff behind me. Going back was more difficult because I had to fight my fear of heights.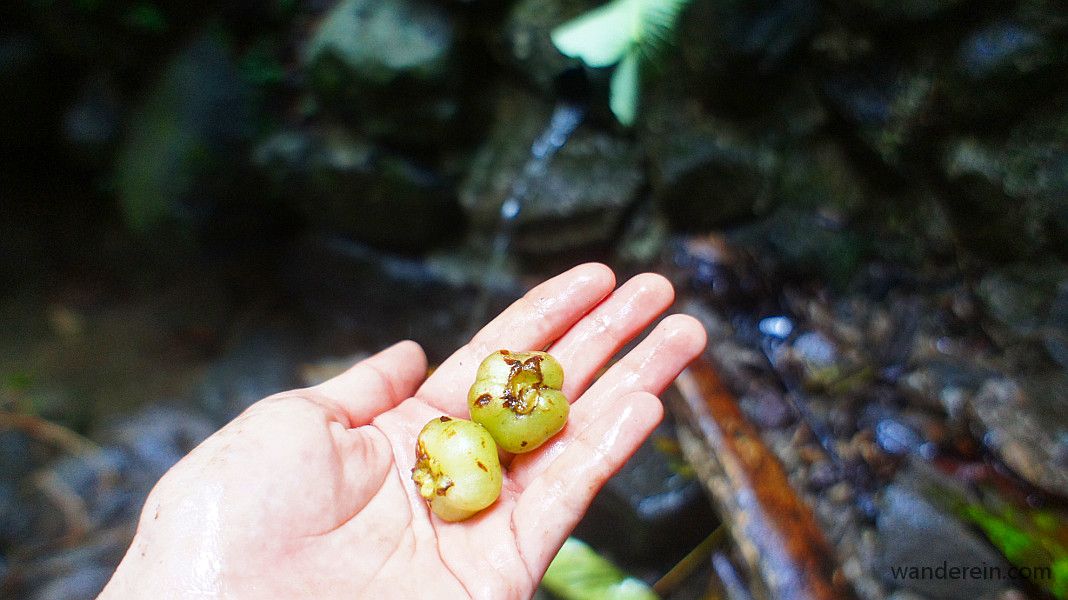 The trail was a combination of scary and difficult paths and an easier but exhausting ascent. Three and a half hours after, we finally reached the Awa View Deck.
The 2 dogs were enthusiastic to see us with Brownie. At last, the amphitheater view. Unfortunately, the lens of my mirrorless camera didn't have a zoom. My phone did not really do justice to capture this magnificent sight. I thought my GoPro would do a good job, but it died the day before I went to Batad. I was planning to take videos and had no other choice but the footage from midrange smartphone with the help of Osmo Mobile 2.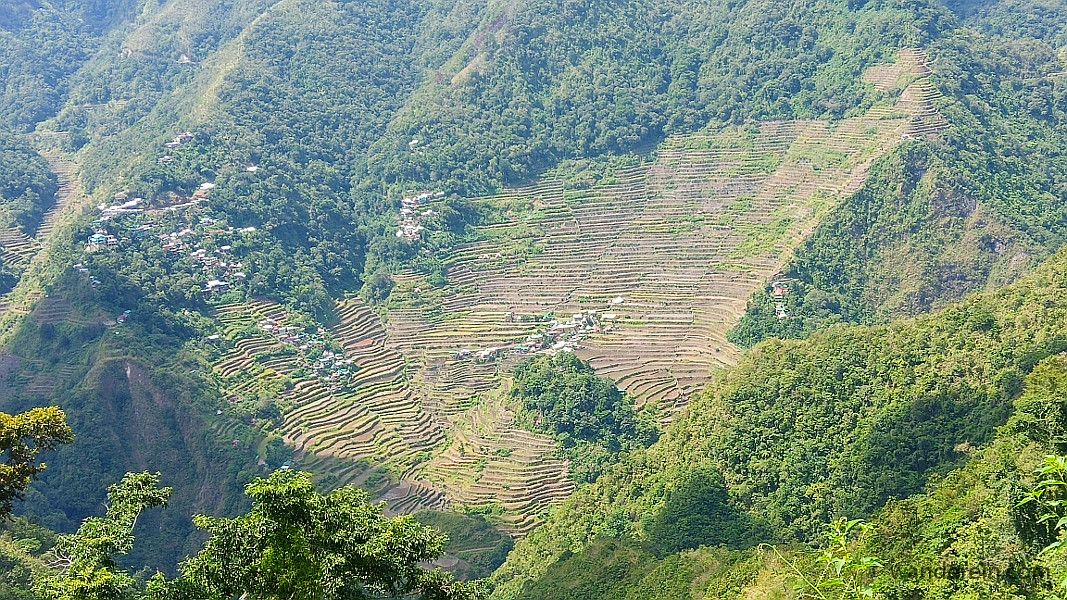 We had snacks here, I bought 2 sandwiches from Ramon's homestay. One for me and my local guide, and gave some bits to the dogs. I wish I brought more food had I known that they would join this longer trek.
We stayed here for another hour and decided to descend as the skies were becoming a bit gloomy. Trekking here with rain would be more dangerous not just with the slippery trail, but with big rocks that might fall from above.
The 3 dogs waited more patiently going down. I was slower this time, really careful with each step. On some areas, I crawled down or sat as I descend. I just didn't trust my balancing skills, Kuya Jeff was helping all along. The local guides here are skilled and they know how to handle beginners like me.
I initially wanted to join other hikers to save some money but it was off season so there were not much guests. In a way, doing this solo was the safest thing as my guide can focus on me.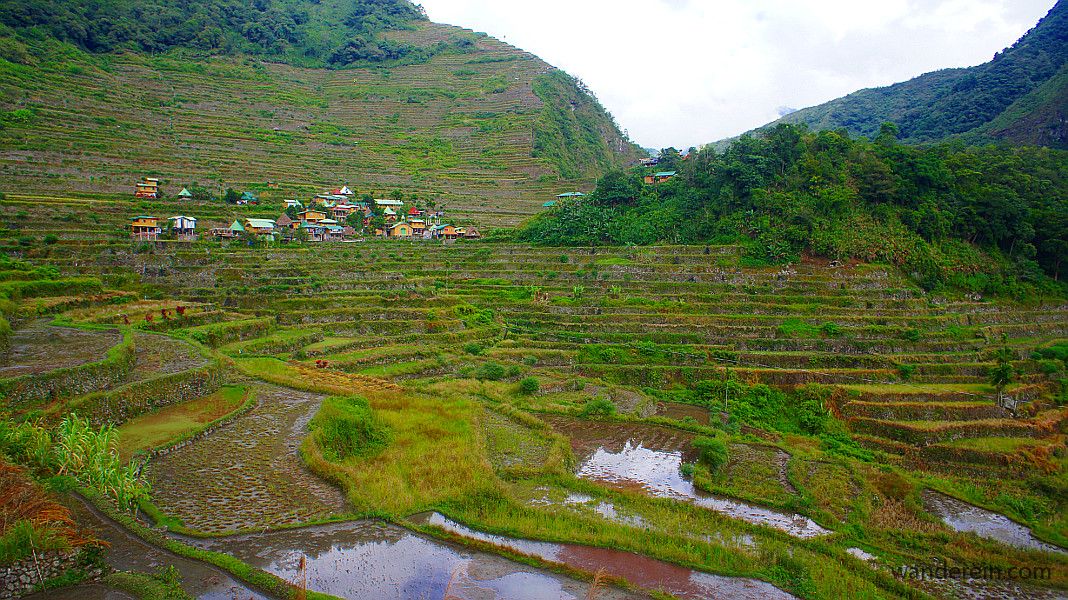 On the way back, I walked on the pilapil with so much ease and with less fear. Perhaps, having gone through a treacherous trail has proven that these narrow pilapil trails were a lot safer. Or perhaps, I am slowly overcoming my fear of heights. I have yet to know on my next trek to Buscalan to see Apo Whang-Od.
Rein Recommends:
Kuya Jeff was an excellent local tour guide to the Awa View Deck. He was very patient and skilled in handling a scared and beginner hiker like me. If you are ever to Batad, you can schedule a tour with him through his mobile number below. He also knows other skilled local guides if he is not available.
Jefferson Roman (Batad Guide) of Batad View Inn & Ramon Homestay Contact # +63997-8941-575
The standard rate is PHP1200 (<USD24) and I added extra since it took us an entire day and I was well taken cared of. If you think it will take you an entire day for this trek, bring lunch for you and your local guide which you can buy from your homestay.
Here's a virtual tour of our trek to Awa View Deck: