While in Batad, I stayed in a solo room at Batad View Inn & Restaurant as this was my most practical option. This lodging is under the same management as Mang Ramon's Homestay who owns traditional nipa huts.
It got me curious so I decided to upgrade for one night and sleep like a native Ifugao inside a nipa hut.
Nipa huts are the traditional homes of the Ifugao tribe. The materials used can regulate temperature especially in the generally cool climate of the Cordillera mountains.
These huts are cool when it's warm outside, and warm when it's cold outside.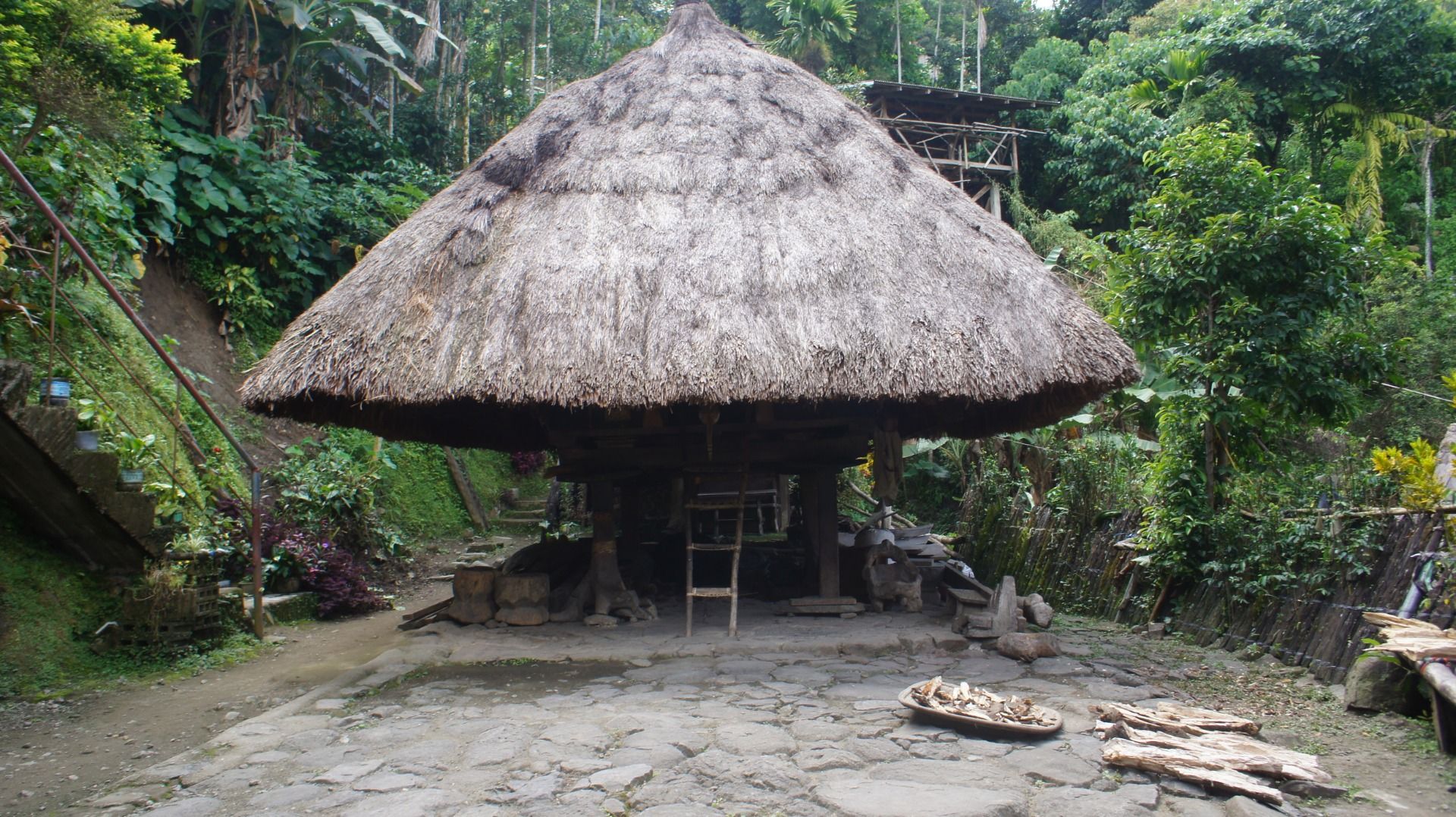 Preserved Ifugao Nipa Hut that is still functional to this day
However, there are fewer huts and most of these huts are either utilized for tourist accommodation or when someone sponsors a hut.
Preserving the Native Ifugao Huts
In the olden days, the mountains are rich in nipa leaves and timber that make up the Ifugao native huts. They have all the needed materials to build their home.
However, they now have to import these materials from other regions. Maintaining a nipa hut also costs money as the thatched roof has to be replaced every 15 years.
Currently, wooden bungalow houses with metal roofing sheets, although unsightly, are more practical for them to build.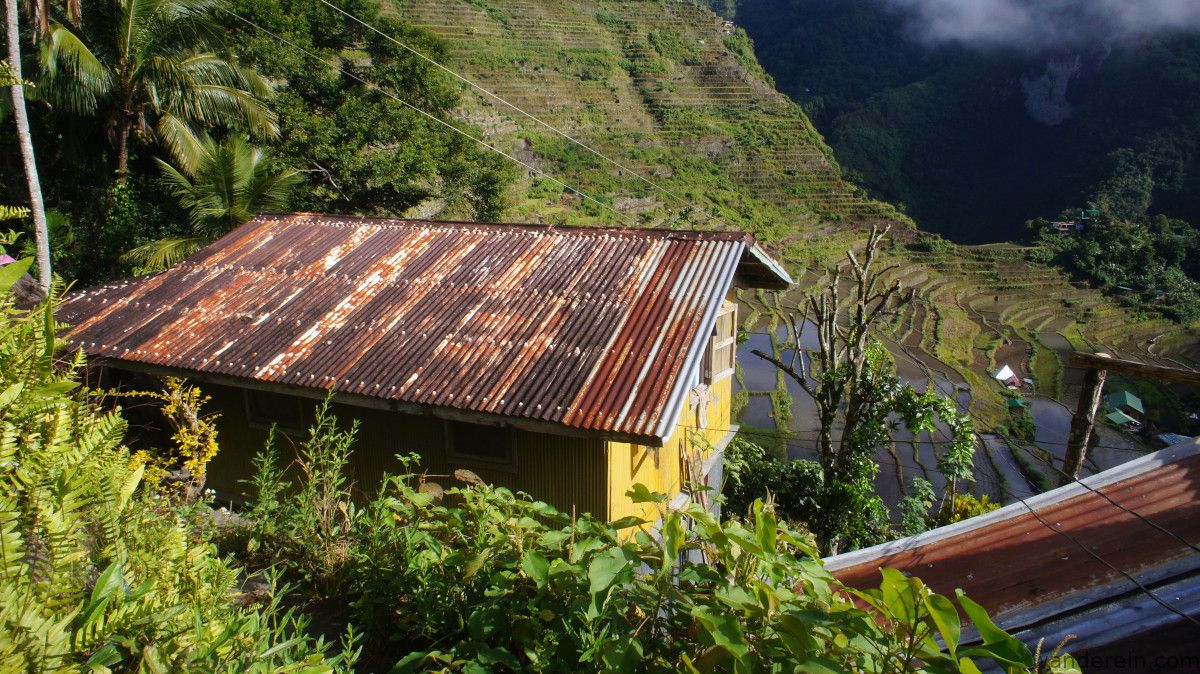 There are programs that help maintain their traditional huts or re-build the damaged old huts.
Anyone can sponsor re-building a native hut for at least P50,000 and you share the cost with a local. This means that you partially own these huts and you can stay freely there when you are in Batad (or your friends and family), while your co-owner can rent it out while you are not in Batad.
There are a few sponsors from Manila and even foreigners who have helped in re-building these huts.
One of the sponsors at Mang Ramon's homestay is from Greece and would come to his Ifugao home every year. A native Ifugao ritual is celebrated with him whenever his family is in Batad.
Anatomy of the Ifugao Hut
At first glance, the hut looks simplistic but it actually was ingeniously designed for an Ifugao's daily life.
Aside from the functionalities, the home is adorned with animal skulls and skeletons which they earned from hunting or were offered in their rituals.
The Ground Floor
The nipa hut stands on stilts which makes up a wide open area. This is a multi purpose area where they cook bigger meals, do household chores and where they keep their native pigs and chickens.
There was actually a native pig during my stay which they will offer for an upcoming ritual!
The smoke from when they cook meals help in preserving the hut. It makes the wooden structure stronger and gives it a dark color, and it also protect the woods from termites. This is one of the reasons why these nipa huts lasts for decades and even centuries.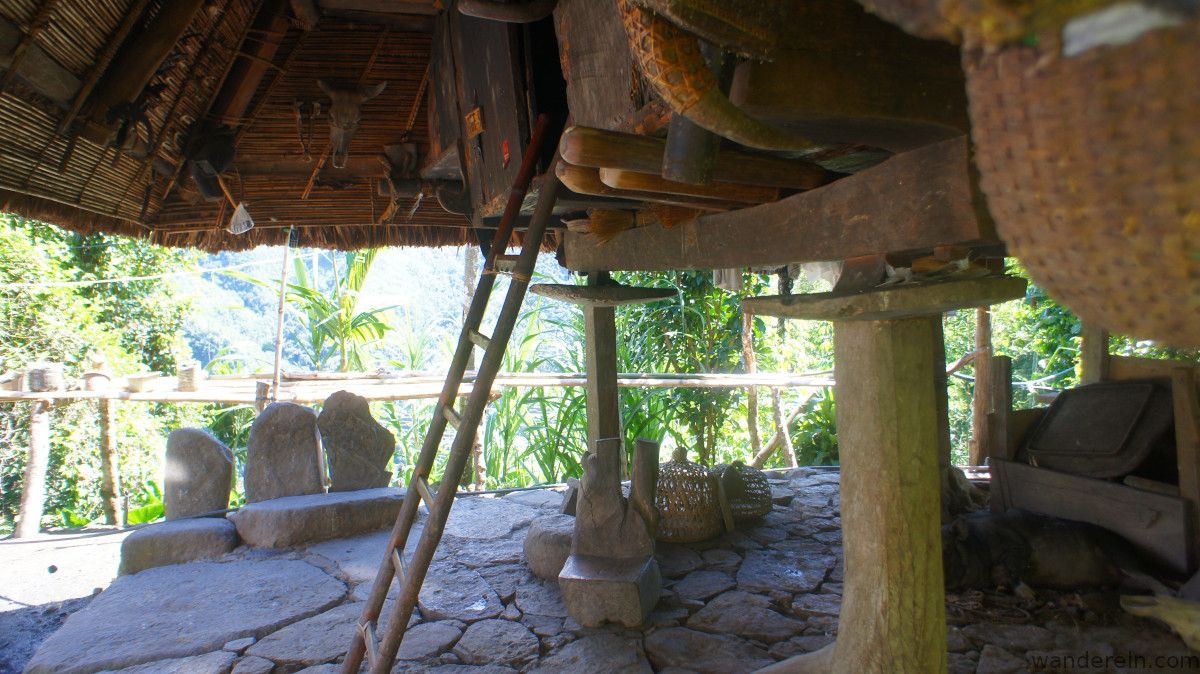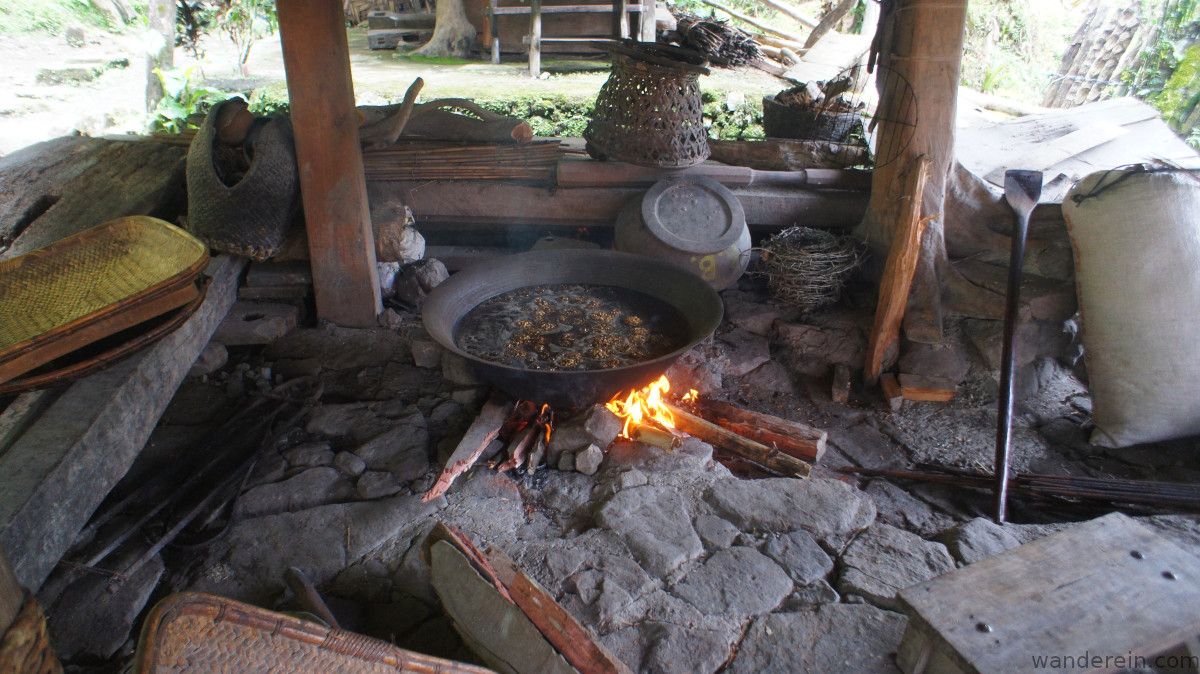 The 2nd floor – Main House
The main indoor house area is elevated and they would detach the staircase before they sleep.
There were 2 reasons for this: as protection from their enemies and to keep away pests or rats from entering the home.
The first reason is apparently obsolete. In the pre-colonial times and even during the Spanish era, tribal wars were something to be avoided. If a member of a family has an enemy, this would tend to go on for generations. Having the main house elevated and detaching the staircase gives them time if someone is to attack them.
Killings no longer happen in modern days, thankfully!
The main house have a kitchen area for cooking smaller meals or boiling water. There are storage on the walls were they keep their weapons, kitchen utensils and sleeping materials.
The middle area serves as their dining area and sleeping area as well. They would keep their utensils and prepare the bedsheets at night time and keep them as soon as they wake up so they have a communal area indoor.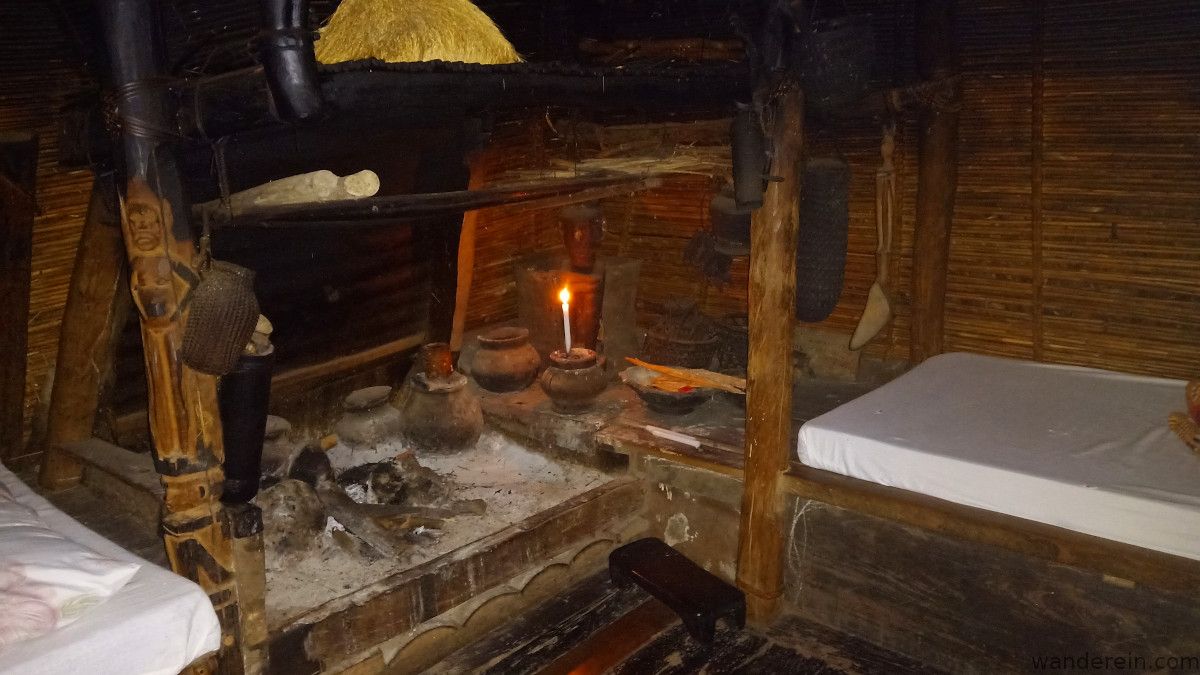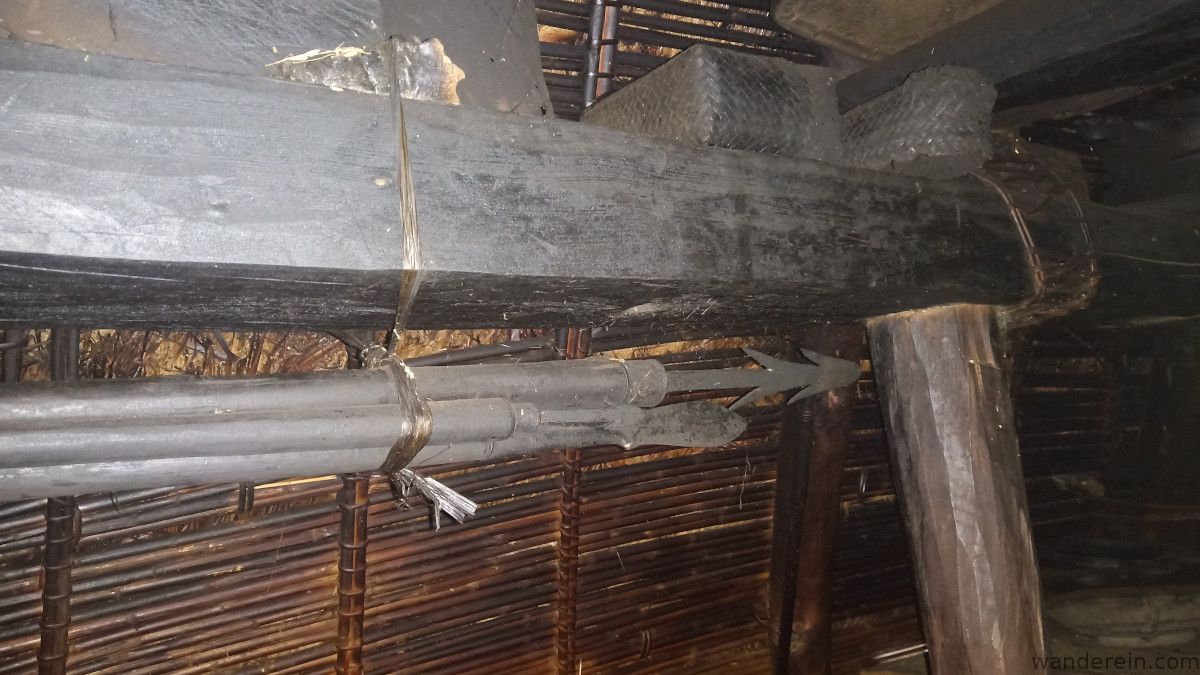 Attic – Rice Storage
This area is their rice storage. The heat and smoke when they cook also helps preserve their harvest. The rice farms in the terraces are owned by families and not for commercial consumption because there is just enough for the family. They keep their harvest in the attic for months to come for the family to eat.
rice is part of their home
Boarding Houses
It was common back in the day for parents to have at least 10 kids. They do family planning now so this is not as common as before.
One would wonder, how can everyone fit inside this nipa hut?
The village has a solution for this by building boarding houses. They do not have this now as this is no longer the practice.
The mother, father and baby or younger kids sleep in their nipa hut. Meanwhile, their grown up kids stay in the village's boarding houses where girls are separate from the boys. They would come back during the day to be with their family.
My Personal Experience
I had the best sleep inside the nipa hut. They did not install any electricity for a more authentic Ifugao experience. They provided a candle which has a secure place so you do not have to worry at night.
It was pitch black as soon as the candle light went off and I can only hear the sounds of the crickets and a gecko. The temperature was perfect, it was cold outside but the hut regulates the temperature inside.
The following morning, one of the staff showed me something inside the nipa hut – a person's skull!
There were some animal bones and antique furniture but I didn't realize that they have one of their ancestor's skull here. It was a great move for them not to tell it to me, otherwise, I wouldn't stay there alone!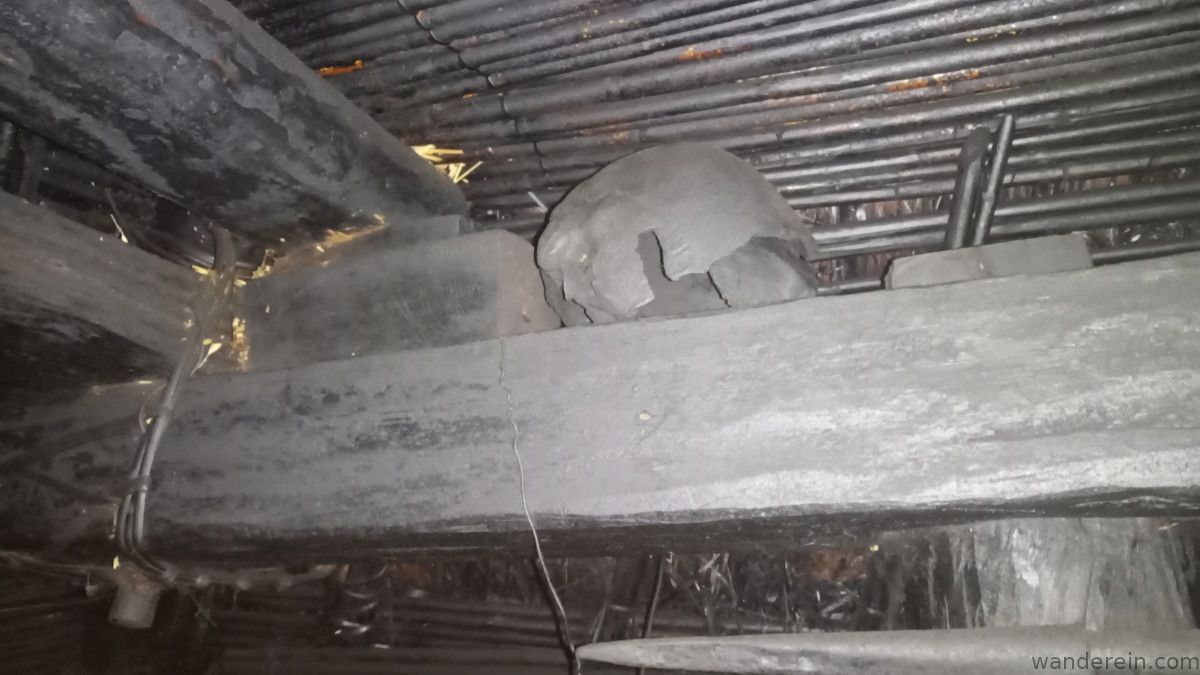 The nipa hut in Mang Ramon was a living museum. Not only do you get to see the past, you also get to experience it. Aside from just a good night's sleep, a stay in Mang Ramon's place will also give you the real Ifugao experience such as pounding rice, rice wine making or if you're lucky, witness an Ifugao ritual and celebration.
Contact Information:
Mang Ramon's Homestay can be booked online but the management informed me that the it's better to contact them via SMS. There is no network coverage in Batad but they receive SMS through their those old keypad phones.
Jefferson Roman (on behalf of Mang Ramon Binalit & Batad View Inn) +63997-8941-575
Rates: One nipa hut is good for 3 people and costs Php1200 per night (this was the price in 2019).
---
I hope you had fun reading our travel guide and are excited for your next trip! 🌍 But hold on a second! A quick reminder: always make sure you're safe on your travels with a reliable travel medical insurance like SafetyWing. 🛡️ It's like having a helpful friend with you on your adventures, ready to help if things go wrong. So, let's make our trips fun and safe at the same time! 🎉🚗 Happy and safe travels, everyone!