Batad is a remote village in Banaue, Ifugao province in the Philippines. It is known for its UNESCO World Heritage rice terraces which were built by hand over 2000 years ago. There are other rice terraces in the Cordilleras but I chose to stay for a week in this area for a more traditional Ifugao experience. There is no network coverage, the best place to get away from it all.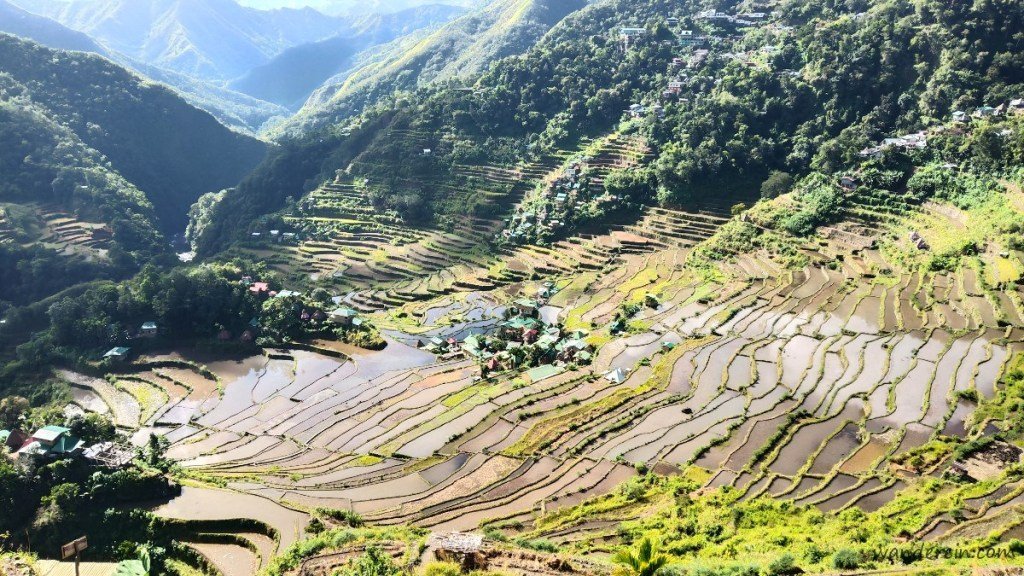 Aside from the stunning rice fields, one of the natural tourist attractions in Batad is the Tappiyah Waterfalls. Most travelers who only have one day in Batad would usually see the waterfalls since you walk through the rice fields at the same time. There are other areas which you can explore like the Awa View Deck if you have more time.
My local tour guide and a guide dog
I hired a local tour guide from Ramon's homestay. A local tour guide would cost from PHP800 (<USD16) to PHP900 (<USD18) for a trek to the Top View and the Tappiyah Waterfalls, or PHP900 (<USD18) to PHP1000 (<USD20) if you would pass through the village. These aren't standard yet and some foreign travelers prefer to just ask directions (from some random people by the ricefields), but I am currently drafting a post on why you should hire a local guide (I will link it here soon).
Though I was fearful of the combination of narrow pilapil and heights (narrow ricefield dikes which can be as high as 6 feet or more!) , I was happy to have someone with me. Unexpectedly, we were joined by Blackie, one of the dogs from Ramon's homestay. My local guide, Julie, was surprised as well because Blackie, unlike Rambo (a Batad guide dog featured in the Philippines' Department of Tourism video), hasn't joined any tours before.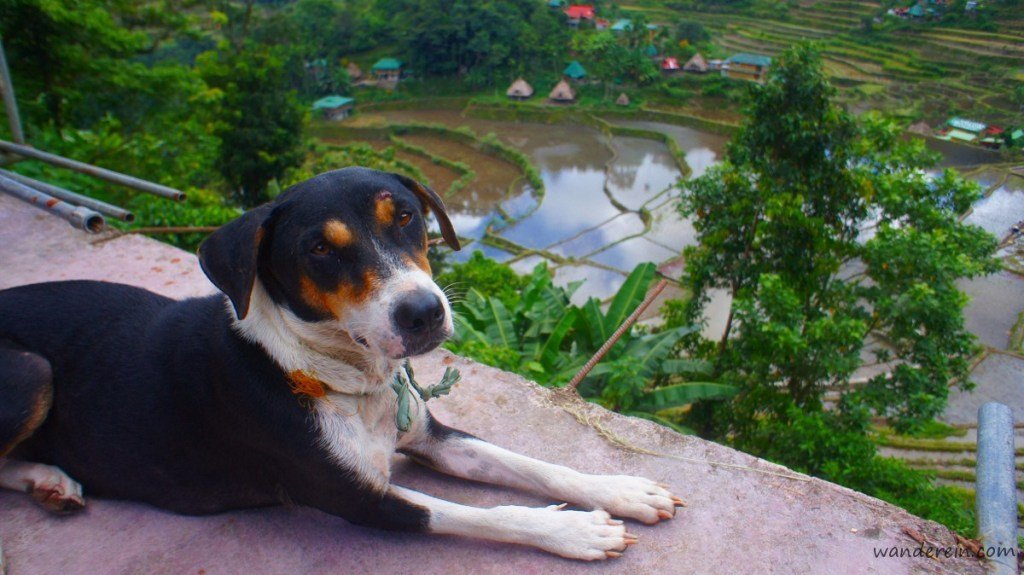 Wagging her tail and leading the way, she seemed to already know the way to the Top View and Tappiya Waterfalls. She was ahead of us but would stop from time to time to wait on us. I was really slow and careful. At times, I was scared of some trails. Batad isn't for the faint-hearted but I don't want to be that way for the rest of my life, so I went on. Julie, although younger and smaller than me, guided me through the narrow pathways.
Top View: Choosing a Challenging Path
Knowing I was scared, Julie gave me an option to pass through an easier path. However, we would miss the Top View. I challenged myself, I would be going through the narrow pilapil in either case so I decided to go to the Top View.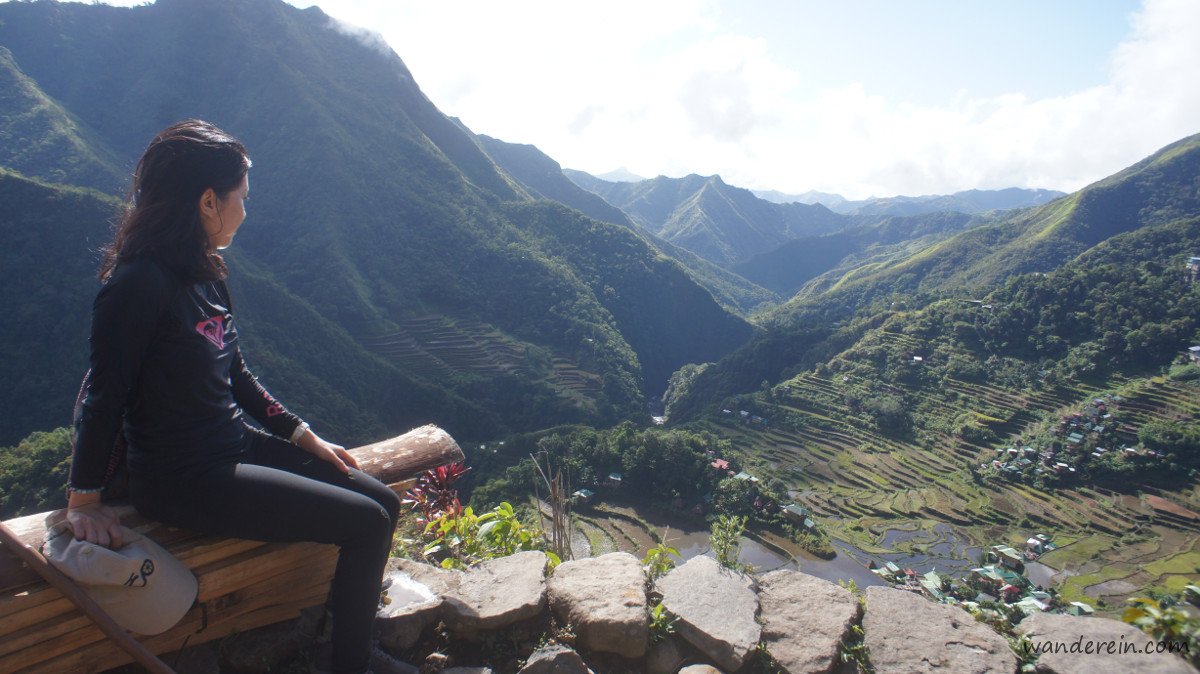 We reached the Top View after an hour. There was a resting place at the top and we stayed for some time to rest, enjoy the view and take photos
Blackie also rested but decided it was time to go. She led the way going down. I froze on the stone steps which were just attached to the walls which served as the stairs going down. I was literally hugging the wall with each step while Julie supported on the other side.
After another hour of more stairs, (973 steps according to another guest!), these are cemented but are really steep and you have to be careful. It rained the night before so it can be slippery.
The Majestic yet Cruel Tappiyah Waterfalls
The currents were strong and the water was so cold. It took me some time to fully submerge myself. I only stayed at the shallow areas. Some can dare to swim where the waterfall drops but it was so strong and that would be too dangerous.
A year ago, a tourist from the Benguet region drowned. He was graduating from school that year. There were 2 people who tried to rescue him but the currents were so strong and they failed. A local boy also died in the same place a few years ago. Both were male, hence, there was a myth the there was a mermaid who has taken them. 
Mermaids are usually heard of on islands so it was interesting to find this story more than a thousand meters above sea level.
A local at a sari-sari store (neighborhood retail store)on one of my day walks around the village told me this myth. Some locals laugh at this. These are myths of course but was an interesting story, however, sad for those people who lost their loved ones.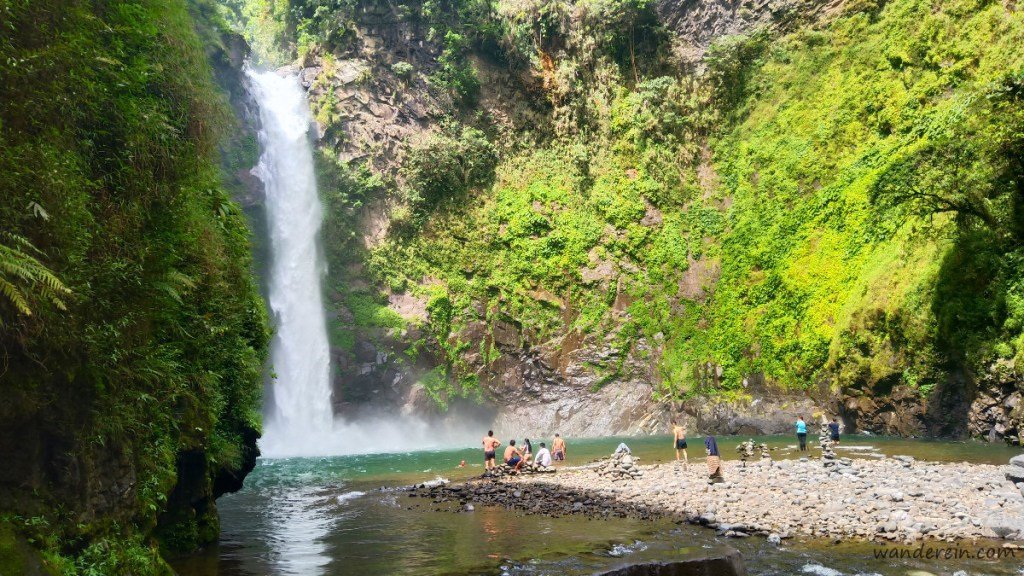 We were first to arrive at the waterfalls, and Blackie was also playing with other dogs. I just "swam" on the shallow areas. It wasn't really swimming but just submerging myself in the cold waters. It was really really cold but it felt good after some time.
Tip: There is usually a rainbow over the waterfalls in the early morning, before 8am. You can catch this but you have to leave your Batad lodging earlier (6am to 630am depending on how fast you trek).
We brought a few snacks and stayed a while. There is no rubbish service here so you should take your trash with you. The tourists started coming and so we decided to go back after a few more minutes.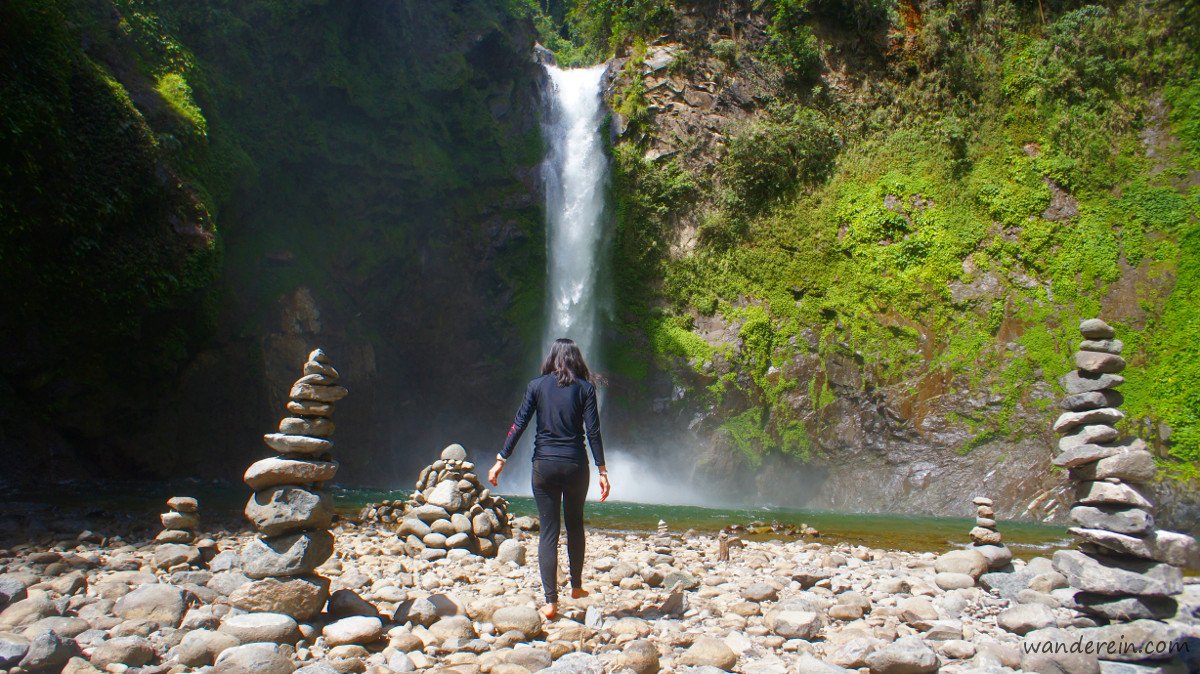 We decided to go through the easier path going back because I realized that I haven't overcome my fear of heights fully. It has improved over the years but I still freeze from time to time. I wanted to overcome this because I wanted to travel more. I dared myself to walk to the village on my own the following day and practice the "pilapil walk". It was just me and 4 guide dogs! I will link the post here as soon as this is available.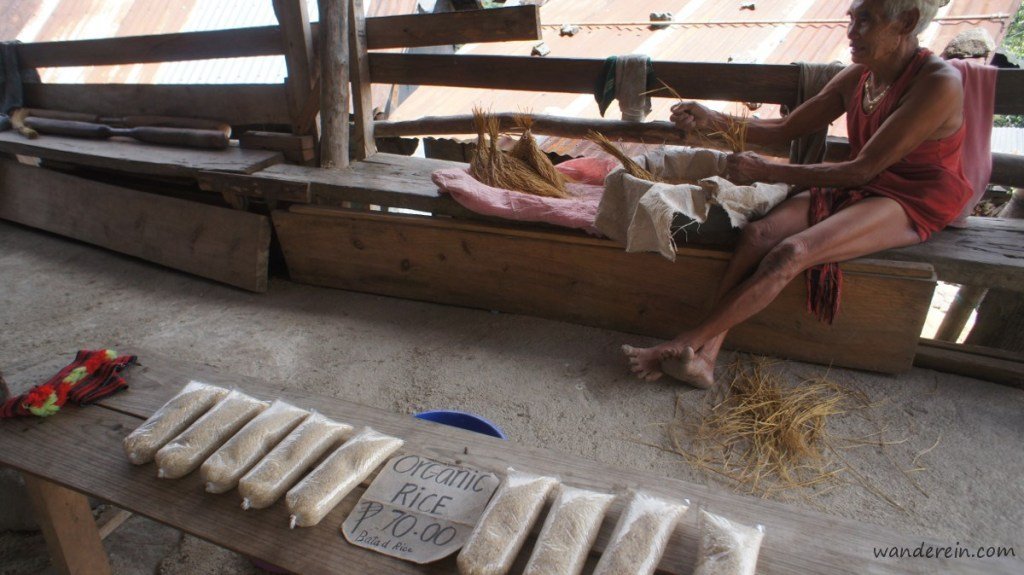 On the way back, we found a native Ifugao man selling organic rice which were harvested from these rice terraces. The rice harvested are usually for local consumption and are not enough to be sold commercially but they also sell a few as souvenir. These are more expensive than commercial rice because these were processed manually, no machineries used. I got the chance to try pounding rice at Ramon's homestay and that process alone was tiresome! I have tried this and these taste a lot better than commercial rice too.
Here's a virtual tour with Blackie:
Note: This was originally posted in my personal blog https://wanderein.com/2019/10/21/batad-rice-terraces-and-tappiya-waterfalls/