Note: I did not intend to post this here as this is my letter to the Banaue mayor. However, I made some mistakes today which resulted to a duplicate post of House of Ekolife. So as not to make my blog look worse, I will just re-publish this blog here.


---
I stayed for a week in Batad to rest and just be away from any distractions. There is no network coverage in this area so you can really relax. However, no one goes to Batad without seeing its natural attractions.

I am not a mountaineer and have only done easy climbs. My last trek going through pilapil (rice field dike walkways) was almost 10 years ago, in Sagada. I remembered being really scared because it was not easy for someone like me who is still overcoming the fear of heights. It was muddy and slippery so I told myself, never again. I ate my words, I had to trek through the rice terraces since I am already in Batad.


For someone like me, getting a local guide was necessary. Most foreigners don't get a guide and would just ask around whenever they randomly see a local passing through the rice terraces. That must be an adventure and would save them money, however, I list reasons why you should consider getting a local guide to get to Batad's major attractions.
Safety First, Adventure Next
The locals can walk through fields without the need for trekking shoes. They grew up here walking through steep stone stairs and slippery pilapil paths (rice field path) like it was just a walk in the park. Kids would run through steep slippery stairs while I carefully calculate each step.


Guides do not only show the way, they would help you whenever you find a path difficult to pass through. There were some moments that fear crept in and I just froze, my local guide would offer that I hold her hand for support.
We got to the waterfalls safely, the water currents are strong so they can also tell you where to swim. It was called but you get used to it after some time.


Support the Locals' Livelihood
The harvest from the rice terraces are not for commercial consumption. The Ifugao's have successfully preserved the tradition of maintaining the rice fields for their household. From time to time, you see people selling their local rice as souvenir, and they would also sell their traditional products like rice wine to tourists.
Apparently, tourism is a major source of income. However, a lot of foreign tourists try to get in for free. I used to be a fan of those vlogs that teach how to go around Batad for free but I now see how these influencers have not really helped the locals. These vloggers did promote Batad, for free and without giving back to locals.


I understand that they are backpackers and want to save money, however, do they just enjoy the place without giving back? There are backpackers who promote this kind of trip, they can travel almost for free these tourists sites but do they understand the impact to the locals.


I am also trying to save money when I travel. I like discounts and free stuff, but as travelers, we can't just take and take from the locals and their home, we have the opportunity to give back as well. And I'm not even talking about charity, it's supporting their tourism services, and paying for the time and effort they provide.


Traveling is a privilege, and if you, from another country, was able to get here, then you are more privileged than some locals here who haven't even been out of the country. While you think of the free tours you can get, they think of the meal that they can provide for their family if they earn from these tourism services.
Maintain the Beauty of Batad
I am honestly surprised that a UNESCO World Heritage site only costs a dollar to enter and does not require local guides. Both locals and foreigners only have to pay a very cheap tourism fee of P50 (less than a US dollar).


While other tourist spots that is easier to trek has a "No Guide, No Entry" policy, you are free to go around in Batad after paying the minimal tourism fee. For Instance, Apo Whang Od's village in Buscalan has this policy and the locals lives have drastically improved in a matter of 2 years.


Some tourists complain that Batad doesn't look nice now because of the structures being built around and the lower cost houses. They want to see nipa huts.
However, there are a few nipa huts and native houses because it is now expensive and impractical to maintain this. The trees where they used to get the "nipa" roof no longer grow on these mountains and they have to replace this thatched roofing every 15 years.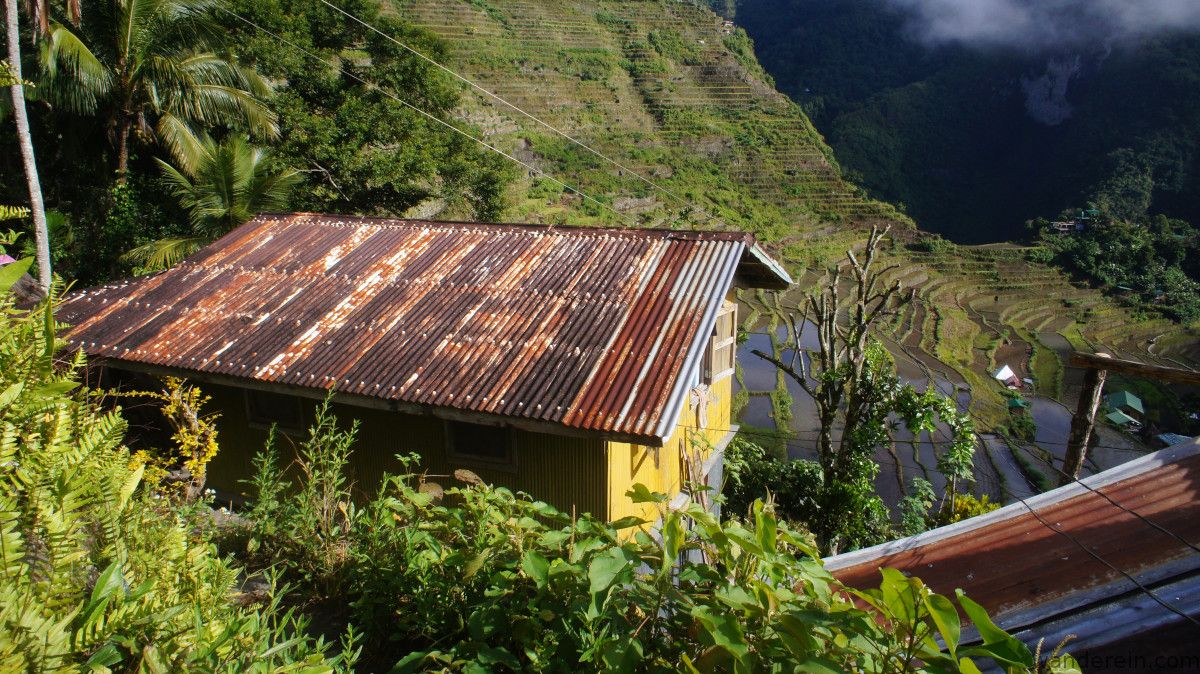 If there was more income from tourism, perhaps locals would see that spending more on native huts is a good investment and not just an expense for them.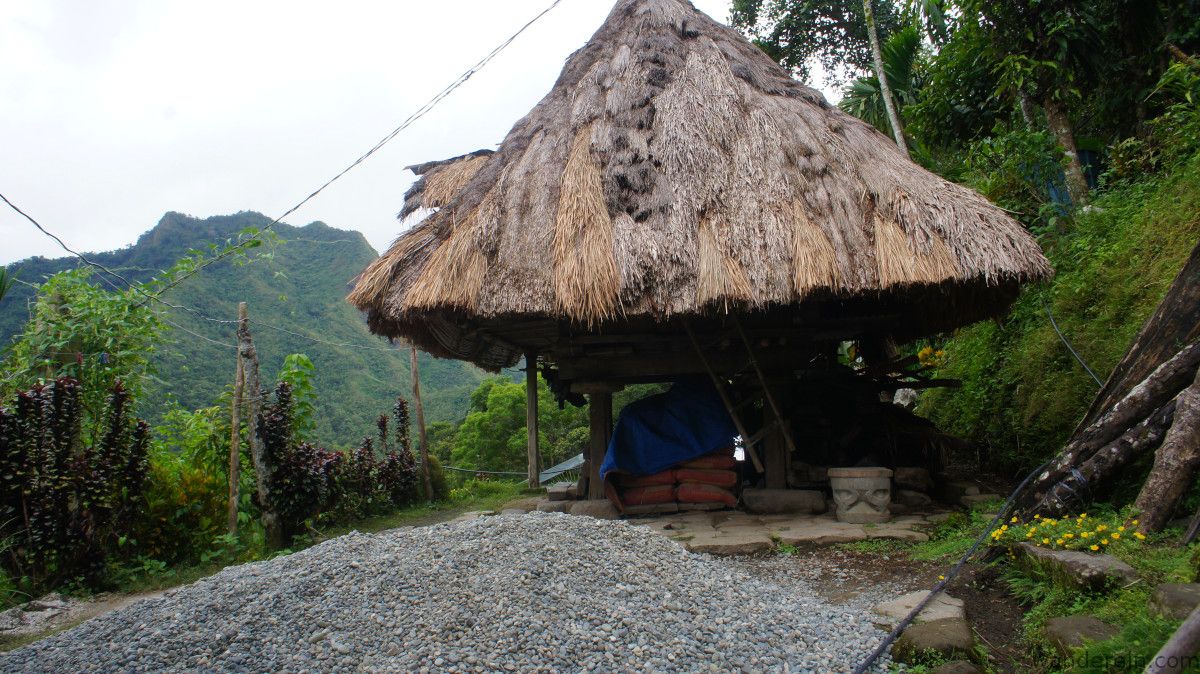 Note: You can sponsor a native hut to be built. You basically share in the cost of building the native hut where you (and your relatives or friends) can stay in for free if you're in Batad. I have written about the Ifugao native hut in this blog.
Avoid Local Guide Fights
I was the only local tourist in Batad when I went there during the low season. With my limited hiking experience, I would need a local guide especially to a more difficult path to Awa View Deck.


I have already talked to one of the local guides recommended by the homestay. In the afternoon, they approached me to ask if I got another local guide. I told them I haven't spoken to any guy and have only spoken to the women at the village when I went for a walk with the guide dogs. They must have seen me so they told the staff at Ramon's staff that I had an agreement with another tour guide. I clarified that it wasn't true and have not spoken about to any other local guide.


Sadly, local guides fight over the few tourists who would get a guide. This is something they had to resolve as a community. At the same time, this issue wouldn't exist if they had enough customers.


LOCAL GUIDE FEE
As there aren't much customers, there isn't a standard rate which can be confusing to guests. A local guide to the Top View and Tappiyah Waterfalls is between Php800 to Php900, and up to Php1000 if you would pass through the village. Depending on how fast you are, and how long you want to stay at each spot, it can take more than 5 hours. It took me 2 hours one way with stop overs to take photos and enjoy the sights. On the other hand, a guide to the Awa View Deck will cost Php1200 as the trail is more difficult and far.

The local guides were willing to give me a discount because I was traveling solo. However, I decided not to get the discount because I felt it was fair to them. We, tourists, in most cases are more privileged to travel the world than the locals, while they just needed an income for their basic needs.


During my trip, they also guided me really well knowing that I can be scared of some paths at times. They ensured I was safe, that costs more than a thousand pesos.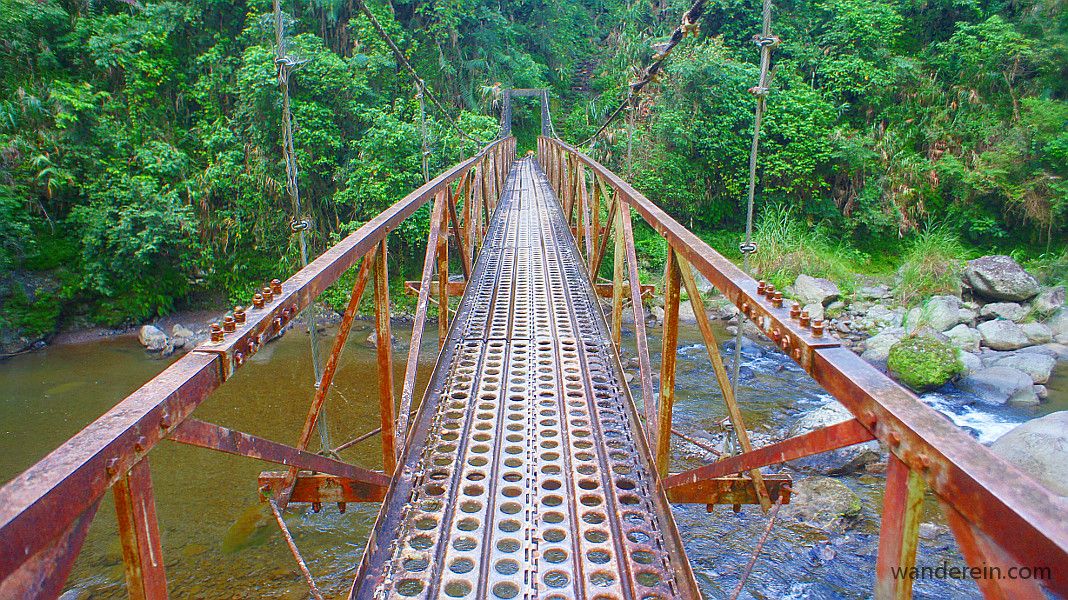 TOURISM OFFICE HELP
I wanted to give my suggestion to the Batad Tourism office, however, they directed me to Banaue Tourism as they are under Banaue's umbrella. I tried to talk to someone at Banaue Tourism but they didn't have any channel (whether sms or email) where I can provide suggestions. The lady at the Tourism office only told me to write it in their logbook and she said that they will send it to the mayor. Luckily, the mayor was also taking the same bus as me going to Manila. He was able to read my suggestions and said that they are already looking into some of those I mentioned.


I cut the blog here. My suggestions can be found in my website. I personally do not want this published here as it can be controversial especially on my recommendations to increase entrance fee except for locals.
---
A lot of improvement can be done, hopefully without corruption, if they make use of the tourism funds properly. They can help build traditional native huts from the tourism fee or provide incentives to locals who maintain their traditional huts.


The local tourism has to work with the locals to help them maintain the place. Batad has just become popular a decade ago, it isn't too late to fix any issues. Some places require a local guide before you can enter a guide while they only ask for P50 pesos as tourism fee. If they can require local guides to places which aren't World Heritage, they can do more for a site that to be preserved.


This is not just for the locals' benefit but for future travelers to enjoy.


---
For a complete travel guide about Batad, see my blog here.


---
As note above, this post is also available in my personal website: https://wanderein.com/2019/12/08/batad-rice-terraces-why-should-pay-for-a-local-guide/