I have just started out my digital nomad journey and long term
travel. That meant that I have the option to travel slowly. I was

like most tourists previously when I had my 9 to 5 job. I would take

time off for a few days and get to as many locations fast.
I think travel is personal, it differs how each one travels. I used to enjoy that hyper kind of fast travel but I would like to travel more slowly these days. Personally, I would like to really get to know the place and the locals. A month isn't enough so this one week was just an overview for me.
During my stay, I met some travelers who only stayed for a night or two. I guess 3 days and 2 nights is a good minimum but one can barely discover the place and the Batad heritage for one night. If you have limited time, I suggest you allot at least 3D/2N days in Batad especially if you're taking the public jeepney due to the schedule.
Below are some of the activities in no particular order.
6 THINGS TO DO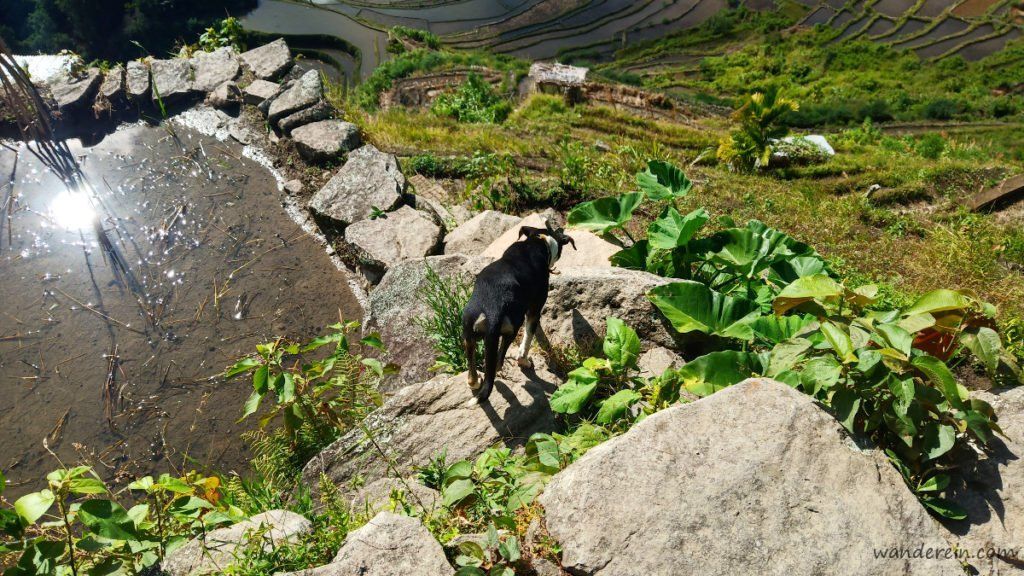 If you arrive early, you might be lucky to see a rainbow over the waterfalls. You can also swim but be careful and be prepared for the water is ice cold! I have written a more detailed blog about my Tappiya waterfall trek with a tour guide dog here.
The Batad village gives you a really good view of the rice terraces, but if you want to see the entirety of the rice terraces then you can trek to Awa View Deck.
This is a more difficult trek as you would pass through cliffs, high narrow pathways and steep trails. It would be best you hire a local guide as they are familiar of the safest path to the deck. Click here for my more detailed blog about this trek and my recommended local guide.
I stayed at Batad View Inn and Restaurant which is under the same management as Ramon's homestay who owns traditional nipa huts. Luckily, Sir Ramon was there during my stay and he was always enthusiastic about story telling about their rich culture and history.
On my first night, we had a bonfire and fruit wine was served. We were a total of 13 guests that night so we stayed longer. The big group of local travelers offered the rice wine they bought after we have finished the fruit wine.
It was a way to get to know our fellow travelers and Mang Ramon initiated this. We also learned a lot of local stories from him from rice wine making to answering questions we had about Batad.
The next day, I found the group wearing authentic Ifugao costume. They don't charge a fee for this but they just ask for a donation to be given to the local man who maintains this costume. He also wears his traditional Ifugao clothes and you can take photos with him.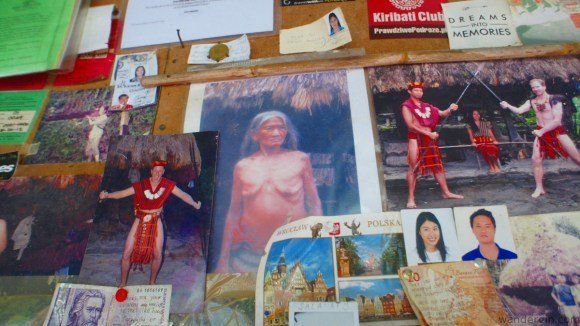 4)Try Rice Pounding and Eat Tinawon Rice
While the group was wearing their costume, we got to experience how to pound the local rice manually. We were given proper instructions on how to stand and hold those heavy logs. Each log weigh about 6 to 8 kilos in my estimate.
It was a work out, even the other more fit guest said that it was a difficult job. The local girls finished the job and they expertly winnowed the rice. After the first winnowing, we pounded it again. They did one last winnowing to separate the cover from the rice.
There were some grains that were still covered and they had to remove them one by one. It wasn't a lot but no grain can be wasted after all the manual work they do starting from their manual labor at the field.
We get to taste these local rice called Tinawon. There are other kinds of local rice but locals said that Tinawon is the best and most fragrant or their heirloom rice.
The rice has bigger grains than the commercial counterpart and tastes so much better. It was organic and we have only seen one part of the manual labor to it. Anyone who experiences and witness this can definitely appreciate each grain of rice.
Ifugao Coffee
Aside from rice, they also pound their coffee beans.
Most homes grow their own coffee in their backyards. They get the beans and these are also manually pounded in the same gigantic mortar and pestle. It was a faster process that the rice pounding.
I am not a coffee fan but I had my traditional Ifugao coffee hear almost daily while overlooking the rice terraces.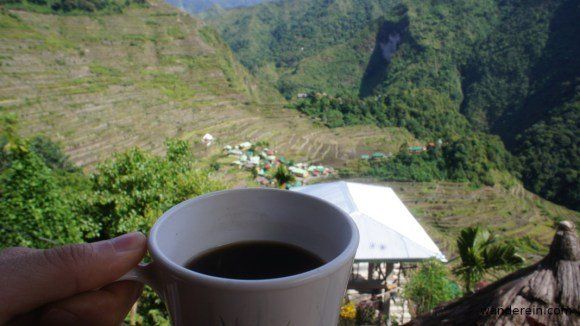 If you stay longer, you might get lucky like me to witness how they make their traditional rice wine. It is a laborious and long process.
Mang Ramon was keen that I document this process as he wanted to share this knowledge to more people and preserve this tradition. I have written a comprehensive and step-by-step post about this here.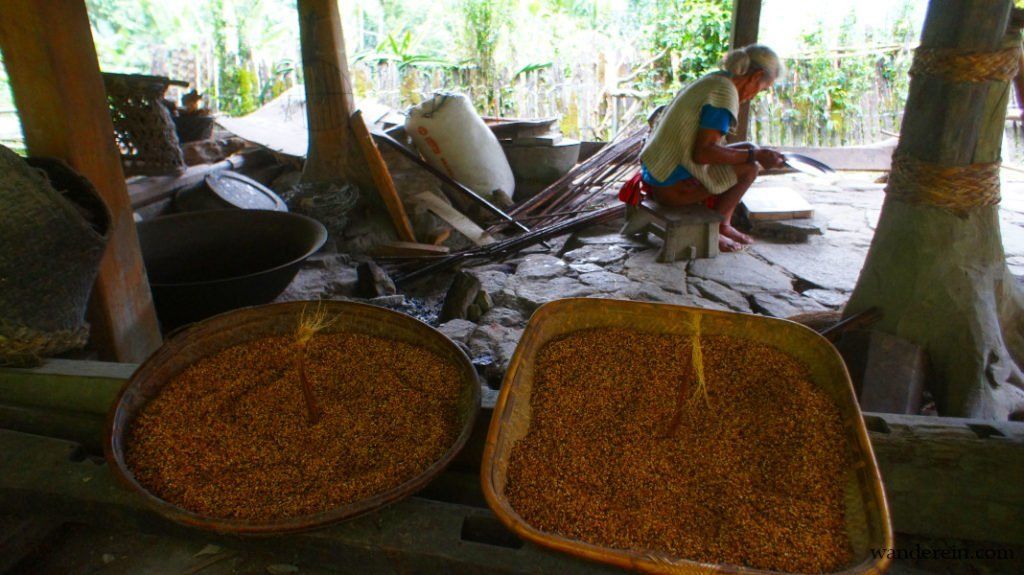 Rambo, the most popular guide dog, resides at Mang Ramon's homestay. You might get a chance to have Rambo as your guide if you're staying here. Aside from Rambo, the other resident dogs like Blackie and Brownie are also happy to guide visitors.
I was happy that they guided me whenever I would go out and even on my way back to Turning Point.
The dogs are not forced to guide visitors. They would guide you if they feel like it. Here's my video featuring these intelligent dogs:
Getting In and Out of Batad
Banaue is the jump off point to Batad. You can take an overnight bus from Manila to get to Banaue. For more information about Banaue, watch out for my guide which I will link here.
Public Jeepney
The jeepney terminal to Batad in Poblacion, Banaue is located near the Banaue public market. Jeepneys from Banaue to Batad leave at 3pm daily. It will take an hour to get to Turning Point, which is the start of your trek to Batad village. Saddle Point used to be the end of the jeepney ride but they have now extended the concrete road. I read that it will take more than an hour to trek to the village. From Turning Point, it only took 20 minutes to Ramon's homestay and Batad View Inn.
The jeep going back to Banaue leaves earlier, at 9am daily. This is why an overnight stay in Batad isn't enough especially if you will take the public transportation. You arrive late in the afternoon, and leave early the next day. If you plan to take the public jeepney, stay for at least 2 nights.
Each way costs P150 (<USD3).
Tricycle
Alternatively, you can hire a tricycle for around P600 (<USD12) per way. A tricycle can seat up to 4 passengers, 3 inside the car and 1 behind the driver but travel time to Batad is too long and you will pass by zigzag roads. It is more comfortable if only 2 people take this ride, plus the driver.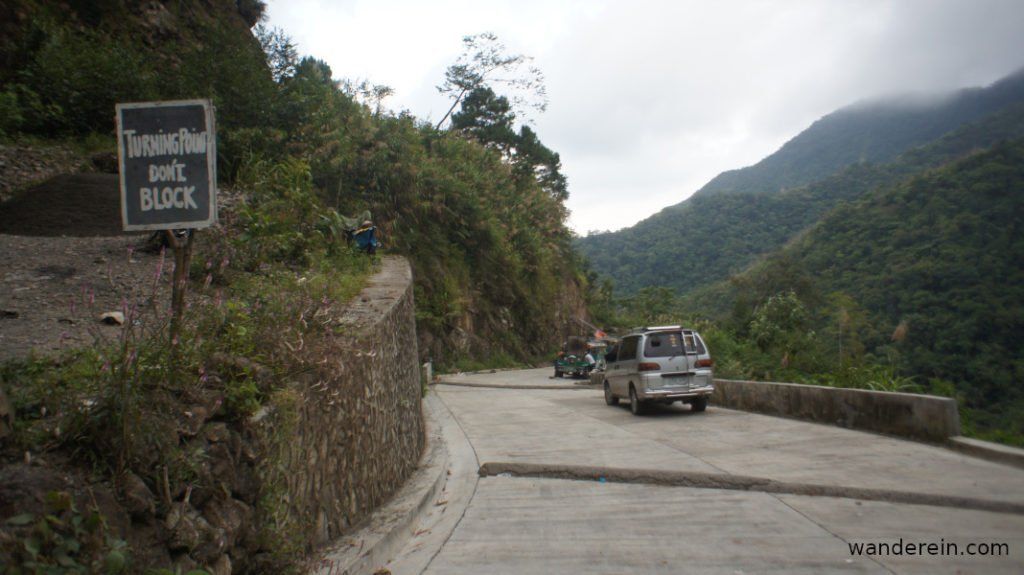 Recommended Accommodation
I personally recommend Batad View Inn & Restaurant if you're on a budget. This place is under the same management as Mang Ramon's Homestay. If you want to an ethnic experience, then you can stay at Mang Ramon's nipa hut. For more information about the native huts, you may check my post about it here.
The owner, Ms. Irene, is very accommodating. I also stayed at her sister's lodging in Banaue - Banaue Greenfields Inn - where I left my luggage. If you are staying in Banaue on other days, I recommend you stay here so you can leave some stuff you don't need for an easier trek to Batad.
Estimated Expenses
To give you an idea of how much your budget should be (excluding lodging), see below expenses as of November 2019:
P50 Banaue Tourism fee
P50 Batad Tourism fee
P150 Jeepney from Banaue to Batad
P150 to P200 per meal (meals are quite expensive because they have to pay a porter for the raw ingredients)
P50 for native coffee
P700 to P1000 Tappiya Waterfalls, Peak and Native village tour guide fee (can be shared with other travelers)
P1200 Awa View Deck tour guide fee (can be shared with other travelers)
They pay a porter fee to carry their raw ingredients which they buy in Banaue so meals are more expensive than in Banaue. Bottled water is also expensive because these are heavy to carry but the water there comes from the mountains springs and is drinkable. This will depend though if you're stomach is sensitive to tap water.
I brought 6 liters of water from Banaue and I also tried the tap water when I ran out of my bottled water. My stomach was fine and I didn't get sick. However, the staff will warn you to gauge if you're stomach is fine with the water coming from the mountains.
Best Time to Go
January to February: planting season, fields are being cleaned and it starts to look green
March to April: GREEN fields and Imbayah Festival in April
June to July: harvest season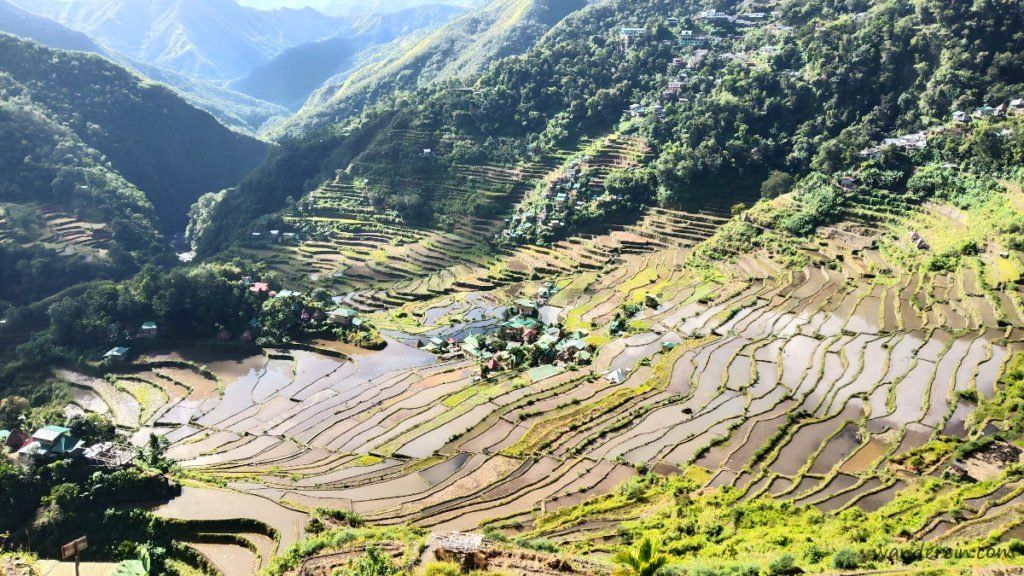 Beyond Batad
There are nearby sites that you can trek to such as Cambulo or Pula villages if you have more time. Banaue town proper is also an interesting area which most tourists skip after seeing the Banaue rice terraces. I will write about Banaue soon.