We were strolling in a peaceful street in Vang Vieng, Laos when a hyper puppy saw us and decided to approach us. The puppy seems to be in his teething stage and wants to bite on anything and that day he decided to cling to my pants.
I slowly tried to get out and shoo the puppy away. I thought everything was fine until I took a shower in the evening and felt a slight sting on my leg.
Shit, I got a wound from the puppy.
First Aid
The wound should be washed with running water for 10 to 15 minutes which I failed to do. I should have checked my leg for any bite. I felt his teeth but I didn't feel any bite. Lesson learned, always double check!
To learn more on how to handle a dog bite and rabies, please refer to this WHO FAQs. What I will be sharing is my personal experience and the clinics and costs for your information in case this happens to you while traveling.
Day 0 to 1: Vang Vieng Hospital
Ideally, the rabies vaccine should be administered as soon as possible, on day zero. The following morning, we went toVang Vieng Hospital's Emergency Room.
We didn't have mobile data in Laos so I have screenshots from Google Translate of what I needed and what happened to me. The translations were helpful as there was only one nurse staff who can speak in English.
They did not administer an Immunoglobulin shot as the wound looked like a scratch. The problem was, I wasn't able to see any bleeding as I was wearing pants and I didn't even realize I got bitten. It was unclear whether it was a category II or III of contact. This was also unavailable in Vang Vieng.
Cost: 180,000 Kip
110,000 Kip for the vaccine plus 70,000 Kip for the hospital fees
We visited the street to check on the puppy and check if it has been vaccinated. The residents are unable to speak English but they somehow understood my question whether the dog was vaccinated and the unfortunate answer was No.
We waited for the puppy owner but she refused to talk to us. I showed translations if they can contact me for any change in behavior in the puppy.
Day 3: Nong Khai Hospital 2
We were already in Thailand by the time I needed a 2nd shot. This was just our lay over to India so we had to move.
The news about the Corona virus (it wasn't called COVID19 back then) was slowly spreading in Thailand and I prefer not to be in a hospital, however, there were no other clinics we found to have a rabies vaccine.
I requested to waive the routine procedure of checking stats in a hospital as I do not want to get exposed with other sick people. I just needed a vaccine. Unfortunately, they declined my request as it was their "routine".
It took 2 hours for a nurse to administer the shot. This time, they used the brand Speeda which cost 350 Thai Baht
Cost: 500 Thai Baht
350 Thai Baht for the vaccine plus 150 Baht hospital fees
Day 7: Red Cross Bangkok
Of all the hospitals/ clinic I went to, Red Cross in Bangkok stands out in terms of international standards. We went to the immunization clinic which is better than a hospital since we wanted to avoid exposure with other sick patients amidst the Coronavirus news.
They examined my now dry wound. The doctor thinks it's a category III contact, in which I would need an Immunoglobulin shot.
It was a tiny wound but there's a sign that it bled with the color of the dry wound. Luckily, it was within the prescribed number of days for this shot. In addition, a tetanus shot which is valid for 10 years.
Total cost: 1930 (anti rabies + Immunoglobulin)
350 anti rabies + 1500 HRIG 5cc + 80 administration fees
Since we were already at Red Cross, I decided to get a yellow fever vaccine as we have plans to visit countries in South America that requires this. It was 1200 Baht for the yellow fever vaccine.
Day 14: Dr Meena Govardhan Meena
This is so far the most interesting visit I had. I was researching for vaccinations in Jaipur and his website comes first and with mostly 5 star reviews.
I also looked into hospitals but would like to avoid hospitals at the moment, also the hospitals in Jaipur has mixed reviews.
His clinic was near the SMS hospital and it looked like a big house in a compound. Upon entering a big dog greeted us. I would like to avoid dogs at the moment and just stood still as the dog sniffed us.
It was 3.30pm when we arrived and we were told to wait for an hour outside as the doctor was resting.
We returned after an hour. There was no proper waiting area so we just sat on the floor within the gates. I was the only patient and he looked at my vaccination card while he was on the phone. He studied my card and made some comments and I was firm to say that I only need the 4th rabies vaccination.
He made comments that my previous Speeda vaccine was no good because it was made in China. He then said that their vaccine made in India is better and charged me Rs 1000. I asked for anything cheaper because I read that a vaccine costs about Rs 400 to 500. He insisted it was better. I had no other better option so I just agreed and besides, it's about the same amount I would pay in Thailand,
He took a needle and filled it with the vaccine fluid. He asked when I was ready and he abruptly stuck the needle on my shoulder.
No cotton swabs of alcohol to clean it first and he just told me to rub it with my hands!
This technique seem less painful, however, it was not the most sanitary treatment I had in this journey.
I asked for a receipt as I would need to submit this to my insurance but he only provided me with a blank paper and his name and amount.
After this transaction, he insisted that I provide the review right there and then. I told him I'll do it at home but he insisted and asked for my phone. He wouldn't stop until I agree. He dictated what I should write. I updated this review afterwards. It's disappointing to find out that the reviews he has on Google were not all authentic.
Total Cost: Rs 1000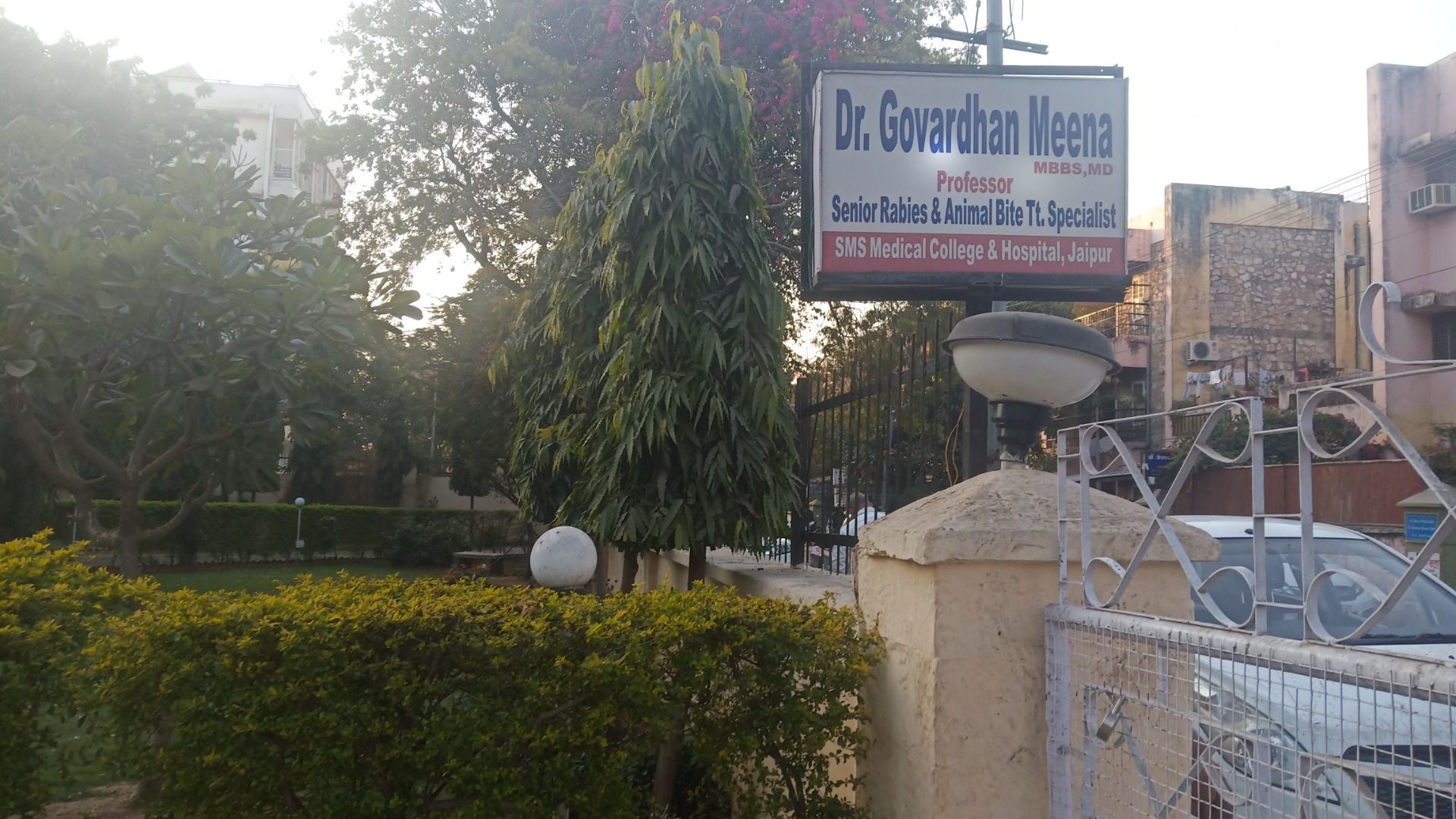 Day 28: Pushkar Public Hospital
After receiving treatment from Dr. Meena, I was hesitant to go to another doctor in India. However, I had no choice as I do not have a flight out of India soon.
We were in Pushkar by day 28 and the nearest hospital was a public one. I have read reviews about another public hospital in Jaipur about hygiene and service which is why I didn't go there. This public hospital, however, was recommended by our German host in Pushkar.
To our surprise, the hospital was clean, it looked like an old facility but it is clean.
The best part is, I only paid 10 rupees for registration, the vaccine which is the same vaccine Dr. Meena gave me and administration are free!
The service was fast. I was accompanied from the general doctor to another clinic with the vaccines. They administered the vaccine quickly as there were no other patients.
Total cost: 10 rupees for registration + Free vaccine
Do you already have a Travel Insurance?
Constantly being on the road entails higher risk but this doesn't stop us from traveling. Travel Insurance is the best protection you can bring with you when you're abroad.
There are unexpected events in any country (like getting bitten by a dog!) but that shouldn't stop you from living your dream.
Before my trip, I researched thoroughly and found that SafetyWing is the most affordable and the best part is you can extend your insurance wherever you are in the world!
Other travel insurance in the Philippines (for us Filipinos) require us to be in the country after some months and this is not ideal for me as a digital nomad. Thankfully, SafetyWing lets you extend wherever you are and they even allow you to register even if you are already abroad which other travel insurance wouldn't allow.