India's Prime Minister announced the lockdown extension until the 3rd of May. A lot of my fellow travelers here felt really bad which is understandable as there is no way to get out of India except for rescue flights by embassies.
I have been in this hostel since the 25th of March and I have not really actively shared about TravelFeed YET because I had other personal issues to attend to, and other travelers are in the same situation as well. However, some people notice me working on one corner, while others got curious of the TravelFeed sticker on my laptop.
I had a few casual conversations about what I do in TravelFeed until I got more questions about it. Hence, I decided to set up a presentation to answer everyone's questions.
Instead of wallowing in sadness on the day the lockdown was extended (as even flights home were canceled), we all went back to business and I was happy to see that most of the travelers here attended the presentation. About 15+ people listened to me for over 45 minutes in the hostel's TV room! It was supposed to be a short presentation but we have the luxury of time and I received interesting questions. I was also able to walk them through the site and showed them TravelFeed's EasyEditor.
I find this a blessing in disguise to be automatically given an audience in this situation. During the TravelFeed meetups in Thailand last year (after SteemFest), it was a challenge to even get people to attend our presentation that there were even days we were talking to people individually and handing them invitations!
*Please note that we have been living inside this hostel for almost a month and this is not a public gathering. *
TravelFeed 3.0 Onboarding
I wasn't expecting to do a presentation as it has always been @for91days and @jpphotography who presented in the TravelFeed meet ups in Thailand last year. And with the recent major update, such as independence and cross posting, I had a dilemma on how I would discuss it with them.
Should I talk about Steem and Hive?
One of my dilemma before the presentation is how to approach Steem and Hive as TravelFeed is now independent and some of them are not familiar with cryptocurrencies. This topic might confuse them but I cannot avoid mentioning them as cross posting to Steem and Hive is part of the service. The question on monetizing on either or both these blockchains did come up and I advised that they do further research on these two platforms if they would want to sign up.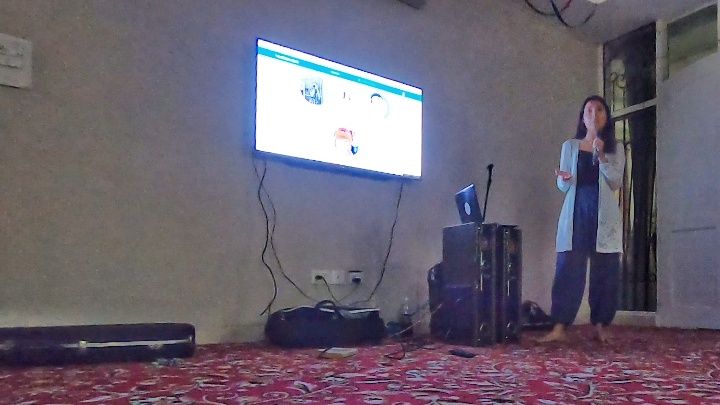 TravelFeed as an Easy to Use Platform
While I did receive questions about cryptocurrencies, most of them understood that TravelFeed is a platform for easy and free travel blogging. The day before the presentation, we implemented an easy sign up process where you can start blogging in as fast as 2 minutes! Watch out for the next TravelFeed announcement post for this but you can also see these sign up process now on the TravelFeed site.
A lot of them expressed their interest to sign up and were excited to be able to have a free and easy to use blogging platform, where monetization (through the blockchain/s) is optional.
Positive Feedback
After the presentation, one of the guys approached me and commended that we clearly have great developers. I said we actually have only one developer - @jpphotography! We continued on the discussion as he has helped start ups in the past and he likes what we are doing and said that we have accomplished a lot in a short span of time. I will connect him to our core team once our situation in India has improved.
The following day, the owner of Datstop hostel also approached me too to tell me that he like what we are doing. He knows hundreds of bloggers and said that he will look into it. Connections!
Prior the presentation, I have already received some feedback on the site's interface. I requested them to also provide me any constructive feedback which will make TravelFeed even better. TravelFeed is doing great but we do recognize there is room for improvement.