DISCLAIMER: With a country of more than a billion people, this post is not a generalization of India. This is just based on my experience while traveling in Rajasthan amid news of confirmed Coronavirus (COVID-19) cases of travelers who visited Udaipur.
I'm Filipino and I could easily look like an East Asian. In Southeast Asia, people think I'm a local, whether it's in Thailand, Laos, or Vietnam. Here in India, some people think I'm Japanese or Korean, while some think I'm South American.
I can look like any nationality!
While it's fun to be chameleon of nationalities, the news about Coronavirus or COVID-19 seem to not favor people of certain appearance. Before I proceed with some Coronavirus related incidents, I would like to let you know that this topic isn't about racism or discrimination. I have not encountered anything serious and I still feel very welcomed in India.
My boyfriend and I arrived in Udaipur a few days ago and we have not seen panic in the streets and rarely do we see people wearing face masks which is a good sign despite the news that just over a week ago, an Italian couple who traveled here confirmed to be positive with Coronavirus.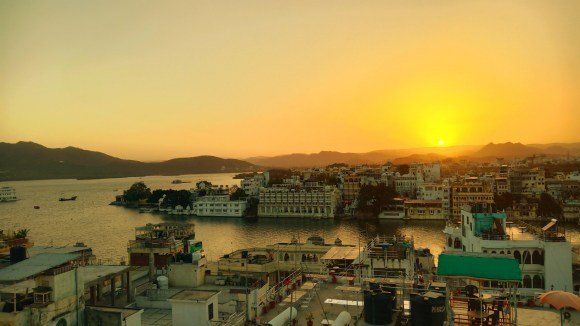 However, I had a few encounters where there were some sign of fear which up to a certain point is understandable.
Do Some People Think I'm a Walking Virus?
It's common for people to ask where I'm from, people ask that to any traveler. However, there was one random woman who asked if I'm Korean.
The question was odd because her tone was quite anxious. I was just walking on a street here in Udaipur and I walked past her. I answered "No" and she looked relieved. She didn't further ask where I'm from.
Now this could be a normal scenario but the way it was asked and how she reacted made me wonder if she was afraid that I was walking around a threat.
Coronavirus Talks
In a couple of instances, someone would just say something about Corona to me without any context. One guy just blabbered, "Hey be careful of Coronavirus" with which I answered, "Yes, we're careful". He only said that to me and not the other travelers walking past him. Anyway, that was nice of him to care about me ;)
After visiting the City Palace, a guy just said something in local dialect and then the word "Corona". He was not mad, it was just weird. He didn't make me feel threatened, it looked like a joke.
Discrimination in Accommodations
The above instances are not so serious but I fear being blocked from hotels or guesthouses because of my appearance. We were supposed to look for a new guesthouse to transfer to because the WiFi in our guesthouse isn't working. We went to Udai Haveli guesthouse to ask if we can see the room. The woman who attended to us, asked what we wanted and then asked where we are from. She then told us to wait and she'll ask her brother. After a few moments, we were allowed inside, apparently, the Philippines isn't a threat.
An older woman asked again where we were from and which countries we traveled to previously. We've been here in India for a month now and prior that we were in Laos, a country with no confirmed cases as of this writing. That was a good sign for her and then she gave us our room options.
We did not proceed with transferring to a new guesthouse as our current guesthouse owners were more welcoming.
Social Media Panic
What bothers me now are some stories from other travelers in a Facebook group I joined. A Vietnamese shared her experience being discriminated in Jaipur for her appearance, while an Italian guy commented that his hotel bookings were canceled because he's Italian. Here's a screenshot from that Facebook group and I just censored their names.
Fear is spreading faster than the Coronavirus, and it's something we have to watch out for. It is understandable as a guesthouse owner to put restrictions for safety, however, are there rational basis for this? To discriminate someone because of appearance and even nationality would be very unfair. Someone can be Chinese but has never been to China for a year because that person was traveling or residing somewhere else.
A lot of people ask me even in my Instagram photos of India whether it's safe to travel during Holi. Instead of asking just a regular person like me, check for official news in the area you're traveling to and maintain personal responsibility. There are various health advice online and follow advice only from reliable sources.
I will not give health advice on this blog because I am a travel blogger, not a doctor.
Before you go, do you already have Travel Insurance?
Constantly being on the road entails higher risk. Travel Insurance is the best protection you can bring with you when you're abroad. Before my trip, I researched thoroughly and found that SafetyWing is the most affordable and the best part is you can extend your insurance wherever you are in the world!
Even if you're already abroad, SafetyWing allows you to avail of their insurance. Other insurances would only let you apply before your trip!
Check out SafetyWing's guidelines on Coronavirus coverage while traveling.