Locorotondo showed up in our searches as one of the prettiest towns in Puglia, Italy. We saw this right away as the train approached this charming borgo nestled atop a hill in the beautiful Itria Valley.
This idyllic town is known for its whitewashed buildings, quaint streets, distinctive trulli houses on the countryside and its unique architectural feature called cummerse roofs, which are pitched roofs that add to the town's character. 
Locorotondo may be small enough to be visited on a day trip, but it can also be the perfect base to explore the Itria Valley. We stayed here for five nights as our third base in Puglia. Both Alberobello and Martina France are just a few minutes by train, although we decided to stay in both places for a couple of nights rather than just a day trip. 
Here are some of the best things to do in Locorotondo:
Stay in a Trullo 
For an authentic and a countryside experience in Locorotondo, consider staying in a traditional trullo at Micele Holidays Don Antonio Trulli. These iconic cone-shaped houses offer a remarkable accommodation option that allows you to embrace the charm of the region.
We stayed in a 2-bedroom trullo and cummerse so we have a terrace. Since trulli are conical, it's unusual to find a balcony but the cummerse (sliding roof) connected to the trullo created a perfect balcony.
Trulli (trullo singular) are conical shaped roofs that are typical in the Apulia region, while cummerse are pitched or sliding roofs that are uniquely found in Locorotondo.
What sets Micele Holidays Don Antonio Trulli apart is not only their comfortable accommodations but also their luxurious amenities. You can indulge yourself with access to a spa and a heated pool, providing the perfect opportunity for relaxation amidst the tranquil countryside setting. Whether you choose to take a dip in the pool or pamper yourself with rejuvenating spa treatments, this retreat offers an exquisite level of comfort.
The resort is a large complex with three trulli apartments where you have your own front yard tables giving you privacy.
They have a huge parking space but is also close to the train station so you do not even need a car to get to this countryside accommodation. It's also just about 10 minutes walk to the old town.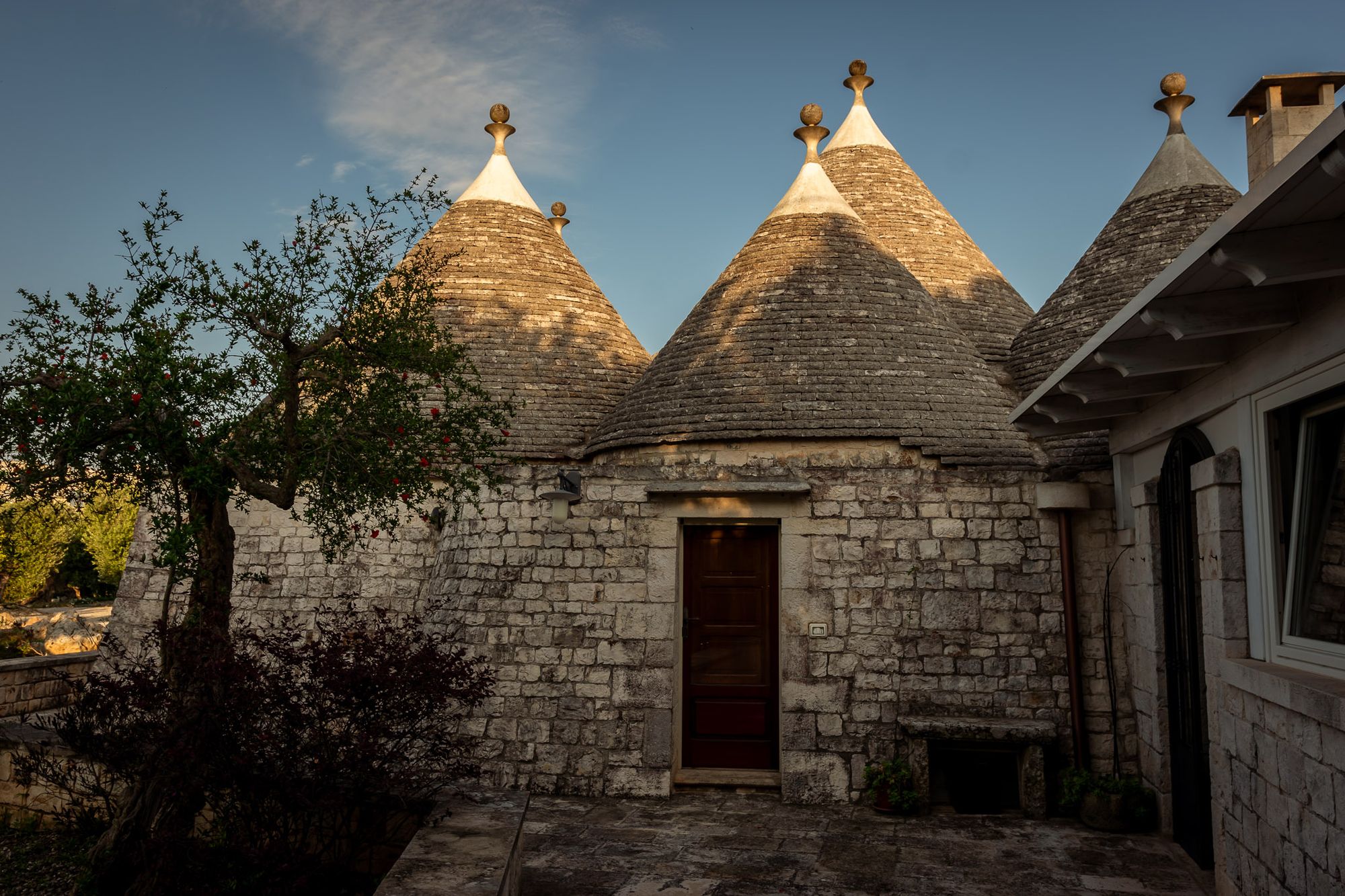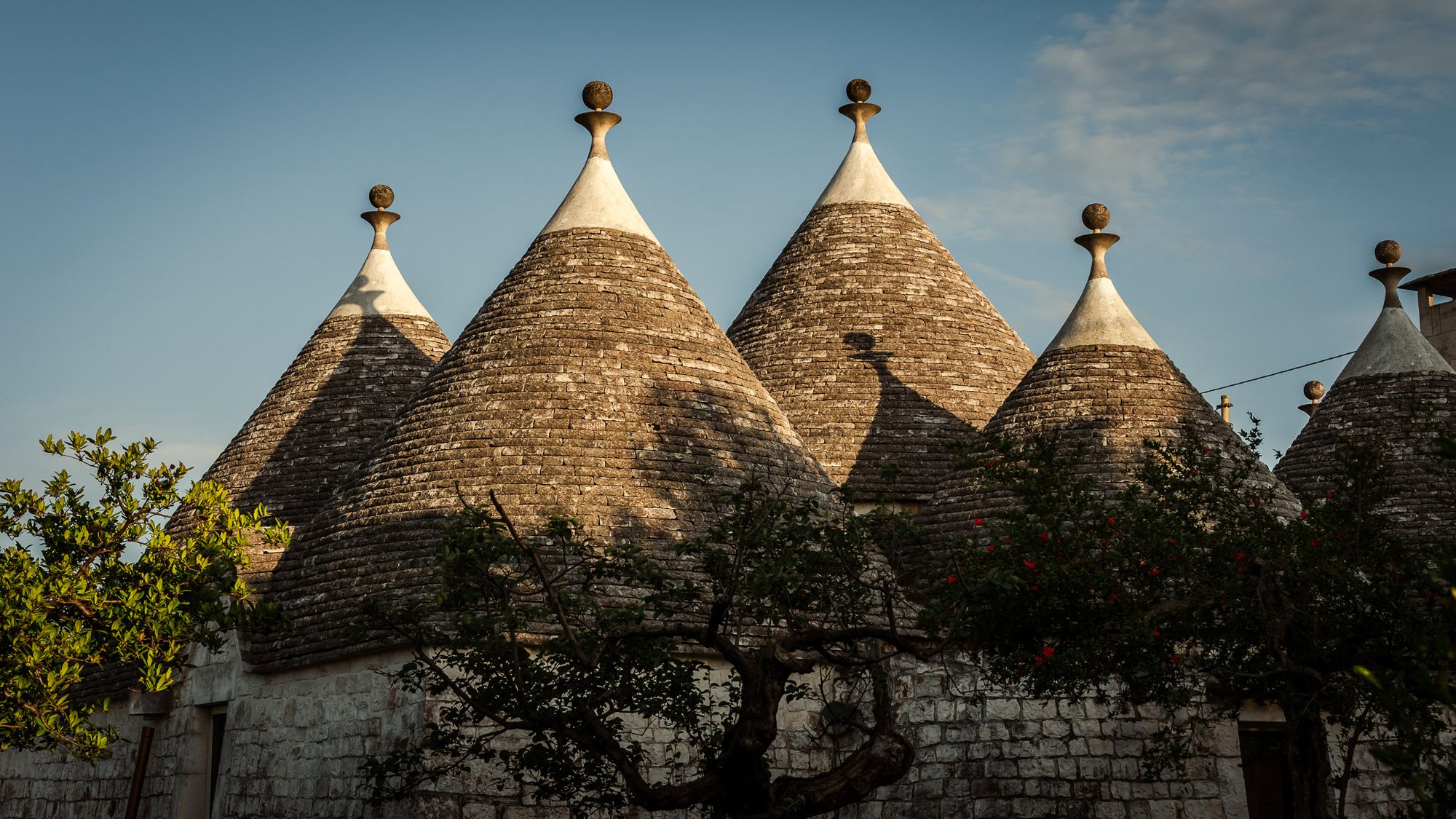 Take a look inside the apartment in this video I took, best viewed in YouTube Shorts:
Explore the Historic Old Town
Take leisurely strolls through narrow alleyways lined with ancient stone buildings, allowing yourself to get lost among their labyrinthine paths. Each turn reveals hidden corners waiting to be discovered, offering unexpected surprises at every corner. Locorotondo's historic old town is a treasure trove of architectural beauty, showcasing the unique cummerse roofs or pitched roofs that are characteristic of the town.
To fully immerse yourself in the history and culture of this town, consider visiting some of its notable landmarks. The Church of San Giorgio Martire stands as a testament to Locorotondo's rich heritage with its stunning Baroque architecture. Step inside and marvel at its ornate interiors adorned with frescoes and intricate sculptures.
Another must-visit is Palazzo Morelli, an elegant mansion that showcases the grandeur of 18th-century aristocratic life with elegant balconies that line the alley.
Eat at a Fornello Pronto 
Away from the old-town, a must-visit restaurent in Locorotondo is Gianfrate Carni Pregiate. It is a macelleria (butcher shop) that offers a unique concept typical in this part of Puglia known as "fornello pronto" where you can pick a meat from the butcher shop and they prepare it for you. You would know if butcher shops have this if they also have dining tables.
Step into Gianfrate Carne Pregiate and you'll immediately be greeted by the warm couple that's been running this macelleria for decades. We have bought some some deli from them previously so we know that the quality of the meat here is really good.
We picked a slice of dry aged beef, some sausages and bombette filled with chili and cheese. As we waited, the owner gave us some capocollo to try which is a ham typical from the Itria valley. 
Pair your meal with a glass of locally produced wine for an even more delightful dining experience. Their primitivo red wine, which is from the region, paired perfectly with the steak.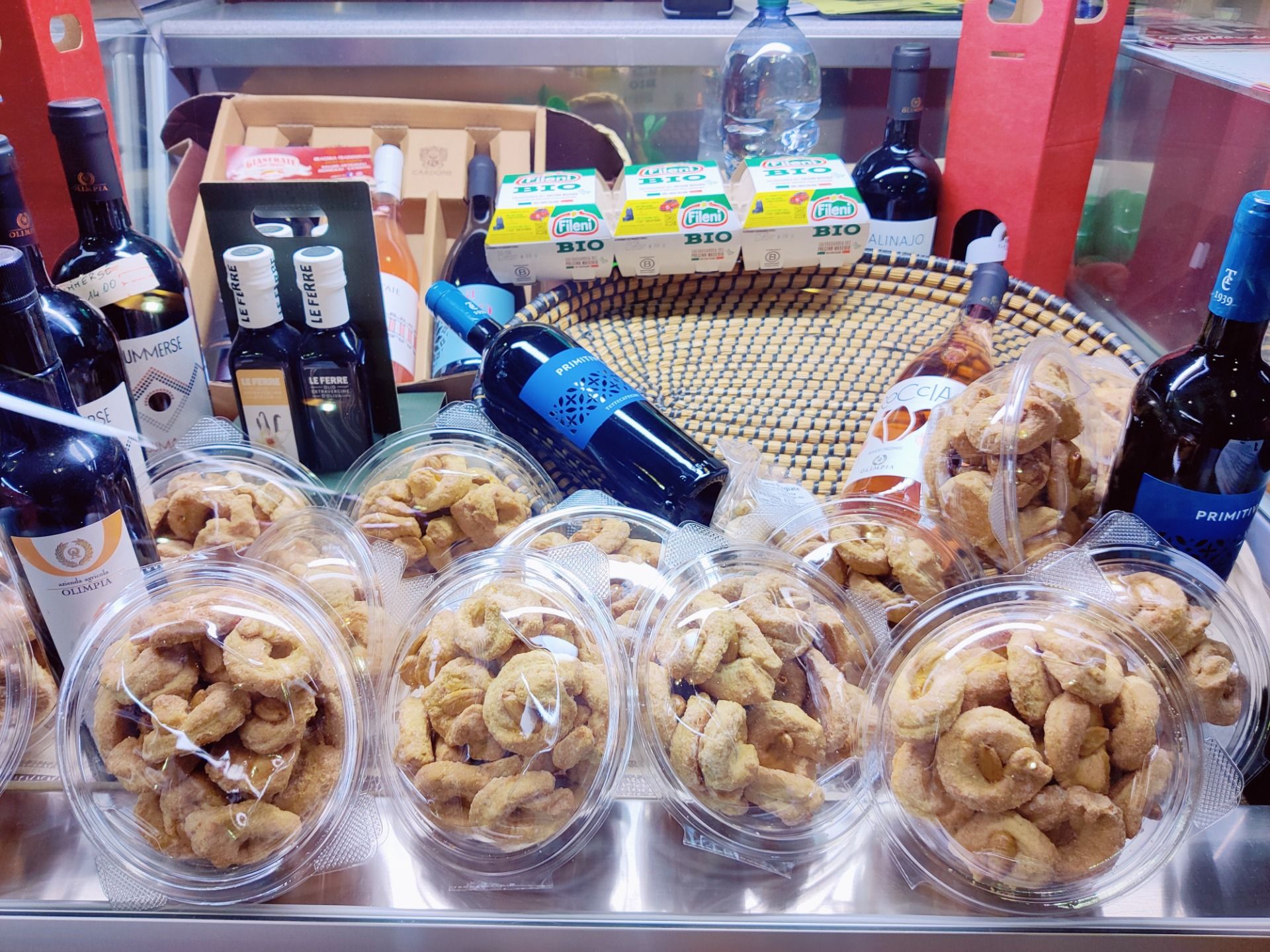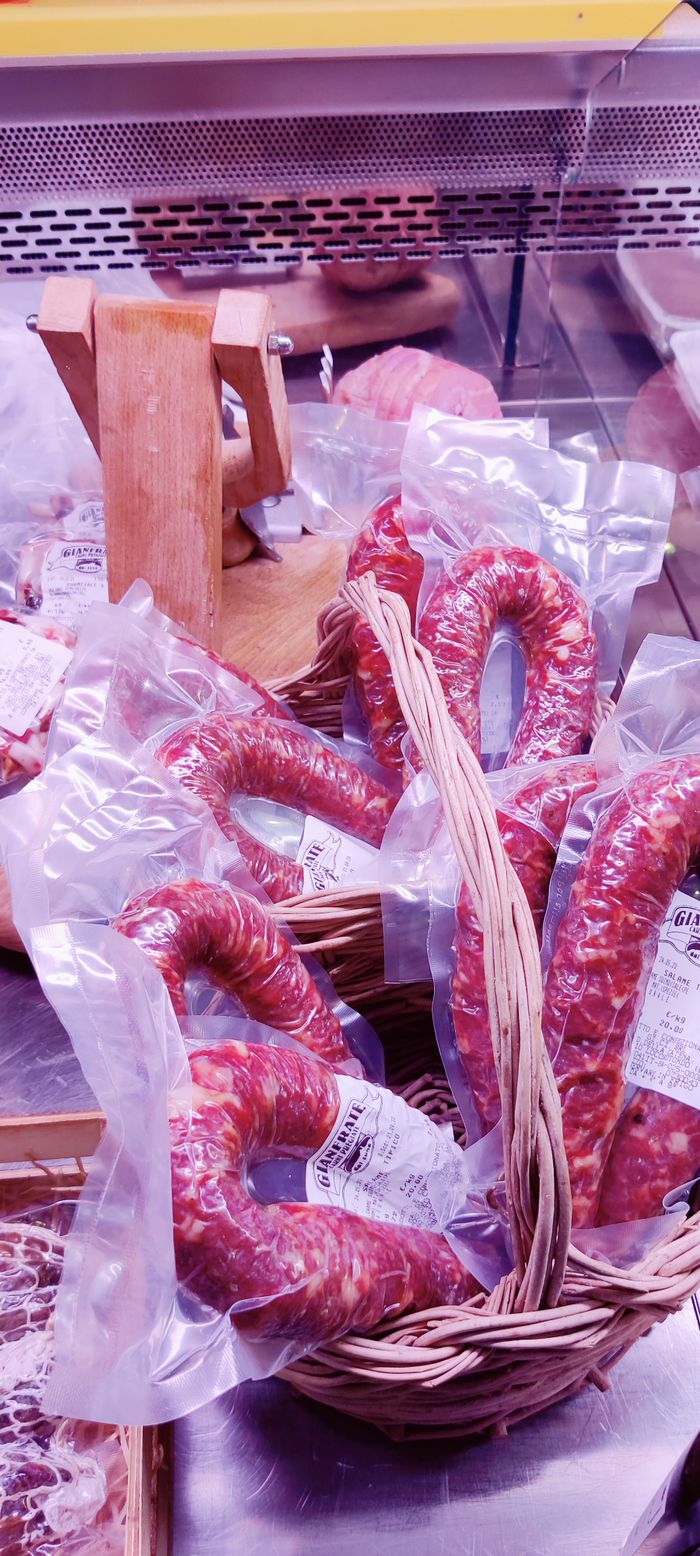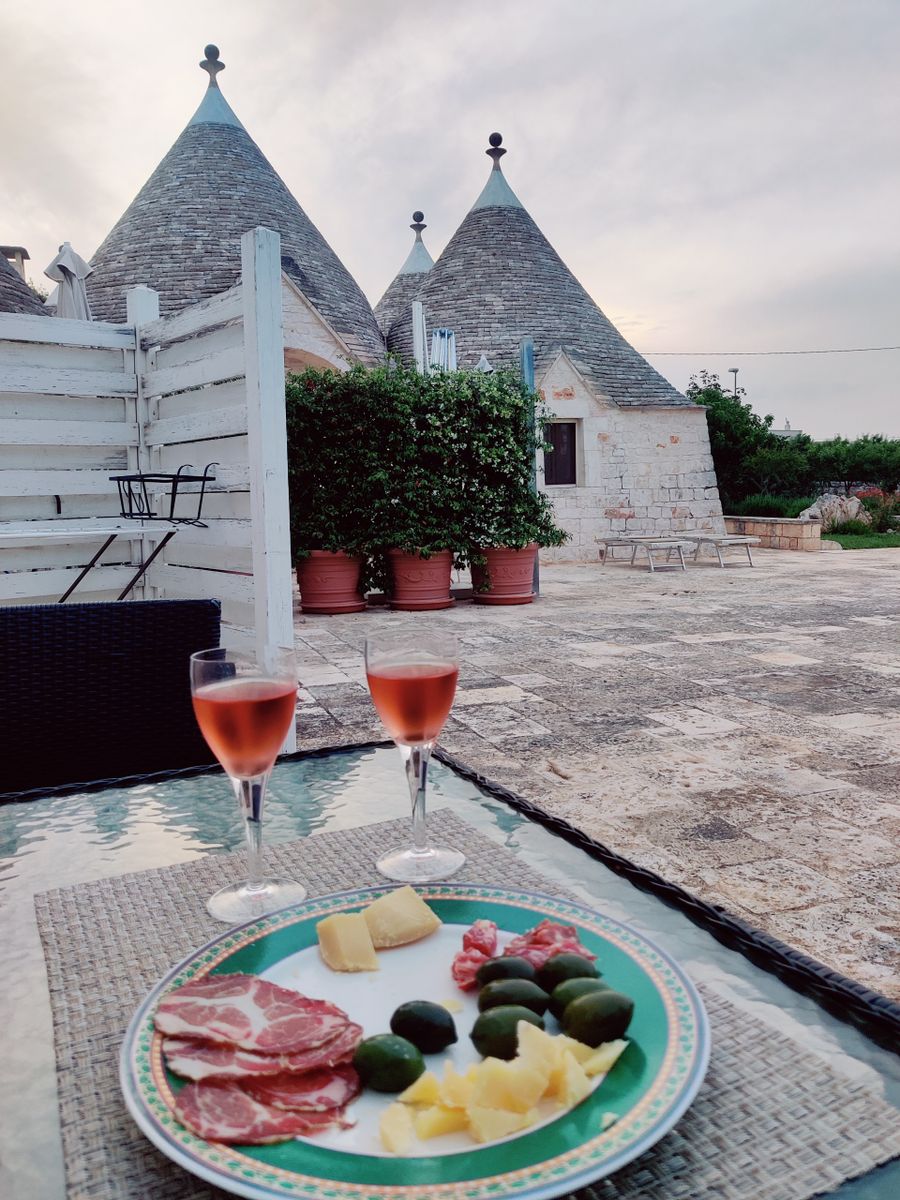 Have Wine at Sunset 
Experience a truly romantic setting at SíRose - Azienda Agricola di Bufano Vito, where you can savor wine while overlooking the breathtaking Itria Valley. The vineyard is just outside the historic center so you just have to walk to get here.
Nestled within the vineyard, you'll find a picturesque setup adorned with rows of blooming roses, creating an enchanting atmosphere. This charming spot is not only beloved by couples seeking a romantic getaway but is also a popular choice for locals celebrating bachelorette parties.
Whether you choose to indulge in a bottle of wine, a wine tasting experience, or simply enjoy a glass of their exquisite selection, the setting is perfect for creating unforgettable memories. As the sun sets in the horizon, casting a warm glow over the vineyard, the romantic ambiance reaches its peak, making it an ideal time to visit and bask in the beauty of the moment.
If you're interested in history and wine, check out this Locorotondo tour with wine tasting that also includes some typical Apulian food.
Go on a Day Trip to Alberobello & other towns
Alberobello is just a few minutes and one train station away from Locotorondo. We visited Alberobello on a day trip but we decided that we also wanted to stay there for a couple of nights. But if you do not have time, a day trip to Alberobello from Locorotondo is enough.
There is a lot of trulli holiday homes in Alberobello but the trulli in Locorotondo are much better value for money. Our huge countryside trullo is much cheaper than the one where we stayed at in the more popular Alberobello. If you want a more relaxed environment, then staying in a trullo in Locorotondo is for you as Alberobello tends to be very busy and more popular.
Due to its good train connections, you can also easily do a day trip to Martina Franca and other towns depending on how long you're willing to commute. 
Shop at the Friday Local Market
This is the same market I wrote about in my other blog posts for the other Puglia towns as they move to different towns in the region throughout the week. These huge local market is in Locorotondo every Friday from 7:30am until 1pm. You can find fresh produce, local products and good quality clothes at affordable prices.
What makes this market special is it's located within the old town of Locorotondo, while the others are usually outside the old town.
Wrapping Up
Locorotondo has undoubtedly captured our hearts with its picturesque streets lined with whitewashed houses adorned with colorful flowers. The trulli resort of Micele Holiday was the perfect retreat and relaxation we wanted in the middle of our Puglia trip. 
Exploring the historic old town, with its whitewashed streets and picturesque alleys, transports you to a bygone era. And for wine lovers, SíRose - Azienda Agricola di Bufano Vito provides a truly romantic experience. 
We loved the relaxing and slow paced itinerary we did in Locorotondo. After all, you can truly appreciate the Apulian region of Italy by taking it slow like the locals do.