Martina Franca is a picturesque Baroque town nestled in the heart of Apulia, Italy. With its whitewashed alleys, delectable cuisine, and captivating scenery, this hidden gem is a must-visit destination for travelers seeking an authentic Italian experience. It's not as popular as Alberobello or Lecce but it's a worthwhile base for a few days and has good train connections.
It's one of the places in Apulia that I can recommend as a base as there are things to do, nearby restaurants, markets and a good public transport connection to get to tourist sites.
How to Get to Martina Franca?
Martina Franca has convenient direct train connections to Lecce and nearby Locorotondo, Alberobello and Cisternino. We took the 2:40pm direct train from Lecce and arrived at Martina Franca train station at 5:30pm. It's a really slow train. Having a rental car would be faster but we didn't mind since we're staying longer in each place rather than just doing day trips. 
We stayed for two weeks in Lecce and decided to stay next in Martina Franca for four nights. Our accommodation for the next four nights was at Casa Arco d'Itria, a delightful apartment with a cozy second floor accessed by grand stone stairs. It instantly felt like home. 
Explore the Whitewashed Alleys
Walking through the narrow streets of Martina Franca felt like stepping into a postcard. The white-washed buildings adorned with colorful flowers created a picturesque backdrop at every turn. We meandered through these enchanting alleys, admiring their timeless beauty.
The simplicity and charm of Martina Franca's Baroque and Rococo architecture were truly captivating. Every corner revealed hidden gems – quaint cafes serving aromatic espressos, artisan shops showcasing local crafts, and inviting doorways leading to secret courtyards.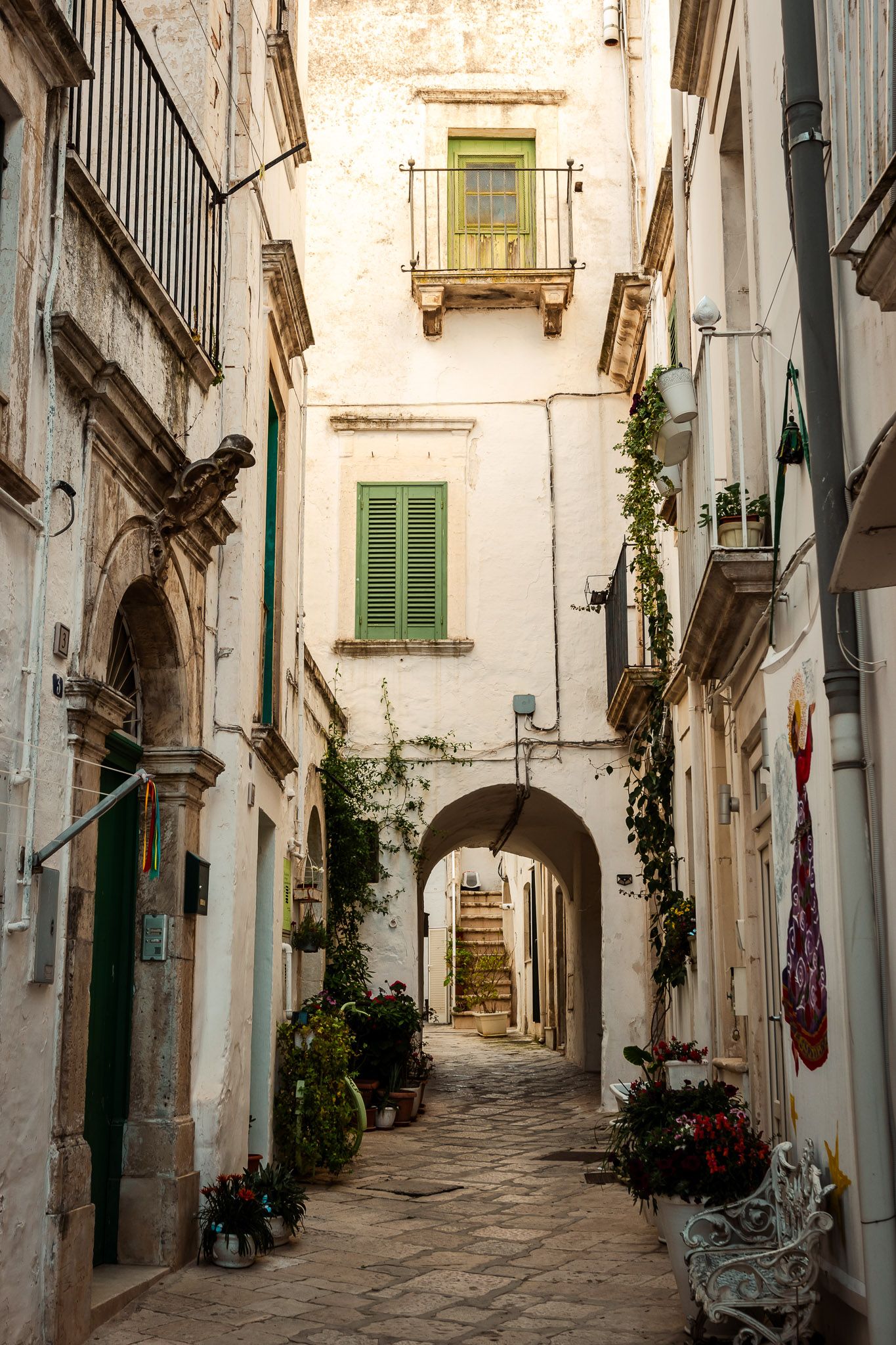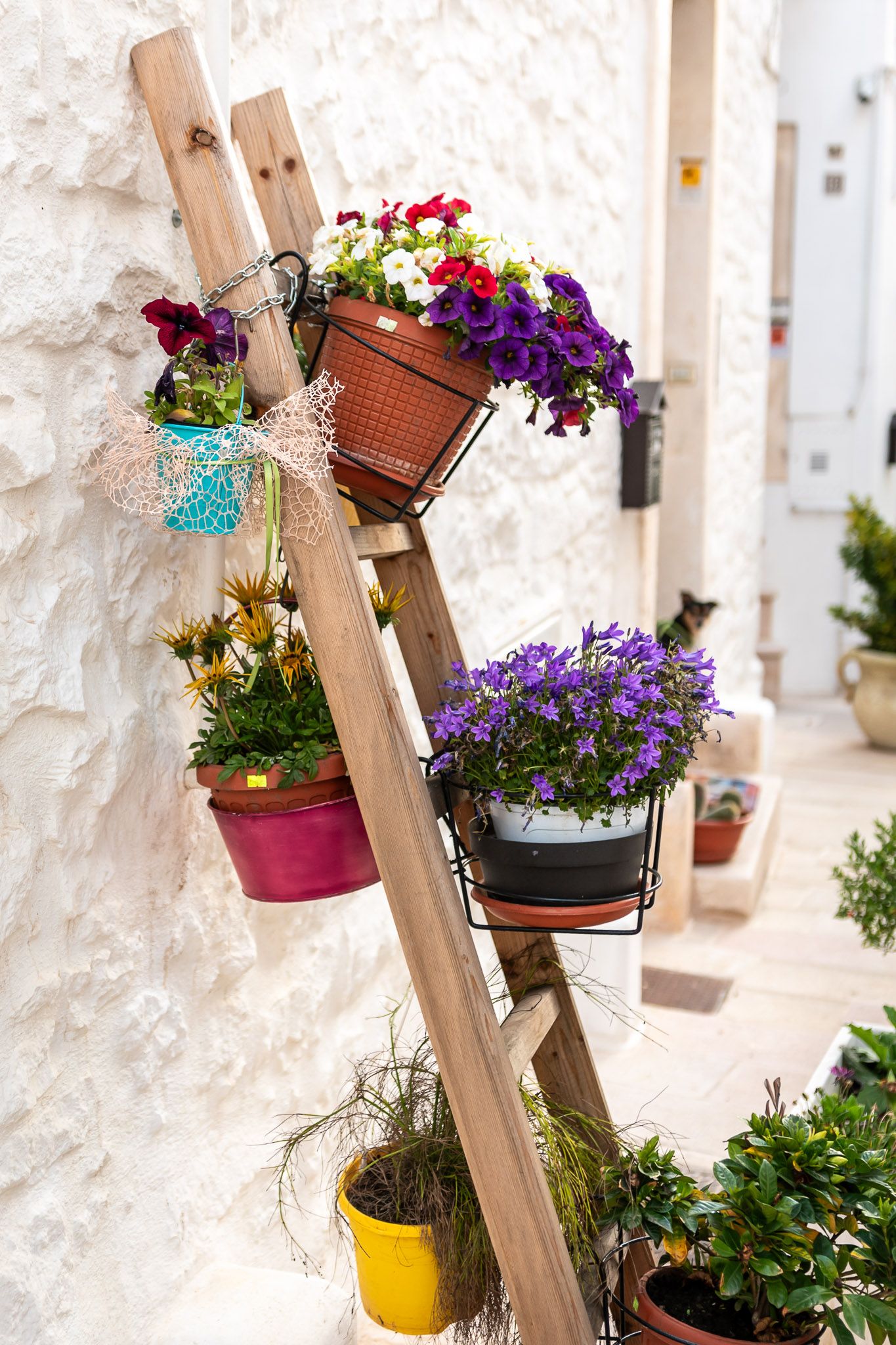 Have a Drink at Piazza Immacolata
This charming square is lined with cafes and restaurants. Have an aperitivo with a view of the Baroque Basilica di San Martino which you should also check out if there is no worship service.
Nearby is Caffè Tripoli, our go-to-spot for a sweet breakfast and cappuccino. They have a pastry shop that sells delicious cornetti and biscotti with outside table seating.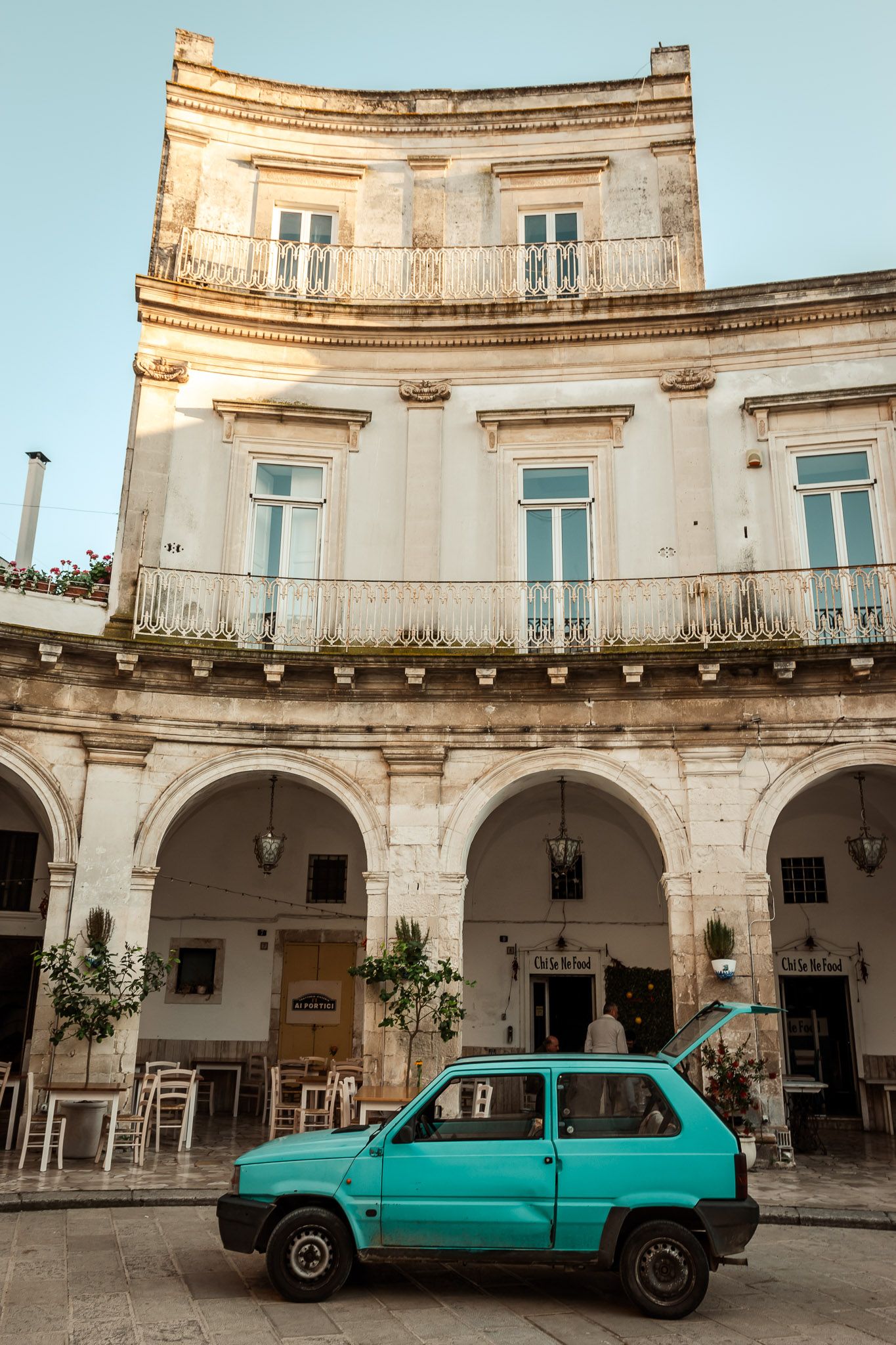 People Watch at Piazza XX Settembre
This piazza comes to life especially before dinner. Locals go out and socialize. There are also seats where you can simply people watch or have a break from all the walking.
Visit Palazzo Ducale
One of the highlights of our visit was exploring the magnificent Palazzo Ducale, a palace that showcases the rich history and artistic heritage of this town. It's now the town's municipal office building and a part of it is the museum.
As we stepped inside, we were greeted by breathtaking frescoes and intricate paintings that adorned the grand halls. 
The best part, entrance is by donation! So give what you can so that they can also maintain the palace and its magnificent frescoes.
Admire the Churches
In addition to the Palazzo Ducale, Martina Franca boasts numerous churches that are architectural marvels in their own right. We visited the Chiesa di San Martino, a stunning Baroque church with ornate decorations and beautiful frescoes depicting religious scenes. The tranquility within its walls provided a serene escape from bustling streets outside.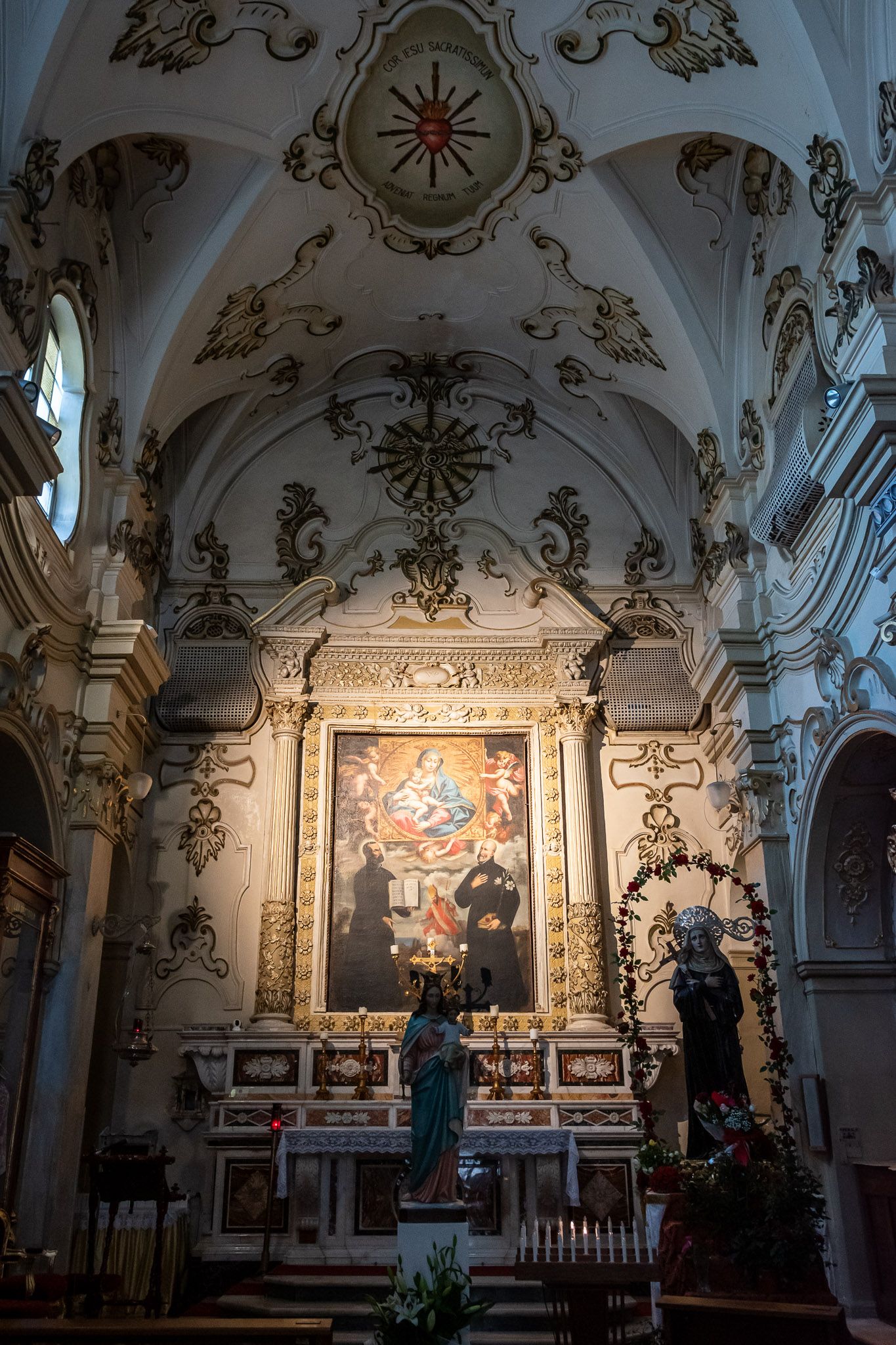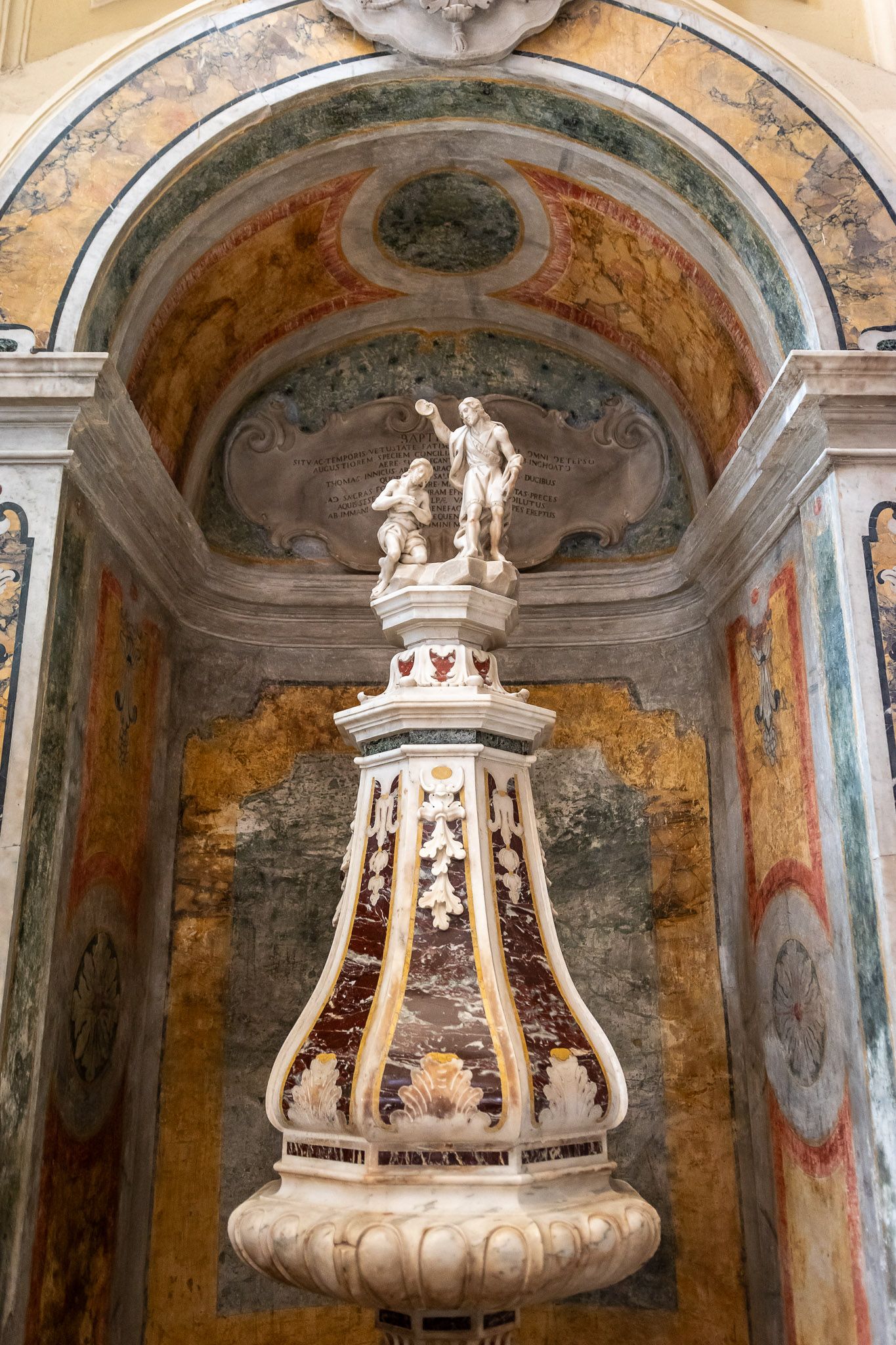 As we immersed ourselves in Martina Franca's art scene, we stumbled upon local galleries showcasing works by talented artists from Apulia. From contemporary pieces to traditional paintings capturing the essence of Italian landscapes, each gallery offered a unique perspective on artistry rooted in this region.
Indulge in Local Cuisine
No trip to Italy is complete without savoring its delectable cuisine, and Martina Franca did not disappoint on that front either. The beauty of it not being overrun by tourists is that it's easy to get good Italian food at reasonable prices and you avoid tourist traps. Here are some of our highly recommended restaurants.
Origini
For dinner one evening, we ate at Origini where we had Orrechiette pasta with broccoli and Tagliatale pasta with tender local meat accompanied by rucola cheese. The meal was perfectly complemented by a glass of rose wine. And to end on a sweet note, we couldn't resist the pistachio ice cream infused with flavors of orange and clementine.
Ristorante Four Seasons
Another restaurant I highly recommend is Ristorante Four Seasons (not related to the international hotel chain). Their prices are higher, but they use high quality ingredients. We tried a tasting of their antipasti, pasta with truffles and Iberian pork. All were finely made.
Tutta 'Nata Storia
This family run pizzeria boasts their recipe for 3 generations! While we had it for take away, the restaurants has beautiful classic interiors. And you can also watch the skilled chef make the pizza Napoli style.
Shop at the Wednesday Local Market
Exploring local markets is always an exciting way to connect with a destination's authentic spirit. We were fortunate enough to stumble upon the local weekly market during our stay—it's the best place to buy fresh produce and good quality clothes for a bargain.
We actually saw this market a number of times as we moved through Apulia. The sellers go around Apulia on different towns in the region so you can still find them somewhere else if you are not in Martina Franca on a Wednesday.
The market not only provided us with an opportunity to support local artisans but also allowed us to taste some of Apulia's finest culinary delights. From freshly baked bread to flavorful cheeses and cured meats, we indulged in a gastronomic journey that showcased the region's rich culinary heritage.
The market opens at 7:30am and closes at 1pm although most shops are already packing by 12:30.
Go on a Day Trip to Cisternino
A short distance from Martina Franca lies the charming town of Cisternino. We hopped on a train and within minutes found ourselves looking at this town perched on a hill. Prepare to climb just a bit.
Cisternino's allure lies in its enchanting streets lined with whitewashed houses adorned with vibrant flowers cascading from balconies. As we wandered through the narrow alleyways, it felt as if time had stood still, preserving the town's traditional charm.
One of the highlights of our visit was indulging in local delicacies at Le Chicche di Zia Rosa, a cozy trattoria that captures the essence of Apulian cuisine. We tried bombette, a local specialty consisting of rolled pork filled with capocollo. The pasta dish featuring courgette flowers showcased the freshness and simplicity that defines regional cooking.
After lunch, we continued exploring Cisternino's winding streets, stumbling upon hidden corners and artistic walls. It was fascinating to witness how this small town effortlessly blended historical architecture with contemporary touches.
We also found one of the best gelaterias in Apulia. The gelato at Carparelli were outstanding. The combination of lemon and basil alongside creamy ricotta was a delightful flavor pairing. We also tried some chocolates from the chocolate bar and this gelateria has a flavor from that as well.
Where to Stay in Martina Franca?
The best place to stay in Martina Franca is the old town where many cozy apartments are available for rental.
My personal recommendation is this beautiful stone apartment where we stayed during our time in Martina Franca. It that has nice interiors with illuminated stairs leading up the bedroom. While it gets raving reviews on Airbnb, it has only one review in Booking which was below average. Booking still provides lower rates as Airbnb has higher fees. Here's an actual video of this cozy two-story apartment that might help you decide.
Monolocale ad un passo dalla chiesa del Carmine $
For budget, Monolocale ad un passo dalla chiesa del Carmine has the lowest price with excellent location.
For luxury, Suite San Martino has suites with your own swimming pool, hot tub and sauna right in the old town!
Wrapping Up
In conclusion, Martina Franca proved itself as a destination that captures the heart of Apulia's charm. From its picturesque whitewashed alleys to its delectable cuisine and rich art scene, every aspect of this town left an indelible mark on our Italy travel experience.
Whether you're strolling through its streets or immersing yourself in local culture at Palazzo Ducale, Martina Franca offers a unique blend of history and modernity that is sure to captivate any traveler's soul. Don't forget to visit Cisternino for a taste of rustic beauty just a short trip away!
Other places such as Locorotondo or Alberobello can be easily done as a day trip from Martina Franca. If you want a less touristy base, then Martina Franca is the best home for you. We only did a day trip to Cisternino as we had time and stayed some nights in Locorotondo and Alberobello.
If you do not have time for a stay or even full day, you can still explore Martina Franca and learn as much about it for 2 hours on a guided tour. The price of the tour is per group so it's better if you can gather some friends with you.
Buon viaggio!