Welcome to Alberobello, a charming town in Apulia, Italy, known for its unique trulli houses. Step into a fairytale-like setting as you wander through the narrow streets lined with these centuries-old limestone dwellings. In this travel guide, we will take you on a journey to discover the best attractions and experiences that Alberobello has to offer.
The following is a 3-day chill Itinerary but a lot of tourists do everything on a day trip. I encourage that you stay at least one night to experience the place during the best light at sunrise or sunset without the crowd. Most of the photos in this post were taken before day trippers arrive or when they have gone home because it can really get crowded during the day.
Stay in a Trulli Holiday Home
One of the most unique and unforgettable experiences you can have in Alberobello is staying in a trulli holiday home. These traditional Apulian dwellings are made of limestone and feature cone-shaped roofs.
Historically, one of the reasons these were made was to cleverly evade taxes.Trulli were made without mortar so these were easy to dismantle when tax assessors are in the area.
We had the pleasure of staying in the historical trulli zone. Our trulli holiday home by Trulli e Puglia resort is around 300 years old and is located in Rione Monti! It's a huge 2-bedroom home and there are at least 4 trulli or cone roofs above it since traditionally a trulli house is smaller.
As it's situated in one of the most photographed street and our trulli home is also a photogenic spot with the bicycle outside, it does get busy going in and out of the apartment. But we have a private patio within the trulli home and the place itself is quite sound proof.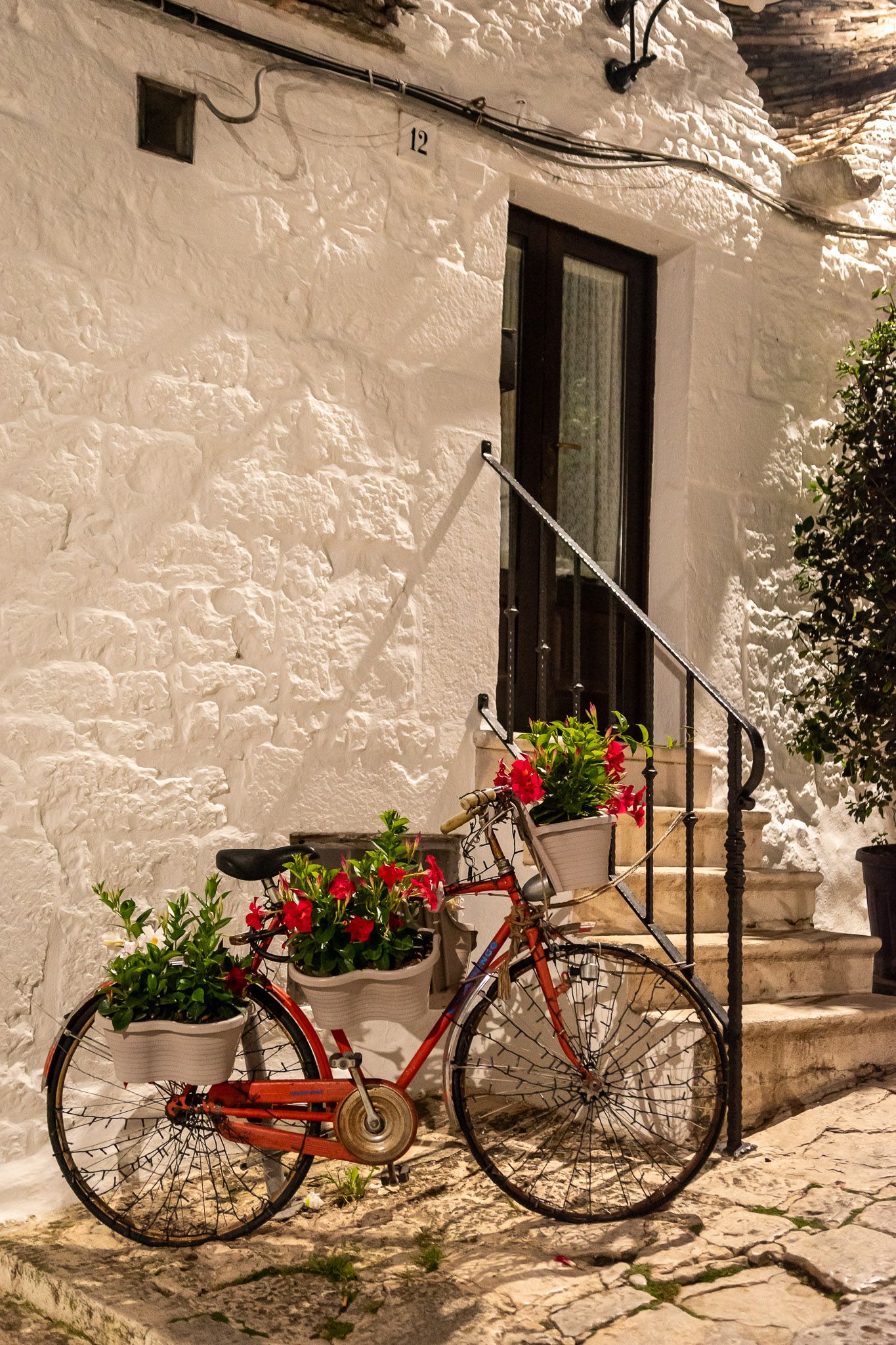 Waking up each morning surrounded by history is truly magical. The best part of staying here is being able to see Alberobello early or late enough that there are no crowds. It is the most magical times to be here.
We stayed for 2 nights here which is enough. If you plan to stay longer and even make Alberobello your base in Puglia, I recommend staying in a Trulli holiday home in Rione Aia Piccola which is less busy. More about this later.
Check out our apartment tour video, best viewed in YouTube Shorts:
---
Another beautiful option is Romantic Trulli. This was one of our options but they get booked out fast. We always pass by some of their trulli apartments with a romantic outside seating. Another photogenic spot in Alberobello.
Explore Rione Monti - The Trulli Zone
No visit to Alberobello would be complete without exploring Rione Monti, also known as the Trulli Zone. Rione Monti is the oldest and most iconic district in Alberobello. 
This UNESCO World Heritage site is filled with narrow streets lined with clusters of trulli houses, restaurants and shops creating a fairytale-like setting that will leave you captivated.
Visit the Church of Saint Anthony of Padua
While exploring Alberobello, make sure to pay a visit to the Church of Saint Anthony of Padua. This charming church is not only a place of worship but also an architectural gem in its own right.
This church stands proudly among its cone-shaped counterparts. Step inside and marvel at its simple yet elegant interior adorned with religious icons and beautiful frescoes. The peaceful atmosphere invites contemplation and reflection.
Stroll Through Rione Aia Piccola
Another delightful area to explore in Alberobello is Rione Aia Piccola. This neighborhood offers a more tranquil atmosphere compared to the bustling Trulli Zone, making it perfect for a leisurely stroll.
As you wander through the picturesque streets of Rione Aia Piccola, you'll come across charming trulli houses that are equally captivating but with fewer crowds. 
One highlight of this area is the opportunity to find excellent trulli holiday homes tucked away from the tourist hotspots. Imagine staying in one of these beautifully restored dwellings, enjoying privacy and serenity while still being within walking distance of Alberobello's main attractions.
We had difficulty finding it so check it in Google Maps 
For longer stay or if you simply want a more quiet area, I recommend staying here. It's just walking distance to the busier Trulli zone and very close to some of the panoramic viewing areas. One holiday home that I would consider staying is the highly rated Trulli Holiday Deluxe & Wellness.
Marvel at the Largest Trullo - Trullo Sovrano
A visit to Alberobello would not be complete without a visit to Trullo Sovrano, which holds the title as the largest trullo in town. 
Trullo Sovrano is the only trullo with two floors. It also houses a small museum where you can learn more about the history, a display of what the home looked like back then and construction techniques of trulli. 
Discover the Smallest Trullo
In addition to marveling at the largest trullo, make sure to seek out the smallest trullo during your visit to Alberobello. 
Located within Rione Monti, this miniature trullo is a souvenir shop. Patiently wait as other tourists check out the shop as not a lot of people can fit in this place.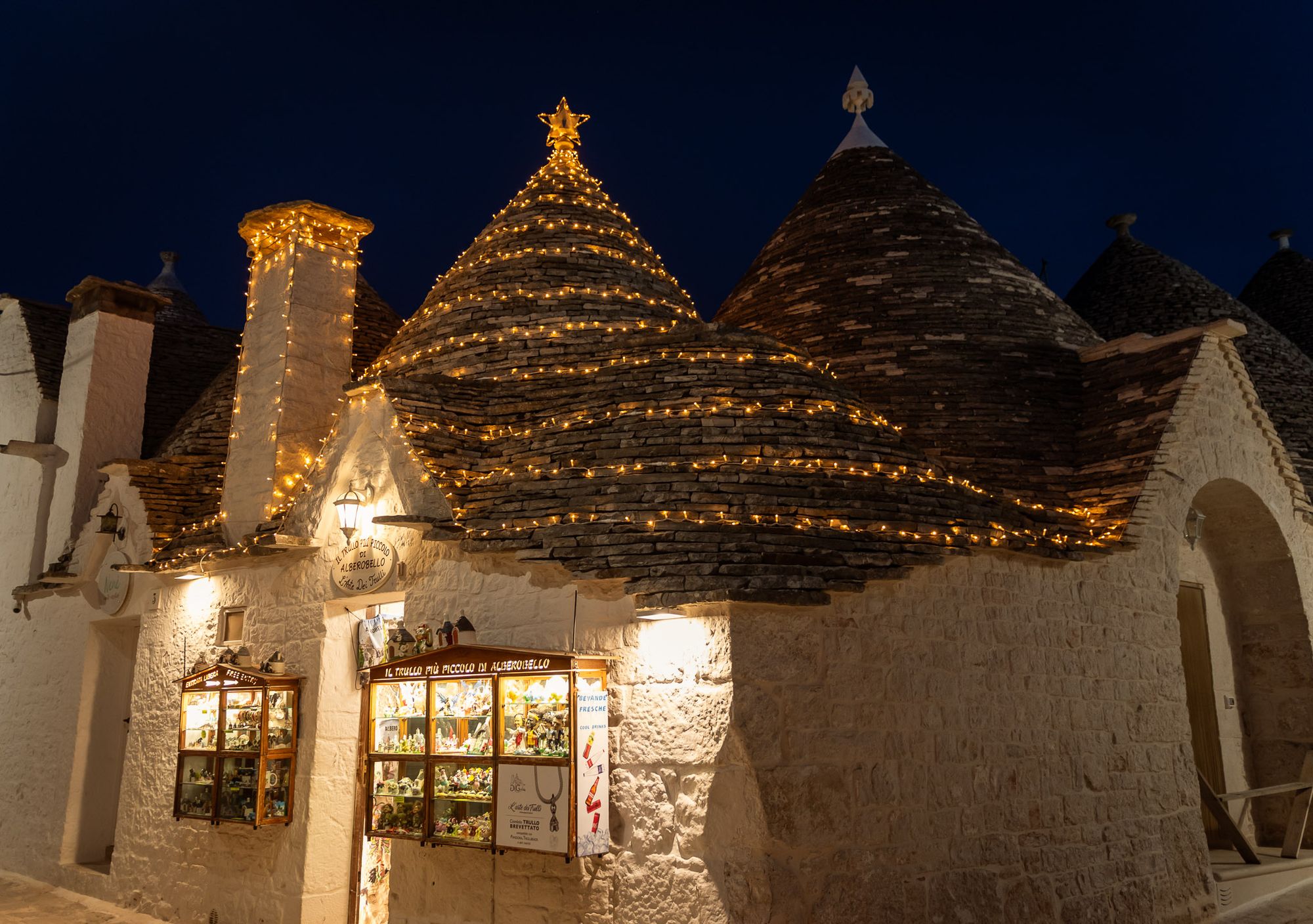 Shop and Enjoy Panoramic Views
Some of the shops in Alberobello even have terraces that offer breathtaking panoramic views of the town and its iconic trulli rooftops. 
While there is no obligation to make a purchase, many shops have donation boxes where you can contribute to help maintain these picturesque viewpoints. It's a small gesture that goes a long way in preserving the beauty of Alberobello for future visitors to enjoy.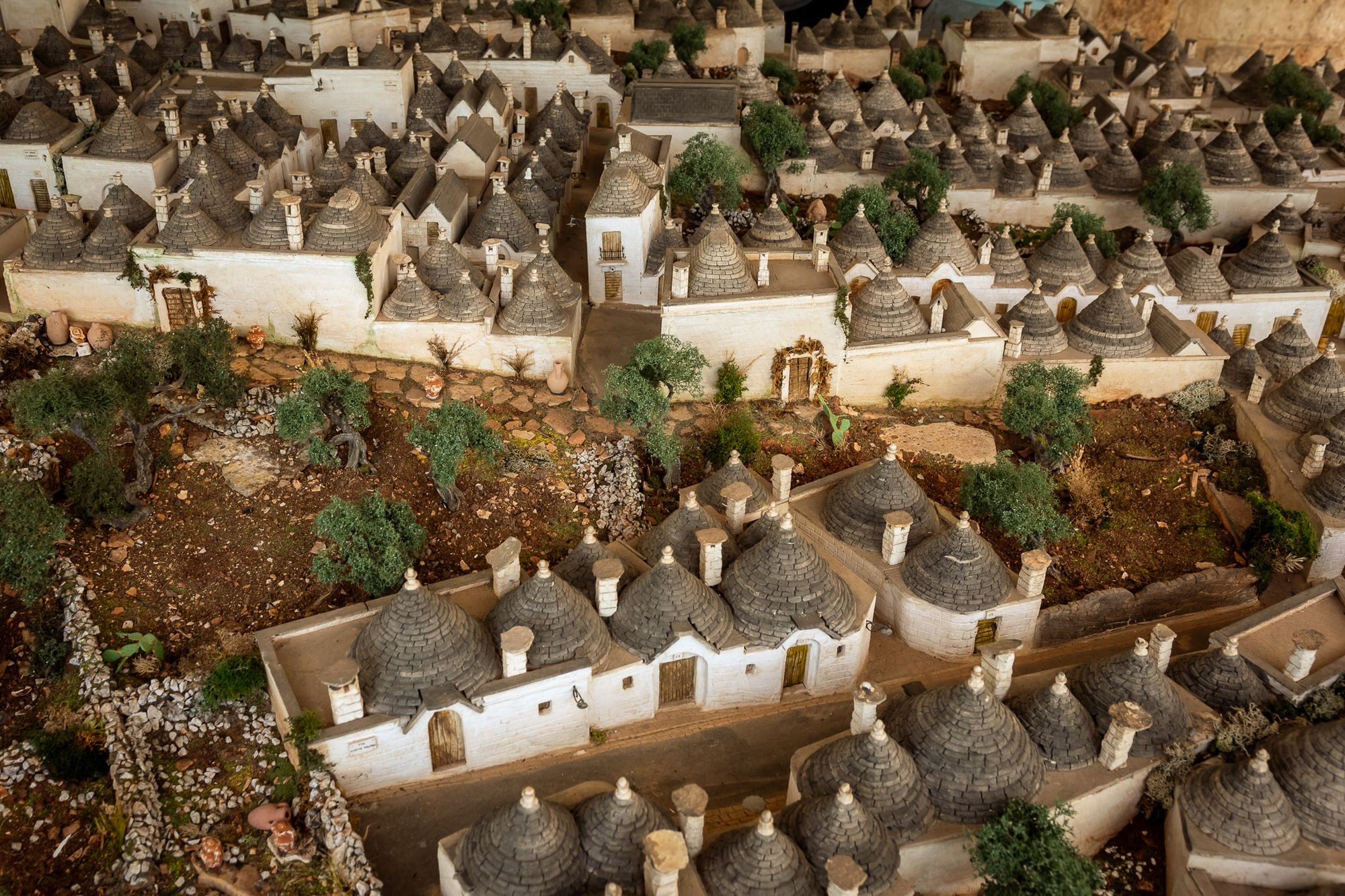 Capture Stunning Panoramic Photos
Head up to elevated spots for sweeping views over clusters of trulli against the backdrop of Apulia's rolling hills. The golden hour at sunrise or sunset casts a magical glow upon the landscape, creating perfect lighting conditions for capturing Instagram-worthy shots.
Here are the Google Map Pins for the best viewpoints
This is the first viewpoint you will see as you enter Alberobello but it is usually crowded.
📍Villa Communale Belvedere Parco
This is one of the best place to sit an enjoy the panoramic view. It is less crowded as well. Below were taken on differenttimes of the day
Experience the Thursday Market
This is the fourth time we've seen this bustling market as they move around Apulia region during the week, and we have been to different towns that we made as our base for a few days to a few weeks and we never got tired checking out this weekly market.
This market is located outside the tourist zone but still walking distance. From 7:30 a.m. until 1 p.m., you will find busy streets lined with stalls or trucks with fresh produce, local products and good quality clothes at affordable prices.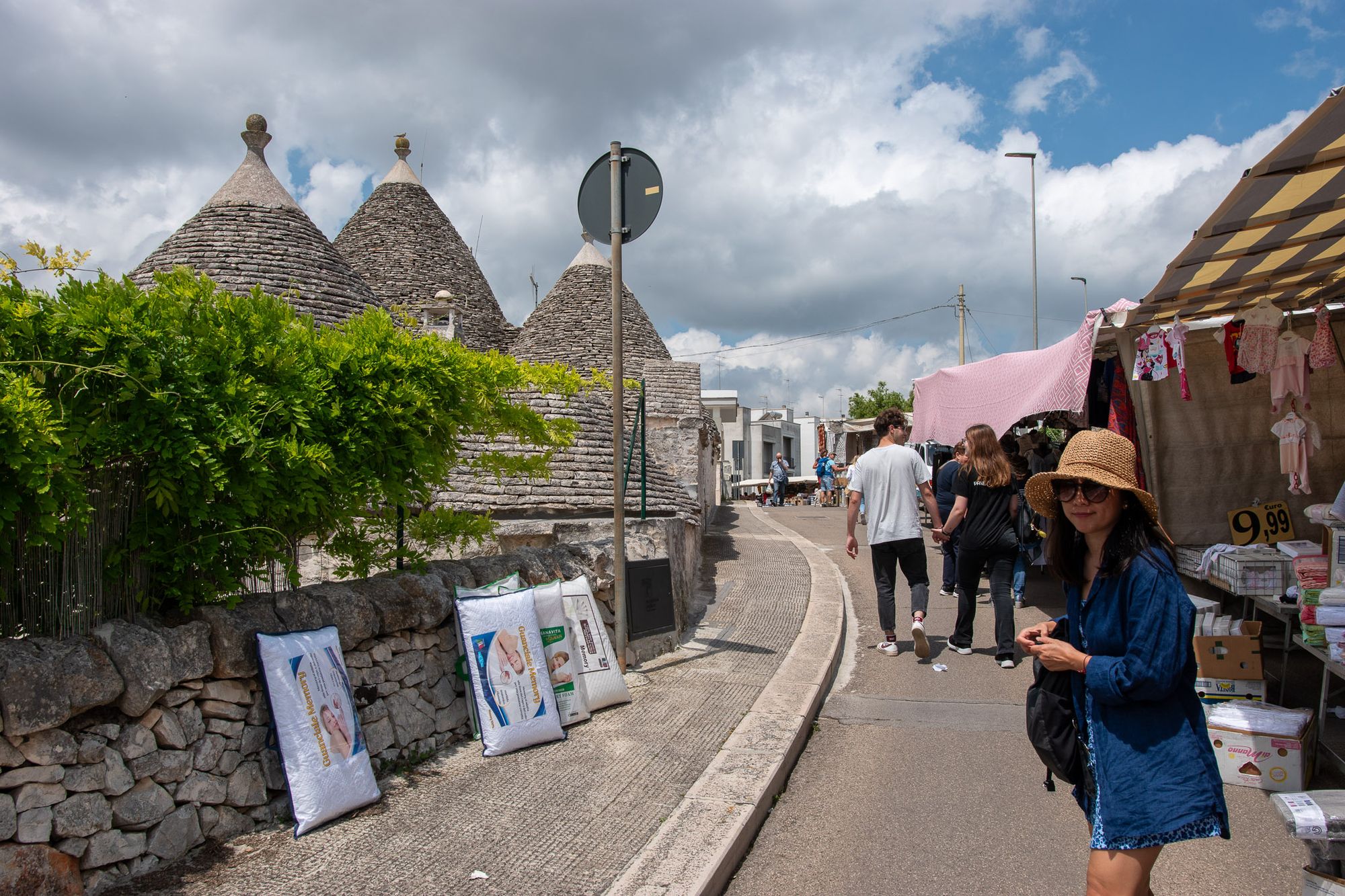 Take a Peaceful Stroll at Night
One of the most romantic things to do is walk around Alberobello at night. Some trulli shine with fairy lights and there's just a few people around this time as most visitors are here for a day trip.
Where to Eat in Alberobello?
We weren't able to try the restaurants in Alberobello as most were fully booked and required a reservation. Luckily, we found street food that are not that busy and offer great food at great value.
Coppino 
It's self-service and very affordable. A must try here are the meatballs with sauce.
Principotto
I believe they have two brances in Alberobello but we tried the one that's centrally located near the trulli zone. I recommend the panzerotti with pulpo. 
Ristorante Pizzeria Pozzo Contino
This is located near one of the best panoramic views - Villa Communale Belvedere Parco. Good pizza with an amazing view!W
We honestly expected it to be a tourist trap because of the location and we have also tried an overpriced bar with a view. That is not the case here! The prices were affordable as well.
La Bottega del Gelato
One of the best gelato that we have tried in Apulia.  They have interesting and really good flavors such as bergamot and licorice. The owners are also very nice and gave us really good restaurant recommendation to our next destination - Putignano.
Trulli e Puglia Wine Bar
Wine tasting in the center of Alberobello
Where to Stay in Alberobello?
Our personal experience and which I would also recommend is at Trulli e Puglia resort. This is the most central location as it is in Rione Monti Trulli Zone. If you are staying for a few night or especially overnight, it's best to be in a very central location.
Another beautiful option near Rione Monti is Romantic Trulli. This was one of our options but they get booked out fast. We always pass by some of their trulli apartments with a romantic outside seating. Another photogenic spot in Alberobello.
For longer stay or is you simply want a more quiet location. I recommend staying in Rione Aia Piccola. The alleys are also lined with several trulli holiday homes and one place I would consider staying at for a relaxing stay is at Trulli Holiday Deluxe & Wellness.
For bigger families, Trulli Resort Aia Piccola has 3-bedroom houses and is in a quiet location.
Conclusion
As we come to the end of this travel guide exploring Alberobello's captivating trulli houses and rich cultural heritage, let's recap some key highlights from our journey:
Stay in a Trulli Holiday Home: I highly recommend Trulli Sonia at Trulli e Puglia Resort with their comfortable and centrally located trulli homes.
Explore Rione Monti - The Trulli Zone: Wander through narrow streets lined with iconic trulli houses and soak up the lively atmosphere.
Visit the Church of Saint Anthony of Padua: Discover a beautiful trullo church that showcases religious artistry within its cone-shaped walls.
Stroll Through Rione Aia Piccola: Escape the crowds as you meander through this peaceful neighborhood dotted with charming trulli homes.
Marvel at Trullo Sovrano: Step inside the largest trullo in town for an immersive journey into traditional architecture and culture.
Discover Hidden Gems like Smallest Trullo: Seek out the smallest trullo, a tiny treasure that adds whimsy to your Alberobello adventure.
Shop and Enjoy Panoramic Views: Explore local shops and take in breathtaking vistas from terraces overlooking the town.
Capture Stunning Panoramic Photos: Let your camera capture the beauty of Alberobello's unique landscape and architectural wonders.
Experience the Thursday Market: Immerse yourself in the vibrant atmosphere of this bustling market, indulging in local flavors.
 Whether it's staying in a trulli holiday home or savoring authentic cuisine, let yourself be captivated by the magic that surrounds you.
Buon viaggio!
Bonus Cat Photos 😽