You've probably come across those dreamy photos of Sassi di Matera online. Believe me, as stunning as those pictures are, nothing beats the real-life experience. Matera, with its rich history spanning thousands of years, is a blend of ancient wonders and modern charm. In this guide, we're going to uncover the top things to do in Sassi (rocks) di Matera from the mesmerizing Sasso Caveoso to the vibrant Sasso Barisano districts.
The things to do in this guide is divided into Sasso Caveoso and Sasso Barisano districts.
A Brief History of Matera
Matera is one of the oldest cities in Europe and Italy's oldest. With evidence of human habitation dating back to the Paleolithic era, it stands as one of the oldest continuously inhabited cities worldwide, although abandoned for a brief time. The city's most distinctive feature, the Sassi, comprises ancient cave dwellings and rock-cut churches, reflecting the unique architectural heritage of Matera.
During the Roman era, Matera flourished as an agricultural and trade center, benefiting from its strategic location. The region later came under the rule of various powers, including the Byzantine Empire. In the Renaissance and Baroque periods, the city witnessed architectural development with the construction of palaces and churches.
However, by the 20th century, Matera faced significant challenges. The Sassi districts experienced severe poverty and neglect due to overcrowding and lack of basic amenities. This led to forced relocations in an effort to improve living conditions for its residents.
In a remarkable turn of events in the 1980s, Matera underwent a cultural revival that transformed its fortunes. Recognizing its historical significance and unique beauty, UNESCO designated Matera as a World Heritage site in 1993. This recognition brought attention to its rich heritage and spurred efforts for restoration and preservation.
Today, visitors can explore this captivating destination that showcases both ancient history and modern cultural treasures. Let's embark on a journey through time as we discover all that Matera has to offer.
How long to stay in Matera?
We recommend at least 2 nights to see the highlights and experience this ancient city. I heard several people doing a day trip from Puglia which may be the only option if you do not have time, but the most magical time to see Matera is during sunrise and at night time. One night would feel too rushed and may not be worth carrying your luggage up and down.
The sassi di Matera alone is huge and involves a lot of walking and climbing. We took it slow and stayed for one week and there is still so much more we didn't discover especially in the Sasso Barisano district as we stayed in Sasso Caveoso. Several people from Facebook groups advised against longer than 7 nights but I can imagine staying here for even a month to sit at cafes and enjoy the views.
How to Get to Matera?
The two best ways to get to Matera is by train or by renting a car.
By Train: One convenient, but slow way to reach Matera is by taking a train from Bari Centrale which costs €5.70 per way. The journey takes approximately two hours but offers scenic views along the way. Once you arrive at Matera Centrale station, you can easily access various parts of the city. Note that Matera province is huge and there are other "Matera" stations, make sure you alight at Matera Centrale.
By Car: If you prefer more flexibility or want to explore other areas around Basilicata, renting a car is a viable option. However, it's important to note that you cannot park inside the Sassi districts. Parking within the historical center is reserved for residents only. You will need to find parking outside and be prepared for some walking up and down stairs.
Once you have arrived in Matera, getting around the city is best done on foot. The two main districts of interest, Sasso Caveoso and Sasso Barisano, are within walking distance of each other. Be sure to wear comfortable shoes as exploring the winding streets and climbing stairs are part of the experience.
If you prefer not to walk, there is a red bus called "Linea Sassi" that stops at San Pietro Caves and travels along the main road to Sasso Barisano.
Now that we've covered how to get here and how to navigate Matera let's dive into exploring the enchanting district of Sassi Caveoso!
---
This guide is divided into two parts which are the 2 districts of Sassi di Matera: Sasso Caveoso and Sasso Barisano.
Things to do in Sasso Caveoso
Sasso Caveoso is the most popular area of Matera, known for its fascinating ancient cave dwellings and rock churches. Here are some of the top things to do in this captivating district:
1. Guided Walking Tour
Embark on a guided walking tour to fully immerse yourself in the history and charm of Sassi Caveoso. Knowledgeable guides will lead you through the narrow streets, sharing stories about the ancient caves and their inhabitants. You'll gain insights into Matera's rich cultural heritage while exploring hidden corners and picturesque viewpoints.
There are different walking tours you can join and with different themes:
Guided Day Tour
A highly rated yet good value walking tour of Matera is Renato Favili's guided tour which is only €28 per person and will take you around the sassi for 2 to 3 hours. Here you will join other tourists which makes the price affordable.
If you want all the attention, then you can opt for a private tour for €234.
Guided Night Tour
Matera turns more magical at night with the yellow lights blending well with the caves and rocks' earth tones. A guided night tour to Matera's best spots for sunset and the night lights is one that would make a history tour so romantic. I also recommend a night tour in summer as it could be really hot walking around at day time in Matera in this season.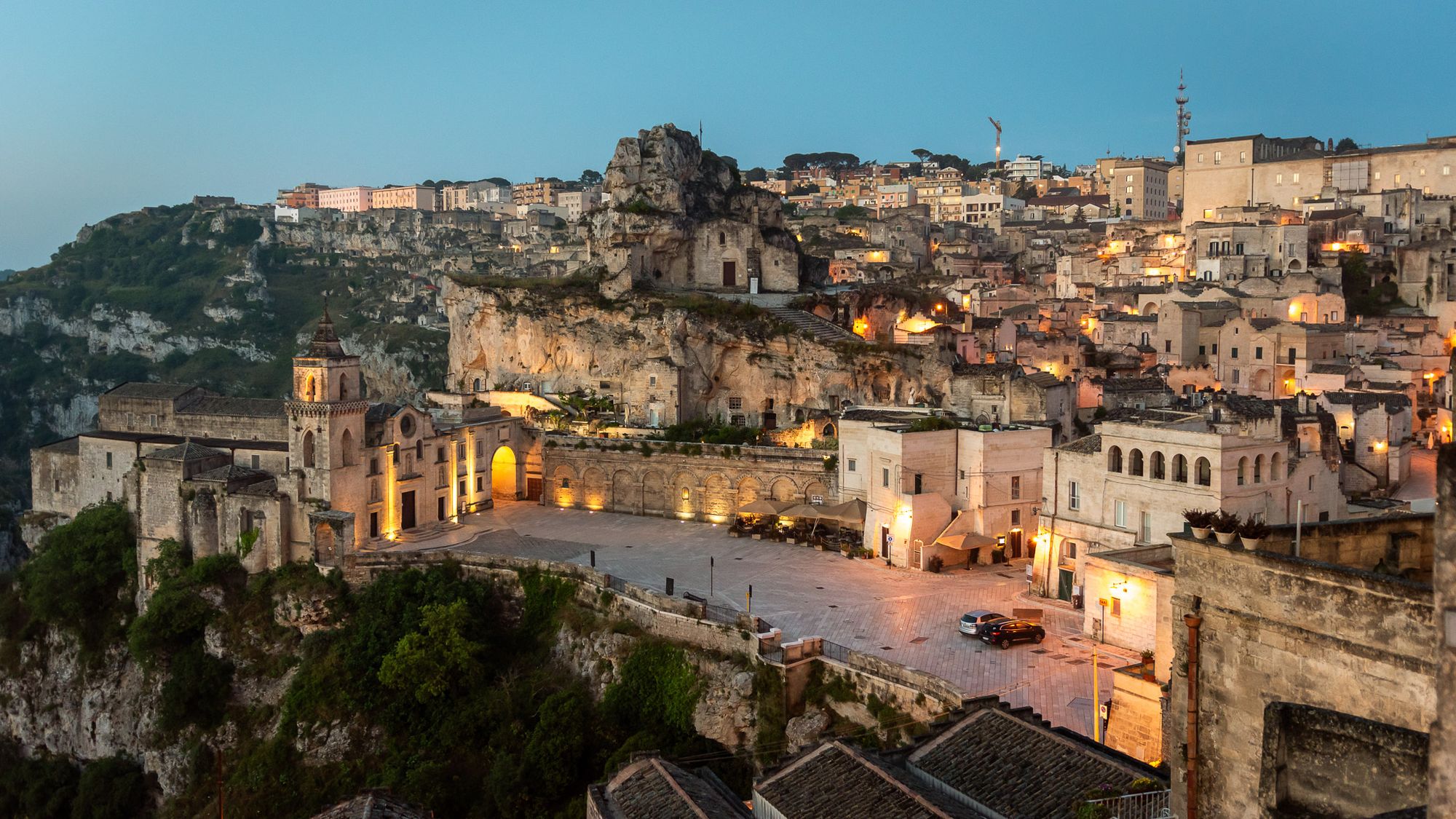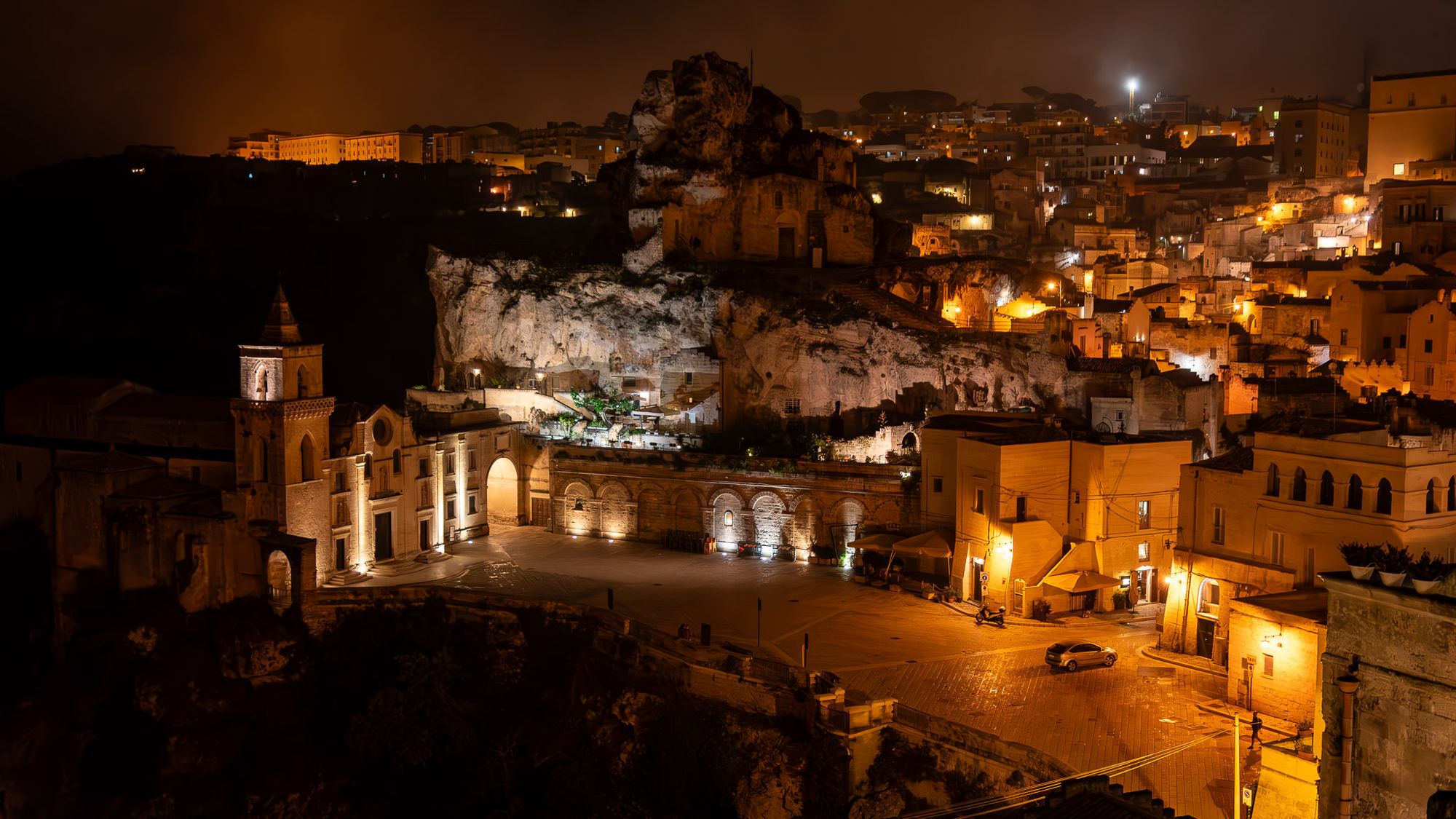 James Bond and Matera History Tour
For James Bond fans, there is a unique walking tour that takes you to the filming locations of No Time to Die. Some sets are quite easy to find such as the motorbike stunt at the Matera cathedral, but a lot of the sets are quite tricky to find and you just don't find these online so it's worth joining one. The tour also combines Matera's history. This store also extends to Sasso Barisano district.
Tip: Make sure to wear comfortable shoes as this will involve a lot of climbing up and down the ancient city.
2. Casa Noha's Interactive Film about Matera
Entrance fee: €6.50 (check discounts that may apply to you eg. students)
Closed on Wednesdays
Google Map Pin: Casa Noha
If you don't have time for a walking tour or prefer an alternative way to learn about Matera, make sure to check out Casa Noha's interactive film experience. Located in a historic cave house which was generously donated to Matera by its owners, this unique attraction offers an engaging audiovisual presentation that delves into the city's thousand-year-old history. The interactive table screen allows you to further explore interesting facts about Matera at your own pace.
And even if you have already joined the walking tour, this is still worth seeing as the interactive film also brings out the emotions and atmosphere of the times and it's only 25 minutes. There are also interactive maps you can play with while waiting for the next film.
On weekends, they have a 2.5 hours film titled "The Invisible Stones".
Note: The ticket price is the same as buying it at the museum but you can make a reservation here
3. Visit the Cave Churches
Matera is home to several remarkable rock churches carved into the soft limestone cliffs of Sasso Caveoso. There are several rupestrian churches in Matera and the list below are just some of the most remarkable.
There are several ticket options and buying one costs €4, two churches for €7, three churches for €8 so getting the combined ticket is better value. I recommend you buy the ticket from any of the church museum cashiers so you can check your options. Taking photos or videos inside the churches is not allowed.

Chiesa Rupestre di Santa Maria di Idris
Google Map Pin: Via Madonna dell'Idris
The Church of Saint Mary of Idris is built on top of a rocky hilll and this is one of the most beautiful landmarks you will find in Sasso Caveoso. It's beautiful on the outside with majestic view of the sassi but it's also worth seeing the preserved frescoes inside.
Chiesa di San Lucia alle Malve
Google Map Pin: Rione Malve
Less famous than the churches of Santa Maria di Idris and San Pietro Barisano but one of the most important and worth visiting. This 8th century rupestrian church houses well preserved frescoes from the 13 century including a Madonna.
Chiesa di San Pietro Barisano
Google Map pin: Via S. Pietro Barisano
The church of Saint Peter Barisano is the largest rock church in the city with underground spaces you can explore.
San Pietro Caveoso
Google Map pin: Piazza S. Pietro Caveoso
FREE to enter
Just below the church of Santa Maria di Idris and situated in front of a huge plaza and overlooking the ravines of Murgia Materana making it one of the prettiest landmark  of Sassi di Matera. It is also called the Church of Saint Peter and Paul. The church is free to enter and make sure to observe silence as people also visit here to pray.
4. Visit MUSMA or The Museum of Contemporary Sculpture 
Google Map pin: Via S. Giacomo
Ticket price: €5 
For art enthusiasts, a visit to MUSMA (Museo della Scultura Contemporanea) is a must. Located in a former cave convent, this museum seamlessly blends contemporary sculptures with the ancient dwelling.
As you wander through the cave rooms, you'll encounter thought-provoking artworks. The combination of art and wandering through several huge cave rooms is a unique museum experience.
5. Hike to Murgia Materana for Sunrise
Starting point: Ponte Tibetano 
For breathtaking panoramic views of the entire Sassi di Matera, embark on a hike to Murgia Materana at sunrise. This expansive park offers an ideal vantage point to witness the soft morning light illuminating the ancient cityscape. Start your hike from Ponte Tibetano near Sasso Caveoso's main road (via Madonna delle Virtù). As you make your way across the hanging bridge and explore the caves along the trail, be sure to wear closed shoes and remember to leave no trace behind.
Not fond of hiking? You can also join a tour to drive to the viewpoint. 
6. Visit House Cave Museums
Here you will see how people lived in the caves in the past. It's interesting to see the contrast of how simple it was before but a lot of these caves now have turned to luxury boutique hotels. There are several house museums and we only visited Casa Grotta but the other museums should be as good and it's better to visit a house cave museum that is more convenient for you.
7.Visit other Museums
There are so many museums that we couldn't cover but another one worth visiting is the Complesso Rupestre Madonna delle Virtù e San Nicola dei Greci but note that there is no more Dali exhibit when we visited in May 2023. It is another rock church with preserved frescoes and quite bigger than the other main rupestrian churches.
8. Dine in an Ancient Cave
There are several cave restaurants in Sasso Caveoso with beautiful restaurant interiors. It is a tourist area so expect prices to be higher. Some of our favorites are Più Sud for the best pizza and Baccanti restaurant for fine dining.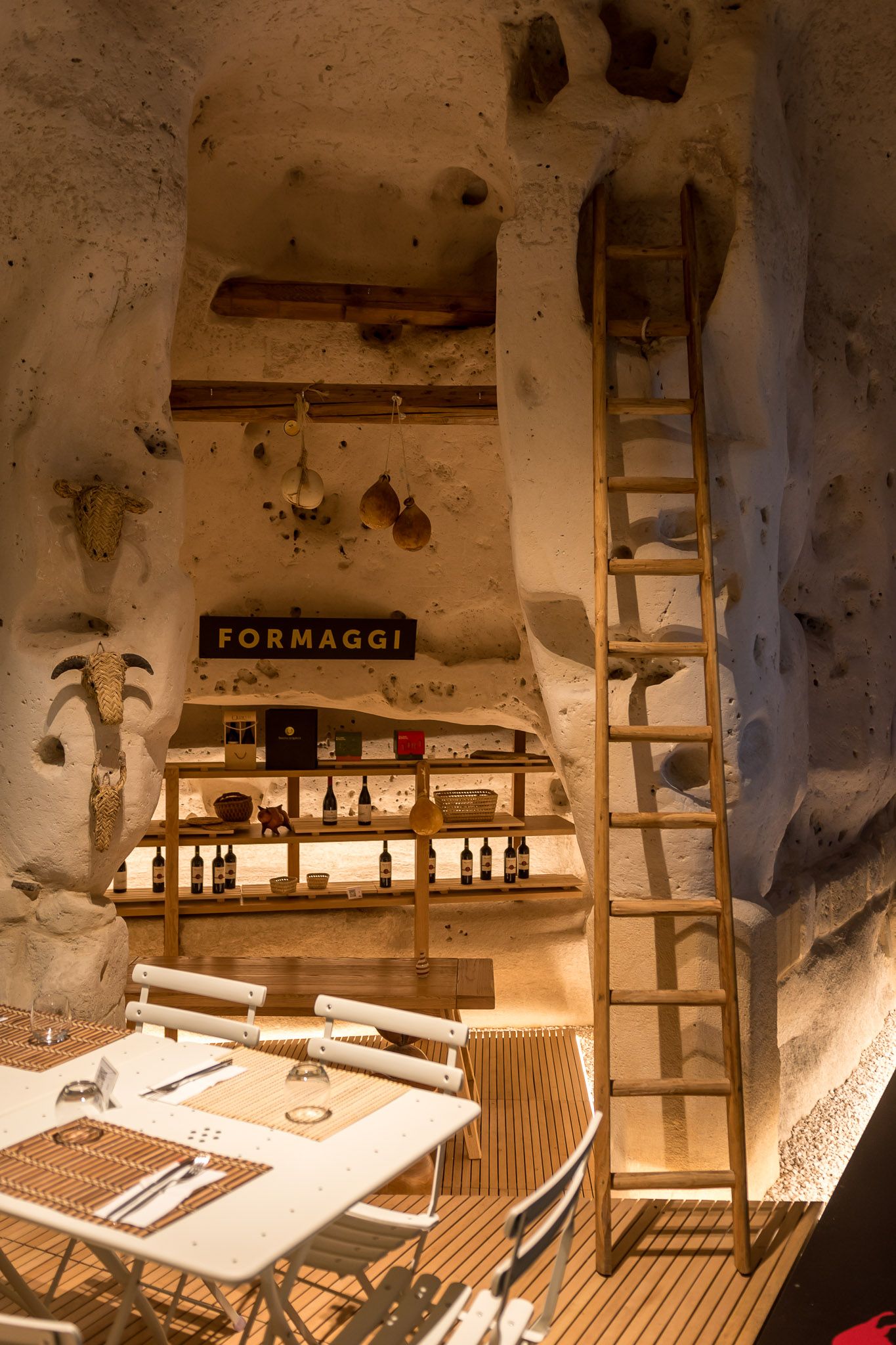 A short IG reel inside Baccanti restaurant, follow my Instagram for more travel inspiration.
What to Eat in Matera?
Matera has some specialties such as the huge Matera bread but you do not need to buy one whole loaf. It is usually served as part of the coperta especially in traditional restaurants or sometimes sprinkled as crumbs in a pasta dish. There are also different kinds of legume soup and meat dishes such as peasant lamb from the province of Matera. You can also buy dried sweet peppers or Peperoni Cruschi which is typical in the Basilicata region.
One traditional restaurant we recommend is Trattoria i due sassi which serves good value and delicious traditional dishes that is also in an excellent location in Sasso Caveoso.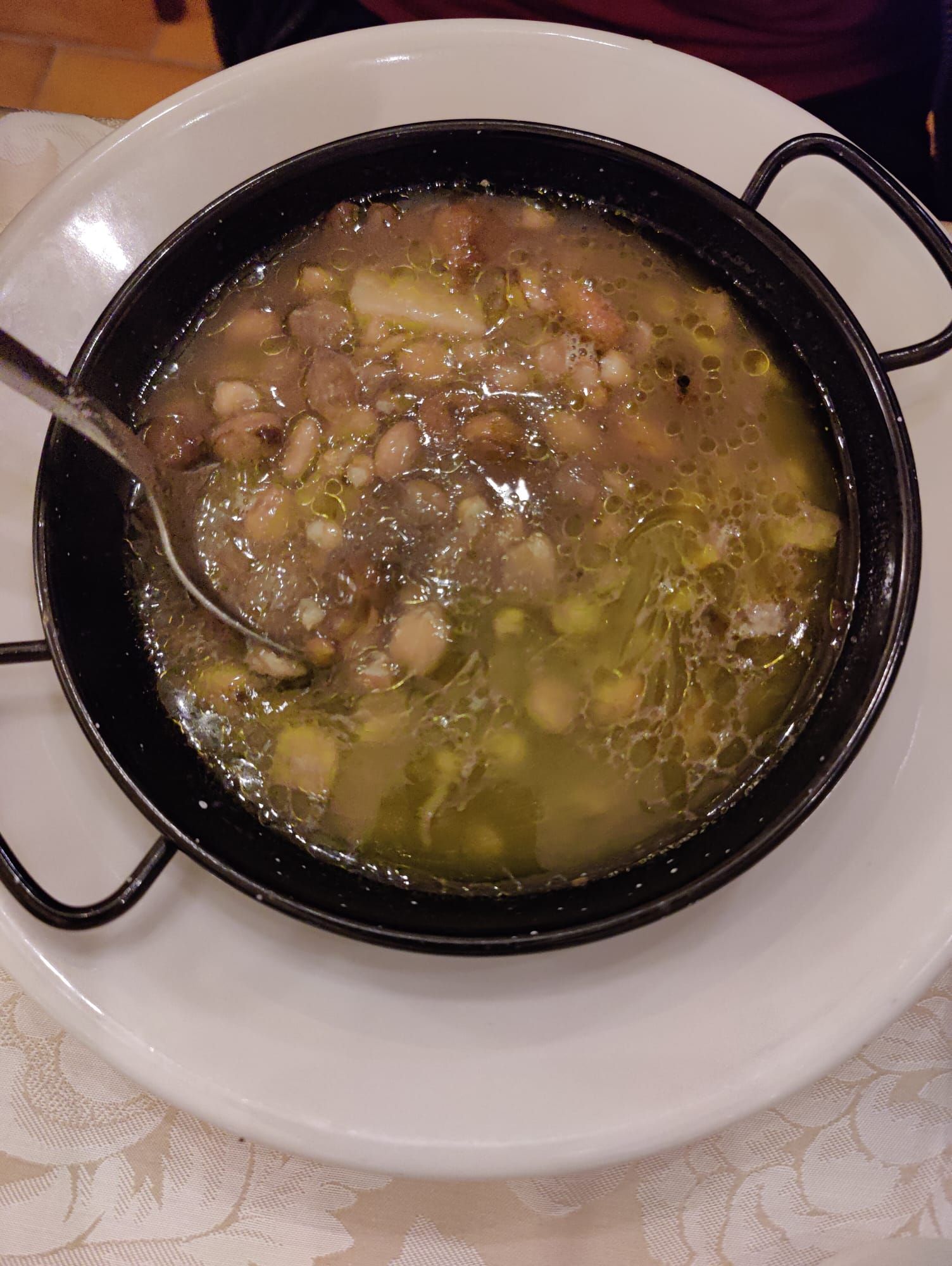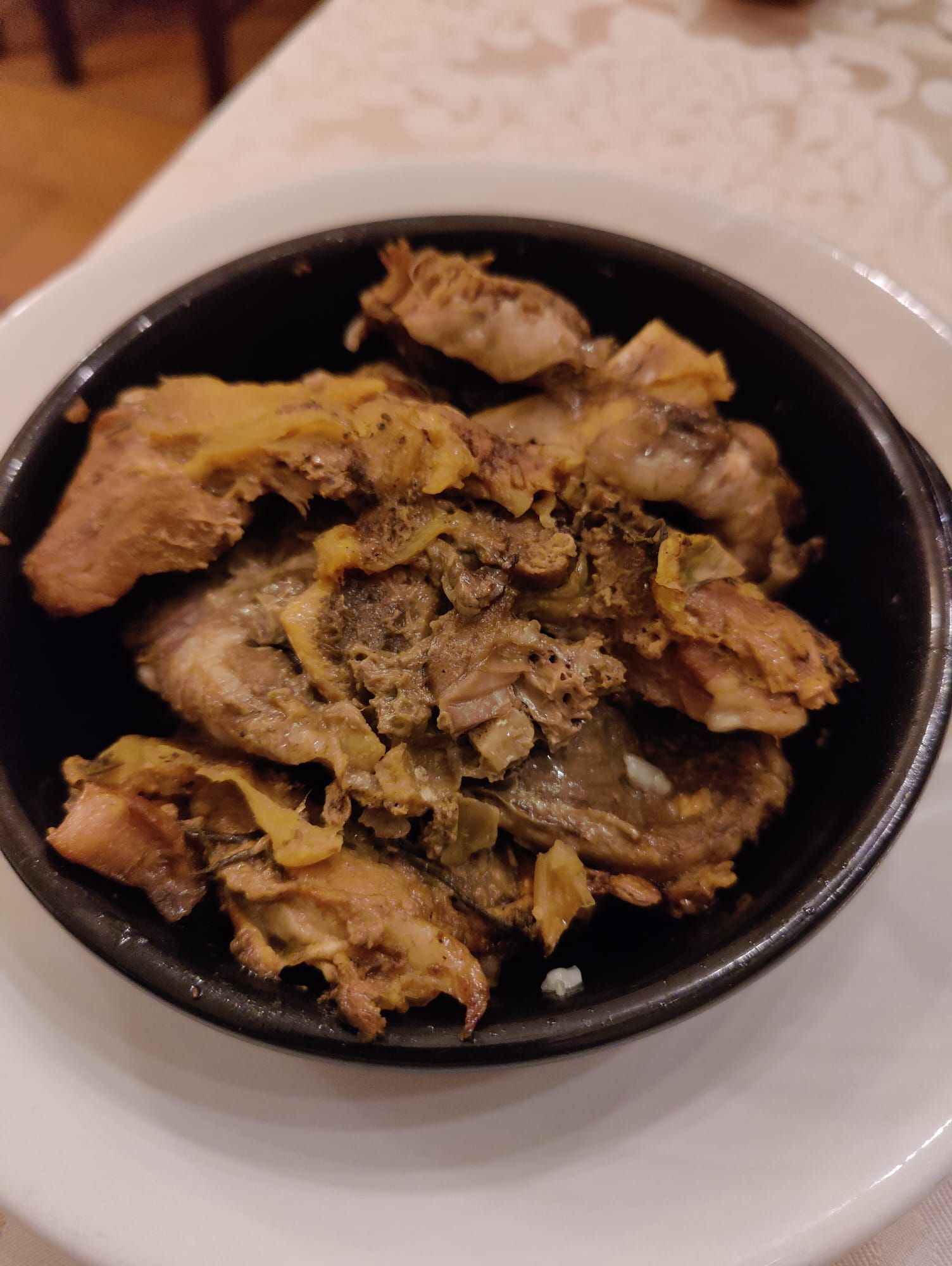 ---
Now that we've explored Sasso Caveoso, let's venture into another captivating district of Matera: Sasso Barisano!
Things to do in Sasso Barisano
Sasso Barisano is another fascinating area of Matera that showcases its unique architectural heritage and offers delightful experiences. Here are some highlights:
1. Walking Tour of Sasso Barisano
Discover the hidden gems of Sasso Barisano by embarking on a walking tour led by knowledgeable guides. Explore its maze-like streets lined with ancient dwellings and learn about their historical significance. Most guided tours are focused on the more popular Sasso Caveoso but there is also a lot to discover in Sasso Barisano.
Check out this complete tour which combines the 2 districts of Sasso Caveoso and Sasso Barisano which will take 3.5 hours.
2. Visit the Cathedral of Matera
The cathedral in Matera is an iconic landmark that represents both religious importance and architectural beauty. Its tower stands tall above the cityscape, offering magnificent panoramic views of Sasso Barisano and beyond.
Beside it lies Hotel Palazzo Gattini, known for its association with James Bond films—a perfect spot for movie enthusiasts seeking a touch of glamour.
3. Enjoy an Aperitivo with a View at Crialoss
Google Map pin: Crialoss Panoramic Cave
Indulge in a delightful Italian tradition by enjoying an aperitivo, a pre-dinner drink accompanied by small bites. Head to Crialoss, a charming bar with outdoor seating that offers panoramic views of Sasso Barisano. Sip on your favorite cocktail or try local wines while savoring the stunning vistas.
The place is popular and for a good reason so make sure to make a reservation especially during peak season.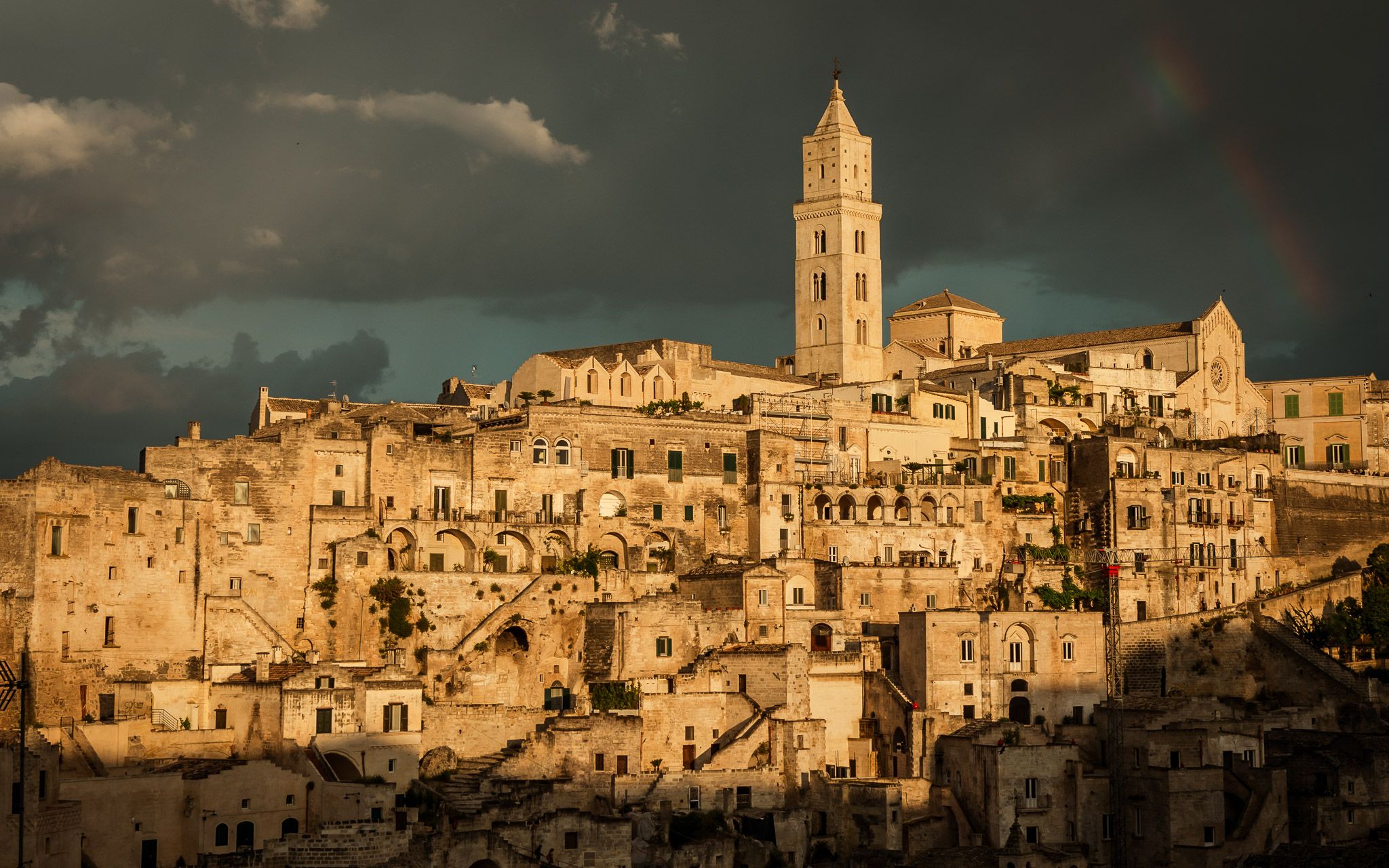 4. Explore Palombaro Lungo
Ticket price: €3 (check if discount applies to you)
Google mapp pin: Piazza Vittorio
You wouldn't expect that this ancient cistern is located under one of the busiest plaza in Sasso Barisano. Uncover the fascinating underground world of Matera by visiting Palombaro Lungo. This remarkable underground cistern was once used to store water and is now open for visitors to explore. Marvel at its impressive architecture and gain insights into ancient water. The colorful lights make it more fascinating!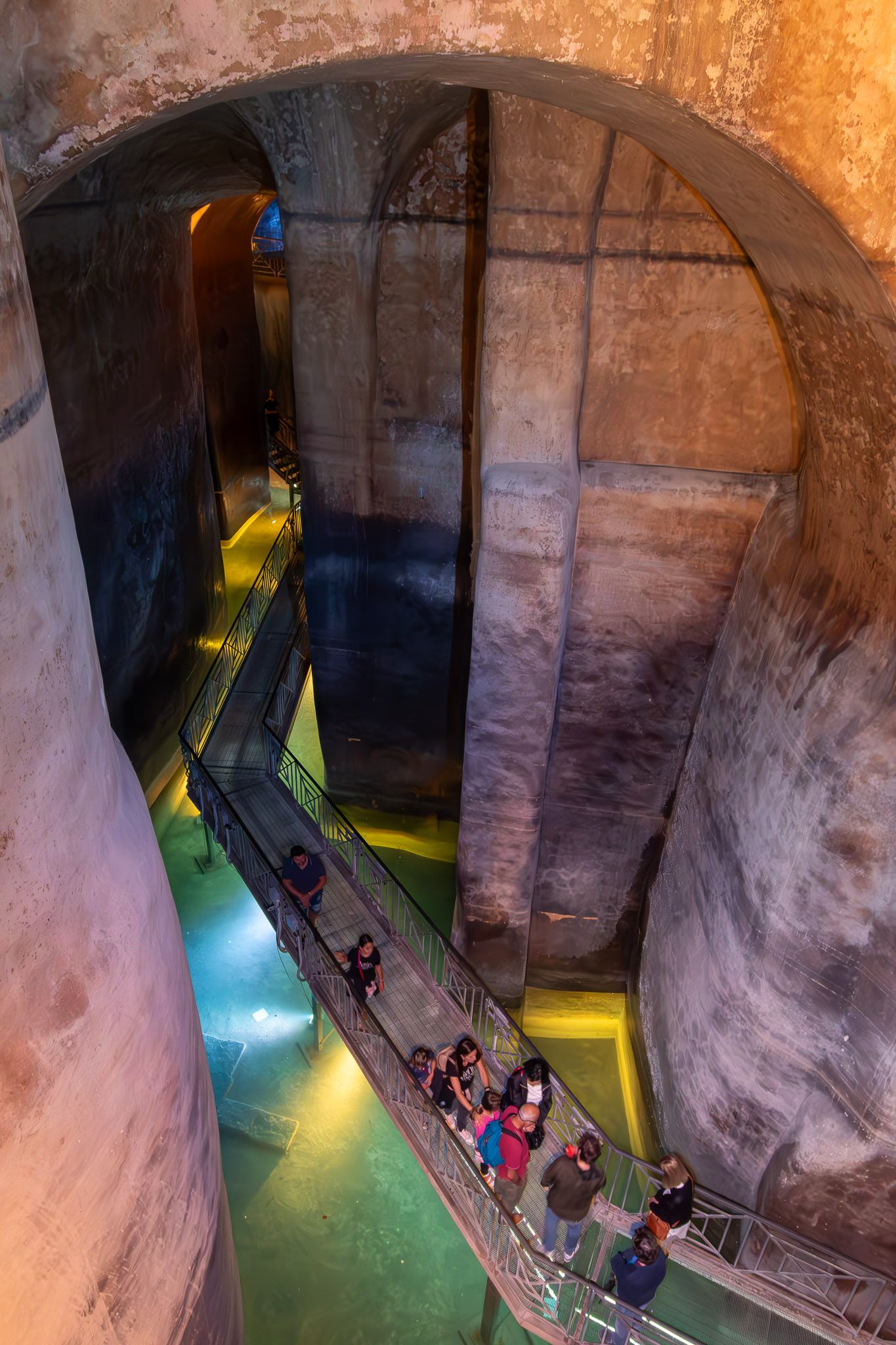 Where to Stay in Matera?
Matera offers a range of accommodation options to suit every traveler's preferences and budget. Whether you're seeking luxury, mid-range, or budget accommodations, there's something for everyone in this enchanting city.
Luxury:
Palazzo Gattini - Indulge in a luxurious stay at this elegant hotel located near the cathedral. This is also the hotel where James Bond No Time to Die was filmed.
Sextantio Le Grotte della Civita - Another unique experience you can try is stay in a luxurious cave hotel. Immerse yourself in the unique experience of staying in restored cave dwellings transformed into luxurious rooms. This boutique hotel offers a blend of modern comfort and historic charm.

Il Belvedere: Stunning views of Matera from their terrace!
Mid-Range:
Hotel San Domenico Al Piano - Located in the heart of Matera's historic center, this stylish hotel provides comfortable rooms with modern amenities. It also features a rooftop terrace offering panoramic views.
Locanda Di San Martino Hotel & Thermae Romanae - Experience the perfect combination of history and relaxation at this charming hotel set within an ancient cave complex. Unwind at their thermal spa after a day of exploration.
Budget:
Sassi Low Cost - as the name suggest, this is one of your few budget options that is within the sassi.
The Rock Hostel - For budget-conscious travelers, The Rock Hostel provides dormitory-style accommodation with shared facilities while still allowing you to experience the unique ambiance of Matera's caves.
We prefer booking our accommodation with Booking.com in Italy. We noticed that the ones we see in Airbnb are also posted in Booking.com but with a better price, plus you get additional discounts in Booking.com the more you use it. On the other hand, Airbnb has unreasonable fees both for hosts and guests which doesn't have a cap even if you stay longer and doesn't even reward you for using it.
Final Thoughts
As you can see in our photos, Matera is truly magical. It is one of the most beautiful places I have seen in my life. We recommend not doing a day trip but staying for at least 2 nights so you can truly enjoy it. There is so much to do and everything our guide cannot be done in one day. There is no point to rush your stay here as the surrounding invite you to just relax, or learn about one of the oldest cities on earth. There are many things to do that aren't in this guide such as the MOOMA Olive Oil Museum, miniature museum and more so there is something for everyone.
---
I hope you had fun reading our travel guide and are excited for your next trip! 🌍 But hold on a second! A quick reminder: always make sure you're safe on your travels with a reliable travel medical insurance like SafetyWing. 🛡️ It's like having a helpful friend with you on your adventures, ready to help if things go wrong. So, let's make our trips fun and safe at the same time! 🎉🚗 Happy and safe travels, everyone!