I was so excited to renew my Philippine passport because the new passport is now valid for 10 years, from the previous 5 years! The DFA (Department of Foreign Affairs) booking system is also user friendly but I have written here a step by step guide that I hope you find helpful.
This first part is all about booking an appointment until payment, I will write another post for my actual experience on the day of appointment.
1.Go to the official Passport Appointment website and book an appointment
https://www.passport.gov.ph/appointment
I booked mine on 29 August and slots were available at the DFA Manila starting 2 September. There were no available slots for the remainder of the month. Make sure to book ahead. This is actually an improvement. The last time I renewed, I had to wait 3 months for the next available schedule! Thank you for this improvement, DFA :)
Earliest time slot is 7:30am and the latest is 3pm (to 4pm).
You may also check other sites near you if your preferred day isn't available.
available slots for passport appointment 2019
2. Double check the personal information that you have encoded.
The website has a disclaimer that incorrect information provided may result in delays.
3. Click Proceed on the payment page
Check all information and Click Proceed
Once you have confirmed, you will be re-directed to the payment confirmation page and an email will be sent to you with the subject "DFA Passport Appointment System - Payment Reference".
This 1st email notes that THIS IS NOT YOUR BOOKING CONFIRMATION since you have not paid yet. Payment instructions are also outlined here
4. Pay within 24 hours in their designated payment centers.
The reference number will be sent to your email. You will use this upon payment. There is no option for online payment.
Regular Processing is P950 (12 working days)
Express Processing is P1200 (6-7 working days)
There is also a convenience fee of P50
On a side note, other countries process passport free of charge. P950 is actually expensive for the ordinary Filipino so I don't know why they need to add the P50 convenience fee. Anyway, the good news is that this is valid for 10 years. Your passport costs you P200 per year which is Sbetter than the 5-year validity for the same fees.
5. Go to the accredited Payment Center listed in the confirmation page and provide them your reference number.
I paid mine through Bayad Center at Landmark. Other payment center includes ECpay, 7-eleven to name a few.
6. You will receive a confirmation email from DFA saying that your booking is now confirmed.
The email subject is "DFA Passport Appointment System - Confirmation Notification"
7. Print your application form in A4-size paper and bring these on the day of appointment, plus your old passport.
This application form is attached and also linked in the email. It has a checklist and reminders of what you need to bring. Read through this carefully.
The NSO Birth Certificate is part of the checklist but you do not need to bring this if you are renewing an electronic passport. Electronic passports are those issued on/ after 2011 (Dark Maroon passport). If the passport you are renewing was issued prior 2011, you will have to bring an original and photocopy of your NSO birth certificate.
Reminders: Print ALL pages as it includes the application form that you filled out when you booked your appointment and the E-Receipt with the barcode. Bring a photocopy of the data page of your e-passport as well. Do not forget to bring these on the day of your appointment.
If for some reason you need to re-schedule this confirmed appointment, you can do so. You may check my guide to re-scheduling a confirmed DFA appointment.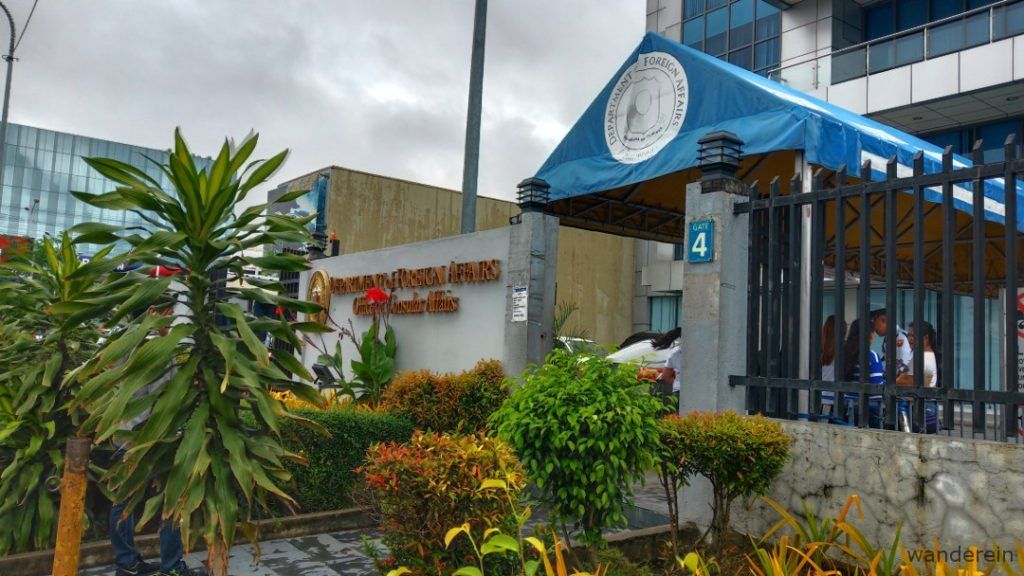 DFA Aseana Gate
Appointment Day at DFA Aseana
I arrived at the DFA an hour earlier. I only took a Grab ride and the driver dropped me off the gas station just beside it. Vehicles are not allowed to stop and drop off passengers in front of the DFA gates.
The security guards decided to let me in before my scheduled time. It was a Monday and was not busy that day. The processing center disregarded my schedule an hour later and took my forms so I can proceed. That was really accommodating of them, I did not have.
The whole process was also faster than my previous renewal. It took less than an hour! I indicated how long each process takes.
So here is what to expect on that day:
Step 1: Verification
Time Spent: Less than 1 minute
Queue and when it's your turn, present all your requirements (noted in the above section of this blog).
The person-in-charge of this step allowed that I proceed to my appointment even if I was an hour earlier. She just checked that all my requirements are complete and gave directions to Door 1.
Step 2: Processing
Time Spent: 4 minutes
Queue again, and when it's your turn write your name and sign on the log sheet by the counter. The processor checked my requirements and canceled my old passport by this stage. He asked me first if he can cancel my old passport. After I agreed, he punched holes on the cover page of the passport.
Once approved, he will advise you to proceed to the 2nd floor.
Note: If you have a valid visa (eg. a multiple entry US visa) in this passport, this can still be used since only the passport's cover page was tampered.
Step 3: Data Capturing and Encoding
Time Spent: 40 minutes (longer waiting time)
Get a number and wait for your number to flash on the screen. While waiting, you can freshen up a bit as your photo will be taken in this step. Make sure you do not have visible accessories like earrings, contact lens are not allowed as well.
DFA Passport Reminders
When it's your turn, proceed to the booth and get ready for your photo to be taken.
After this, you will be asked to double checked your details like full name that was encoded in their system. Take time to read and double check that all information and spelling are correct. You will be asked for a fingerprint scan and electronic signature.
And you're done! But you have the option to have the new passport delivered to you.
Step 4: Courier Service (optional)
Time Spent: 2 minutes
I paid P150 for the courier service to Makati. The amount may differ if the delivery address is outside Metro Manila. According to the provider, estimated delivery time is 2-3 days from the passport release.
Overall Turn Around Time: Passport release is approximately 20 days from appointment day + 3 days delivery. So give it a month when you need to renew your passport and ensure you do not have an upcoming international trip within this period.