I recently quit my corporate job to travel long term and pursue life as a digital nomad. Previously, I only traveled a few weeks at a time, whenever my work would allow it. With this being a full time job, I now think more about safety both physically and financially. Not that I never contemplated about this before, but there is more risk now since I will be on the road most of the time as a female solo traveler. So I thought of looking into healing crystals for this purpose.
Of course, I will still equip myself with other practical tools and skills such as self-defense.
My first encounter with crystals was a few months ago at the 5th Dimension Crystals Shop. During that time, I bought a customized bracelet for my throat chakra. I'm not really into spirituality and I do not have enough knowledge about these esoteric terminologies. I was introduced to this earlier this year when I went to a detox retreat and someone made me think about the current illness on my thyroid. I was already doing alternative treatment for this so I thought it wouldn't hurt to try healing crystals.
From then, I got a few other crystals which provided me a different energy whenever I meditate with them. I personally don't think that this is just a "woo hoo" kind of thing, I do believe that everything has energy and crystals have them too. That is why we have them in quartz watches or LCD's which stands for Liquid Crystal Display.
An Oasis inside Makati Cinema Square
There are tons of information online of what would be the best crystal for travel. The online crystal shops in the Philippines are also growing. I bought a few crystals online but being physically present at the store and hearing the soothing sound of the crystal bowl made me decide to visit 5D Healing Crystals shop, over the convenience of sitting at home to shop online.
5D Healing Crystals is located inside Makati Cinema Square and they also recently opened their store in Maginhawa, Quezon City. At least for me, the Makati branch is accessible so there was not a lot of excuse for me not to visit their shop again.
Makati Cinema Square is a really old mall but there are a lot of useful shops inside such as watch repair shops, computer repair shops, an archery and so on. The vibe inside the mall is somewhat chaotic, expect to be bombarded by cellphone vendors as you pass by them asking you if you need anything.
There's nothing wrong with this and they're just doing their job but my point is - it's not a serene place.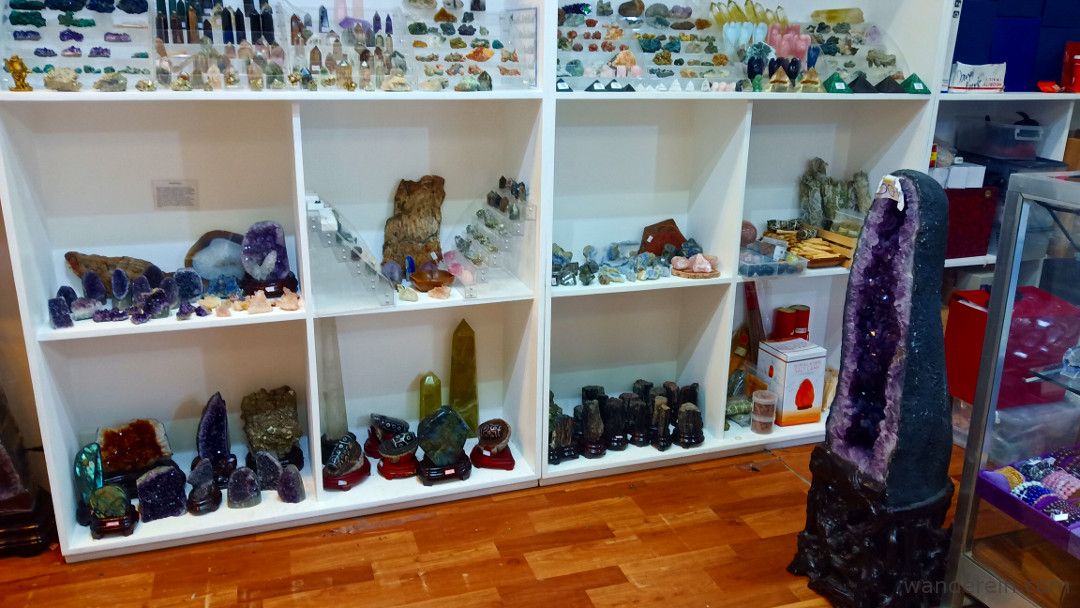 Upon entering 5D Healing Crystals shop, it felt like I was transported to a different place! It was far from the chaos outside, you wouldn't think you were still inside this old mall. The smell, sound and the sight of the various crystals displayed makes you feel like you are really in a different dimension, the 5th dimension. Although I only know what it is like in 3D, you would know when it doesn't feel like 3D anymore.
From small stones to gigantic crystals. Both collectors and beginners will find what they're looking for in this shop
A lot of people would advise that it would be best to buy the crystal you feel attracted to when you are in a shop. This may work for some but I am not (yet) that connected to my spirituality. I tried to intently look at the crystals but they didn't seem to connect with me. That's when I asked the owner's help, Kuya Mark.
He asked what I was looking for so I shared my purpose and a bit of my situation. He is very knowledgeable and he immediately know which crystals would help me on my digital nomad journey.
My Travel Buddy
First, I wanted a crystal for my long term travel so he lined up crystals that would help me best on his bracelet making tool (I don't know what this tool is called). He calculated my numerology life path based on my birthday, which was the number of each crystals for the bracelet I now call "travel buddy". He also patiently explained the purpose of each stone.
First, he placed four beads of black tourmaline into a string as this is a stone for protection against negative energy. Then he added labradorite which is a stone for new beginnings. Next was malachite which gave a green accent to my travel buddy, and this was to help me find my purpose or destiny. I was amazed because I didn't tell him anything about me wanting to find my purpose in life so I was happy he included this. The next two blue stones were aquamarine for long distance travel and angelite as a protection stone. I feel connected with these two blue crystals as these help with the throat chakra as well which is where I currently have a physical blockage (tumors). Then he included tourmalinated quartz which is a combination of black tourmaline and crystal quartz and these will enhance the energy of the crystals in my bracelet. Finally, he wraps it up with onyx which is another protective stone that can absorb negative energy.
The Money Magnet
So now that I have my travel buddy, I also want some assistance in my new career as a digital nomad. Needless to say, I will still be working to earn money while on the road so I don't use up my savings. I wanted a bracelet that would assist in this.
In other words, I would like to raise my vibration so that money would be keep coming in (because I now believe that everything is energy including money).
Please note though that this will not work like a 'genie in a bottle' so you should still do your part in working to earn money.
The shop sells a Money Magnet bracelet but since I have a small wrist, I had another one customized for me. I also like smaller stones as they look better on me. Kuya Mark said that the size of the stone doesn't matter so he customized a smaller money magnet bracelet for me.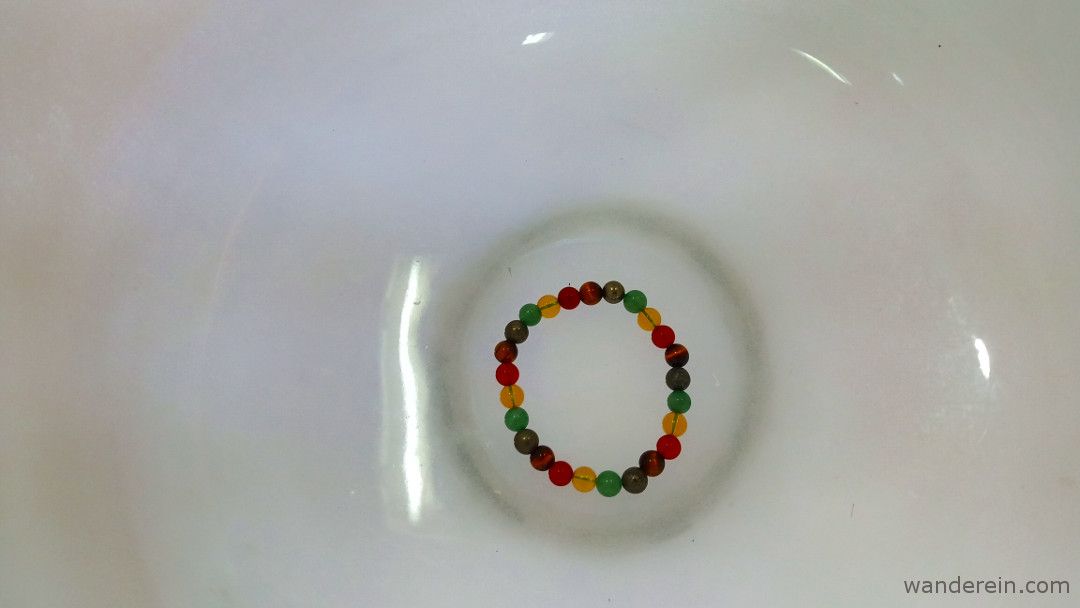 Colorful Money Magnet inside a Crystal Singing Bowl. One of the reasons you would want to buy this as at physical store is to experience the healing sound bath as your crystals are cleansed.
The following are the stones included in the Money Magnet bracelet and the words below are copied from the card included in it with permission from Kuya Mark.
Green Aventurine is a crystal to attract wealth and good luck; Citrine is a merchant's stone and attracts money wherever it is placed so it's best to place them in a cash drawer; Carnelian will give you courage and help you discover your hidden talents; Pyrite will positively influence your business decision and will inspire you to reach for greatness and get things done; Tiger's eye will work in strengthening your willpower and your intention to succeed.

5th Dimension Healing Crystals Shop
My crystal shopping didn't end there. When you start buying crystals you need some self-control in buying a lot! They are so attractive and it must also be their energy that attracts me to them. If I would not be traveling long term, I would have bought more but I am sticking to a life of minimalism for now.
And there, just before I went out of the store I found these cute stud earrings just by the window.
Not into bracelets? They also have earrings and pendants.
I have always wanted peridot for happiness and Kuya Mark also said that it also slows down aging. No more questions asked, stud earrings sold!
Now you ask... but how much are these?
The price of the crystals and stones vary depending on their quality and kind but they are all authentic. For beginners, I recommend you bring between five hundred to a thousand pesos and you can bring a home a customized semi-precious stone bracelet with this amount. You can also buy tumbled stones for around a hundred pesos each.
I spent two thousand pesos for all of these three items. That is not expensive as compared to their other high grade crystals and gemstones. I saw one high quality grade citrine at P1,800 but it was so beautiful and elegant.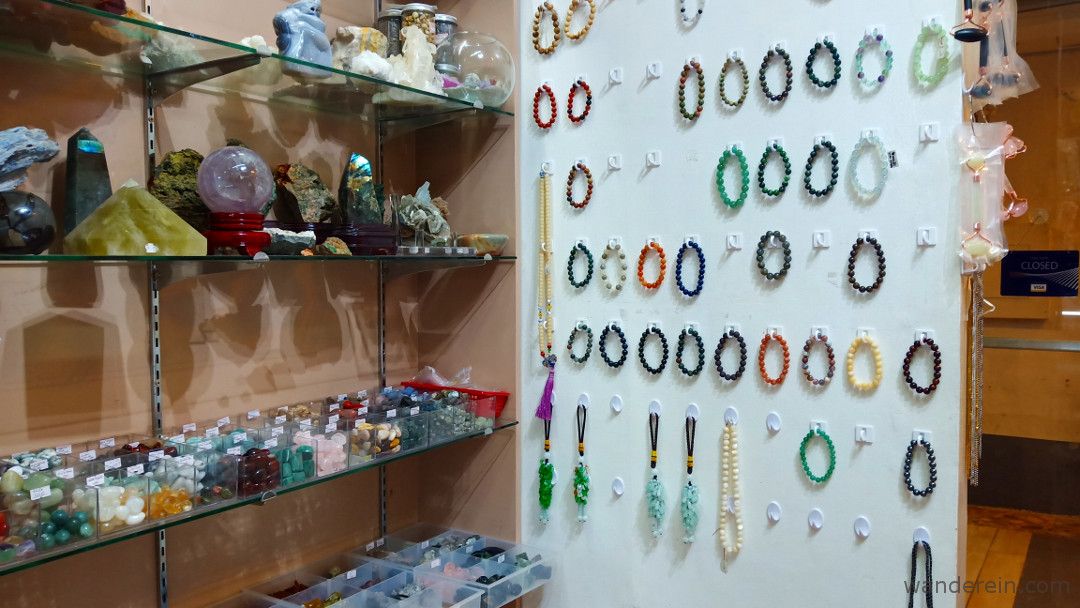 Bracelets, rings, pendants, etc... they even have face rollers!
If you are also a starting in your crystal journey, I highly recommend going to a credible crystal shop and sellers who are knowledgeable about their trade and who are willing to help you understand the stones better. That's 5th Dimension Healing Crystal shop for me and note that this is NOT a sponsored post. I have just seen the genuine work they do to assist others in their spiritual journey.
Truly "Your Soul Oasis"
You can learn more about 5th Dimension Healing Crystals in their website, Facebook and Instagram. Their physical stores are located in Makati Cinema Square and Maginhawa, Teacher's Village in Quezon City.