I've been living in Makati, one of the business districts in Metro Manila, for years. It's my most convenient choice because of work and to avoid the unbearable traffic. It's the center of almost anything, it's near all shops and businesses. However, there's one thing missing – Pinoy Street Food.
There are Filipino restaurants at the Central Business District where I can get these but those are just overpriced. My cheaper alternative is the Salcedo Saturday Market at a park in Salcedo Village, just a few steps away from the Central Business District. Most people think that this is an expensive place to buy food. Comparing the quality and price with the nearby grocery stores, the selections here are a little cheaper and worth it. Still overpriced if I would compare it to the prices in the provinces but that's just the reality of most cities.
There are several food and other items that you can find here from Filipino to international products. If you're a traveler who happens to have a layover in Manila then this is a one-stop place for a variety of choices too. In this food blog, I will recommend some cheap finds here and for the sake of this post, I will define cheap as Php 100 and below (approximately USD 1.91 and below).
Note: 1 US Dollar = 52.26 Philippine Peso as at 9pm 26 March 2018 PH Time
---
Isaw (Chicken Intestines)
---
Yummy Intestines! Weird? Try it ;)
Price: Php 25 (USD 0.48)
Isaw is a popular street food found within the comforts of this park. This one is chicken intestine but there's also pork. This was marinated in soy sauce and other ingredients that make it sweet and salty. This is a common street food often sold by your business-minded neighbor just outside their house, on the side street. You will smell the appetizing smoke when they start grilling in the late afternoon.
This may sound gross for some but these chicken intestines have been thoroughly cleaned. If you want to try this out make sure you buy it from a sanitary vendor. You can observe how they handle it. Personally, I'd go to the regular vendors who have repeat customers. If they have been serving it unclean then they would have already gotten complaints and have disappeared. Do not buy from some random vendor. If you're a tourist, ask your Pinoy friends or check out more popular places like this one.
Note that this advice applies here in Metro Manila where there are several vendors. I am not representing the provinces. And I also got food poisoned when I was in college because I bought from a random vendor in another area in Metro Manila.
---
Pork Barbecue (Pinoy style)
---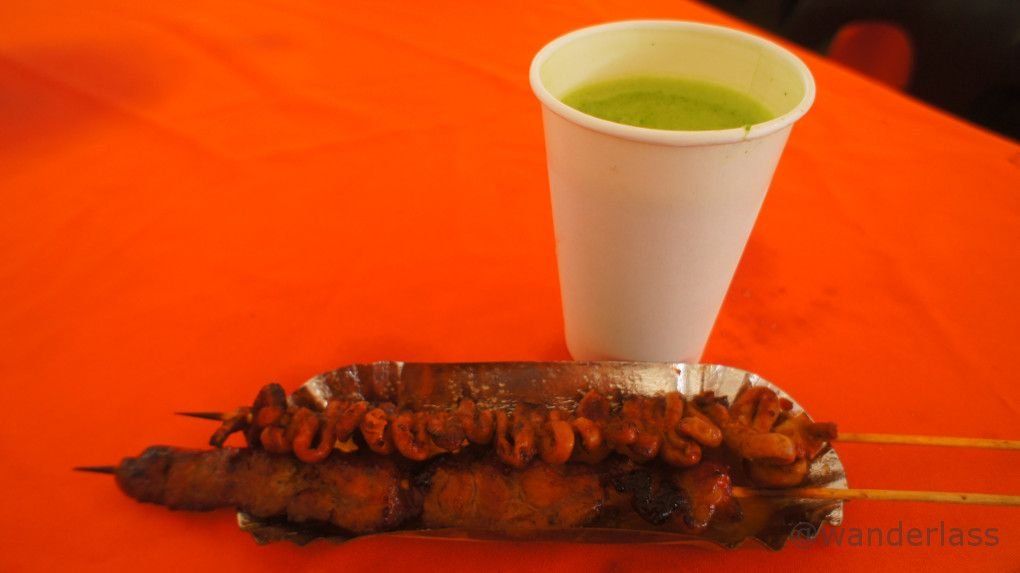 Sinful pork barbecue and isaw washed off with healthy kale and pineapple juice
Price: Php 50 (USD 0.96)
Where there is isaw, there is usually pork barbecue. I think that's just good for their business because not everyone will be enticed to eat intestines. These looks like a bigger version of satay. I think the same marinade for isaw is used in barbecue. The sticks would usually have mostly pork meat and a piece of fat on one end. Because the flavor is slightly sweet, it's best dipped in vinegar with onions and garlic.
---
Sorbetes a.ka. Dirty Ice Cream
---
Sorbetes stays frozen in these colorful carts filled with ice and rock salt
Price: Php 40 (USD 0.80)
Sorbetes, more populary known as Dirty Ice Cream, is not dirty and I think it was just exaggeration because it lacks the more regulated sanitary requirements that ice cream in tubs has. People got used to calling this dirty ice cream and not sorbets. People also has a general perception that street food is less clean. This, of course, depends on the vendor.
In residential areas, they usually go around with their colorful cart in the afternoon. Kids playing outside the house stop their games when the ice cream bell rings. It's time to call their parents and buy them sorbetes.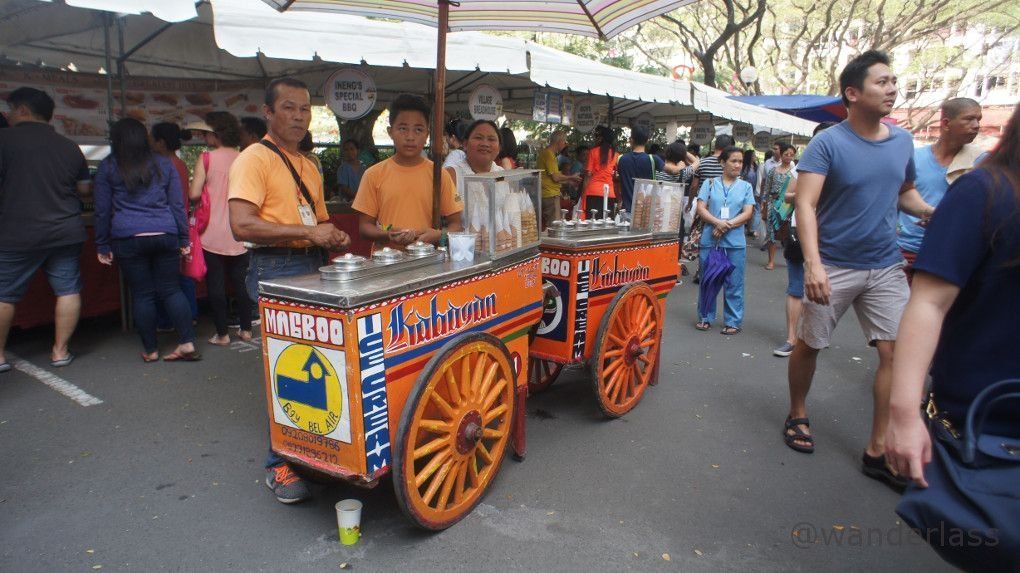 They even have 2 mobile carts
This ice cream vendor at the Salcedo Market didn't have to go around and his mobile cart was just still in one location. But the nostalgic sound of the bell ringing was there so everyone knows where he is.
I'm not sure what the prices are now in the provinces but 40 pesos I think is overpriced and I understand it's because they have to pay a higher fee or rent in this market. Still a good find and it's avocado flavor! Flavors include mango, chocolate and cheese.
---
Taho
---
Make sure to mix this first so that the sweet flavor is blended with the hot soft tofu
Price: Php 20 (USD 0.38)
This is a favorite Filipino breakfast. Vendors usually go around the neighborhood in the morning and shout out "Tahooooo!" so everyone knows. A good alarm clock too other than your neighbor's hen. They usually carry these heavy drums containing soft tofu, tapioca pearls and caramelized sugar. It's usually served hot but recently there are cold taho in some shops. I still prefer the hot version.
These big and heavy drums are normally carried around by hardworking Taho vendors in residential areas
---
Tamales Rice Cake
---
For 'rice-dependents', it's a complete meal
Price: Php 60 = (USD 1.15)
Rice cake is a common snack in Asia. We also have different variants here in the Philippines. The most common one is suman which is similar to Thai's sticky with mango. This one I tried isn't plain. It's rice cake stuffed with salted egg, chicken, pork, sausages and vegetables. It's like a meal on its own. For 60 pesos, this one's really worth it.
This isn't really a sold in the streets but from time to time you'll find some vendors who go around the neighborhood to sell rice cakes. They carry a basket filled with rice cakes on their head. Most of the time, my relatives would make one or they will buy from the local market.
That was a lot for a market day and had to take home the Tamales!
Have you tried any Pinoy street food? What's your favorite?