Most imported products in the Philippines are very expensive due to customs taxes, and of course, the business who brought it to the country has to profit from it too.
Natural and organic supplements are particularly pricey. My previous go-to shops were Healthy Options and online shops in Shopee or Lazada, however, prices here are too high.
I found a way to buy authentic natural supplements at their original price (without the import taxes and additional charges) through iHerb.
What is iHerb
iHerb is an online company based in the US that sells a variety of health products and natural supplements. 
They deliver worldwide to 150+ countries, including the Philippines.
Are the products authentic?
Yes.
Trust me, I have been buying health products as I'm into natural medicine.
I'm treating tumors suspicious of papillary thyroid cancer so I have tried these products myself. I will not recommend something fake, I have used products I bought from iHerb for my own natural treatment.
Not all are for my thyroid, some are for beauty like collagen and skin serums. And even healthy groceries! 
How To Order
Ordering through iHerb is quite easy and intuitive but I received some comments in my vlog asking for the instructions so here is the step-by-step procedure to order through iHerb. 
This procedure is for the desktop version but the process is more or less the same in mobile, just in a different format.
1️⃣ Open their official website here.
2️⃣ Go to Log In on the upper left and it will show options. Choose Create My Account which is at the bottom of the menu 
3️⃣ Enter your mobile phone and email address.
4️⃣ Create a password and click on the create your account button
You can now start shopping once you have created an account but I recommend you set up your profile first for a faster check out
5️⃣ Go to My Account > Address Book
Enter your shipping address
6️⃣ Start shopping.
Now there are a number of ways you can do this:
Use the search button if you have a specific product in mind
Search by category. Under Shop you can choose a number of variety from Supplements, Groceries, Vegan etc. I also like using the other headers such as Brands to get iHerb Brands and the Super Deals for the biggest Discounts

7️⃣ Once you've decided on a product, just click Add to Cart
8️⃣Review your items and choose your preferred Shipping.
I always choose DHL Express because I can guarantee that they deliver door-to-door.  Other options like UPS is usually more expensive and then there's also local post but I am not sure if they deliver door-to-door because I always had a bad experience through PhilPost (our local post).
If the shipping fee is high, adding an iHerb brand or replacing some of your items with an iHerb brand will decrease the shipping cost. Read more in my section about Shipping Fee.
First time users automatically get a discount. For additional discount, apply promo code ANC1090
9️⃣ Proceed to Checkout
🔟 Review your Address and Pay
I recommend using a credit card but PayPal also works. I just had some issues using PayPal before like orders not going through and I had to cancel and repeat the order process all over again.
You will know if your order is successful when the status of your order shows Confirmed. You will also receive an email confirmation.
You will receive another email within the day when the order ships. And finally DHL (or your preferred courier) will send you an email for the tracking number and delivery status
But why should you order through iHerb when some of these products are available in the Philippines?
The answer is because of the MUCH LOWER PRICE. Check out how much you will save through iHerb in my next section ⤵️
Price Comparison
I did a few unboxing and price comparisons in YouTube which you will see below.
Why is it cheaper to buy from iHerb than Philippines stores?
The local online shops or even physical shops have to pay import taxes and have to earn from their services so it's a lot more expensive.
If you as an individual buy through iHerb, your purchases are tagged as personal use, therefore, not subject to customs taxes.
But to give you a few sample comparisons here, you'd see how much you will save from buying directly through iHerb versus from a local online shop in the Philippines.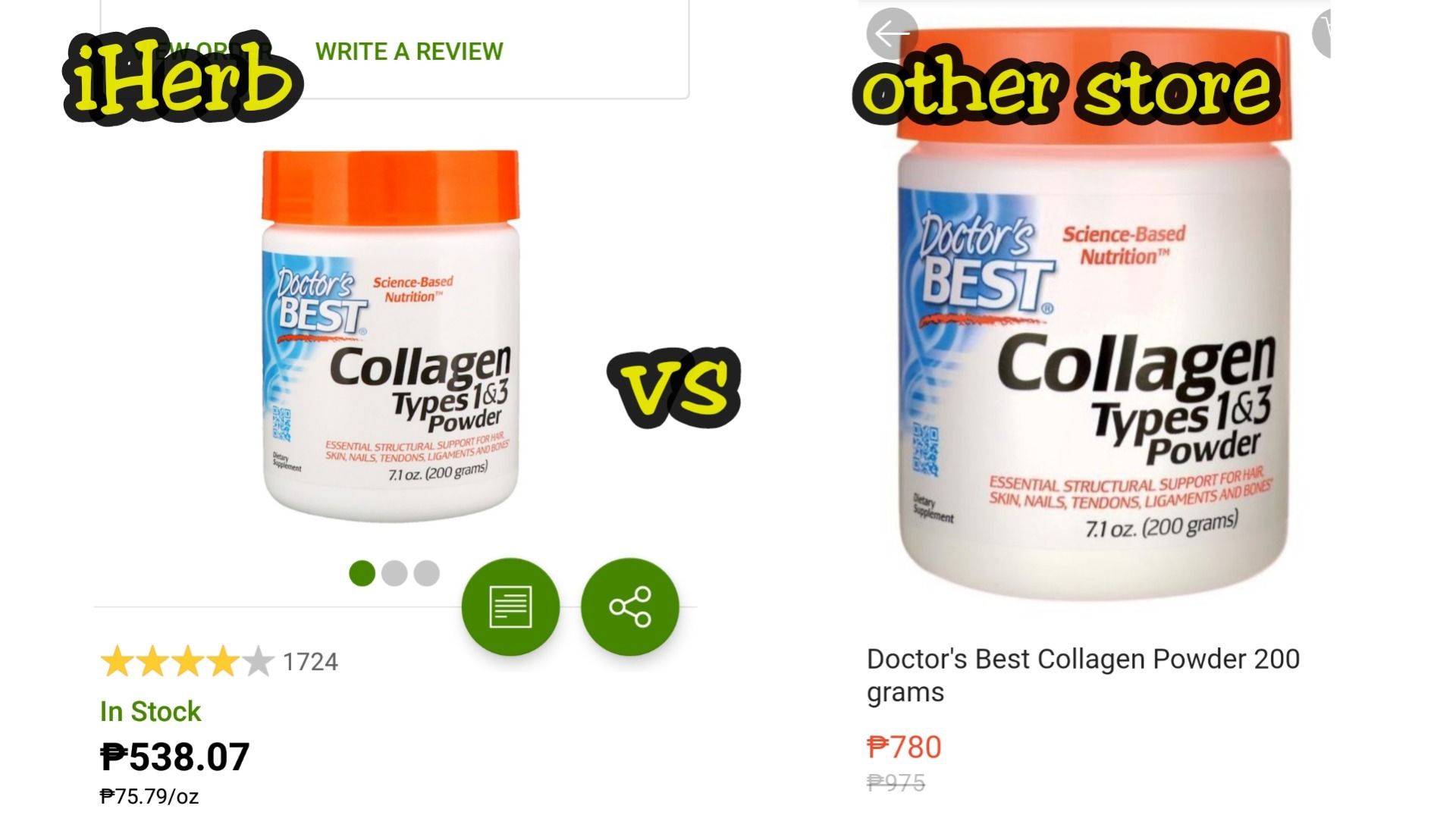 Tip: Lactobif is an iHerb brand. I noticed that my shipping fee decreases a lot when I add this product. It's also a good brand and the probiotic capsule is sealed and refrigeration during transport isn't necessary for these live good bacteria.
Even if you pay between P100 to P500 in shipping, you still save thousands in the product prices as seen in the table above.
Do you pay customs taxes?
Before you check out, iHerb has a disclaimer that your purchase might be subject for customs taxes.
They do not have the final say on this because it's the Philippines Customs who will decide whether you have to pay taxes.
Generally speaking, your purchases are not subject to customs taxes if they are tagged for personal use which most iHerb products are and if they are below P10,000. 
Most of my purchases were below 7,000 pesos and they were all free of customs taxes.
However, if your purchases look like you're going to re-sell them then you may have to pay customs taxes.
I haven't experienced this but heard some people buy 10 pieces of the same item, anyone can suspect that it's not for personal use so be careful when doing this. 
I never paid customs taxes because I only bought what I need.
Payment Method
Does iHerb accept COD (cash on delivery)?
I always get this question in my iHerb haul vlogs. The answer is NO.
They accept major international payment methods. In the Philippines, your best options are through credit card, debit card or PayPal.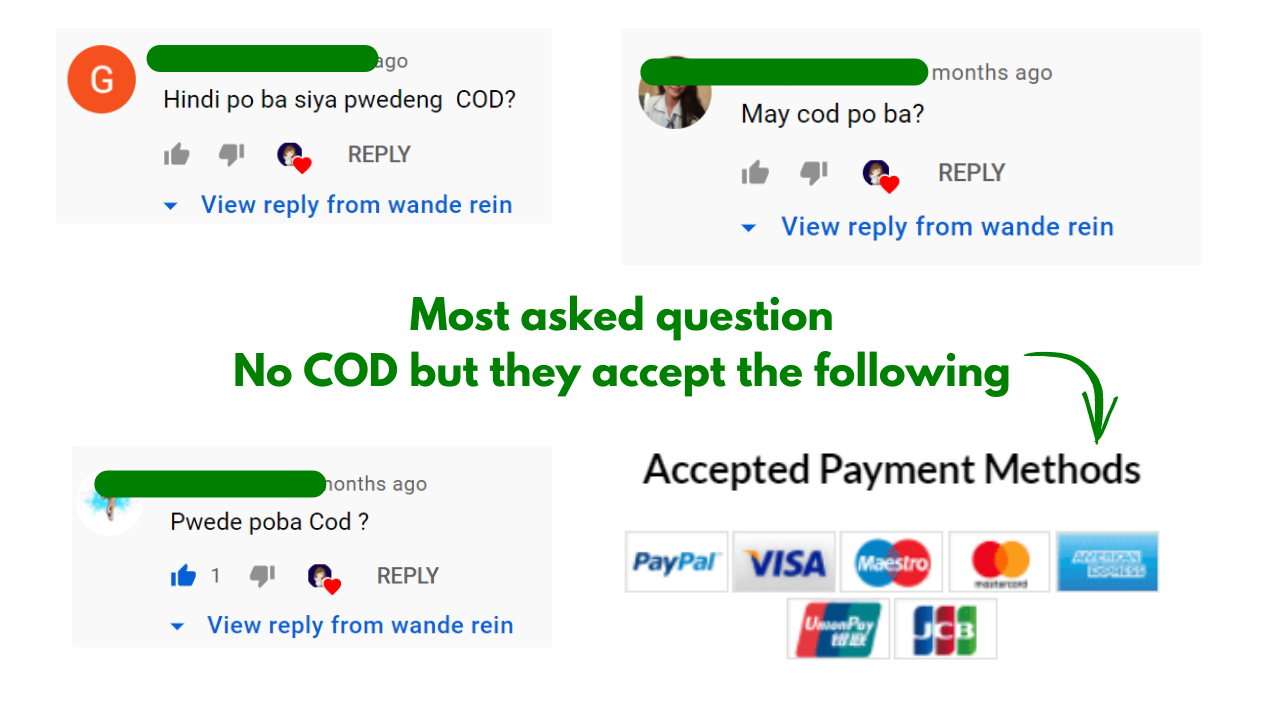 Delivery time and fee
In my experience, I always received my iHerb package after 5 days. The longest delivery time was about 9 days but it was due to the lockdown restrictions at the time.
They have different mailing options but the cheapest and fastest one is always DHL.
In my videos, I showed that I only paid around 99 pesos to 200 pesos depending on the items I bought.
They calculate the shipping fee based on the weight of your item and they also have shipping savers.
Money Saving Strategies
How to Pay Low Shipping Fee?
If you bought items that are tagged as shipping saver then you pay less in shipping fee. I do not know how exactly they calculate the fees but I always pay a low amount whenever I choose Shipping Saver items.
It is easier to filter the Shipping Saver on desktop than on mobile as not all of the shipping saver has that tag.
Update as of 2021, I could no longer filter for Shipping Savers in some products. In that case, look for iHerb Brands. I still get a huge cut on shipping fee when I add iHerb brands.
In my observation, shipping fee decreases when I add an iHerb Brand.
iHerb Brand includes California Gold Nutrition, Lake Avenue Nutrition, HealthyBIOM, etc. You can filter iHerb brands such as shown in this image below.
Here's my money saving strategy:
My technique is I buy all the brands that I want and combine these with shipping savers and iHerb brands. If the shipping fee is still high, I either add or replace some products with iHerb brands.
I have tried a few iHerb brand products from California Gold Nutrition such as collagen and probiotics and these are just as potent as the more popular brands.
Even if you add the shipping fee, you still save a lot through buying in iHerb. I  brought products from them a number of times and I always got authentic products and they always shipped on time.
There were a few times I only paid P99 in shipping which was awesome! But it was trial and error (removing, adding, replacing items). See my comment below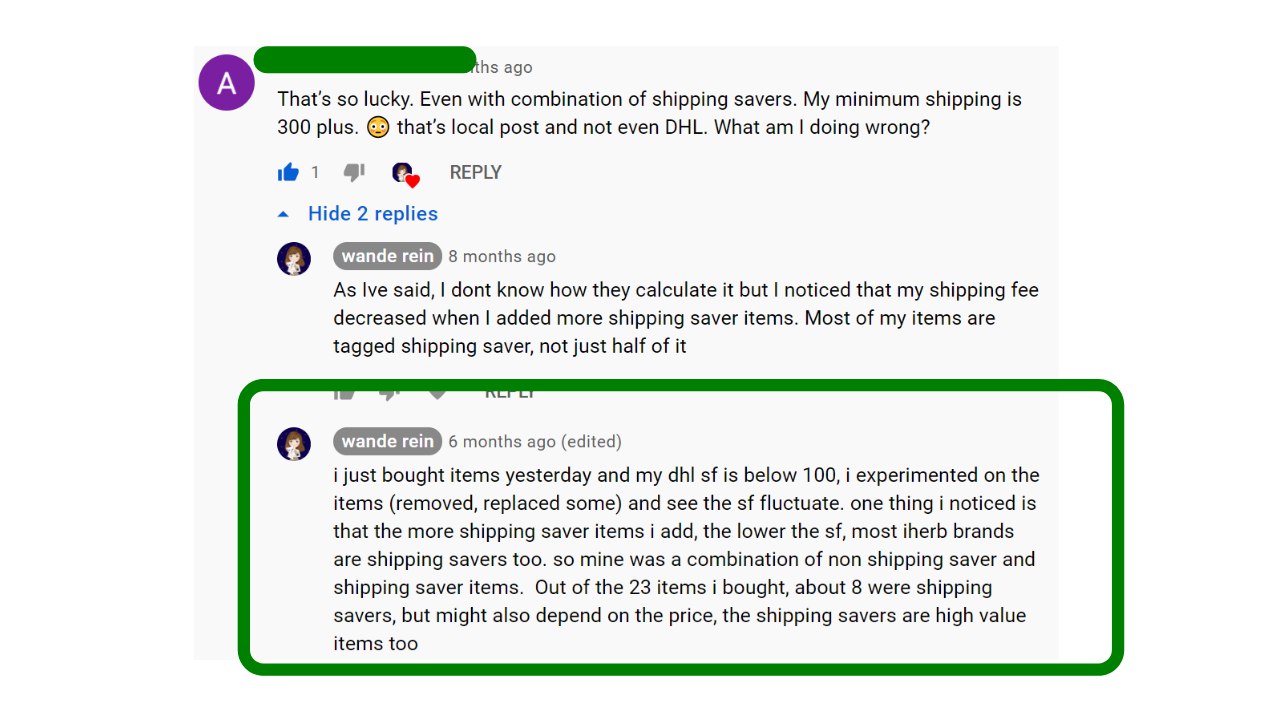 Review Products to Get Rewards
This is a new reward program from iHerb. You can earn $1 when you review a product plus $0.10 for every helpful vote this review gets. You can earn up to $101 per Review!
You can use this amount for your next order.
It will take you less than a minute to write a review. Check out this review I made that was approved. Just post honest reviews such as that one which I rated 3-stars.
If you ordered 10 products and posted a review for each which will take you less than 10 minutes, then you can get $10.
$10 for less than 10 minutes is a sweet deal considering you can still earn more if your review gets helpful upvotes from other users (but writing a more informative review might get you more upvotes which would require a bit more time).
You can start reviewing products you purchased by going to My Account > My Reviews
Answer Questions to Get Rewards
This is also new in their rewards program. This is simply answering questions posted by other users about a product you've purchased in the past.
You get $0.10 for every helpful vote you get for your answer. You can get up to $100 for each answer. This would of course depend if people vote for your answer and $100 means 1000 votes.
You can start answering questions about products you purchased by going to My Account > My Answers
From there, you will see a list of items you can answer.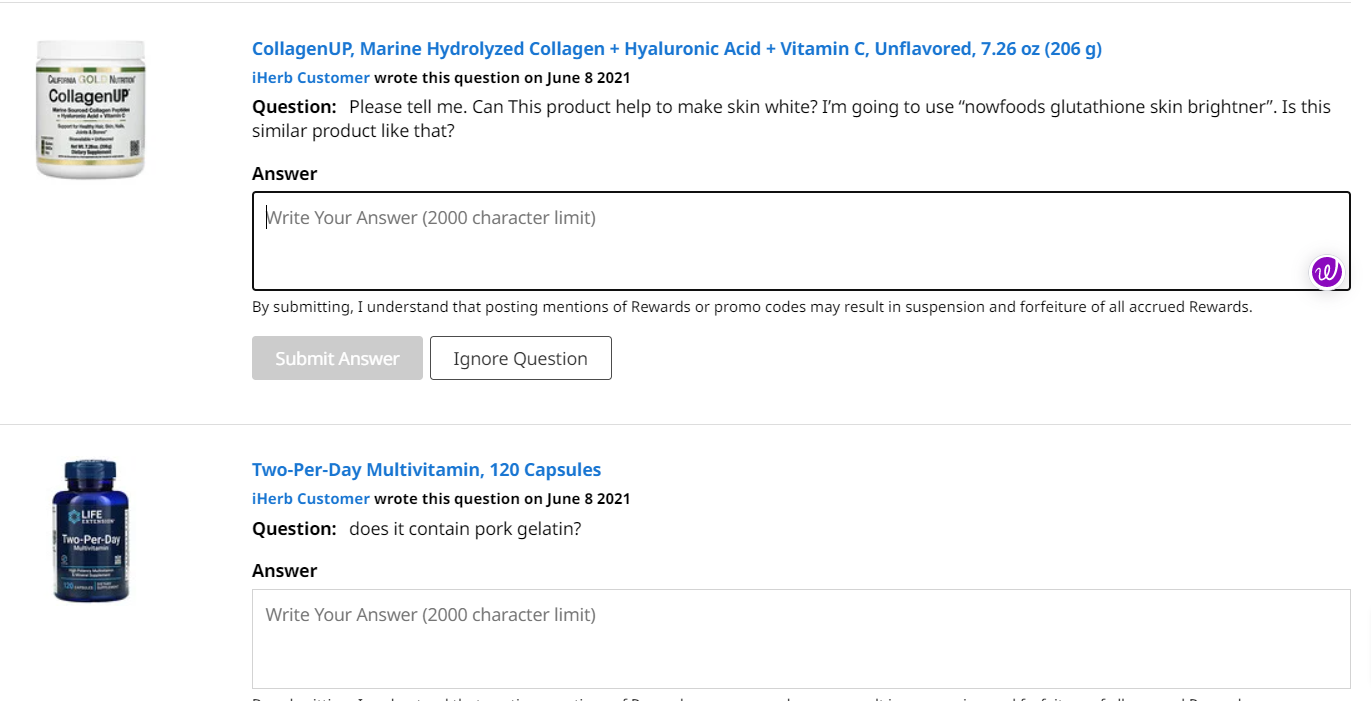 Get More Discounts using this Promo Code
If you're interested in buying, use my Promo Code or click on the link below.
If you purchase through my referral link both you and I will get rewards. You get 10% discount if it's your first purchase, and 5% discount if this is not the first time you're buying from iHerb. That's a total of 15% on your first purchase aside from the regular item sales that iHerb has.
They sometimes have higher discount for certain brands from time to time.
Use the code ANC1090 or click on the link below:
https://ph.iherb.com/?rcode=ANC1090
Unboxing Videos
Thank you for reading and happy shopping!
I have also set up a Facebook page for my iHerb experience where I can give you an update of what I've been buying.
https://www.facebook.com/HealthJunkiePH/
Here are my most recent iHerb Haul video. It usually takes 5 days for the package to get from the US to the Philippines. It now took them 9 days which is understandable because of the situation the world is in now.
In my recent iHerb Haul, I received it within 5 days and only paid 99 pesos for the shipping.