Earning money while shopping might sound to good to be true but there are actually legit platforms that allow you to do it. Even your favorite mall would give you reward points for shopping which you can use for your next purchase. But what's even better are those that allow you withdraw the reward as cash like ShopBack.
What is ShopBack Cashback?

Shopback App is a cashback app that lets you earn money when you shop online. Your earnings have no expiry, these are lifetime earnings. To use this, all you have to do is access your favorite shopping platform through this app.

It's amazing that I was able to earn a substantial amount by just shopping. Despite that, some people I know don't use it when it's so easy! I am here to answer some of the commonly asked questions and hopefully this will help you in deciding whether to use Shopback app or not.

Is this legit?

YES! I have been using Shopback app for several months and have earned almost Php 2,500. I have also withdrawn money and have received the money through my Philippine bank account and PayPal. It's real and legit!

Where does the money come from?

Shopback earns a commission every time you make a purchase with any of their partners. For example, when you access Foodpanda through Shopback, Foodpanda pays Shopback a commision for referring you to their platform. It's like a referral, or you can also think of it as a reward to Shopback for encouraging you to buy. In return, Shopback gives you a portion of the commission they earn from Foodpanda.

How do I earn?

Earning is easy! You just need to download the Shopback app and register. You only need to use this before you buy something online. It's just one additional step. Just open the app before buying online! And then shop as normal.

How much can I earn?

The amount or percentage of commission vary. It can be as little as 1% or even as high as 45%, some shops even give a flat amount.

How do I know I successfully earned using Shopback?

After your purchase, you will receive a notification that you cashback has been tracked. You can also view this by going to Account > Cashback Activity

When can I withdraw my earnings?

You can withdraw your money after 3 months when it is already on Confirmed status because they have to make sure you don't make any refunds or cancelations. The amount will show as Pending in your app before the 3 months waiting period.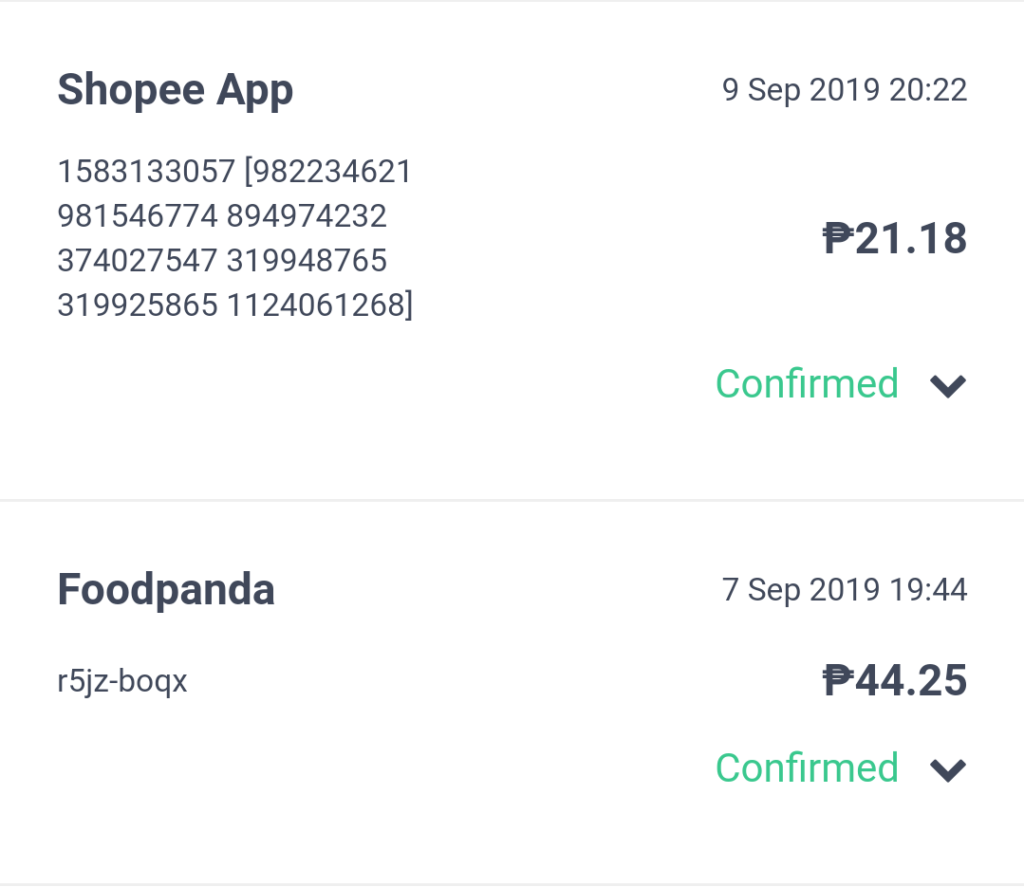 How can I withdraw?

You can withdraw through your local Philippine bank, Gcash or Paypal. I have successfully tried using BDO and Paypal for this, however, my Gcash got rejected. If it's your first time withdrawing, I suggest you just withdraw the minimum amount of Php 200 to test it out first. Here's a step-by-step guide on how to withdraw your earnings.
Step-by-step guide
Go to Account on the lower left of the screen
Click "Withdraw Cashback"
Choose between Bank Transfer or e-Wallet Transfer (PayPal)
Click Add Bank or Add E-Wallet
For the Bank option, choose on the list of banks. I have provided the list of banks below.
Input your bank details or PayPal details
An email will be sent after you have added the Payment Method. Go to the email associated with your Shopback and verify that email. You will know this is successful once you see the green Verified status on the payment box.
Enter the amount you want to withdraw and click "Withdraw". There's a note that it will take 3 to 5 days. In my personal experience, it took only 2 days via BDO and Paypal.
List of supported banks
BDO (Banco de Oro)
BPI (Bank of the Philippine Islands)
MBTC (Metro Bank)
CBC (China Banking Corporation)
EWB (East West Bank)
PNB (Philippine National Bank)
RCBC (Rizal Commercial Banking Corporation)
SBC (Security Bank Philippines)
UBP (Union Bank of the Philippines)
UCPB

What shops can I access through Shopback?

There are several stores that are now affiliated with Shopback. The most common ones I use is Foodpanda, GrabFood, Shopee, Lazada, and many more.
Check out the app and you will surely find a store from various categories like food, electronics, travel, hotel bookings, fashion, online service and more!
This is not limited to shopping for goods, they also now have banks that would provide a cashback when you open an account with them. Check out ING Php 500 Cashback if you open an account via Shopback.
Conclusion
If you are a regular online shopper, and I think most are now during this community quarantine, then I highly recommend using ShopBack app. It's easy and there are no nuisances when you shop, it's just shopping as usual except for this extra 1 step - that is going to the app. Easy!
Contact Shopback
If you need to contact Shopback Philippines, you may email them at help@shopback.ph
They are very responsive. Just make sure that you have done thorough research as a lot of your questions can be answered in their official site and there's also Google! ;)
Get your Php100 when you use my download link!
If I was able to help you in anyway, you can download the app through my referral link. You and I will get P100 each for this referral sign up bonus. Or click on the image below. Referral code tcZ4ur applies when you use this link.