Janta Curfew
Yesterday, I was awoken by the sound of the birds and some pigeons banging our window. It isn't a typical morning when my alarm would be the sound rickshaws and motorbikes. The 22nd of March was Janta Curfew day or Voluntary Lockdown in India. The curfew has already started here in Udaipur the day before.
It wasn't new to us as we have been isolating ourselves and just a few days ago the guesthouse received instructions to "quarantine" us after having stayed already here for over 2 weeks (more on this later).
We usually have our breakfast on the balcony of our room but on Janta Curfew day we were requested to have our meal on the rooftop. The guesthouse manager said that there are police patrolling and we can't be seen on the balcony even if it was high up. It wasn't a problem, their rooftop has a really amazing view of Udaipur and Pichola lake!
Udaipur seems to be complying as they have been preparing for this days ago. There is a vehicle going around that plays information about Coronavirus in Hindi. It's good that there is information being passed around now, but fear is also quickly spreading.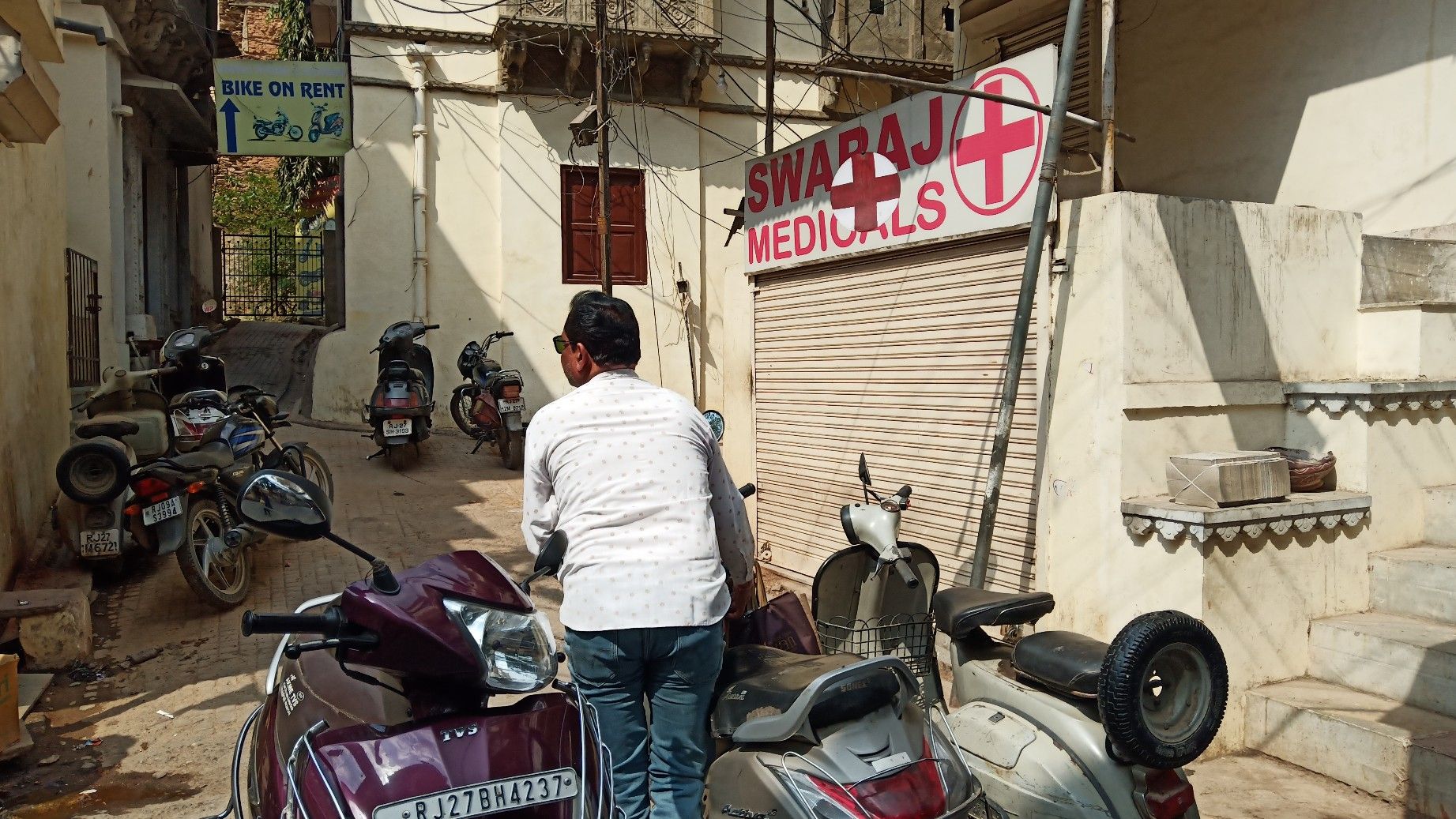 The experience I had in the previous days were quite upsetting but I found some hope on Janta Curfew day at 5pm when everyone went on to their balcony or rooftop, banging pots and pans, while some shout, "Go Corona, Go!".
My Name is Not Corona
Disclaimer: This is a narrative of my experience in Udaipur, a super tiny part of India, and does not intend to generalize or provoke hate. This is the last thing we need! However, I feel the need to share my experience as this may help spread awareness and hopefully address concerns that some foreigners like me experience during this global crisis.  
We have been in India since the 5th of February and back then the news about Coronavirus or COVID-19 seem distant and have not heard anyone ever mention it to us. We first heard about the virus spreading in China while we were in Laos and never thought it's something we will encounter in such a quick span of time.
We arrived in Delhi and there was no mention of Coronavirus, we moved to Jaipur for 2 weeks and stayed in Pushkar for another 2 weeks and we haven't felt any threat of the virus. Then on the 4th of March, we moved to Udaipur. There was virtually no news here in Rajasthan that Holi events still pushed through and social activities were still on-going.
Then on the 11th of March, a day after Holi, India suspended tourist visas until the 15th of April. The atmosphere here in Udaipur has changed gradually from the friendly and welcoming smiles, to some people calling me Corona or China. The number of people calling me either Corona or China is growing fast too. I'm not even from China but that doesn't matter.
When we heard this news, we decided to self-isolate and only go out to eat or buy food as we've also noticed more people coughing and some people appear to be uncomfortable with our presence. At the same time we learned that the nearest testing center is 6 hours away. And as days go by, we have isolated ourselves even more, only eating inside our guesthouse through Swiggy (a food delivery app that has been very useful!) or through the food here in the guesthouse. I still have to buy stuff outside.
One day on my way to but drinking water, a guy called me China and immediately covered his mouth and nose with his shirt. On my way back, I was called China again. That was twice in one trip to the shop, however, the name calling is getting more frequent. I went out to buy stuff before the voluntary lockdown, I was called out numerous time that I lost count. Even the same store where I always buy drinking water were murmuring Corona to each other as I approach.
The situation is changing fast, one day we're feeling safe but I am not sure now. If things escalate further I do not know how some people will treat us. There's a vehicle making rounds that seem to educate people on how to protect themselves, it was in Hindi. However, there seems to be no education on the source of this. Some seem to think only foreigners have it and all foreigners are to blame.
Yes, a foreigner brought this virus to India. It's the same thing as in other countries.It's the same thing as in other countries. But now is not the time for blaming or fear.
I just hope they practice the same caution they have towards foreigners among themselves, except the fear and name calling. While they fear foreigners, I don't see people practice social distancing or coughing etiquette. Some would just cough without covering their mouth and that is scarier than a foreigner walking on a street to buy drinking water.
I also hope that this behavior improves as lockdown is now being enforced, shops are closed even after Janta curfew day.
Quarantine
on Foreigners
On the 21st of March, we were called by the guesthouse owners to go the medical center for Coronavirus screening. They told us that they need to quarantine us but we have to be checked before that. . The guesthouse staff kindly accompanied us. There were 4 other foreigners, I was the second one to be called in.
There was a series of question.
When did you arrive in India?
When did you arrive in Udaipur?
Where did you go before Udaipur?
The doctor then checked my temperature which was normal. She wrote on a slip and gave it to the guesthouse staff. She advised me to just stay in the guesthouse and go on guesthouse "quarantine". I can go out to buy stuff, food should just come from the guesthouse or food delivery.
@jpphotography was asked the same question next, the only difference is he has a slightly higher temperature. He was sent to a hospital for further checks in which he was told he was negative for COVID-19, without a test. He will write further on his experience. It's interesting to know how they did the screening. In any case, he has been self-isolating.
Temporary
Refuge
We happily followed this prescribed quarantine. I wasn't surprised since we have already been isolating ourselves since the atmosphere towards foreigners changed after the announcement of travel bans on the 11th of March. It was also clear by then that the situation in India was not as good as we have thought, as in most countries by now, no one would could have ever guessed.
We are lucky to be in a good place during this quarantine. The owners of the guesthouse are very welcoming. I have read of other foreigners claiming they were kicked out of their hostels, I get some information at a Travelers FB page. There were also news that a lot of hostels, at least in Rajasthan, are not accepting foreigners anymore.
We are their last foreign guests and they allowed us to stay here comfortably until the 31st. There are also no other guests, not even local guests but they kept their business open for us. They were instructed not to receive foreign guests anymore. They also need to follow a new protocol that they have to clean our room daily.
Destination:
Rooftop, Room or Balcony
Stop Travelling! I never thought I would ever say that but this time is different.
For now, I just travel within the confines of our guesthouse. The place is really nice and clean at an affordable price.
We get our food from them and we usually have it at the balcony or at the rooftop since there are no other guests. They have the best view of Udaipur and the beautiful sunset can be seen from their rooftop. We're still lucky to get this comfort during this time.
The guesthouse owners also assured us that they will not shut down as other hotels nearby already did. Instead of getting food delivery, we decided to just order food from them throughout our entire stay so we could at least help their business as we do not see other people anymore.
Into the Unknown
It is difficult to decide on the next step. People can easily say go home. I called the Philippine embassy, there was no Filipino there, and they just told me to get out of India asap. But there was no way out as of now. The state of Rajasthan is shutdown until the 31st of March and we don't know what will happen next. No one knows.
In this unpredictable times, it is assuring to have local connections here in India who are checking on us on whatever help they can provide although they are so far away. Someone even offered their home if we will not be able to get out of India. Thank you!
Why Travel Insurance is so Important!
If there was one thing I did right at the start of my journey, that was to get a travel insurance and I got mine from SafetyWing. No one has ever imagined a crisis like this would happen. One day you're traveling, and then the next is just uncertain.
The good news is if I decide to go home, I can claim for a political evacuation (note that notification deadline was yesterday which I have sent them but can't book a flight) and if I decide to stay should that be a safer decision, then I will be covered for Coronavirus treatment in India. The specific guidelines are in their site, or check this link for updates - safetywing.com/coronavirus.
Writing Opportunity!
This post is my entry to @travelfeedio and @invisusmundi's writing contest. If you are safe in your home and have time, why not use this time to blog and get rewarded! Share us what the situation in your country is. Check this post for instructions.
STAY SAFE EVERYONE!
---
This post contains affiliate links. I may earn a small commission if you make a purchase through these links at NO additional cost to you.