We reached Mae Hong Son, capital of Mae Hong Son province, on the 4th day of our Mae Hong Son loop motorbike tour and decided to stay here fo 3 days. Here you will find signs that says 1864. That is not the altitude or a year, it's the number of curves you have to go through to get here.
I previously uploaded a video on this but I will further outline details in this blog the top 10 things to do in Mae Hong Son.
#1 Visit the temple on a hill - Wat Phra That Doi Kong Mu

Wat Phra That Doi Kong Mu is set on top of a hill, you can see this illuminated at night from the town center or lake area. We spent Christmas 2019 here so there were more lights than usual. The pagodas looked like Christmas trees with it's triangular form and lights lining it.
The cafe beside the temple also serves free hot herbal tea. It's a nice area to also sit and enjoy the view overlooking the town and mountains.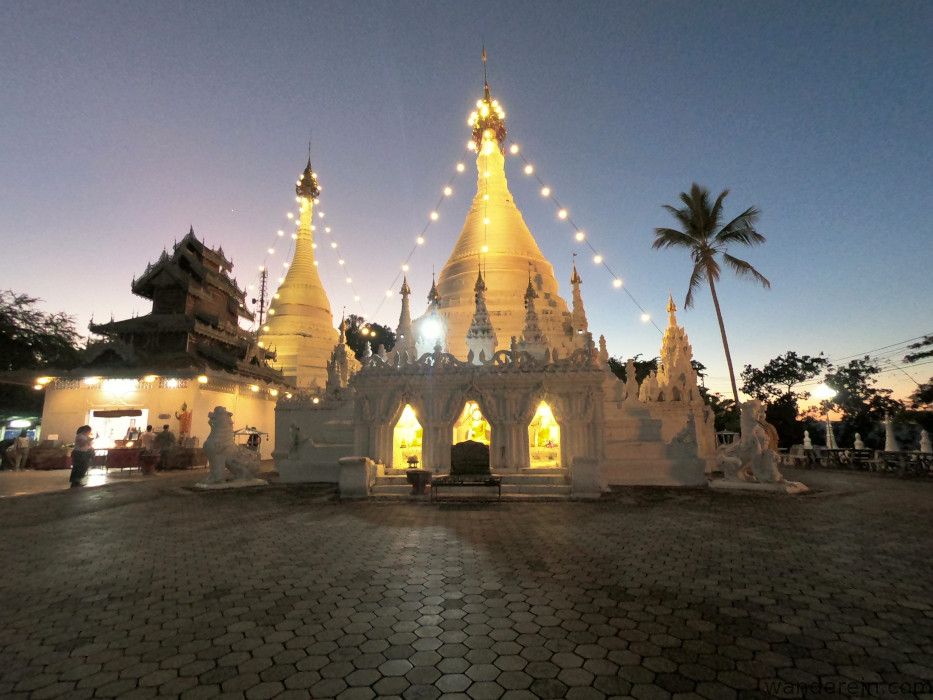 Temple on a hill
#2 Watch sunset at Before Sunset Coffee shop
Before Sunset Coffee shop lives up to its name as it's one of the best place to sit and wait for the sun to set. If you're already on the hill temple, you don't need to go further. This is just on the other side of the temple. There is a nice overlooking view from the temple but the sun has a better view here when it's going down. The sky turns magnificent orange on a big horizon. Their hot cocoa was good but was not a fan of their chocolate cake.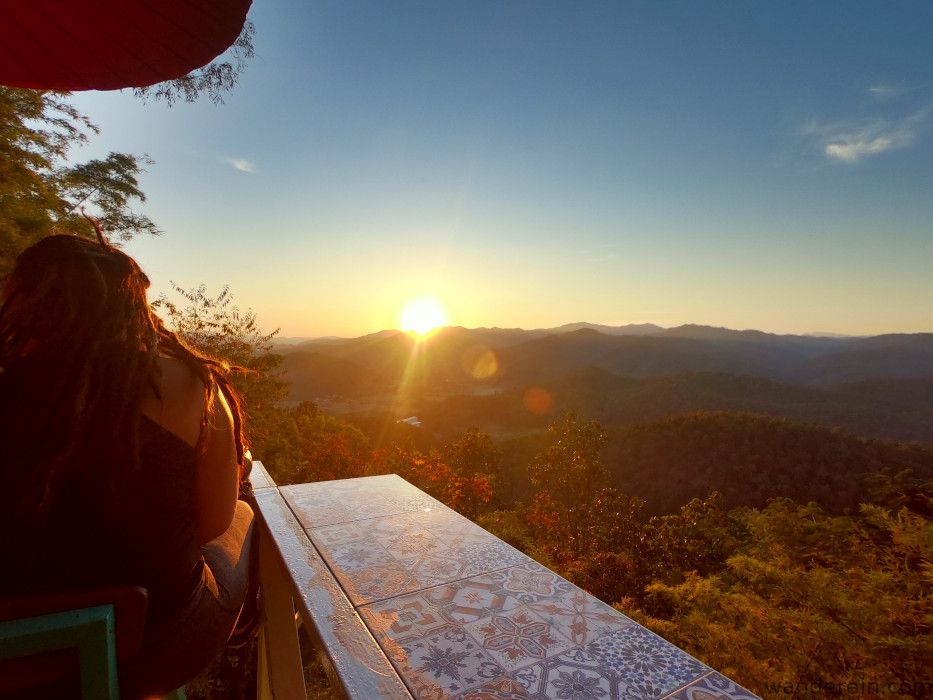 Before Sunset Coffee shop
#3 Check out the night market and eat by the lake
Thailand is abundant with night markets and a variety of delicious food. Here, you can enjoy your Thai street food beside the lake. There are also restaurants beside the night market but we enjoyed choosing our options from the stalls more. We tried a lot here from yummy coconut milkshake, grilled ricecakes and super spicy squid salad that we had to get an emergency antidote – sticky rice!
There are tables beside the lake. You can sit on the floor here as it is covered with big mats. From here, you will get a nice view of the temple complex and its reflection on the lake.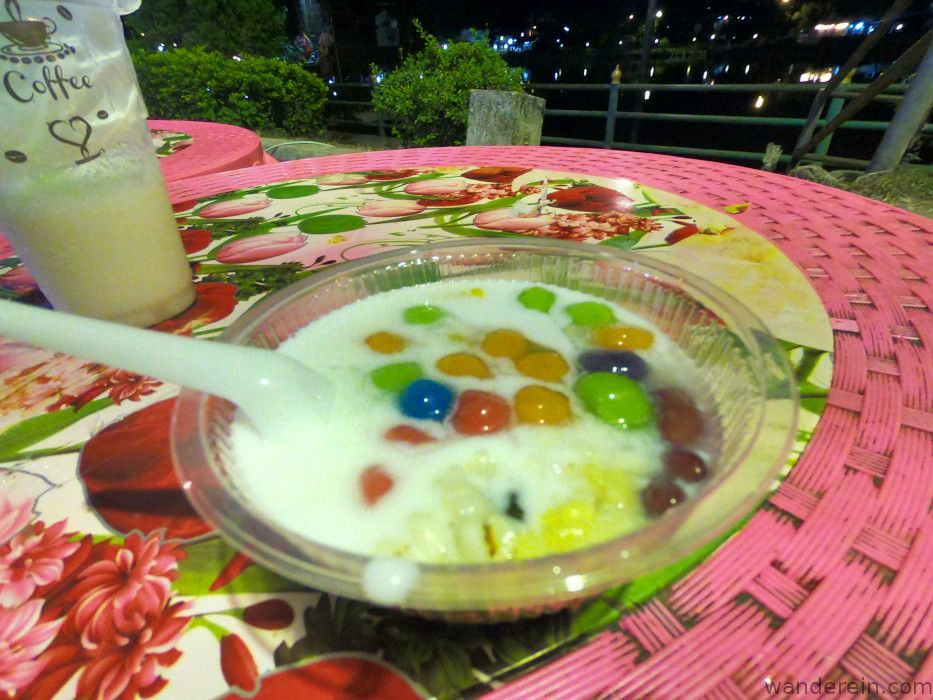 Dessert that reminds me of the bola-bola dessert in the Philippines
#4 Visit the Wat Chong Kham
This temple is near the night market and lake and nicely lit up at night. This is a good detour after eating out at the night market. The gates are open at night, however, there is a museum that is only open during the day.
temple by the lake
#5 Visit Wat Pha Bong Tai
This is one of the temples you will see as you enter the road of Mae Hong Son town. If you plan to go to the hotspring, this is a good stop over as it is on the way to Ban Pha Bong Hot Spring. Just be mindful that there are Buddhist monks praying or resting at the temple.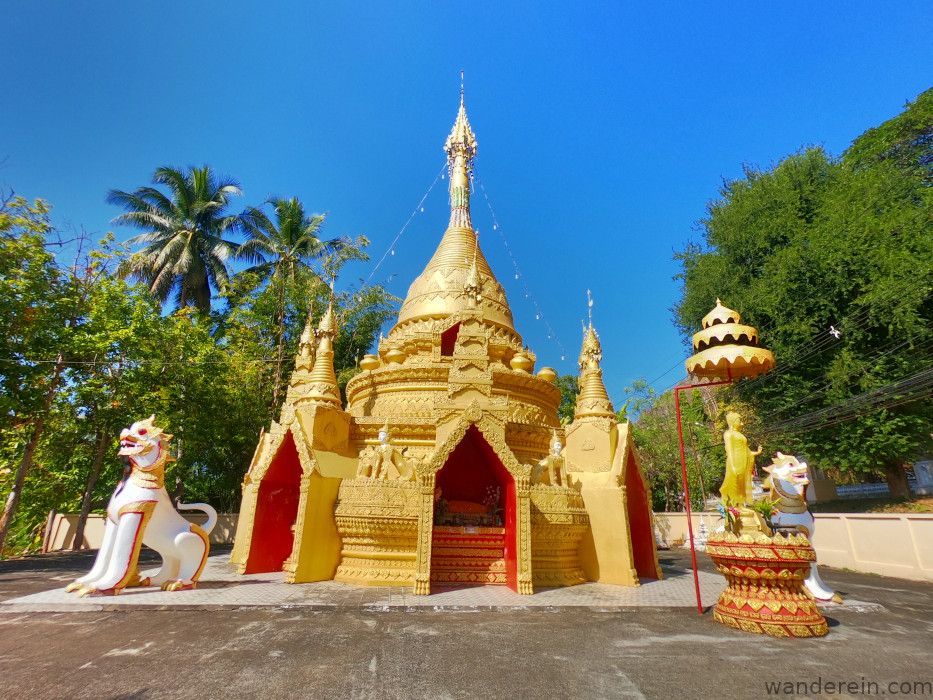 peaceful
#6 Take a bath at Ban Pha Bong Hot Spring
We stopped over here on our first day for a foot soak which was free. It was clean and the water was continuously flowing. We returned here on another day, however, the big pools were being cleaned so we opted for the private pools.
I actually recommend the private small pool for 50 Baht. You get your privacy and the water is newly filled so you're sure of the cleanliness. There is also a public pool for 20 Baht, and a free pool.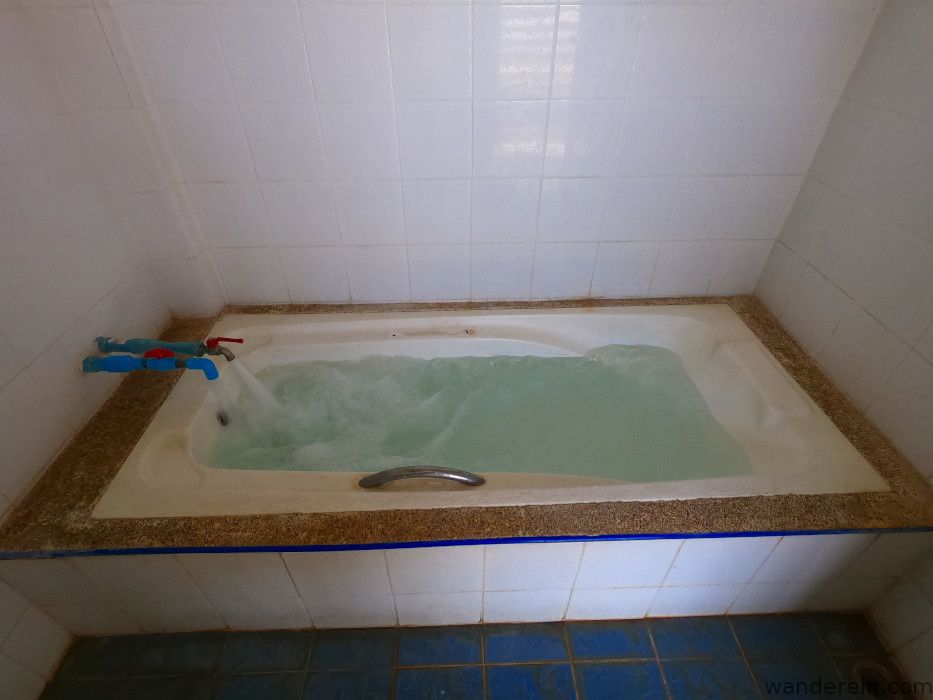 Private hot spring bath tub
#7 Vist Wat Kam Ko
There are numerous temples, and this is one that is easy to get to as it's on the way from the hot spring and the hill temple. If you only have one day in Mae Hong Son, you can squeeze this in. It has a wooden temple, however, contruction was on-going when we were here on December 2019.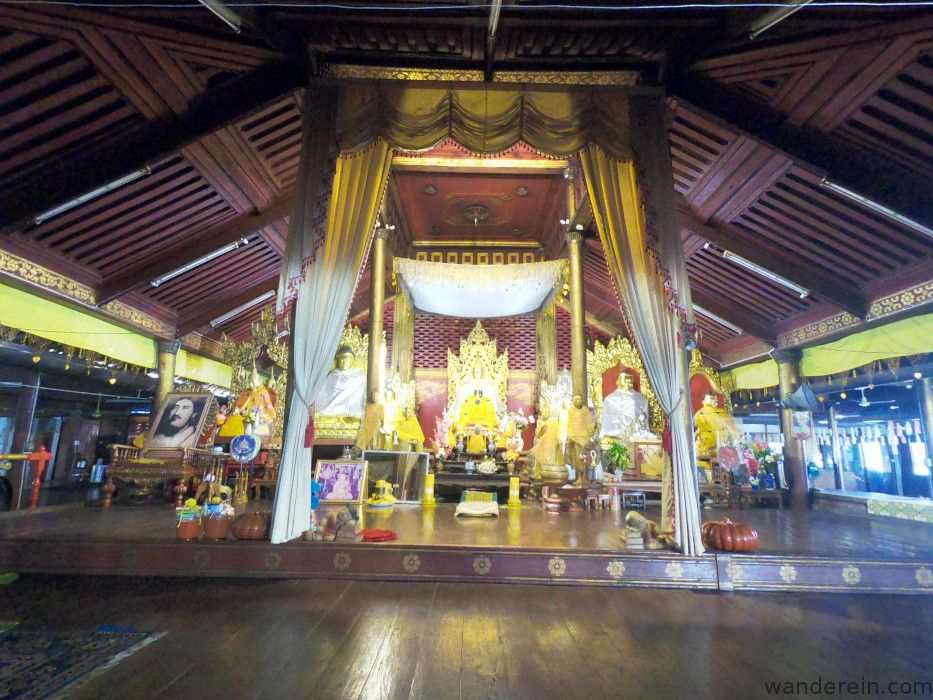 wooden temple
#8 Check out and eat at the Morning Market
The morning market is a bit of a walk from the center where the night market is. It's a busy morning market with a variety of fresh produce and food to see. Some vendors are from the hill tribe too.
We tried a thick noodle soup at one of the small stalls. Surprisingly, a nice local gave us a free bowl of fried vegetables which was so delicious.
yummy thick noodles soup
#9 Enjoy the lake view
You can stay at the side of the lake or at restaurants to enjoy the serene lake view. We stayed at Like View Guesthouse for the perfect view of the lake from their terrace. Their rooms are decent for only 300 Baht for a double room.
night view of the lake and temple
#10 Bonus - Christmas

Except for tourist destinations in northern Thailand, we rarely saw Christmas decorations on our Mae Hong Son loop tour as we did this trip on Christmas week. Here in Mae Hong Son, there is a small street near the night market that was decorated in Christmas lights and lantern by a small Christian community. They also gave away free food like coconut pancakes and french fries. It was friendly and welcoming community.
The temples were also lit up making it look like a Christmas tree and gives you that Christmas feel in a place where it is not natively celebrated.
small Christmas street