I thought Pai in Northern Thailand would be a small place where you can just walk or trek anywhere but I was wrong. There is so much to discover around Pai and even after making it a home-base for 5 weeks, there were still some places we missed to explore.
Motorbike for 100 Baht!
Once you arrive in Pai, you would see endless lines of motorbikes for rent for as low as 100 Baht per day. There are also bicycles but motorbiking seems to be the most popular choice especially in exploring outside the center.
I personally do not know how to ride a motorbike which some people find ironic since I'm from the Philippines. Motorbikes are widely used in rural areas as well but I never had to use one in the city, and I don't advise anyone to rent a motorbike in Manila. Luckily, I'm traveling with @jpphotography who has trained himself to motorbike in Southeast Asian roads for years.
He wanted to do a motorbike tour of northern Thailand and I am not sure if I should join him and entrust him of my life! Motorbiking around Pai was the test to see if I should join him on longer trips ;)
Since we will just be driving within Pai, we rented a small scooter for 100 Baht per day which included some free fuel. This is just good for going around Pai but you cannot take it on longer road trips such as the Mae Hong Son loop. You need at least a 125cc for that. As we were just within Pai, a 100cc was good enough. The rental includes helmets which were not the best but were okay to protect us so off we went.
We went to 3 locations from lunch time until sunset, and it was just the right amount of time. It didn't feel rushed. You can go to more places if you start earlier. There are day tours that offer to take you to more places in even half a day, however, I don't think you can really take your time in that kind of tour. Maybe just enough time for pictures and that's not really an experience.
Land Split
We were greeted by some locals and foreign volunteers with free roselle tea and some banana chips when we arrived at our first destination - the "Land Split". They also sell these dried roselle tea leaves, roselle jam and other fruit chips. Roselle seems to be abundant in this area and we found some flowers or leaves being dried up under the sun.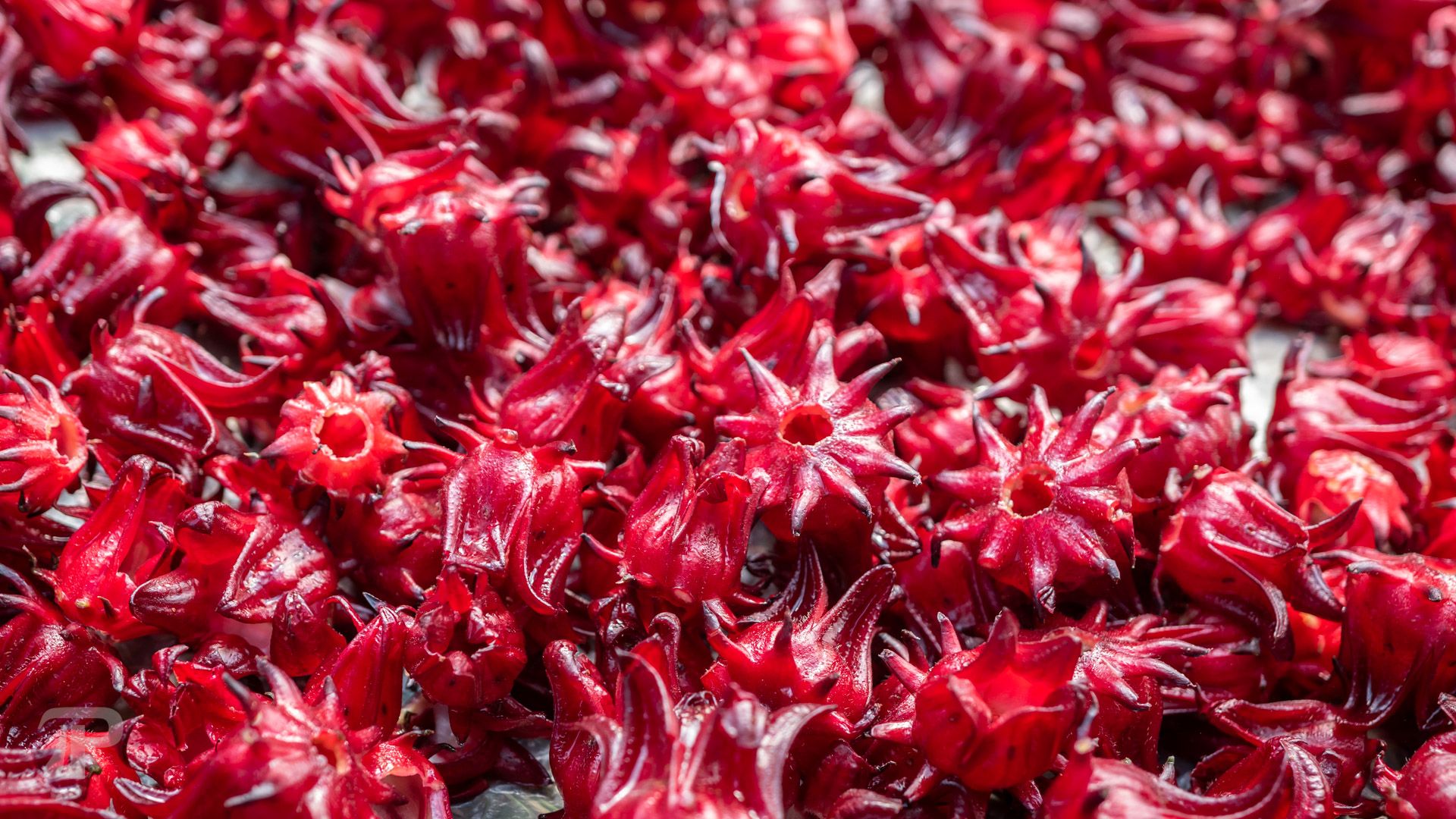 There is no entrance fee to the land split and from the gate, you just have to climb a few hundred meters to see the land splits.
The land splits were caused by the strong earthquake from the years 2008 and 2011. The gaps created were so huge we can walk through them. It wasn't a big area and will just take you few minutes to see everything. The rest are mostly trees, crops and plants and having this as a tourist attraction helps them sell their produce. However, the prices are higher than usual but it was just nice to support their community.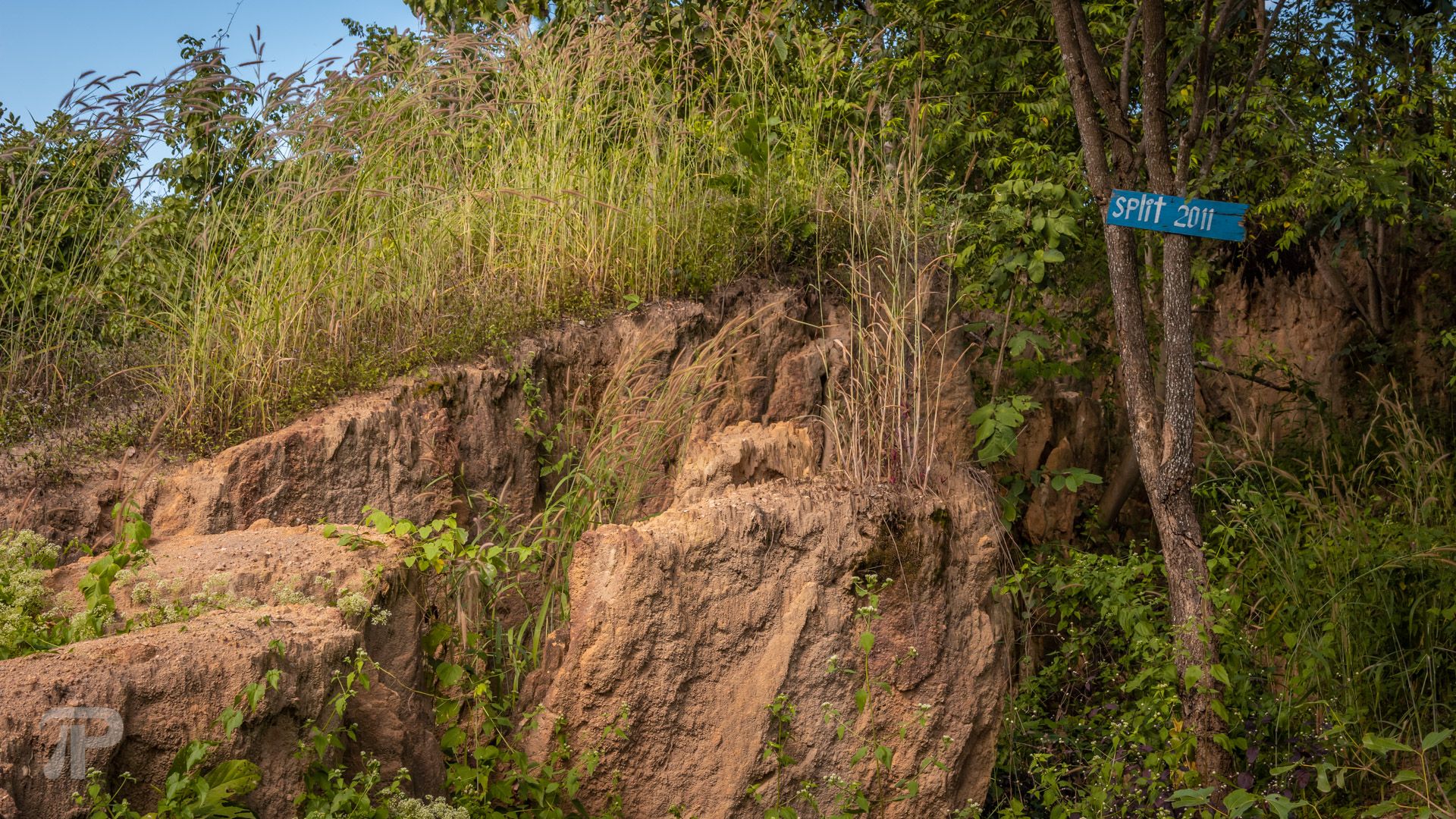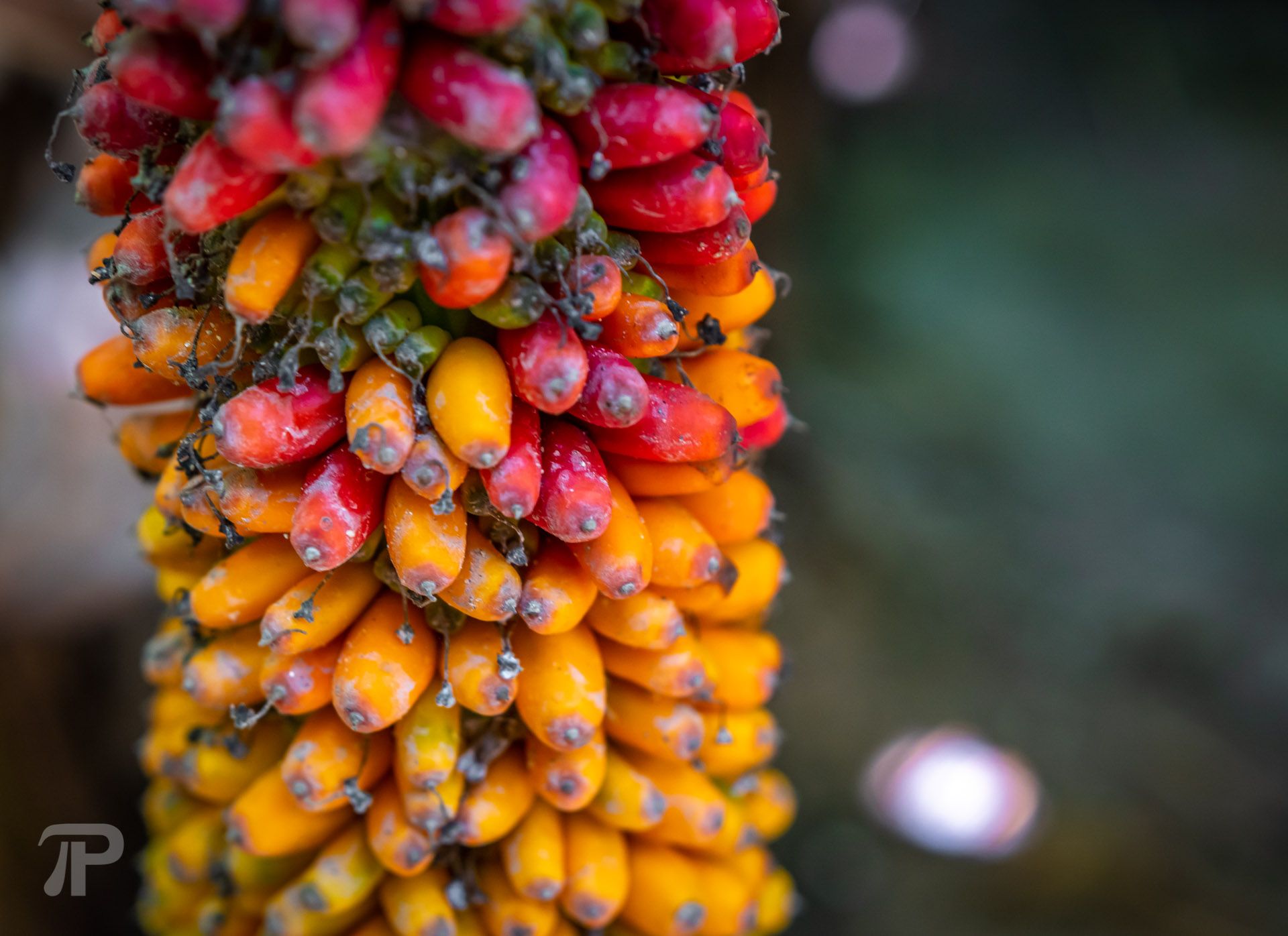 Bamboo Bridge Walk
We passed by Pembok waterfall on our way to the bamboo bridge but there's now a 40 Baht entrance fee since October 2019. There was a couple who just arrived back from the waterfalls and we asked for their feedback. They advised that it wasn't worth the fees you pay. Judging by the murky water at the entrance, we decided to skip this attraction. We love waterfalls and there are more waterfalls that we have seen for free anyway.
There is an entrance fee of 30 Baht to the bamboo bridge. The entire area is a rice farm and they have built these bamboo bridges that blended so naturally with the farm. There are coffee shops and restaurants here as well that is run by the residents of Pambok village.
Upon entering, there are signs to dress appropriately as the bridge leads to the Pambok temple.
Sadly, there are so many foreign travelers who do not respect
this request. I understand that they come from liberated countries
but as a traveler, we also must be aware of the customs in the place
we're visiting. I see this in other touristy temples as well
regardless of the conspicuous signs to cover the shoulders and legs
at least with a sarong or scarf. The locals seem to be very tolerant and not confrontational so they were free to do this.
Anyway, the bamboo walkways were brilliant. Walking through rice paddies aren't the most convenient. Although it definitely looked like it was made for tourism, it made the place look more appealing and helps them maintain it as well. Farming isn't the most profitable job so this is a good way to supplement the community's income and provide more jobs.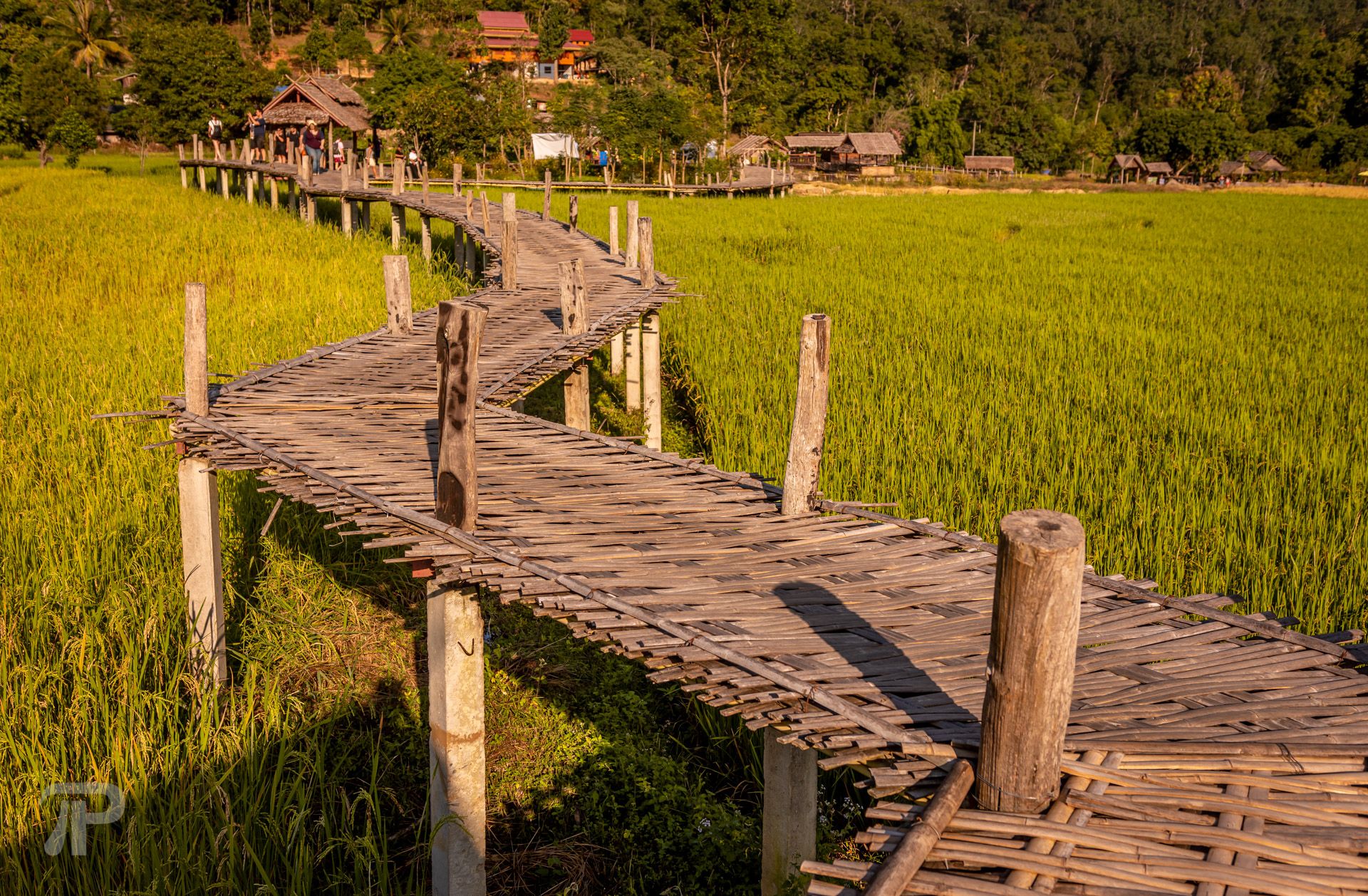 It was a long yet relaxing walk to the temple as you see just green fields around you. From time to time, you can find some rest areas where you can sit under the shade.
The temple looked different than the other Buddhist temples in Thailand. It was made of wood and even the architecture fits the place. There was an area where women are not allowed to enter. We stayed here for a while and explored the other side of the temple. There were monks tending to their daily chores. We checked out the temple and stayed for a moment. It was peaceful. The other visitors seem to skip this one as the previous temple looked like the last temple you would see.
Pai Canyon Sunset
We left the Bamboo bridge before 4pm which gave us time to reach Pai Canyon for sunset. Pai is surrounded by mountains so you see the sun set quite early. We stopped over a restaurant to take away a crispy papaya salad as we didn't have time to eat it there.
We passed through the big road and some strawberry farms. You will know that you are near the Pai Canyon once you see the huge parking area by the side of the road filled with motorbikes. It was a short walk and there were concrete stairs to the canyons. You can stay at the entrance but you can go further and have a better view of the sunset.
Other travelers were passing through the narrow walkway that leads to the other side like it was just a walk in the park. I, on the other hand, almost backed out because I'm terrified of heights. I was already there so I just faced my fear because I don't want to miss the sunset.
There were several sunset watchers but they were all spread out of the massive area so you would have your own space to enjoy a peaceful sunset. We ate the crispy papaya salad which was similar to the regular papaya salad except that they deep fried the papaya. I prefer the much fresher papaya salad but it was a good picnic by the canyon.
There was traffic before it got dark and I was able to cross the narrow path with more courage. We got back to the center just in time for dinner at the night market.
I must say that at the end of that day trip, I have a lot of confidence on @jpphotography's motorbiking skill! :) So watch out for our next collaboration posts about our motorbike trip to Chiang Rai – Mae Sai – Mae Salong – Chiang Dao - Pai and the Mae Hong Son loop.
I also enjoyed being on a motorbike, it made me see and feel the journey more than being inside a van. Not to mention, I saved a lot, tours to these places would have cost at least 600 baht per person, while we only spent a total of less than a hundred for each of us.
Note: This post is in collaboration with @jpphotography and most photos are owned by him. This is also a TravelFeed exclusive, which means that I did not and will not re-publish this in my personal website