As a digital nomad, finding reliable travel medical insurance that offers ease of registration and comprehensive coverage is crucial. Since embarking on my nomadic journey in 2019, I have been using SafetyWing, a trusted provider that has proven to be a reliable and affordable option. In this blog, I will share my personal experience with SafetyWing, highlighting its easy registration process, auto deduct feature, reliability, and my first-hand experience filing a claim and getting reimbursed.
Pros of SafetyWing
Ease of Registration Anywhere, Anytime
SafetyWing stands out for its flexibility in allowing you to start coverage even if you're already on your trip. Unlike other insurance providers, SafetyWing understands the needs of digital nomads and provides a hassle-free registration process.
Auto Deduct: Affordable and Convenient
SafetyWing offers cost-effective coverage, costing less than your daily cup of coffee from your favorite café. With the auto deduct feature, your premium is automatically deducted, ensuring uninterrupted coverage.
Reliability and Easy Communication
SafetyWing has built a solid reputation for excellent customer service and easy communication channels. Their in-app chat feature allows you to connect with their support team in real-time, ensuring prompt assistance whenever you have questions or concerns.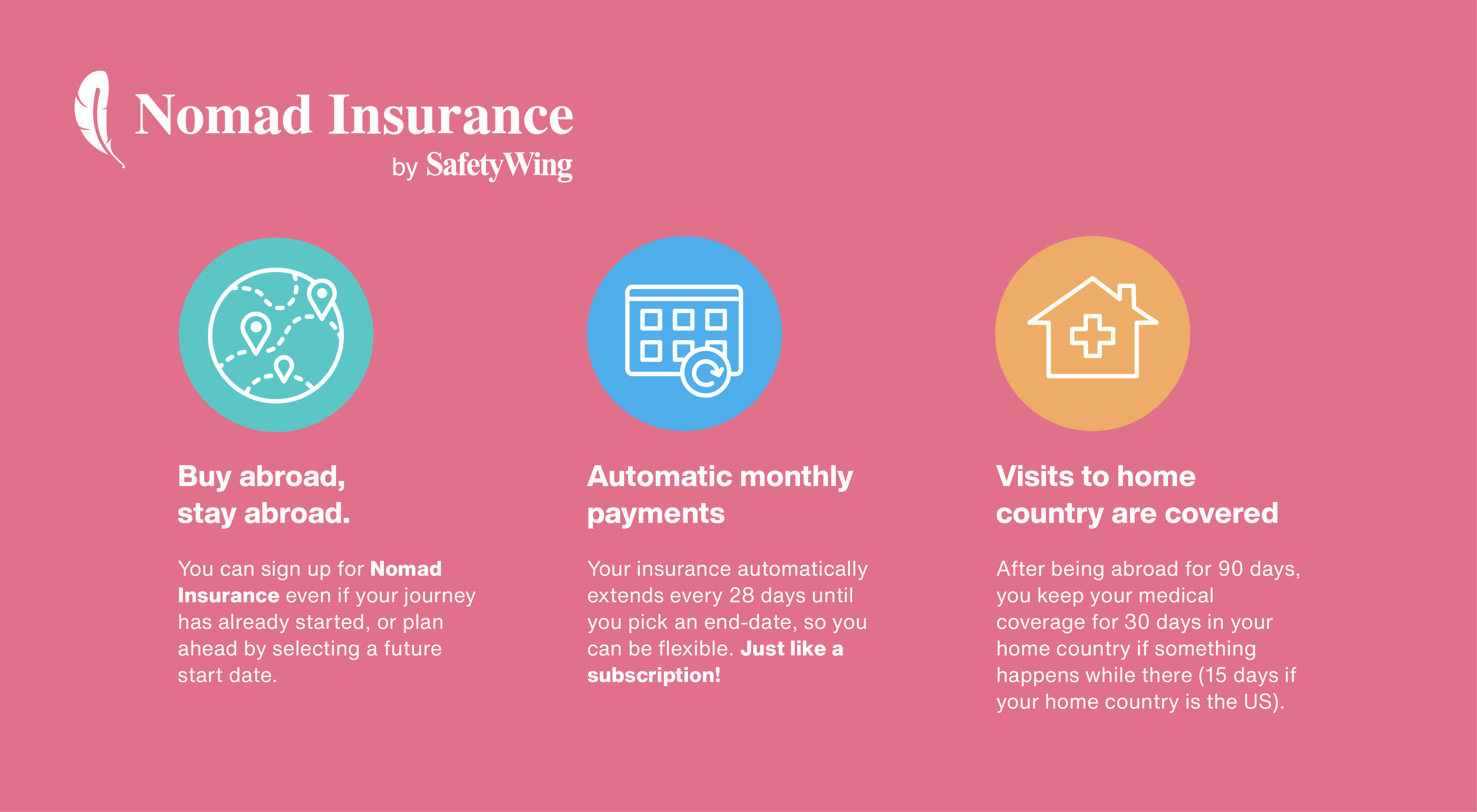 My Personal Experience Filing a Claim
Comprehensive Tests and Checks Covered
Throughout 2021, I experienced several troubling symptoms that could not be explained. I already had a check up earlier that year in my home country but they failed to give me a proper diagnosis as all my lab tests returned normal and the doctor only prescribed me a pill for heart palpitations. My symptoms continued for months. These symptoms were heart palpitations, sudden dizziness, waking up with chills, and one time my blood pressure went up.
Seeking medical attention, I visited Bumrungrad Internatonal Hospital, a renowned facility known for its world-class standards. It looks more like a hotel than a hospital. It's expensive too but I really wanted to know what was wrong with me so I didn't hesitate going to a good hospital. I had to bum with a number of doctors such as a cardiologist, neurologist and psychiatrist. In the end, I was diagnosed with panic disorder.
SafetyWing surprised me by covering the cardiologist and neurologist's fees and tests as my diagnosis was made by the psychiatrist which isn't covered. These tests, including the tilt table tests and EMG, played a crucial role in identifying and eventually diagnosing my condition as panic attack disorder. Although the psychiatrist's consultation fee was not covered, it was minimal compared to the costs of these tests and the cardiologist and neurologist's consultation fees.

After all the necessary tests and checks were completed, I simply had to take photos of the receipts and documents from the doctors and upload them to SafetyWing's claims website, which is facilitated through DocuSign. This seamless process made it convenient to submit my claim without any complications. My total reimbursed amount was over $1500. That already took into account the $250 deductible.
Cons of SafetyWing
Deductible Policy
It's important to note that SafetyWing has a deductible policy. If your claim is less than the USD $250 deductible and it's your first claim, your refund will be subtracted from your deductible. Reimbursement will not be provided until the total claim amount for the certificate period (maximum 364 days) exceeds $250. However, it's worth mentioning that insurance options without a deductible typically come with higher premiums. SafetyWing strikes a balance by offering affordable coverage while incorporating a deductible.
Importance of Travel Insurance
Having travel insurance, like SafetyWing, is crucial for protecting your funds while traveling. Unexpected medical expenses can quickly drain your finances and disrupt your journey. Travel insurance provides you with the necessary financial protection, ensuring that you are covered in case of emergencies, hospitalization, or the need for evacuation. It offers peace of mind, knowing that your funds are safeguarded, allowing you to focus on enjoying your travels.
Conclusion
My experience with SafetyWing has been overwhelmingly positive. The ease of registration, auto deduct feature, and reliability make it an excellent choice for digital nomads seeking travel medical insurance. The seamless claims process, including the ability to upload receipts and documents via DocuSign, further enhances the convenience and efficiency of using SafetyWing. While the deductible policy is a consideration, it allows for affordable coverage, unlike options with no deductible that come with higher premiums. Lastly, having travel insurance is essential for protecting your funds and ensuring a worry-free journey.