As promised in my previous Port Barton post, I'll take you on a food trip around this island. If you haven't read my Port Barton guide, check it out here.
Port Barton is relatively new in the tourism industry but the international food scene is growing. I would love to showcase more Filipino food, however, it looks like the tourist demand is on international cuisine. There are still a few Filipino food that I enjoyed which I will include in the list.
Gorgonzola Pizza
We had no idea where to eat so my friend asked a waiter in one of the restaurants where to eat. Without a second thought, he exclaimed "Gorgonzola!". We believed this because instead of recommending the restaurant where he was serving at, he referred us to Gorgonzola immediately.
The vibe was great upon entering, it was spacious with the menu on the wall like an art.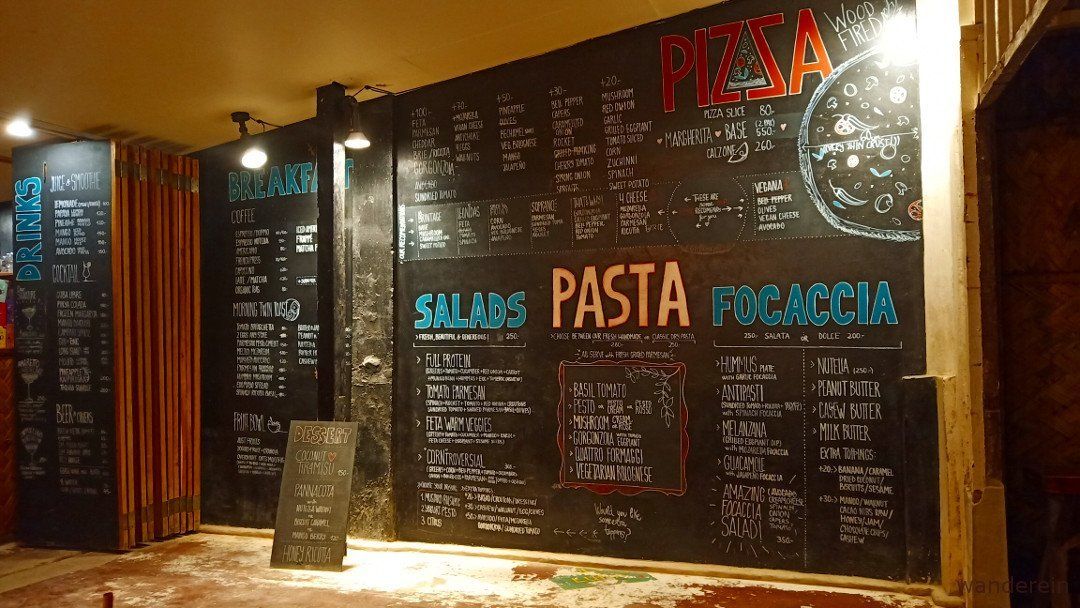 We were three in the group so we had to order a really huge pizza. And don't be fooled by the size. Not all in big quantity misses quality. This one's massive brick oven pizza is an exception. For only P550 (> USD 10) for a 60 cm pizza, it was worth it and good enough to share with 2 to 3 people.
I also tried their focaccia and salad which I liked but I would recommend their pizza.
Jambalaya Cajun Café
If you want amazing an amazing view and good food, I recommend Jambalaya Cajun Café. The restaurant is a bamboo hut and has 2 floors. I personally choose to sit on the floor on the 2nd floor and have this amazing view. If you want to sit on a proper chair, then you can stay on the ground floor.
I had the jambalaya and I love that they serve it in a big seashell. Not only is it "Instagram-worthy", It does add to that island feel.
I can't recall the exact price but it was between P250 to P300+ (< USD 5 to < USD 6). I wasn't really planning on getting serious in blogging back then but I will make sure to note of prices next time. As a local, I find it pricey but the serving is really big and you can share it with someone.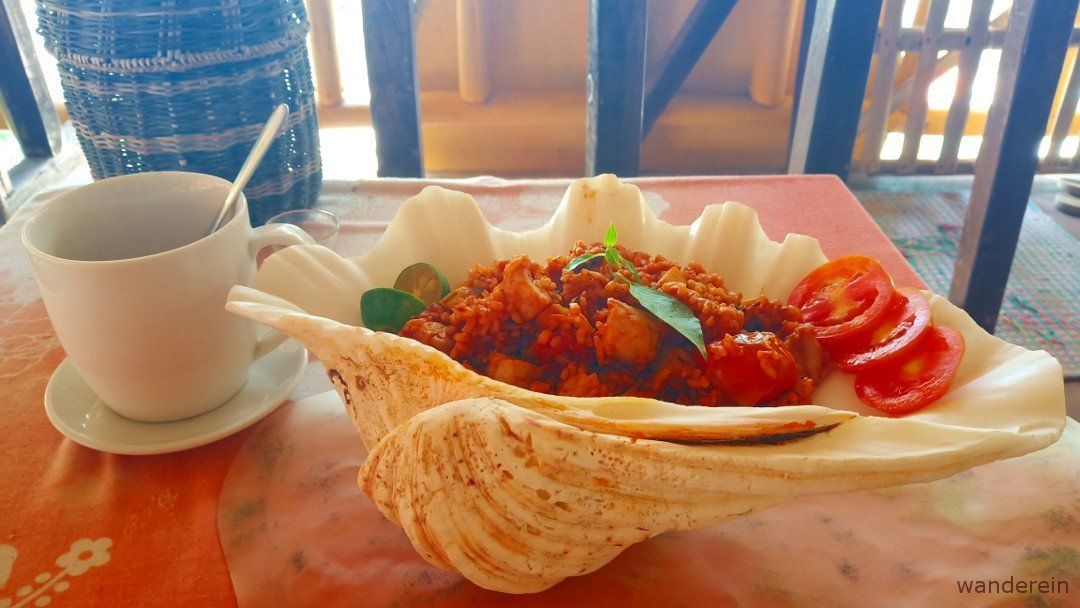 I went here after lunch and I was their only customer, most tourists are out on island hopping by this time but I decided to just have a more relaxed day on the main island. It was peaceful and you can really enjoy the view. The place transforms into a reggae bar at night so it gets busier by dinner time.
Mabuti. Eat & Chill
Mabuti is Tagalog for good and they are literally good for mother earth. They have posters and notes around the place on how to take care of our sea. They also sell bamboo straws where proceeds go to a cause for the environment. Each bamboo straw was only P15 (29 US cents!) and I bought home a lot to give away to colleagues.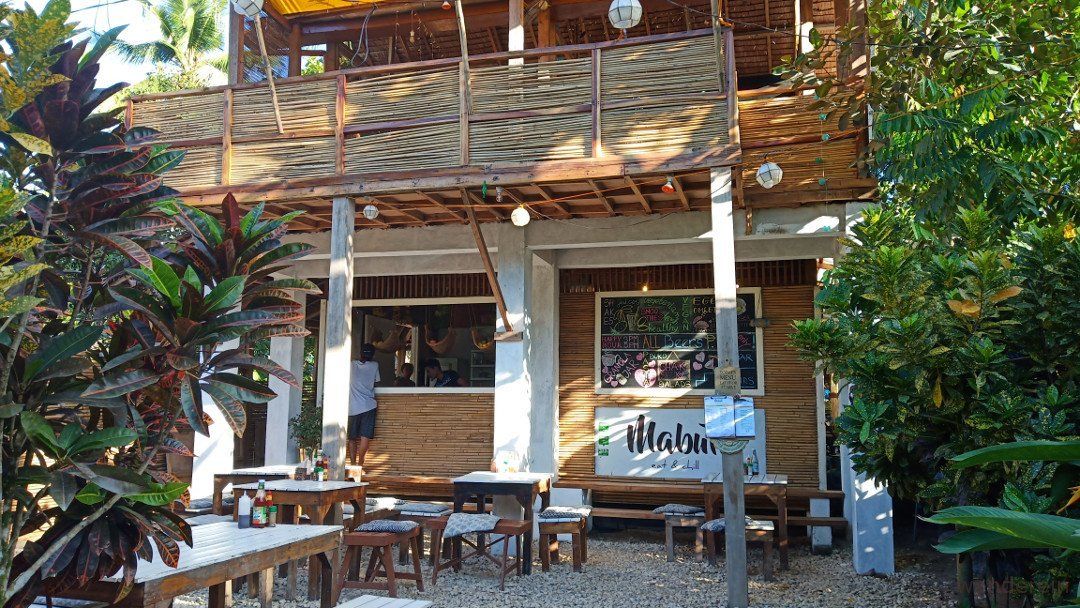 The bamboo structure gives a local feel while their cuisine is mixed. I had Shaksuka servied with vegetables and bread. I also had hot calamansi with honey. Calamansi is our local mini lime. My friends and I were having this drink almost daily as we've been partying in El Nido too much I lost my voice lol. It was a soothing drink and healing as well. This is not in most restaurants menu but you can always ask them to make one for you as calamansi is abundant in our country.
Ausan Beach Front Cottages
If you want some Filipino breakfast, I recommend Ausan Beach Front Cottage. It's a restaurant and they also have cottages for you to rent. I tried this because of the tree house where you can eat and enjoy the beach view. I had the typical Filipino breakfast called "Tapsilog" which is a mix of three words – TA for tapa (beef marinated in vinegar, soy sauce and spices - but don't ask me for the recipe, I have never cooked one!), SI for sinangag (Tagalog for fried rice) and LOG for itLOG (Tagalog for egg).
I also went here the night before and had their combo meal for a reasonable price, which I apologize for not taking notes but you can trust me it was affordable. It was shrimp gambas, rice, soup, fruits and iced tea for around P200 if I recall correctly.
I give them 5 stars for Responsible Tourism!
I love them all the more because they have posted that they will be demolishing this tree houses. That sounded bad at first, but this was to follow the Municipal Tourism Code and the National Building Code of the Philippines that structures must be within the 25 meters easement. The tree houses were really near the shore as is a lot of business structures around the country, and for once, the government is trying to protect our natural resources. So while I like tree houses, I think this is the best way so we can have sustainable tourism.
Ayette's Bamboo Cottage
If you don't like rice for breakfast then you can head over to Ayette's Bamboo Cottage. We had our breakfast here almost daily in our first few days as it was just beside the place we stayed. They also have Filipino menu but we mostly had their lighter breakfast. I didn't have a lot of photos here except these pancakes and again, hot calamansi and honey. We would usually go here after waking up and with no care for photos.
Each tables are inside mini bamboo huts which are common resting place in some Filipino homes. In my hometown, we had this mini hut outside the main house where relatives would hang out.
Island Hopping Lunch
Last but not the least, the real island life is when you dine freshly caught seafood on an island! The island hopping tour which costs P1200 (> USD 23) includes lunch. What's even better is that we saw how it was bought on the "wet market" in the middle of the sea. Our boatman was haggling with the vendors on the smaller boat where they have their weighing scale for freshly caught seafood.
Our boatmen are talented, not only they tour you on islands but they also cook and serve the food with chef-like presentation. If you can and you felt that you were served well, I recommend giving them some tip as they don't earn much in this difficult job.
Here's a short clip of the wet market in the middle of the sea and the food prepared with such creativity!
If you have been to Port Barton and have any other food and restaurant recommendation, feel free to comment below.
Note: This was originally posted in my personal blog https://wanderein.com/2019/09/12/port-barton-palawan-where-to-eat/