Update: TransferWise has renamed its company to Wise.  
Sending money abroad, remittance and even withdrawing money abroad using our Philippine local bank costs a lot!
Thankfully, revolutionary FinTech companies like Wise [formerly TransferWise] is changing the game. This gives us, Filipinos, easy access to USD, EUR and other major currencies.
This is why Filipino Travelers and OFWs should open a borderless account and not get ripped off by our local banks.
This is also applicable to Filipino freelancers and digital nomads who get paid in a different currency.
The Problem with Philippine Banks
Filipinos may need to open a foreign currency account for various reasons. I personally needed a US account to get some payments and an EUR account to send money as payment. Opening a USD account through a local bank in the Philippines has a high maintaining balance.
Unless you have a lot of extra money, it isn't ideal to store so much money in these accounts and let it lose its value. I'm better off investing it somewhere (not financial advice).
I have been traveling with foreign friends and I'm jealous on how much lesser fees they pay when withdrawing money or even when receiving money.
Having a Philippine bank account is a blessing considering a lot of Filipinos are still unbanked.
However, banks in the Philippines charges too much. They even have charges for within the bank transactions.
For instance, BPI (Bank of the Philippine Islands) charges 10 pesos to transfer money to another BPI account, unless you use a QR code. On the other hand BDO (Banco de Oro) charges 50 pesos if you deposit money at a provincial BDO bank!.
We do not even have local interbank transfers yet, and they will charge for these transactions in the future.
Can you imagine how much more they charge for international transactions?
Receiving a USD 200 payment to your BDO account costs USD19! Withdrawing money using your BPI ATM costs USD 3.5 or 2% for higher amounts, the country bank might also have some fees. Using a credit card issued in the Philippines have at least 3.525% charges! Plus conversion fees.
It looks like you're just losing a lot of money every time you get money or even when you receive money.
Banks have to earn too. Yes, but this fees are so much higher if you would compare it to what other countries offer. Banks already earn from the money you deposit to them. How? They use our money to invest, that's why a lot of our local banks have a high maintaining balance. They invest your money, earn from your money, but then your money loses it's value (ie. inflation).
I only really thought about this when I started traveling long term. I have always used my local banks while traveling and since I was traveling short term, I never noticed how much money I paid in total. This couldn't go on as I am traveling long term.
This is when I learned about TransferWise.
What is Wise [TransferWise]?
Wise [formerly TransferWise] is a borderless account, meaning you can open an account wherever you are in the world. They offer the cheapest transfer fees and the best exchange rates - they actually use real-time exchange rates.
Revolut was another option but they are only open to EU residents for now. I will look into this as soon as they open it to Philippine residents.
TransferWise is not only beneficial to travelers and digital nomads, OFW's (Overseas Filipino Workers) can benefit from it too.

OFWs should stop using popular remittance methods
I know a lot of OFW's still use remittance centres.
Dear kababayans, you are losing a lot of your hard earned money here as they charge high fees. Western Union, for instance, has one of the highest remittance fees.
Some of their families may not have a bank account so they use this option. But you can easily open an account for your family with TransferWise, or have them open an e-wallet like Gcash.
In the example below, TransferWise has better exchange rates than WesternUnion. With TransferWise, the fee for USD 200 remittance is USD 4.92 versus WesternUnion's transfer fee of USD 9.99 (plus another fee depending on what cash in method you use)!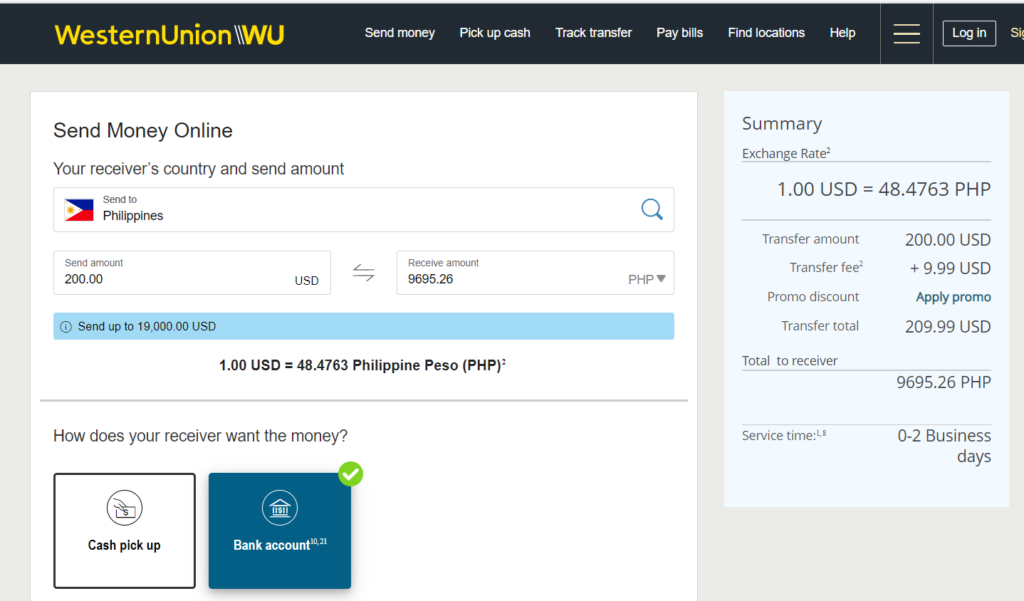 Aside from their fees, they also earn from their exchange rate. In the above example,  Western Union only gives you 48.48 pesos while TransferWise uses the actual rate which is 49.07 (rate July 2020 when I originally published this blog).
So how can OFW's really save money?
1. Sending Money to another Wise Account 
Currently, you cannot create a Philippine account in TransferWise (but you can hold Philippine Pesos). If you send a USD amount to another USD account in TransferWise, the fees would only be USD 1.40 for the amount in the example. If you withdraw this amount using your TransferWise Mastercard/ Visa, even with the conversion fee, it will still be cheaper because they use real-time conversion rates.
There are no withdrawal fees for withdrawals of up to GBP 200 or USD 250. A 2% charge applies after that. So if you send more than this amount every month and your receiver spends more than this amount as well, then it would be best to just transfer the money directly to their Philippine e-wallet (GCash/ PayMaya).
I hope I did not confuse you there. Basically, you save more money transferring locally (eg. TransferWise USD to TransferWise USD) if you only send USD 250 monthly. However, if you send more than this, you would save more by sending directly to a Philippine e-wallet. This is because the TransferWise debit card withdrawal charge is 2% after their free withdrawal limit of GBP 200.
2. Sending from Wise to an e-Wallet like Gcash
May 2021: I just recently tried to transfer USD 150 and I only paid USD 1.65 in fees. That's only 1.1%. Way cheaper than Western Union or even sending to a Philippine bank.
The real-time exchange rate was used and I received it in less than 15 minutes! The initial waiting time was 4 hours so I was surprised that it was so fast!
It was also easy. You just need your receivers Gcash number and name (note to start with +63 and not 09XX format).
There was also no deduction on Gcash side.
If your loved one do not have a Gcash yet, you can let them register here so they get P70 in freebies too.
I have not tried sending to a Philippine bank account like BPI and BDO because the rates on their side is unclear. I am not sure if they have separate deduction because they do so for my Google Adsense payment (and they deduct a lot!). You can check Wise fees with their calculator but these Philippine banks do not have this transparency.
Why You Should Use Wise [TransferWise]
1. You can open major currency accounts like USD, EUR, etc. with no maintaining balance.
However, you have to fund the account first with USD 20 or its equivalent for verification.
This is not a fee, this is your money and you can use it right away. They just need to verify that you're a real person and not some bot. Afterwards, there's no maintaining balance.
Funding TransferWise for verification was quite expensive. Before getting TransferWise, I only had Philippine accounts. I used my Visa credit card and they treated this funding as a Cash Advance! Hence, the interest was enormous. However, this is only for the first time I had to verify. My TransferWise gets funding through payments from USD and EUR accounts.
If you know a cheaper way to verify, please feel free to leave a comment and I can add your suggestion in this blog.
Both BDO (Banco de Oro) and BPI (Bank of the Philippine Islands) USD Savings Account have a maintaining balance of USD 500. While TransferWise does not have this requirement to maintain your account.
2. Low Transfer fees.
Your first transfer is free or discounted by using my referral link
You can also check their fee calculator here before you start sending money.
3. Real-time exchange rates!
Most banks have a conversion fee, so you are not only paying their transfer fee, it's more than that. With TransferWise, you get the real-time exchange rates, no conversion fees.
4. Get an international debit Mastercard.
Update: The new physical cards are now Visa.
The TransferWise Mastercard costs GBP 5. You can use this debit card in more than 150 currencies with real-time exchange rates!
Even better, there are no ATM fees for up to GBP 200 per month. It would 2% after this monthly limit.
The exchange rate is where our local banks earn from us plus their high fees! TransferWise is a good solution for travelers and especially for Filipino travelers like me whose banks charges way high.
Note: As of the moment, the debit card is not yet available for mailing to the Philippines. I spoke with TransferWise support and they informed me that you can request for a debit card if you are in a country where the card is available. They would only require a document such as a contract lease under your name. With that said, short rentals such as hotel bookings are not be accepted.
5. Enjoy the hassle-free benefit of a Multi Currency Account
The best part is, you can open multiple currencies. I initially opened an EUR account but I also opened a USD account so I can receive payments in USD.
You can also hold other currencies like Philippine Peso but with no bank details. This is the only disadvantage I see as a Filipino.
6. Easily get a Bank Statement
You can easily download a bank statement from your account. If you needed something signed, you can also contact them to request for one. 
To request for a signed bank statement, contact them through their contact form. 
To download the statement from your account:
Just go to Balances > Choose the Currency > Click on Statement on the upper right of the screen
I used my TransferWise account as a proof of subsistence in my German visa application and it was accepted.
It's free!
7. New! They now have a Virtual Card!
If you're from a country that is not yet eligible to receive a physical card, then you can get a virtual VISA card.
It's free and you can generate it in an instant!
It provides you the same details as a physical debit card except that it is all virtual. You don't get an actual card to withdraw money from the ATM.
You can use this card for online shopping or online transactions. You can add this to Apple and Google Play. I also use this to top up my other debit cards that require a debit card number.
Your Options when Spending Money Abroad Compared
Let me show you how I used it and how much I saved comparing it to my other options.
While traveling, I needed to pay a friend a total of EUR 226 for shared costs in accommodation and travel expenses. I looked into my options on how to pay him and most fees are outrageous!
Option 1: Withdraw money in Thailand using my Philippine ATM card.
My Philippine bank would charge me USD 3.50 per withdrawal or 2% for higher amounts, plus 1.8% conversion fees from Philippine Peso to Thai Baht. In addition, Thailand ATMs charges 220 Baht per transaction.
Option 2: Send payment viaPayPal
Sending PayPal from a non Euro zone account to a Euro zone charges at least 3.5%, plus conversion fees. If you do not have enough funds in your PayPal, funding it costs a lot too.
Option 3: International wire transfer from my local bank
Looking at my local bank (BPI), I needed to send them a hard copy form which was impractical for me as I'm traveling at the moment.
Charges listed on their site is exorbitant, at least USD 14, conversion fees aren't clear too.
All the above options are too high and luckily I found a way to send it for free!
Option 4: Use Wise [TransferWise]
I opened a TransferWise EUR account. I just learned that in the EU, they pay no bank transfer fees! It can be to a different bank and a different country as long as within the EU since they have the SEPA (Single Euro Payments Area) network.
Since it's a borderless account, my EUR TransferWise account was based in Belgium. I have never even been there, yet I now have a Belgium based bank account!
I successfully transferred my payment to my friend at no cost! TransferWise service fee was only 0.62 EUR but this was waived as my first transfer fees was free because I used a referral link.
Comparing the above options, there is no doubt that Wise [TransferWise] was the best and wisest option.
Get free international transfer of up to GBP 500 by using my referral link (no fees or get a discount on your first transaction):
https://wise.com/invite/u/mariaf4372
The above is a referral link. You will get a discount (or free transfer) when you use this. Meanwhile, I will get a reward only after certain conditions are met. If you find my post helpful, I hope you consider using my link. This helps me maintain the running costs of this site, as well as the time spent on writing my posts. Salamat po!
Signing up is fast and easy. You initially just need to input your personal details and email and your account will be created in minutes.