The visit visa for unmarried couples that I applied for in November 2020 was a new visa category created in response to the Love is Not Tourism campaign. This allowed binational couples with a German partner to reunite in their home country despite travel restrictions.
UPDATE 2022: The post below is for first time applicants but I still applied the same things in my next applications which were all successful. As of 2022, I have applied for the third time and got a 2-year visa.
My Profile: First time Schengen Applicant, No Strong Ties, Newbie Freelancer, No BIR ITR (Income Tax Return) yet
At first glance, you would think that I have a slim chance of getting approved but I'm writing this now in Germany. I'm here to tell you that it is possible to get a Schengen visa even with my "weak" profile.
Please note that these are TIPS, I will not run you through the step by step because you will find this in the VFS website.
It is still best to always check for their official website for the procedure and checklist as it may change from time to time. My blog is to provide tips based on my personal experience.
---
TIPS FOR FIRST TIMERS WITH NO STRONG TIES
1. Write a Convincing COVER LETTER
A cover letter is not stated in the list of requirements but it can help you win that visa. It gives you a chance to present your case and convince the embassy on why they should give you a visa.
Most say it should only be a one-page document but I wrote two pages in my case as I had to explain some circumstances. The second page is mostly the chronological list of requirements I provided.
To give you an idea what I wrote: I explained the purpose to reunite with my boyfriend , how we met, when I plan to go and that my bf's mom was my sponsor. I told them that although his mom was sponsoring me, I have my own money I saved from my previous job so I am confident that I will have no financial issues when I return.
I explained that I am a new freelancer so no BIR yet, I provided my BIR income tax return from my previous work. Instead of providing proof of ties, I explained my motivation as to why I will never overstay - future travel plans. I provided my travel history and reiterated that I never overstayed in any country.
Do not copy my reasons, I am just giving you some possible scenarios. Be honest with your reasons as you need to provide supporting documents for your statements in your letter.
Focus on your strong points. My weak point was not having strong ties but I never mentioned that, instead I focused on why I will never overstay.
Below is a template I made based on my letter. This is more of a suggestion but there are several ways you can write your letter and not just this way.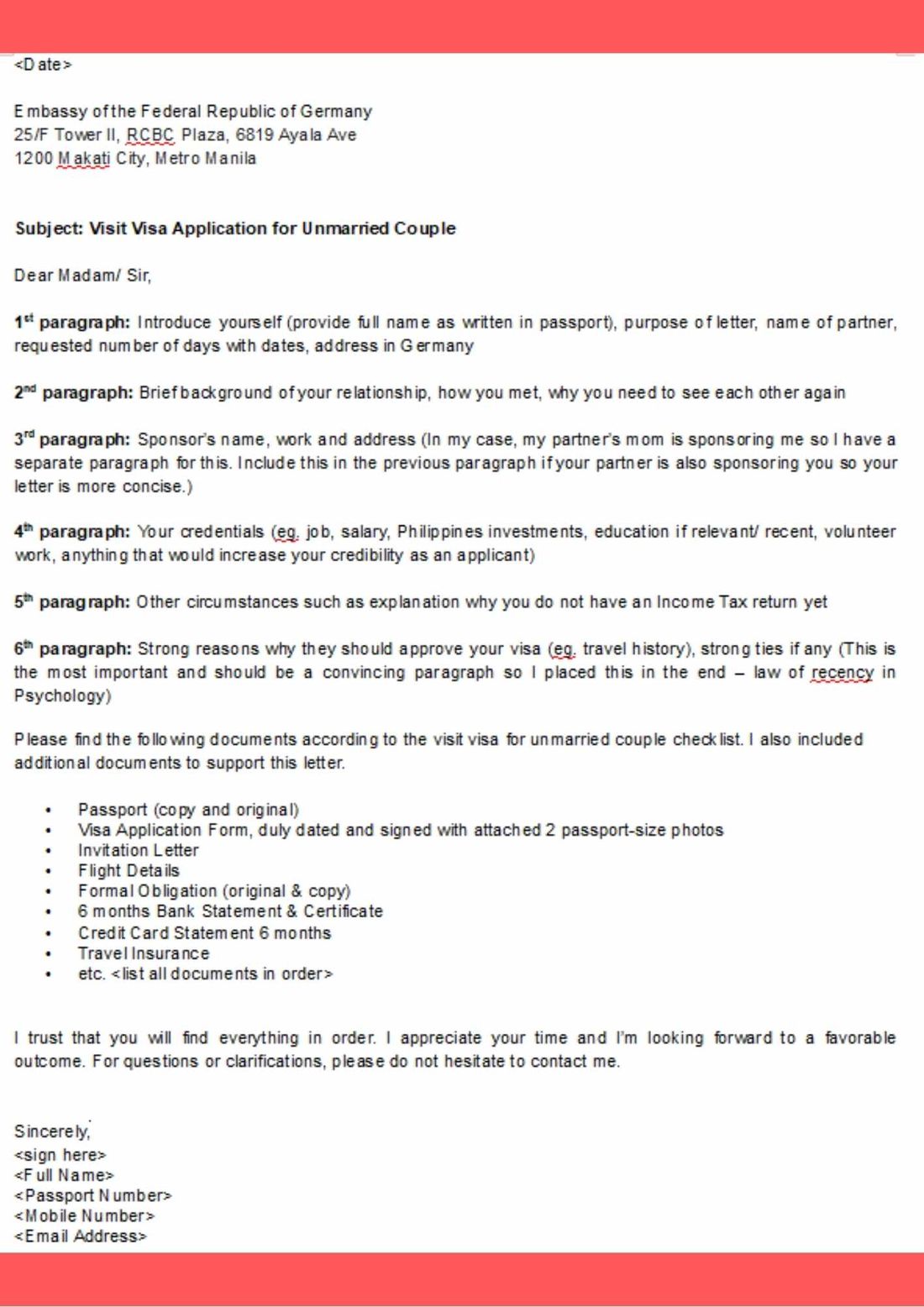 Click here for a clearer copy of this template.
2. Complete all requirements in the VFS checklist
Make sure you have the correct checklist as different types of visa has a different set of requirements. My experience is on the unmarried couple visit visa category.
A tourist visa would have a different set of requirements so make sure you download the correct checklist from the VFS website.
The VFS website also has a step by step procedure. Follow that procedure from setting up an appointment to completing the requirements.
Some may think that this is common sense but a lot of applicants actually miss to complete the requirements.
While I was waiting for my turn at the VFS in Makati, I heard applicants being asked to return because they were missing a document. It is good that the VFS staff checks for it, imagine an automatic rejection from the embassy because you are missing an important requirement.

Some missed the insurance dates, some even missed the formal obligation for their sponsored trip. So always double check the checklist which can be found in the VFS website. It can be updated from time to time so always check the official website.
The VFS checklist for visit visa is linked here (go to Documents Required tab and download the checklist for your visa type). Always check for updates from their official website.
Money Saving Tip: It is clearly indicated in the VFS checklist that they do not require a reservation ticket. Follow this and do not waste your money on dummy tickets. A lot of bloggers would advice you to get this but it is not needed for Germany! 
3. Always provide a supporting document for anything you say in your cover letter.
You can provide EXTRA documents not indicated in the checklist for as long as it is relevant in your case.
Did you mention that you have a son or daughter? Provide their birth certificate or any proof that you really have a son or daughter to return to.
In my case, I provided EXTRA documents that was not in the VFS checklist but were mentioned in my cover letter (Again, please check the VFS website for the basic requirements). Here are the additional requirements that I provided.
a. travel summary
This was in table format with date, country, purpose, duration, visa number when applicable, etc. Below is my template and a sample, these are not my actual trips.

b. passport stamps
These were just scanned and printed copies. There is no need to provide your original old passports.
c. visas from other countries both valid and expired
d. COE (Certificate of Employment) from previous job
e. BIR ITR (Income Tax Return) from previous job
This is to support how I got my savings (Note: A savings account is not a requirement if you have a formal obligation but I provided it to support my statement in the cover letter).
f. Philippine stock investments
Some people say that this is not proof of ties but I wanted to show that I am interested in the Philippine economy even if I don't have physical assets, in a way this ties me to the Philippines.
g. Masters diploma 
I provided this as I also mentioned in my cover letter that I recently graduated and I am on a gap year, hence, I resigned from my full time job. Having a gap year between work and studies or between shifting careers is a common practice for European travelers so they would understand what this means.
The above extra documents I listed would be different for others, it would not apply to some of you. But it is important to note that I provided at least one supporting document for everything that I wrote in my cover letter.
4. Put everything in order
I submitted over 130 pages of supporting documents! There is no ideal number of pages and the VFS staff was actually surprised that I have too much. They initially told me that they will leave out some unneccessary documents.
However, when they read my cover letter, the ended up keeping most of my requirements. The only thing they left out was the copy of my affidavit of support. The German embassy only wants a formal obligation if you are sponsored and does not recognize the affidavit of support from the Philippine Consulate (I have this for Philippine Immigration which they did not ask).
Whether you have a few or more documents, put everything in order. Provide a summary or list in your cover letter and group them accordingly (eg. all work experience documents go together, all sponsor documents such as their ID and formal obligation go together).
Provide a summary for numerous documents. For instance, I provided a travel history summary before the passport stamps and visa that I have so it is easy for them to understand.
In this way, you will not give the reviewer a headache and your documents will make sense.
5. For unmarried couples, provide enough photos and chat logs to prove the legitimacy of your relationship.
Aside from the declaration of relationship (which is indicated in the checklist for the unmarried couple visit visa), they require supplementary proof of relationship.
Put everything in order, include the date the photos were taken and a short caption. I provided a photo for some of the places we've been to so they can see that we have been together in different occasions.
Again, put everything in order. I had the most fun doing this part as it was like making a virtual scrapbook from how we met to how our relationship progressed :)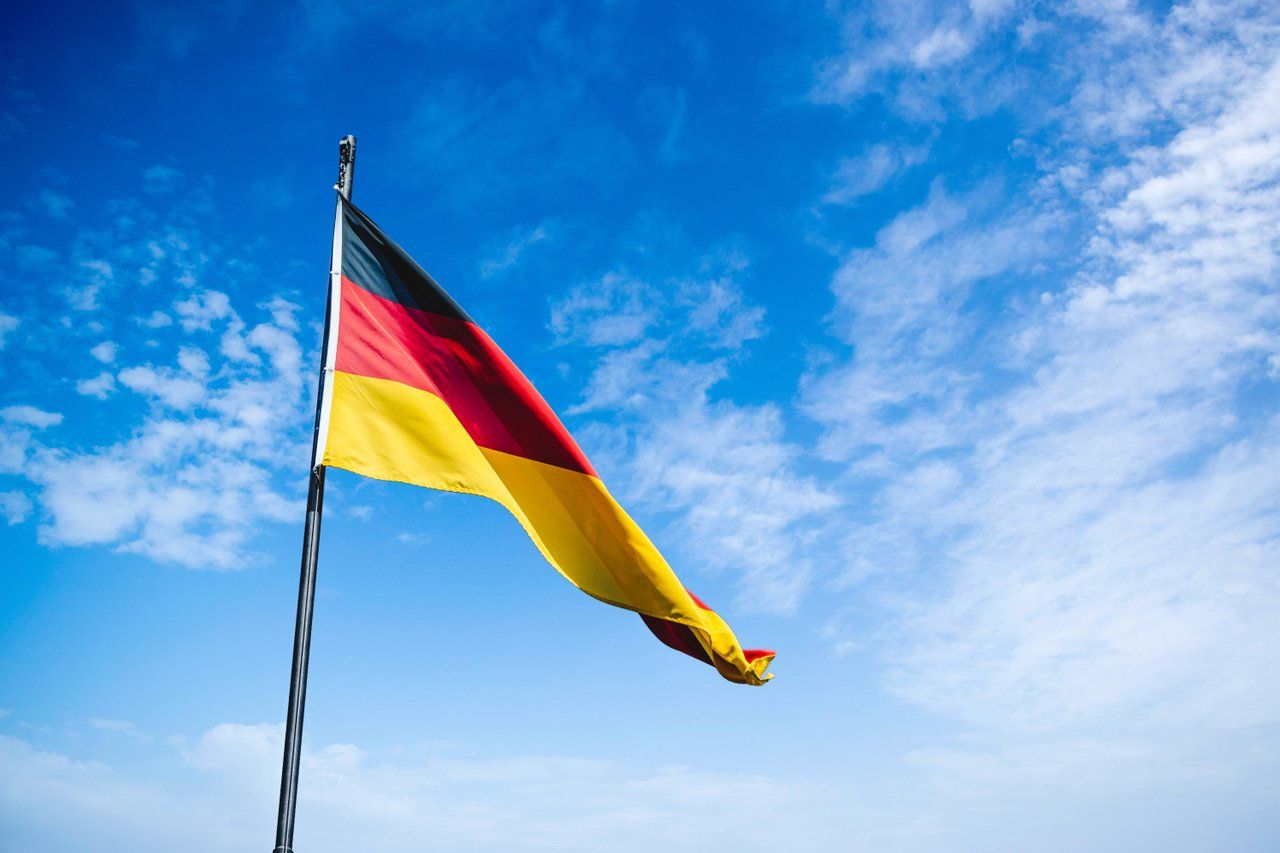 I hope the above tips are helpful. Up next are some commonly asked questions that I get from other applicants.
---
FREQUENTLY ASKED QUESTIONS
Do I still need to present a Savings Account if I have a Formal Obligation?
It is clearly stated in their checklist that they only need either of these two. So you no longer need to provide a savings account if you have a formal obligation. A formal obligation is an assurance that your trip is sponsored.
However, it is totally fine that you provide both. I have a formal obligation because I stayed at the home of my partner's parents but I am financially independent. I wrote in my cover letter that I have the ability to support myself so I will not have any financial issues when I return to the Philippines after 3 months in Germany. This is the reason why I still presented my savings' bank statement. 
How much should I have in my Savings Account?
If your trip is not sponsored, then you must provide a bank statement which covers the past 6 months, or any other means of subsistence. The amount depends on the length of your stay. 
For Germany, you must have at least EUR 45 per day plus cost of ticket. You should also have a bit more amount than this because you have to show them that you will still have money to survive when you return to the Philippines.
Some people get denied a visa even if they have so much money in their savings account. If you are not employed or if you are earning less, then it would be suspicious if you have a big amount in savings. Embassies are cautious of these because some applicants arrange money transfers just for the show money. This trick doesn't work and would just make your account look dubious.
For visit visa, it would be better to get a formal obligation because in most cases you will be staying at your family or partner's home so you do not need EUR 45 per day. Although there were applicants who only showed their bank statements with no formal obligation. In that case, you should be able to show that you can afford your stay in Germany and return to the Philippines.
Is there an Interview?
The phone interview seems to be random. I personally did not get interviewed. I heard that those who got interviewed via phone call was due to some clarifications. Some were asked additional documents, while some were asked questions about their relationship.
Most people did not get interviewed but just be prepared in case you receive a phone call from the embassy.
How long is the visa processing time?
Visa processing ideally takes 10 to 15 days according to VFS Global. However, we have experienced a delay with the German embassy. I applied on October 2020 and received it after more than a month. Other applicants experienced and are still experiencing this delay so apply maybe 2 months before your plan.
How long is the visa validity?
The German embassy approved my requested 3 months as I stated in my letter that I would like to spend more quality time with my partner. If you indicate that you will only stay for one month then they might give you just that. Some are lucky to get more than what they have requested.
It is possible to get approved the maximum 3 months even for first timers like us so don't be afraid to request for 3 months.
It is also possible to get a visa valid for a few years if you've been issued at least 2 Schengen visa within a certain time period.
What Insurance Provider Should I get?
The German embassy has a recommended list of Insurance providers but it does not mean that you can only use what's in the list. A lot of people have used CareMed, Trawick, SafetyWing, etc. and got approved even if these are not in their "recommended" list (recommended is different from required). My problem with their recommended list is the price and flexibility.
UPDATE: I got CareMed on my first visa application on October 2020, however, I received information from another applicant that VFS no longer accepts this insurance. They would accept either one from the recommended list or a German-based insurance company.
I personally do not like the Philippine-based insurance in the recommended list as they are more expensive and difficult to contact especially when you are to file a claim while you are in Germany.
On my second visa application on March 2021, I used Provisit-Visum by Dr-Walter. It's a German based insurance that is accepted by the German embassy. Their Travel Health Insurance is only EUR 1.10 per day and has COVID-19 coverage.
The documents you need for the visa application will be sent to your email as soon as you pay online. You just need to print this out.
Provisit-Visum also clearly states that they cover COVID-19 so you can show this to Philippine Immigration in case they ask for it.
I wrote a detailed blog regarding Dr-Walter's Provisit-Visum and other insurance such as that for languange visa, study etc. Read it here.
About COVID-19 coverage: The VFS checklist does not specifically state that you should have COVID-19 coverage. However, the Philippine Immigration might look for this so better get an insurance with COVID-19 coverage. This is is also a smart move because it is extremely expensive to get treatment in Germany if (knock on wood) you catch this virus. I recommend you get an insurance with COVID-19 Coverage for these reasons.