Apo Whang-Od is one of the Philippines' national treasures. Her skills and talent made Buscalan famous for the Kalinga tribe tattoo. I was starstruck to see a living legend, however, disappointed by what tourism has done to an icon. I usually write informative travel blogs but this is one of my critical write ups.
Weed or Tattoo?
They say there are two kinds of people that travel to Buscalan: the first are those who want to get a tribal tattoo from the last mambabatok – Apo Whang Od, and then there are those who want to get a hold of weed – it's illegal in the Philippines but no one's gonna deny this.
The second group will likely live because what you see in the news about drugs in the Philippines is likely exaggerated and mainstream media has inaccurately presented the Philippines in the wrong light when it comes to this subject.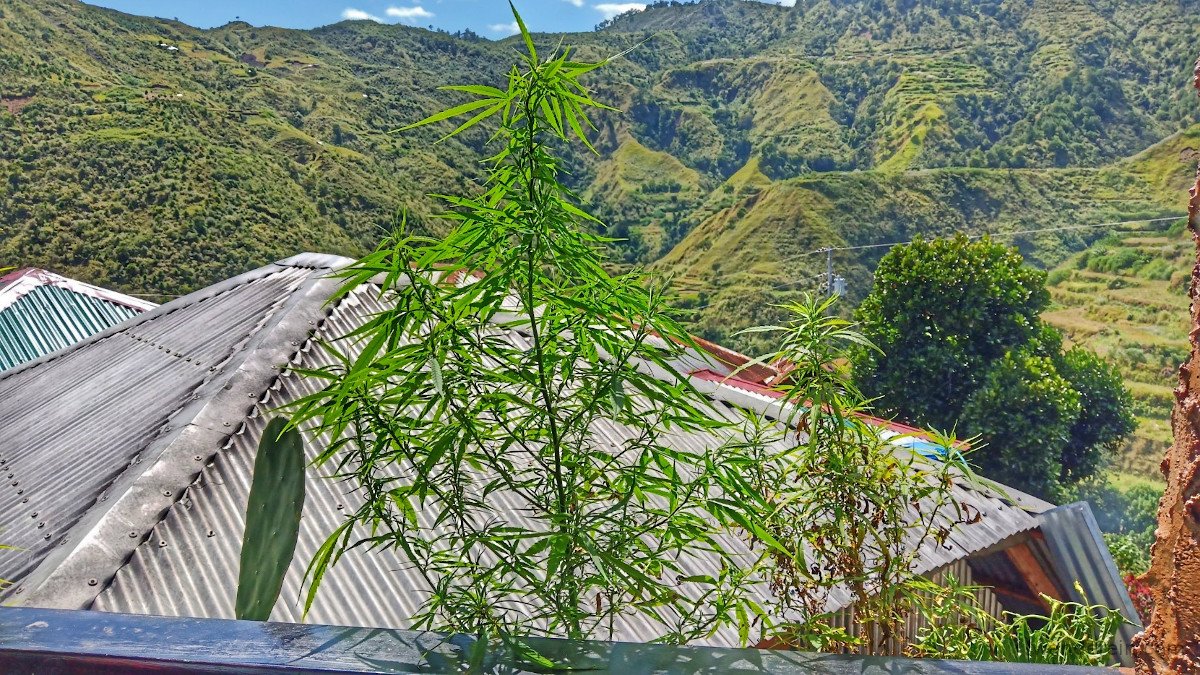 But enough of the drug scene in the Philippines, I'm not going there. I am not from any of these groups, I don't use weed and I prefer not to have a tattoo. It's just my personal preference and I have nothing against these. I visited Buscalan just to see a living legend – Apo Whang Od. I think it's a once in a lifetime opportunity to meet her in person.
She is known as the last mambabatok – a tattoo artist from the Kalinga tribe in the northern mountains of the Philippines. What's more interesting about her is that she was the only woman to become a mambabatok. Historically, only men are awarded this rank but she has shown incredible talent in this art. Even now at 102 years of age, she can still create those ethnic designs.
Tattooing in the Kalinga tradition is more than just a decoration. Each design has a meaning. Warriors from their tribe receive a tattoo depending on their achievements.
The Scenic Ride to Buscalan
It will take over 10 hours without traffic to get to Buscalan from Manila. I was staying in Banaue, Ifugao during this time and it only took 3 hours to get there. Buscalan in the Kalinga and Ifugao are within the same Cordillera region - a mountain range north of the Philippines.
The road was scenic and you know you're near the tattoo village once you see the Chico river surrounded by rice terraces. It's one of the longest rivers in the Philippines. We also passed by this monument for the heroes that saved the river from a private companies attempt to create a dam on this area.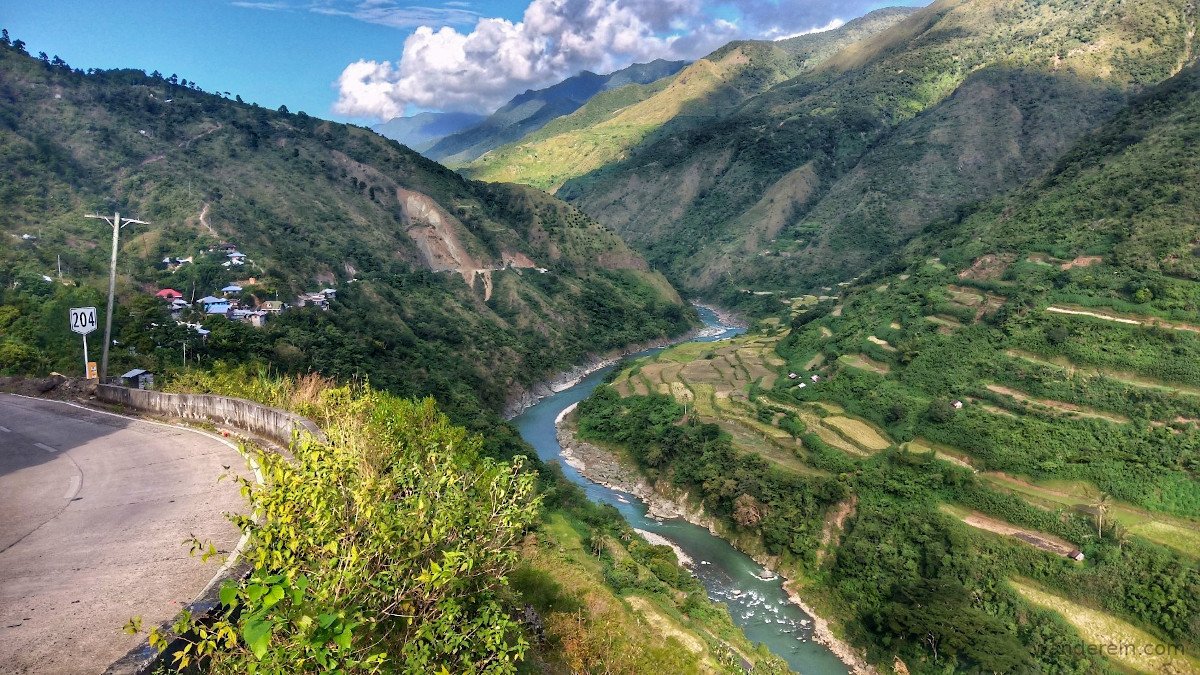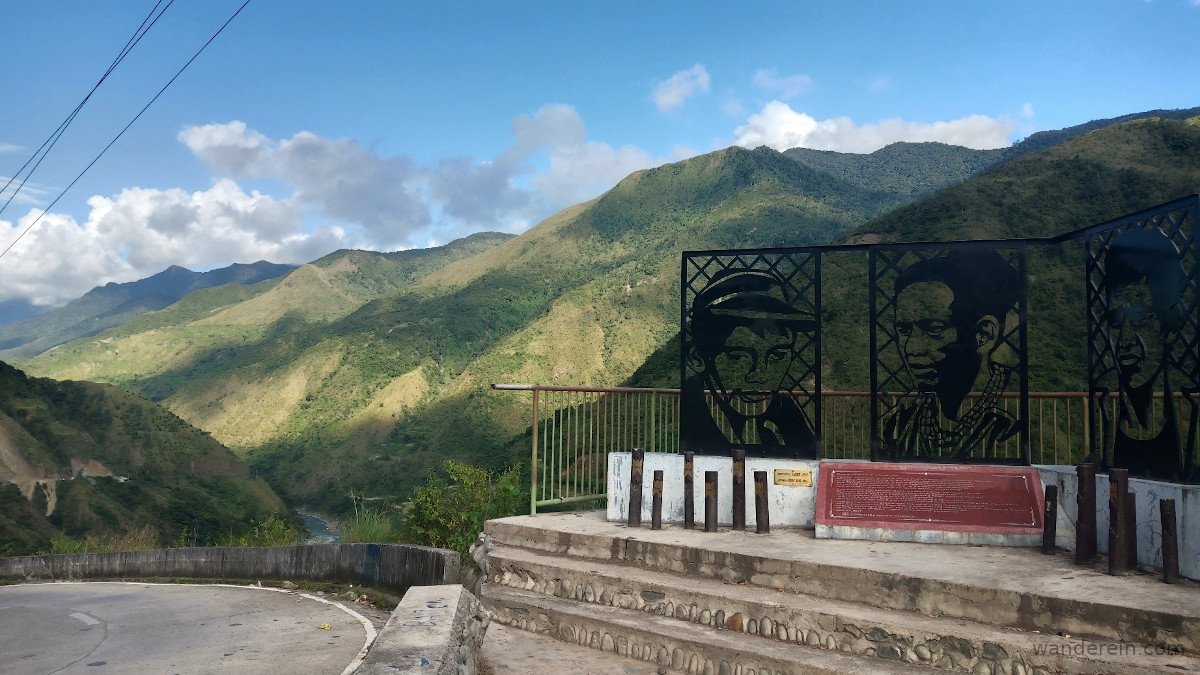 No Guide, No Entry
The village has no other source of income, other than tourism and tattoo since they "stopped" planting weed. Marijuana used to be a big trade and this is THE source in the Philippines. You still see marijuana pots which are, I guess, okay but they cannot do this on a large scale.
A local guide costs P1000 to P1500 and their job is to lead you to and from the village. It was only a 30-minute trek but the path was steep. For the experienced mountaineer, this would be an easy hike. However, everyone has to be accompanied by a guide.
I am not sure of the reason for this policy. It could be that aside from business reasons, they are protective of their home as it is a very small village.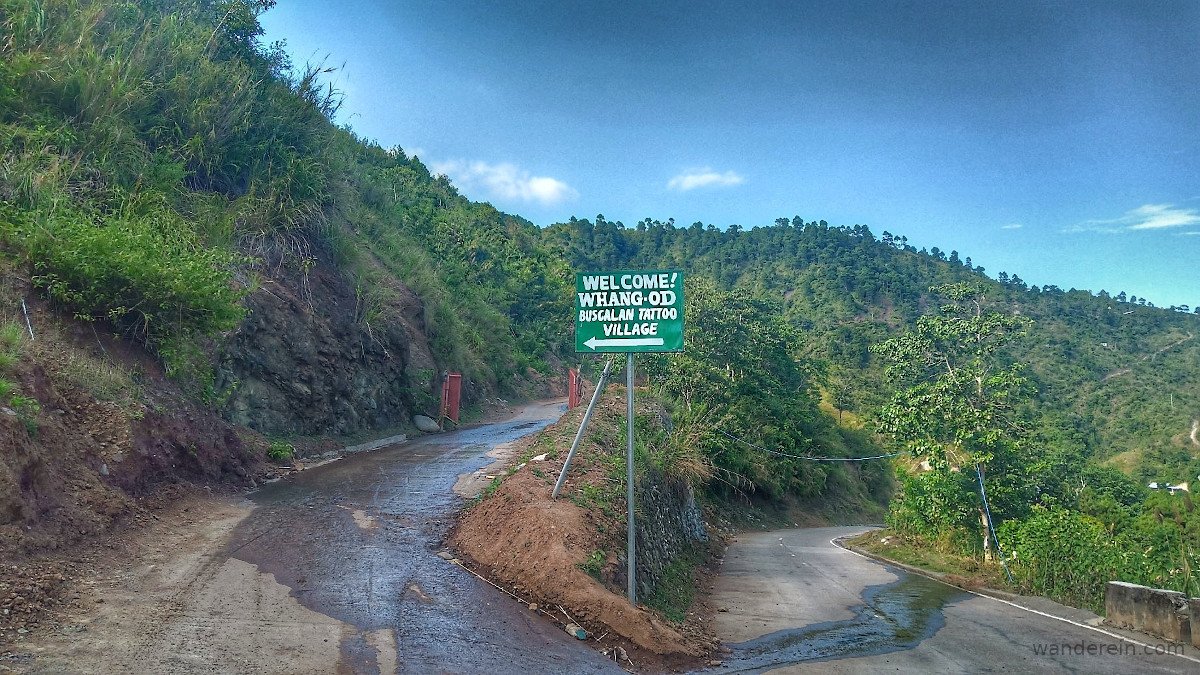 All these, thanks to Apo Whang-Od. It took one centenarian woman to transform a struggling village to a tourism attraction. This led to the creation of more jobs, not just tour guide jobs, but the younger ones have been trained to become tattoo artist too, continuing their tradition. However, they do not hold the same mambabatok title as Apo Whang-Od.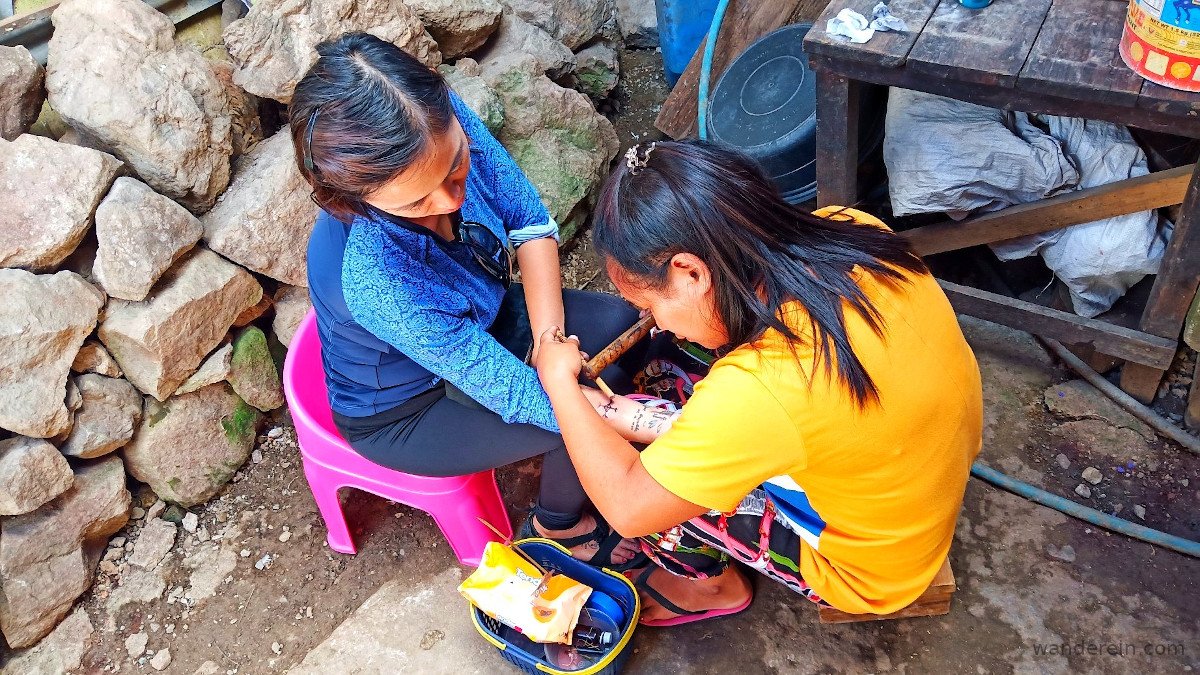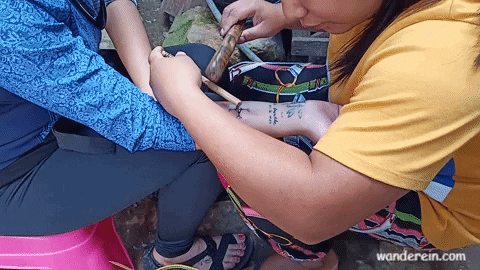 Our guides gave us a heads up that there are a lot of tourists that day. It was a Sunday, but Apo Whang-Od was not feeling well the day before so she can't accommodate anyone. Due to this, the number of tourists that day was doubled – the Saturday group and the visitors coming in.
I could not count how many people there were. I was watching for more than an hour as the long queue get their tattoo one by one. It was at least 50 people in a couple of hours and she has been doing this since morning. There must be hundreds that day.
She did it fast and non-stop using a bamboo stick and a pomelo needle dipped in pine soot ink. You have to buy this new set of pomelo needle and bamboo stick for 100 pesos. She also uses disposable wipes as opposed to what I have read in blogs that only used rug was used. That is untrue, she uses a new disposable cloth for each one.
A Human Zoo
I was starstruck to see a living legend perform her art right in front of me. She's someone I've only read in books and watched in documentaries. Her presence alone was awe-striking, however, the environment she was in at that moment downplayed her status.
A big group was waiting impatiently as they have been there since the day before. I heard someone say in Tagalog that she's taking too long and that they want to go home soon. Apo Whang-Od may or may not have heard this. She was just concentrating on each tattoo session.
She would take a break whenever she wants to and someone would complain in Tagalog that she needs to finish the tattoos asap. There were other locals around who understands Tagalog, they have their own dialect but Tagalog is the national language so everyone understands this. It was plain disrespectful.
This big group would also make fun of Apo Whang-Od. One of the guys just spread his leg in front of her and the group laughed. Apo Whang-Od didn't react and just went on with the tattoo.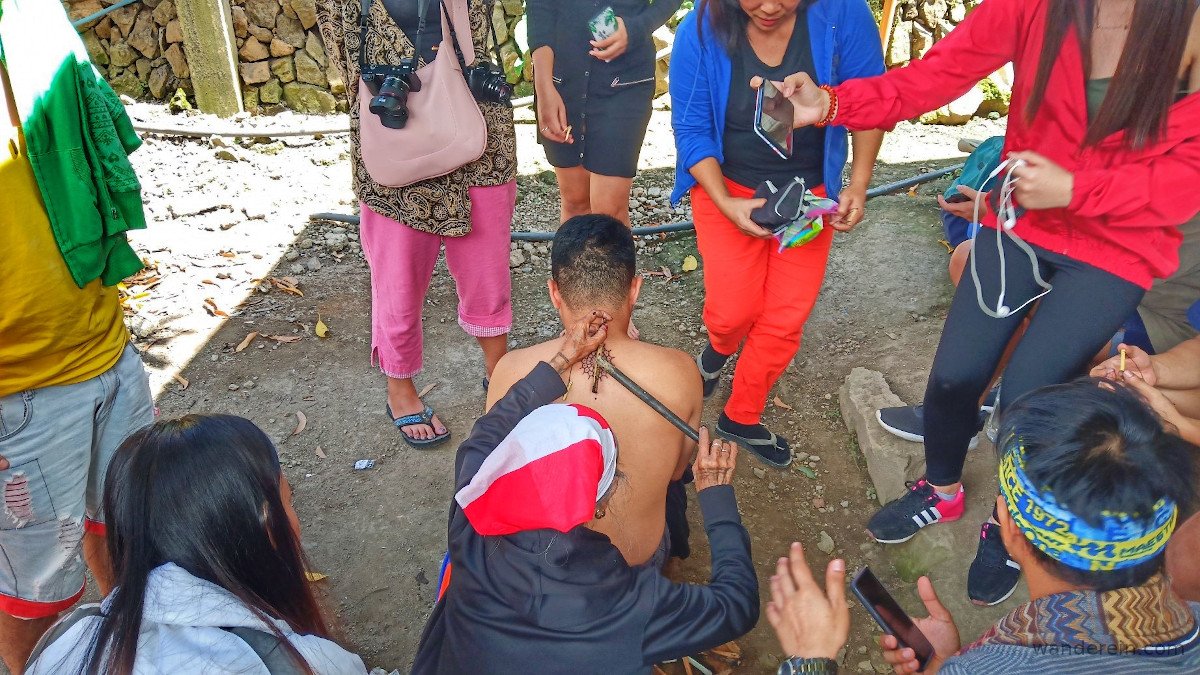 There was a story that Apo Whang-Od would tease a guy she was tattooing and would just suddenly touch his private area! She does have her own kind of sense of humor and people would just laugh about.
Even if this was true, I find this group's act uncalled for. It could have been funny some other time. But hey, this centenarian has just recovered from illness and has no time for jokes. There was pressure for her to give everyone there a tattoo. Aside from complaining, they had the guts to make fun of her.
Apo Whang-Od will do this until she can, there's no doubt about it. The villagers will also continue this tradition and it will remain a tourist attraction which is good for them financially and for for the preservation of their tradition. However, it looks more like a human zoo.
She doesn't look forced but the groups wouldn't go home unless she finishes tattooing all of them. But what really disappointed me was the group's behavior, the group wasn't respectful at all.
I think it's not clear to them that they're witnessing history. I don't know if they understand that they had the privilege to get a tattoo from a living legend. Literally, this is someone you will just see in books and documentaries and they are taking it for granted! Maybe, for them, it was just 100 pesos, plus another hundred for the bamboo and pomelo needle. However, receiving it from the last mambabatok was priceless.
Note: This post is also available in my personal blog - https://wanderein.com/2019/12/16/apo-whang-od-a-national-treasure-in-a-circus/
This is my last post from my trip in the Cordillera mountain region of the Philippines. I will post about Thailand soon.
If you want to know more about the region, check out my following blogs about the Ifugao province: