Who doesn't love to budget? I will search for hours to find the best value accommodation and the cheapest flights. I don't buy expensive clothes so my money goes to my travel funds. But travel insurance is something I won't compromise on!
Before I started my long term and indefinite trip, I thoroughly researched for the most affordable travel insurance. There were several options, however, almost all of them require me to be back in the Philippines after 3 months to renew my contract.
That was the most impractical rule a travel insurance can give to a long term traveler. If I go through that option, I have to buy plane tickets to return home just to pay for my insurance.
There was only one travel insurance that I can renew even when I'm outside of the Philippines. Only one!
SafetyWing
Thank goodness for SafetyWing, I was able to pursue my life long dream to travel long term.
I try to be a responsible and safe traveler but that's not guarantee that nothing will happen to me. There can be irresponsible people around and accidents can happen.
However, these uncertainties shouldn't stop one from traveling. Having a travel insurance gives you that peace of mind that if something happens, you will not go broke overnight.
Why You Should Get a Travel Insurance
I know a lot of Filipinos travel without insurance due to budget reasons and this is just the most unwise action when going out of the country.
Even if you have an HMO paid for by your employer in the Philippines, this will not cover travel-related emergencies, especially abroad.
I remember years ago, an unfortunate accident happened to a Filipino couple in Maldives. They drowned and died. The family asked the government and people to help them get the bodies back to the Philippines. Some people where sympathetic but some did not tolerate this because the family would not have to ask for everyone's help if they had insurance.
An insurance protects not only your money but also your family's money. In the Philippines, it's very common for family and relatives to help if someone gets into an accident.
Let them enjoy their hard earned money and not be used in case something happens to you.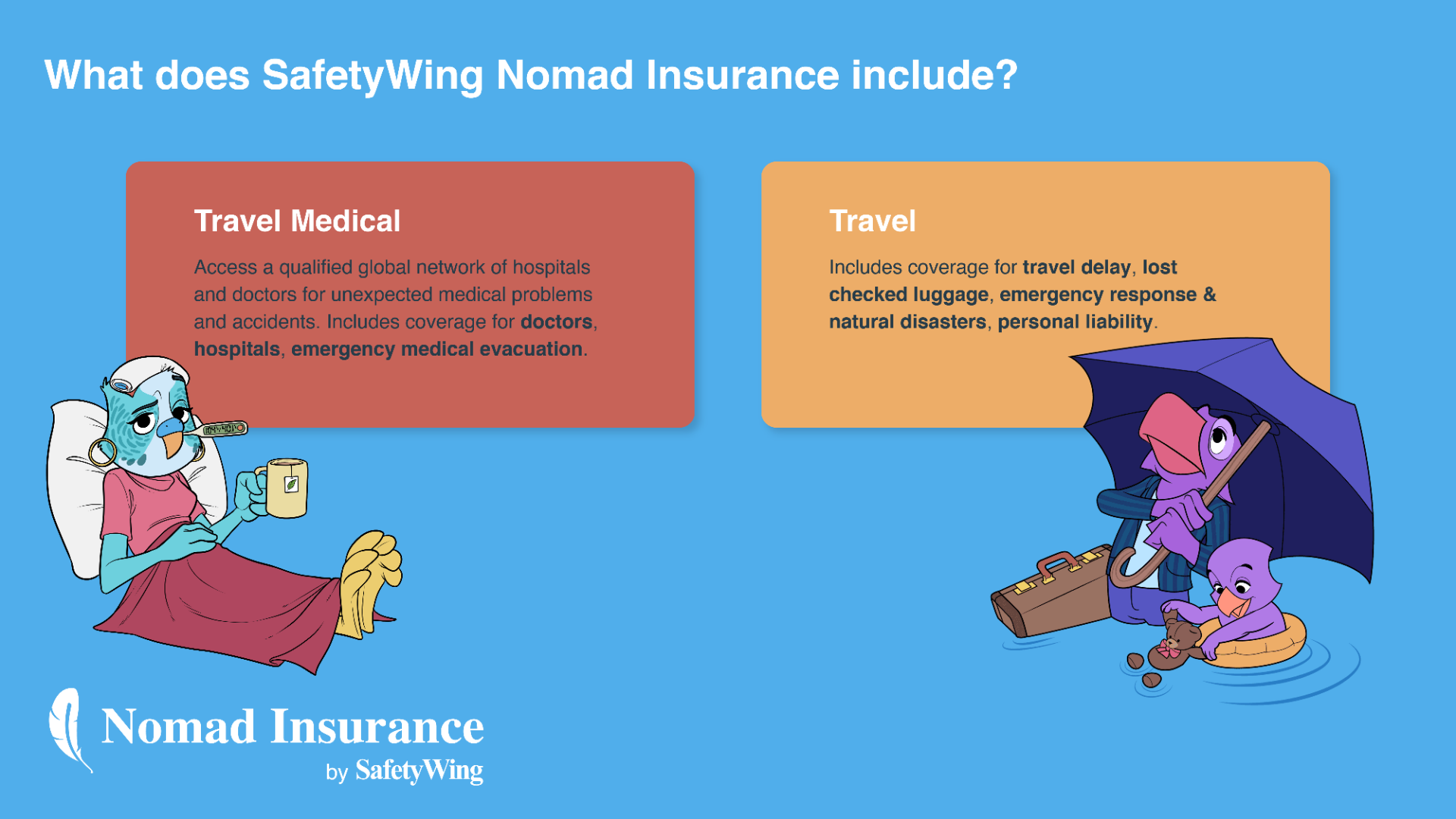 Why SafetyWing is my Choice
1) You can apply anywhere in the world
Most travel insurance requires you to be in the Philippines during the time of application. I have inquired with almost every insurance company that accepts Filipinos and most of them have this unreasonable policy.
The best thing about SafetyWing is that you can apply  for an insurance even if you're already out of the country.
2) Affordable
At $40 per 28 days, it is one of the most affordable travel medical insurance. That's less than a dollar and 50 cents per day! 
Note that this price increases after a certain age range.
3) Covers COVID19 and Political Evacuation
Nowadays, this is a must that even the Philippine Immigration requires (per IATF resolution) if your travel is non-essential. This is covered as long as you did not contract the virus before your start date.
If you had to travel during the pandemic, you have to consider lockdowns and travel bans. There can be cases wherein your flight can be considered a political evacuation.
This happened to me when I was stranded in India on March 2020. I had the option to reimburse my repatriation flight with them. I didn't get to use this though as the Philippine government repatriated me via military ship, which is an amazing experience by the way.
4) Real Time Chat Support
If you have any questions, you just need to head over their website and chat away. You will be receiving an answer within minutes. I have tried and tested this!
4) Filing a Claim is Easy based on Personal Experience!
A lot of insurance make it easy for you to sign up because that means sales for them. But then they're suddenly difficult to reach when you have to actually use the insurance. 
Thankfully, SafetyWing isn't like that!
My personal experience on getting reimbursed
Throughout 2021, I experienced several troubling symptoms that could not be explained. I already had a check up earlier that year in the Philippines (Healthway) but they failed to give me a proper diagnosis as all my lab tests returned normal and the doctor only prescribed me a pill for heart palpitations. My symptoms continued for months. These symptoms were heart palpitations, sudden dizziness, waking up with chills, and one time my blood pressure went up.
Seeking medical attention, I visited Bumrungrad Hospital, a renowned facility known for its world-class standards. It looks more like a hotel than a hospital. It's expensive too but I really wanted to know what was wrong with me so I didn't hesitate going to a good hospital. I had to consult with a number of doctors such as a cardiologist, neurologist and psychiatrist. In the end, I was diagnosed with panic disorder.
SafetyWing surprised me by covering even the cardiologist and neurologist's fees and tests as my diagnosis was made by the psychiatrist which isn't covered. These tests, including the tilt table tests and EMG, played a crucial role in identifying and eventually diagnosing my condition as panic attack disorder. Although the psychiatrist's consultation fee was not covered, it was minimal compared to the costs of these tests and the cardiologist and neurologist's consultation fees.

After all the necessary tests and checks were completed, I simply had to take photos of the receipts and documents from the doctors and upload them to SafetyWing's claims website, which is facilitated through DocuSign. This seamless process made it convenient to submit my claim without any complications. My total reimbursed amount was over $1500. That already took into account the $250 deductible.
 Cons of SafetyWing
It sounds to good to be true, there must be cons. Yes, with all honesty there are some disadvantages with SafetyWing such as...
1) $250 Deductible
Keep in mind that there is a $250 deductible. This means that you will only get reimbursed after your medical bill exceeds this amount. This amount is per year, still better than other insurances where the deductible is per claim.
I just personally find claiming for the amount less than this a hassle. While I was in Laos, I got bitten by a dog and had to go through four anti-rabies shots at different clinics and countries. The total amount for the shots was less than $100 but I still I had to submit all these documents so it gets counted towards the $250 deductible.
2) Over 69 years old are not covered
I know a lot of Filipinos travel with their family and I have friends who gift their senior parents with a trip abroad. Unfortunately, they do not cover travelers over 69 years of age.
This is a sad fact in any insurance. The older you get, the more likely you are to claim for medical bills. But don't worry, there are other insurances that offer an insurance but for a high price tag.
SafetyWing for Schengen Visa Application
A common question I get is what insurance provider to get for their Schengen visa application. SafetyWing is recognized by Schengen embassies so yes you can submit this for your visa application.
I know of several Schengen visa applicants who got approved and this was the insurance that they provided.
Note that this may still differ per country so check if the country have specific insurance company requirements. For instance, the German embassy now prefers you get an insurance from a German company or from one in their recommended list of insurance companies in the Philippines. I always had problems with insurance companies from the Philippines so I always get one from Dr-Walter which is a German insurance company whenever I apply for a Schengen visa.