I visited my partner in Germany early this year. We were supposed to fly back to the Philippines together but we went to Turkey instead.
Until now, the Philippines won't recognize unmarried couples so my partner still can't enter my home country.
This experience is based on exiting Germany, and not the Philippines. More preparation is needed when leaving my home country. You can read about that here, it includes tips to avoid getting offloaded.
There were no questions asked when I left Germany but the airline staff checked the Turkey entry requirements below.
Entry Requirements for 2021 for All Nationalities
Note: Check for the updated banned countries of origin, this is not based on nationality. Germany is not included in the list.
1. either a full vaccination or a negative RT PCR test
2. HES code which is an online registration with their Ministry of Health.
Here is the link for the online registration which you should accomplish before your flight 
https://register.health.gov.tr/
Print this form as this will be checked at the airport and will also be useful when you're traveling around Turkey, some museums will check it. We also used it when we bought our istanbulkart (public transport card).
3. Philippine passport holders like me need a visa which one gets from the Turkish embassy but I was able to get an e-visa online within minutes through my valid US visa.
The e-visa (for Filipinos) is valid for 30 days.
Meanwhile, my German partner can stay visa free for up to 90 days which makes Turkey a good place to reunite for most binational couples during the pandemic.
There were questions asked and the Turkish Immigration officer only checked for my e-visa and US visa. Turkey was surprisingly easy to enter for both of us!
Optional: Travel insurance is not required but you would be risking your life savings to travel without one especially during these times. I personally use SafetyWing which covers COVID19, political evacuation, etc. It costs US $42 for 4 weeks.
I got this while in Germany and they let you purchase the insurance wherever you are in the world and even if you are already in your destination. Other insurances require you to buy the insurance before you arrive in the country. While some even require you to be in your home country during the time of purchase (at least those available to us Filipinos).
How to Apply for a Turkey e-Visa
Applying for a visa via the Turkish embassy is not covered in this post.
Filipinos would usually need to apply at the Turkish embassy but those with a valid US, UK, Ireland or Schengen visa or residence permit are qualified to apply for an e-Visa. 
These instructions also apply to other nationalities that require an e-Visa
1. Open the official Turkish e-Visa site below and click on Apply Now. Make sure you are at the official site as some have mistakenly applied through an agency and paid more.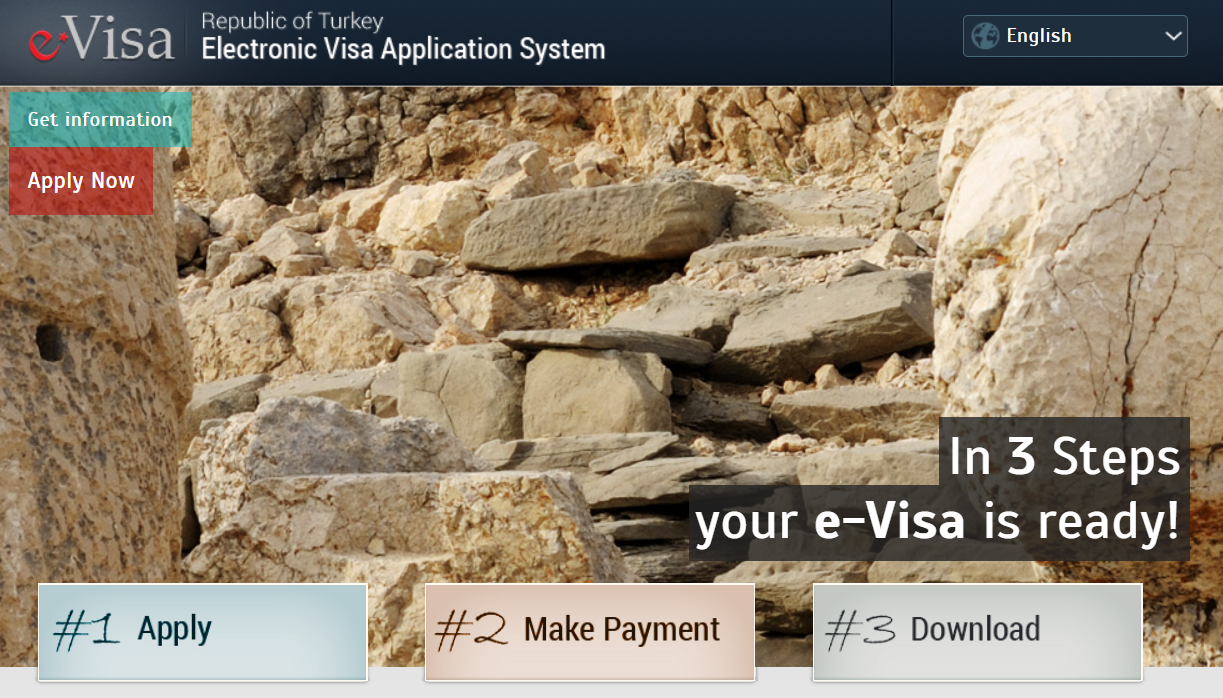 2. The application form is straightforward and you only need to enter your details.
The first page asks for your country of citizenship as the following page is different for other nationalities. 
3. The 2nd page requires your date of arrival. For Filipinos, we are given up to 30 days within a 180-day period which starts from the day of arrival. Other nationalities are given up to 90 days.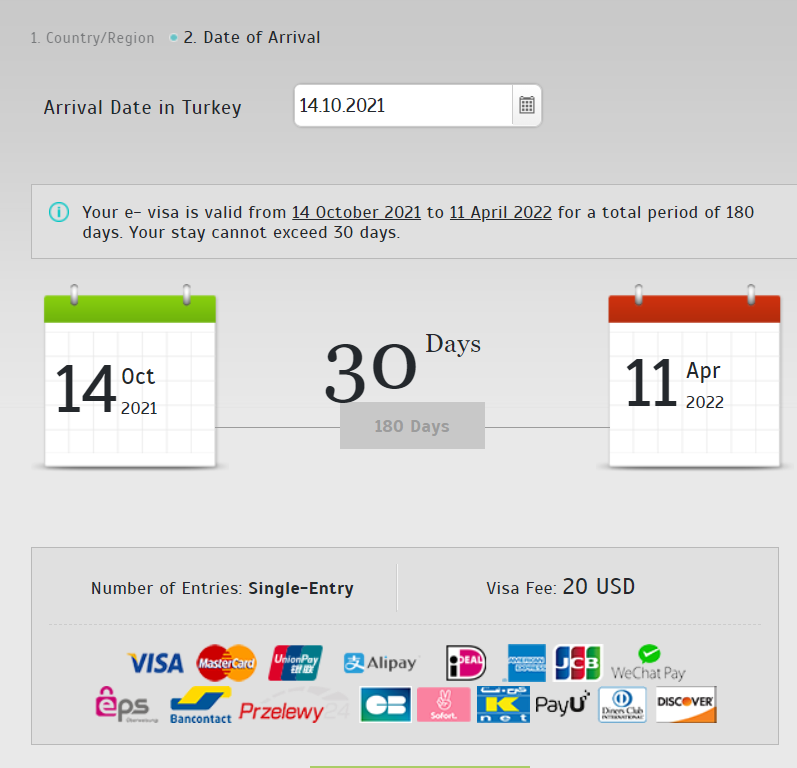 4. The 3rd page lists the pre-requisites. You do not need to upload any of these requirements but you have to make sure you have these upon entry as any of these might still be checked by Immigration and you can be denied entry if you cannot provide these. You only need to tick these items on this page if you meet these criteria:
Valid passport
Onward ticket, hotel reservation and at least USD 50 per each day of your stay in your bank account
Agree that you are traveling for tourism or business
Supporting Document (Valid visa or residence permit from Schengen, US, UK or Ireland. Note that e-visa's are not accepted as a supporting document)
Confirm that you meet the above requirements
I have everything listed above but the Turkish Immigration only checked for the print out of my e-visa and my US visa. Still, prepare all these as they have clearly stated that you can be denied entry if you don't meet their requirements.
5. The 4th page is your personal details and passport information
6. Pay the visa fee of US $20. International cards are accepted such as Visa or Mastercard.
7. An email is sent within minutes after payment where you can download your e-Visa. Print this form.
The whole process took less than 30 minutes!
Some Practical Tips to Get Started in Turkey
✔️ There is an HSBC ATM at the airport which does not charge a fee. Other local banks charge a fee to withdraw money.
Keep in mind that your bank might charge a fee. I use Crypto.com Visa card to withdraw money which doesn't charge a fee. They also provide good exchange rates
✔️ If you are arriving in Istanbul, there is a public transport going to the city center and will drop you off near Taksim Square. Look for the Hava bus parked outside the airport. It's only TL 27.50 per person (3 USD).
There is no exact schedule and the buses depart as soon as the bus is full. Other buses are lined up so you don't need to wait long if you miss the bus. We arrived at midnight and there were still buses, online information says that they only operate until 1am.
You can take the same bus near Taksim Square back to the airport. 
✔️ If you plan to stay long in Istanbul, it will be worth getting an istanbulkart. This can be used for their trains, trams and buses. Their public transport is affordable, well-connected and efficient.
✔️ Get a multiday pass for the museums to save time queueing and it's also cheaper than paying a one-time entrance pass for each museum.
✔️Turkey has an amazing food scene that goes beyond döner and pide. Be open to try out their food from Midye Dolma (mussels stuffed with rice) to different sweets that goes well with Turkish coffee. And they have a big tea culture too!
✔️For an in-depth travel guide especially about Istanbul, check out For 91 Days's Istanbul blog or e-book. We love their restaurant recommendations, a lot are hidden gems!
✔️Everything in Istanbul from transport to food is affordable, except for rent. We find the rates of furnished apartments comparable to Spain but we're happy that the internet speed (even mobile data) is fast enough for digital nomads like me and my partner.
✔️We witnessed a known scam where a guy would drop a shoe brush expecting you pick it up. They will pretend to be grateful and will clean your shoes but in the end will ask for payment.
We only saw this when we were looking for our apartment in Istanbul... and we obviously looked like tourists with our big backpacks (it's a magnet for scammers in any country). 
Nothing happened and we just ignored it even if the guy dropped the shoe brush in front of us twice.
✔️We love Turkey because it's so chill. There were no aggressive touts and vendors. The locals are extremely helpful and the younger ones would even help translate some things for you.