As a couple who loves to travel and explore new culinary experiences, we spent two weeks in Lecce trying out various restaurants and cafes. We have compiled a list of our top favorites that are sure to satisfy your hunger cravings while providing an authentic Italian dining experience.
Fine Dining & Tasting Menu
Lecce, Apulia is home to some of the best fine dining experiences in Italy. During our stay, we had the opportunity to try out a few of these restaurants and have compiled our top favorites.
Sud Kitchen
Sud Kitchen is undoubtedly our favorite restaurant in Lecce due to its unbeatable combination of affordability and exceptional quality. We had the pleasure of experiencing both their tasting menu and à la carte options, and both left us in awe.
The 7-course tasting menu was filled with delightful surprises and it was great value for only EUR 22 per per person. We particularly enjoyed the chef's creative freedom, which resulted in a rewarding culinary experience. Needless to say, we were sooo full after 7 courses. Among the à la carte choices, the prawns with curry sauce stood out as our personal favorite.
3 Rane Ristoro
3 Rane excels in crafting imaginative tasting menus that are artfully presented. With options ranging from a 4-course to a 10-course selection, we opted for the indulgence of the 8-course menu. It proved to be quite a culinary adventure, but we didn't managed to finish every course.
Reservation is advised.
Animaterrae
Animaterrae was a pleasant surprise for us. After failing to make reservations at popular restaurants, we decided to give it a try. We had always been intrigued by its beautiful courtyard. However, it wasn't just the lovely setting that impressed us; the food exceeded our expectations.
They also have a tasting menu option.
Traditional Italian Cuisine
No trip to Italy is complete without indulging in some traditional Italian cuisine. Lecce has plenty of restaurants offering authentic dishes that will transport you to the heart of Italian culinary traditions.
La Cucina di Mamma Elvira
La Cucina di Mamma Elvira is a must-visit for anyone looking to enjoy a blend of traditional and modern Apulian dishes. It was my first time trying donkey meat sausage, and it was absolutely delicious when paired with the creamy chicory and pasta. Even if you're feeling full, I highly recommend indulging in their desserts—they were some of the best we had in Lecce.
It is recommended to make a reservation, best via phone call.
I recommend every dish we tried below.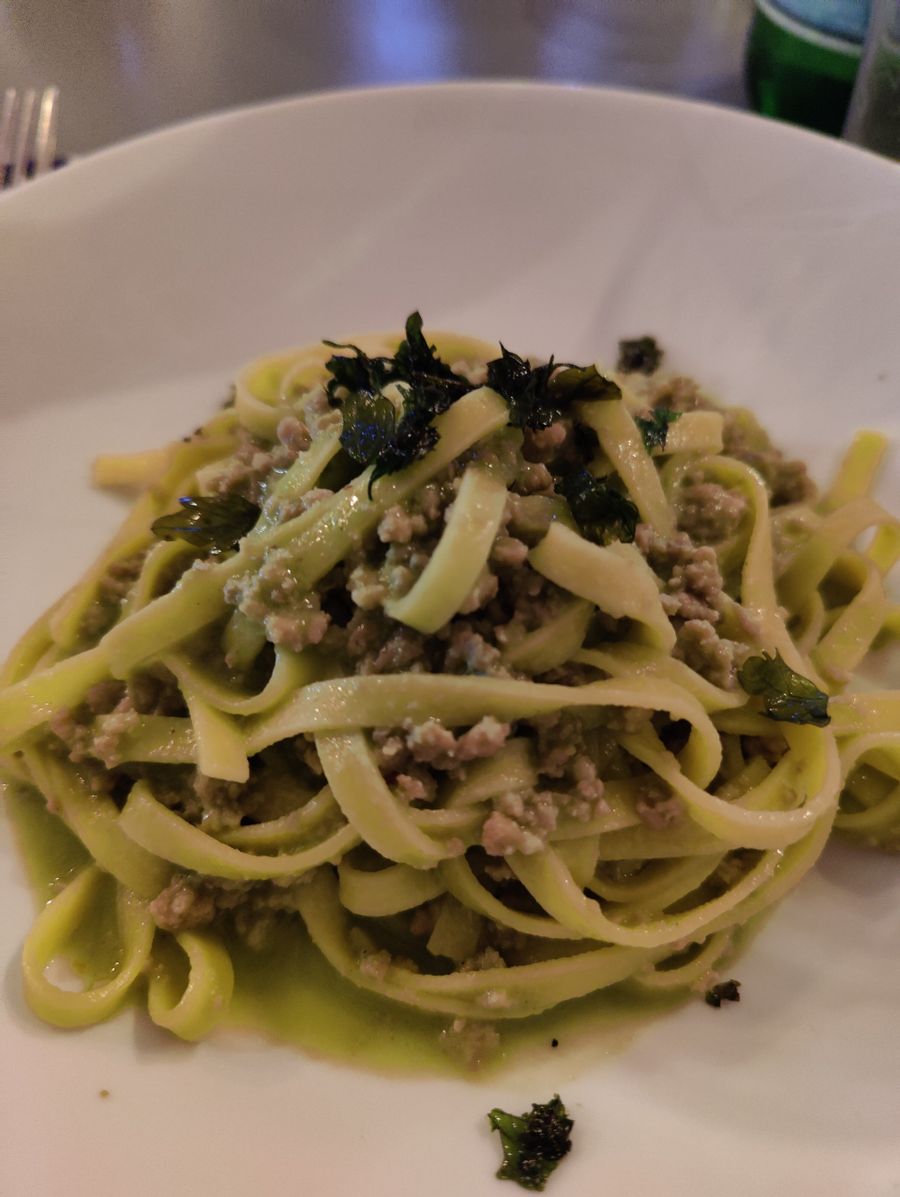 Osteria Le Volte
We stumbled upon this place by chance and saw that it was a favorite among the locals. It has a very social vibe to it where people meet and chat over food. It's located just outside the old town, near 3 Rane.
An osteria is a type of wine bar that over time has evolved to also serve food, particularly traditional dishes.. The atmosphere had an old-fashioned charm to it. 
We decided to try their Tagliata dish with arugula and cheese, as well as a plate of pasta. Of course, we couldn't miss out on trying their wines. For dessert, we enjoyed the Pasticciotto Leccese. They also offer typical dishes from southern Italy.
*One of the most popular traditional restaurants in Lecce is Alle Due Corti but we weren't able to make a reservation at this place. We have heard good things about it aside from the fact that it was made internationally famous by Anthony Bourdain. 
Pizza, Pasta & Street Food
Lecce is home to some of the best pizza and street food spots in Italy. During our stay, we had the opportunity to try out a few of these places and have compiled our top favorites.
Pizza&Co.
Pizza&Co undoubtedly serves the finest pizza in Lecce's old town. The slices are generously large; they say that most people typically have two slices each, the two of us found that we could only manage to share three slices. The restaurant offers both indoor and outdoor seating, creating a relaxed atmosphere. However, we mainly opted for takeout to enjoy cozy Netflix nights at our apartment.
One of the highlights is their diverse selection of flavors. While we enjoyed exploring different varieties, their garlic pizza stood out as the absolute favorite. It became a regular order for us alongside our experimentation with other flavors.
Mezzo Quinto 
If you're looking for a laid-back place with outdoor seating on the central streets of Lecce's old town, Mezzo Quinto is worth checking out. They serve delicious street food that's perfect for a quick bite. One of our top recommendations is their burrata with vegetables, which is creamy and flavorful. Their lasagna is also highly recommended, with tasty layers of goodness. It's a great spot to relax, enjoy good food, and soak in the lively atmosphere of the old town streets.
L'angolino di via Matteoti
If you're in search of delicious puccia sandwiches, be sure to visit L'angolino di via Matteoti. They are known for their flavorful and satisfying puccia offerings, which are a typical street food from the Salento region. You can enjoy a puccia for just EUR 7, and for us, one piece was enough to share. However, if you have a big appetite, you can have a whole puccia to yourself. Experience the authentic taste of Salento street food at L'angolino di via Matteoti.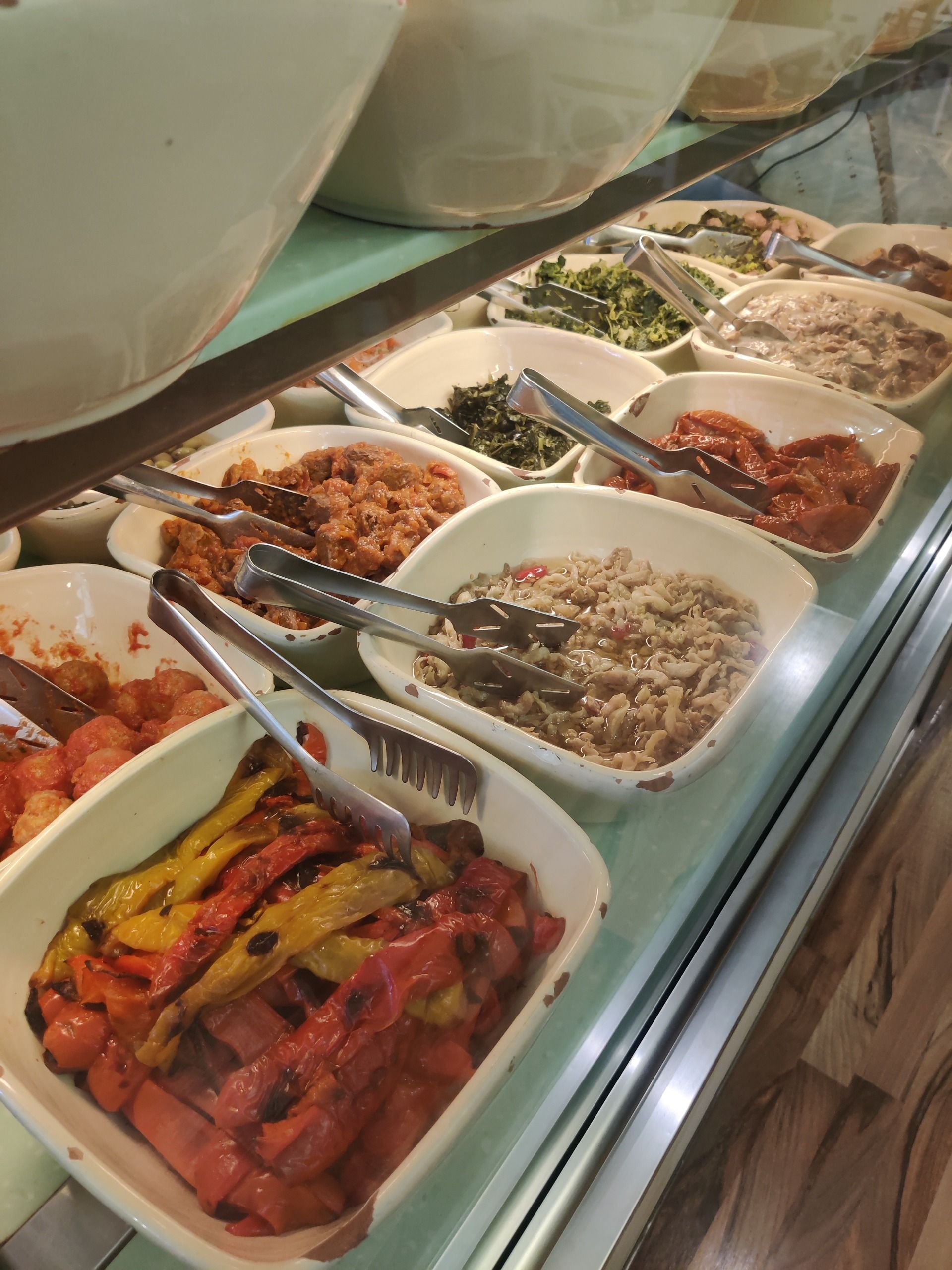 A puccia is a sandwich made of pizza dough that is typical streetfood in the Salento region.
Tranquillo
More than just a bar, Tranquillo makes fresh homemade pasta. They are also perfectly located just in front of the Roman ampitheater. However, drinks can be more expensive than in other restaurants, so ask for the menu.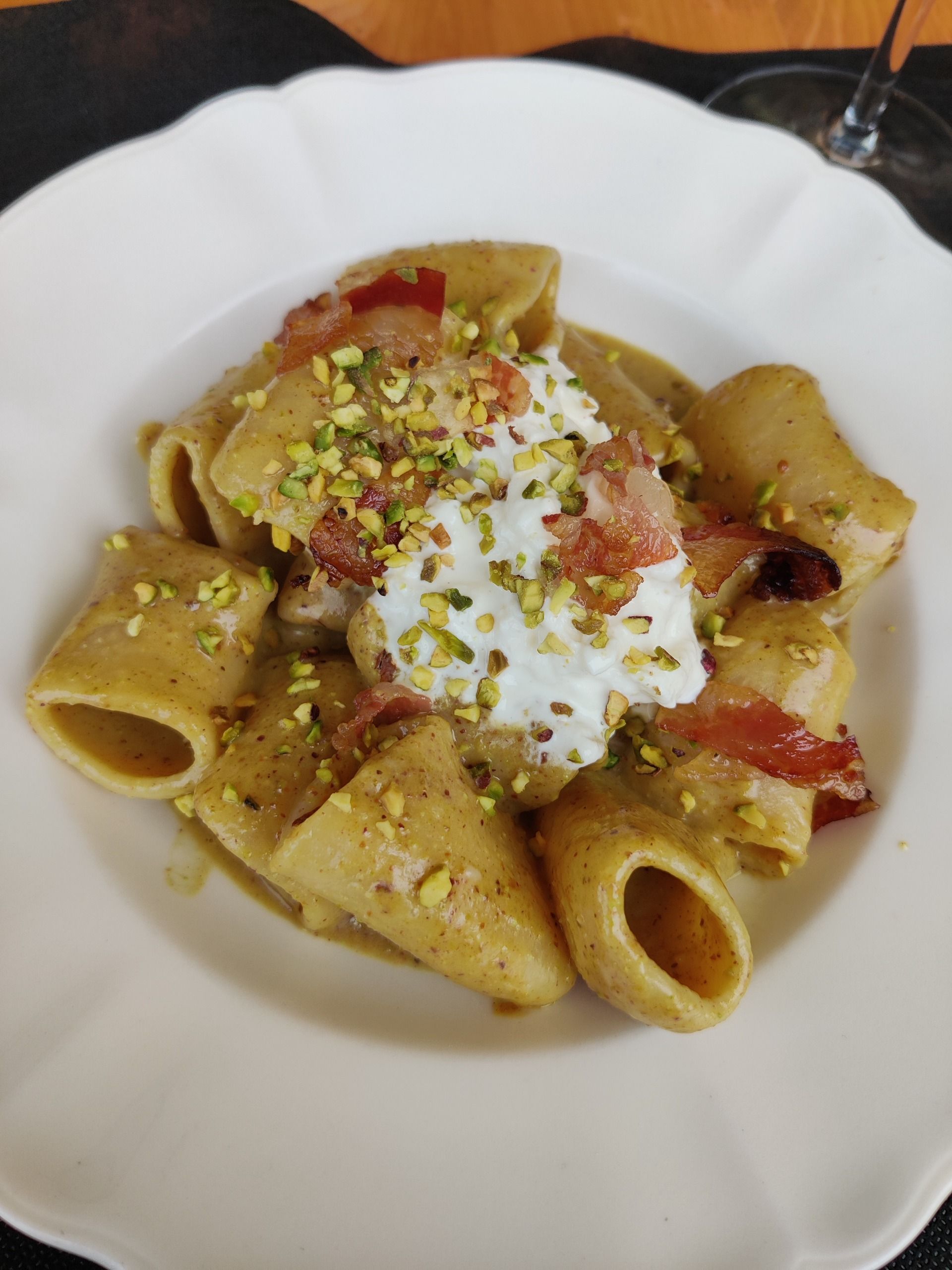 Coffee & Gelato Shops
No trip to Italy is complete without indulging in some gelato or sipping on an espresso at one of its many coffee shops. Here are our top picks for coffee and gelato shops in Lecce.
Flow Bar & Bistrot
Flow Bar & Bistrot is the breakfast spot we absolutely love in Lecce. It offers a pleasant outdoor seating area where you can relax, people-watch, or to just soak up the sun. One of my personal favorites is their ginseng coffee, and they even have a large size available. They also serve refreshing fresh orange juice and a wide selection of coffee and hot beverages, including Orzo.
They have quick breakfast options such as focaccia and pastries. Personally, their rustico is the best in town. Rustico is a local specialty—a savory pastry filled with melted cheese and tomato.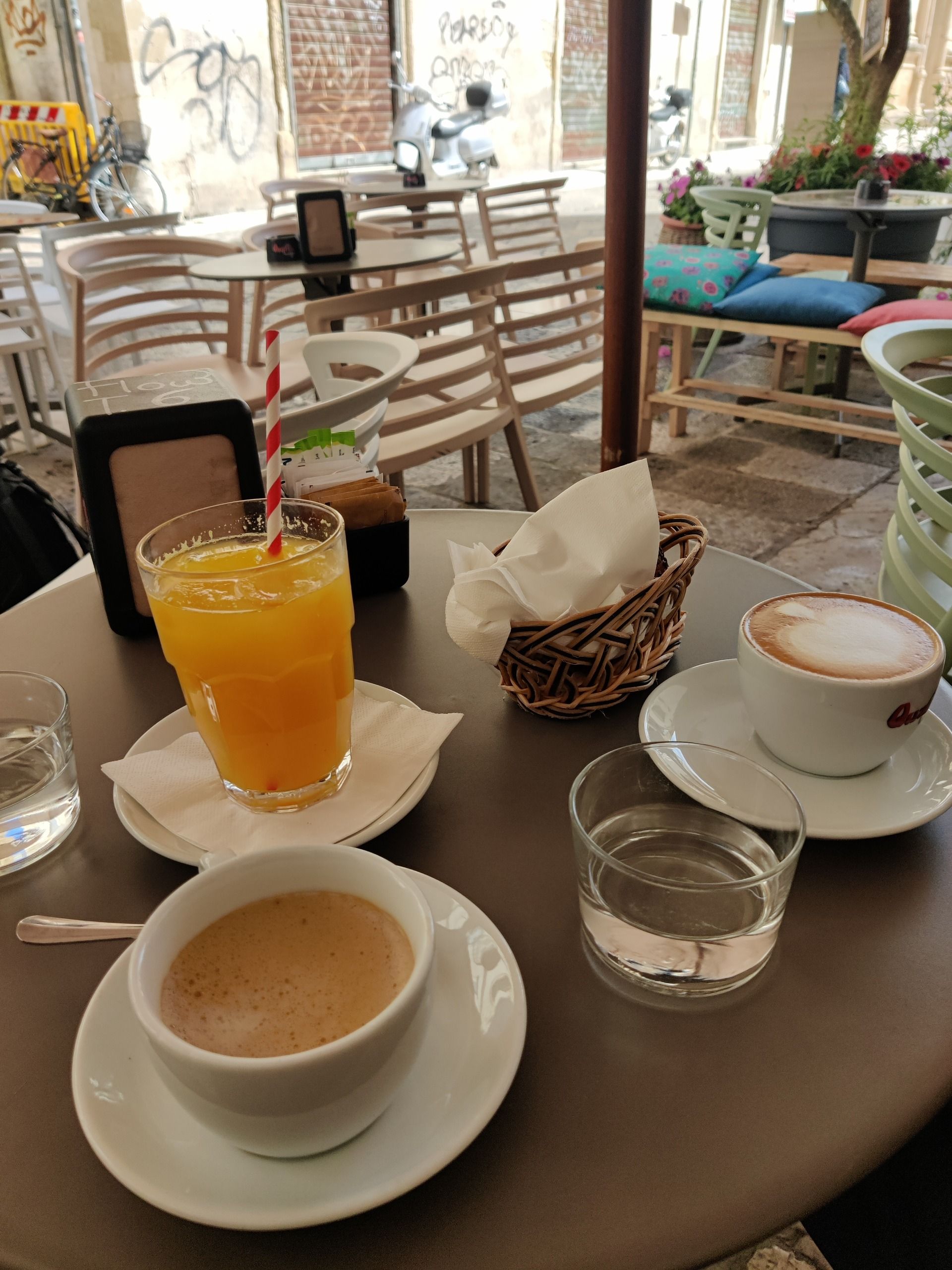 Cafe Cittadino
If you're in search of the best cappuccino in town, Cafe Cittadino is the place to be. They serve exceptional cappuccinos that are sure to please coffee enthusiasts.
The cafe itself has an elegant ambiance with outdoor seating, or you can also drink the coffee at the bar and save on the coperta.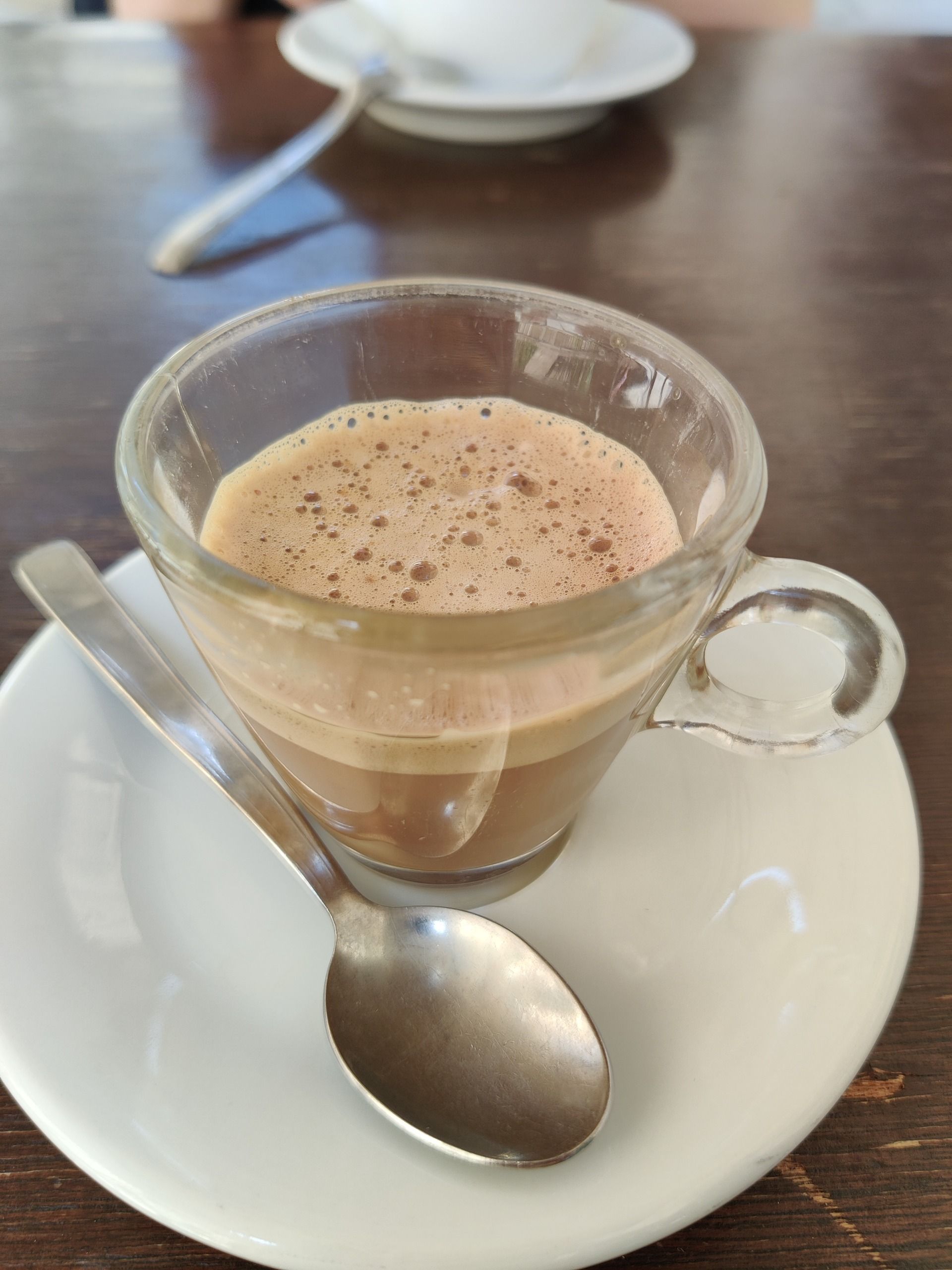 Caffè Alvino
If you're craving rustico and a cup of coffee, Caffè Alvino is another place to go. They serve delicious and authentic rustico, a traditional savory pastry with cheese and tomato filling that is a local specialty. They are centrally located at Piazza Sant'Oronzo with a view of the Roman ampitheater.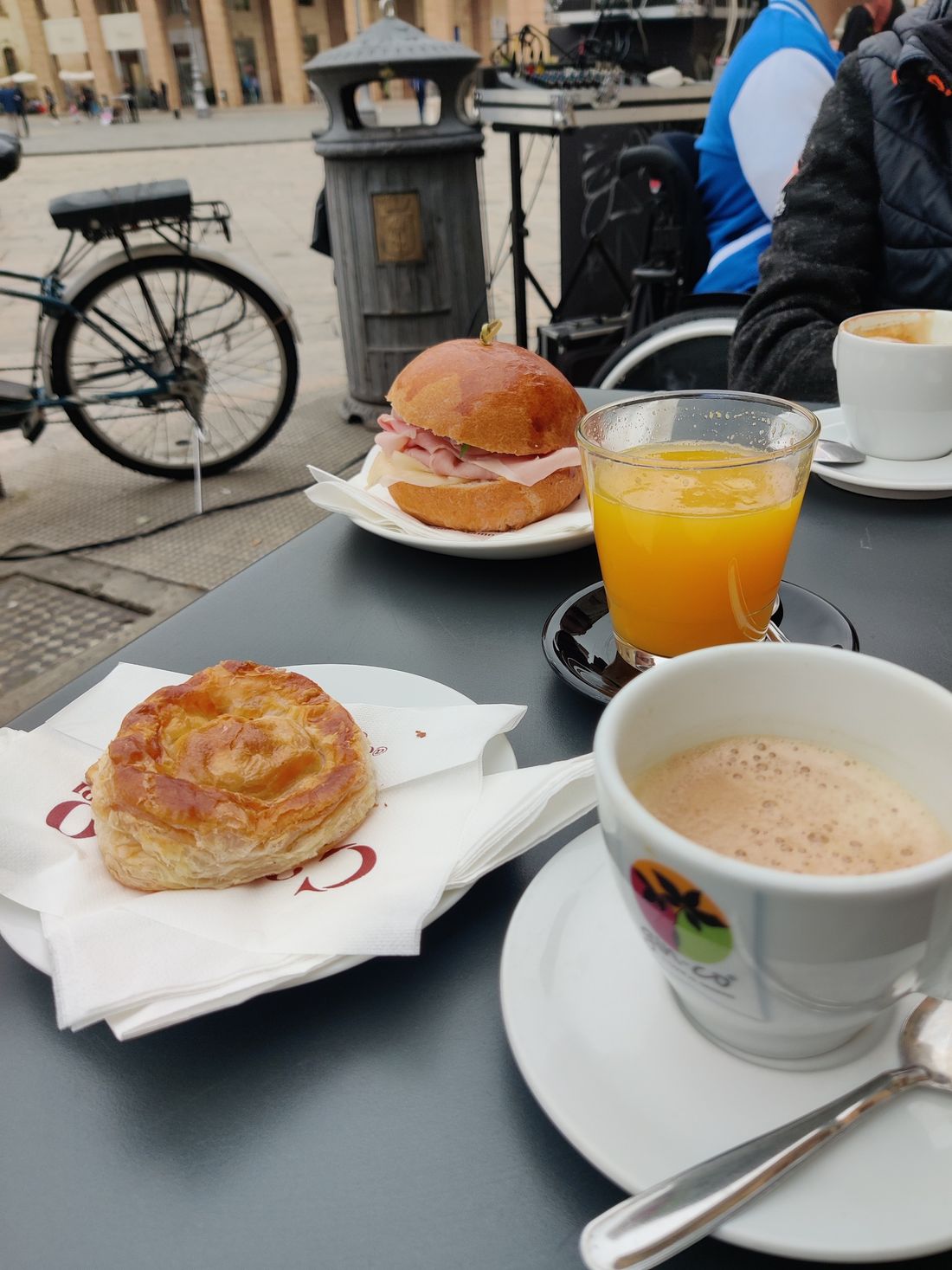 Baldo
There are so many gelato shops in town but Baldo stood out. And if you're having a hard time choosing a flavor, I understand, I want to try them all! If you will only choose one I personally recommend the pistachio flavor.
*Check out Romana too. This was recommended by our host but we weren't able to try it.
Seafood 
Lecce has a diverse culinary scene that goes beyond traditional Italian cuisine. Here's our top pick for seafood .
Da Mimi Fish Restaurant
If you're a seafood lover, Da Mimi Fish Restaurant is worth a visit. Located outside the old town near the shopping area, this restaurant offers a variety of fresh seafood dishes at a good value for money.
Their menu features everything from classic fried calamari to more adventurous options a raw mix of seafood. 
Final Advice Before Visiting Lecce
Lecce is a hidden gem in the heart of Apulia that offers a diverse culinary scene catering to all tastes and budgets. From fine dining experiences to street food spots serving up quick bites on-the-go, there's something for everyone in this beautiful city.
But if you find yourself short on time to fully explore all the wonderful restaurants and local specialties in Lecce, fear not! There's a fantastic solution that will allow you to savor the city's culinary delights in a convenient and immersive way—a food walking tour that also covers the history of Lecce. These expertly designed tours take you on a gastronomic journey through Lecce, allowing you to sample a variety of local dishes and flavors without the hassle of extensive research or planning.  Don't let limited time hinder your culinary exploration—embark on a food walking tour and indulge in the flavors of this charming Italian city.
We hope our guide has inspired you to visit Lecce soon! Don't forget to share your favorite dining experiences with us in the comments below.
More about Lecce