Ciao and welcome to the charming city of Lecce, nestled in the heart of Apulia, Italy. We had the pleasure of living in this city for two weeks, during which we delved into its baroque architecture, picturesque alleys, and stunning piazzas. In this comprehensive guide, we will take you through the top things to do in Lecce and help you plan your trip with ease.
Explore Lecce Old Town
Lecce's Old Town is a charming place to wander around and explore. It is renowned for its Baroque architecture, narrow alleys, gates, and beautiful squares. The old town has many hidden gems that are worth discovering.
Admire Baroque Architecture
One of the most striking features of Lecce's Old Town is its stunning Baroque architecture. The city is known as the "Florence of the South" because of its ornate buildings and churches. Take a stroll through the streets and admire the intricate details on each building.
Wander Through Narrow Alleys
The narrow alleys in Lecce's Old Town are perfect for getting lost in. You never know what you might find around each corner! You'll come across small shops selling local products and artisanal crafts, cafes with outdoor seating, and beautiful courtyards.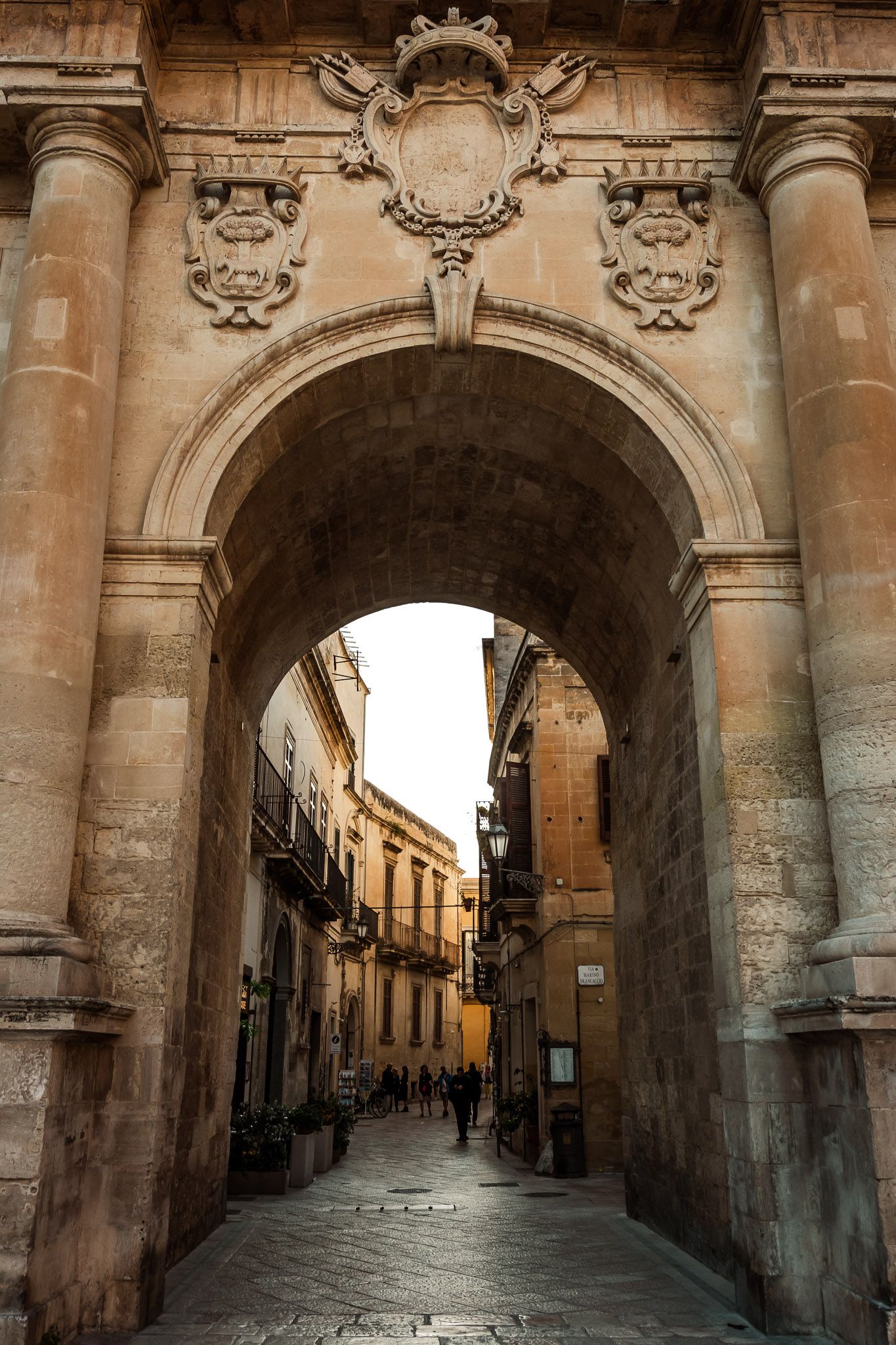 Visit Beautiful Squares
Lecce's Old Town has several beautiful squares that are worth visiting. Piazza del Duomo is the most picturesque and is at the heart of the old town. Another square worth visiting is Piazza Sant'Oronzo where you can see remnants from Roman times such as an amphitheater or simply have a Caffe Leccesse at one of the cafes around.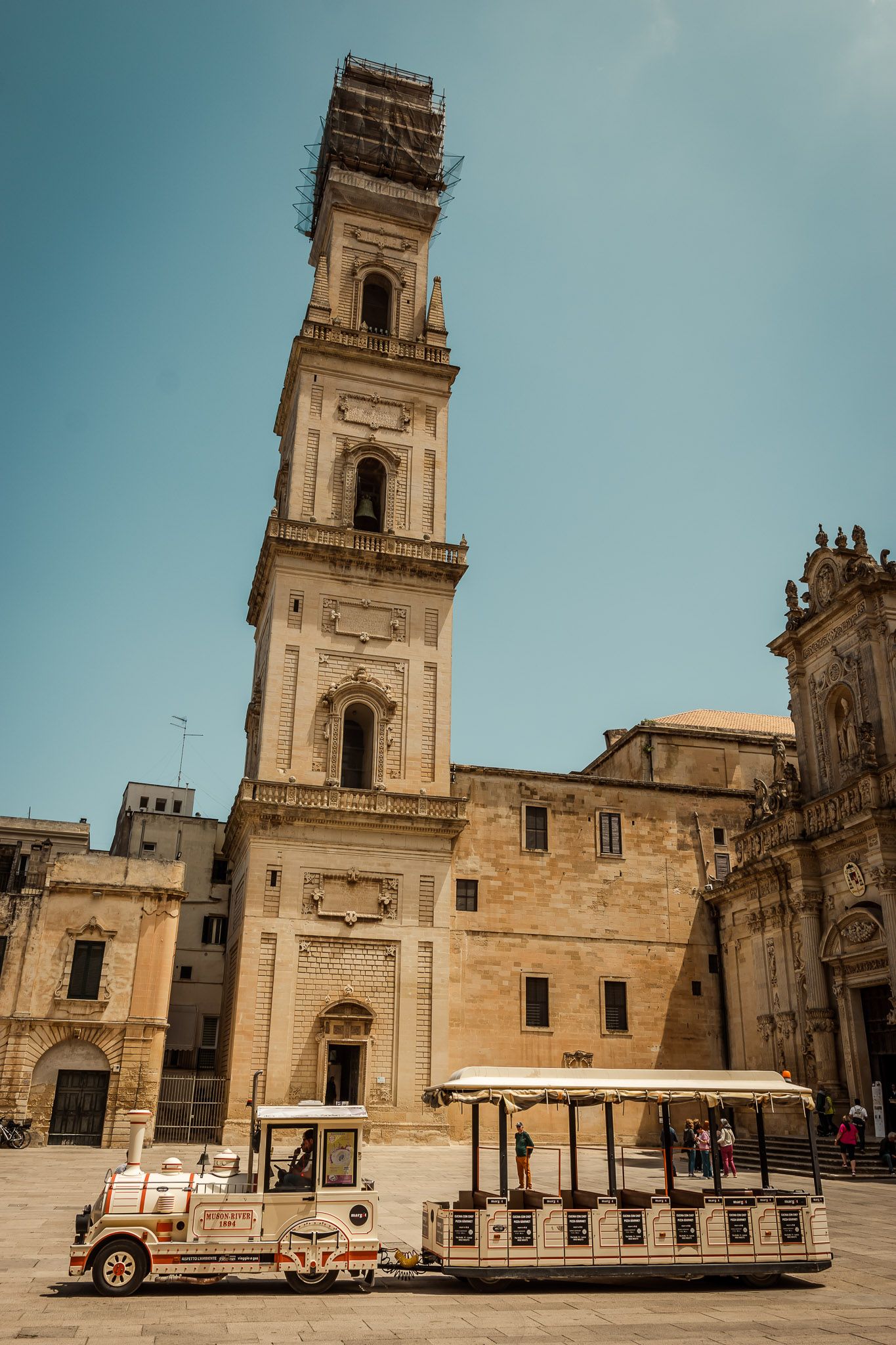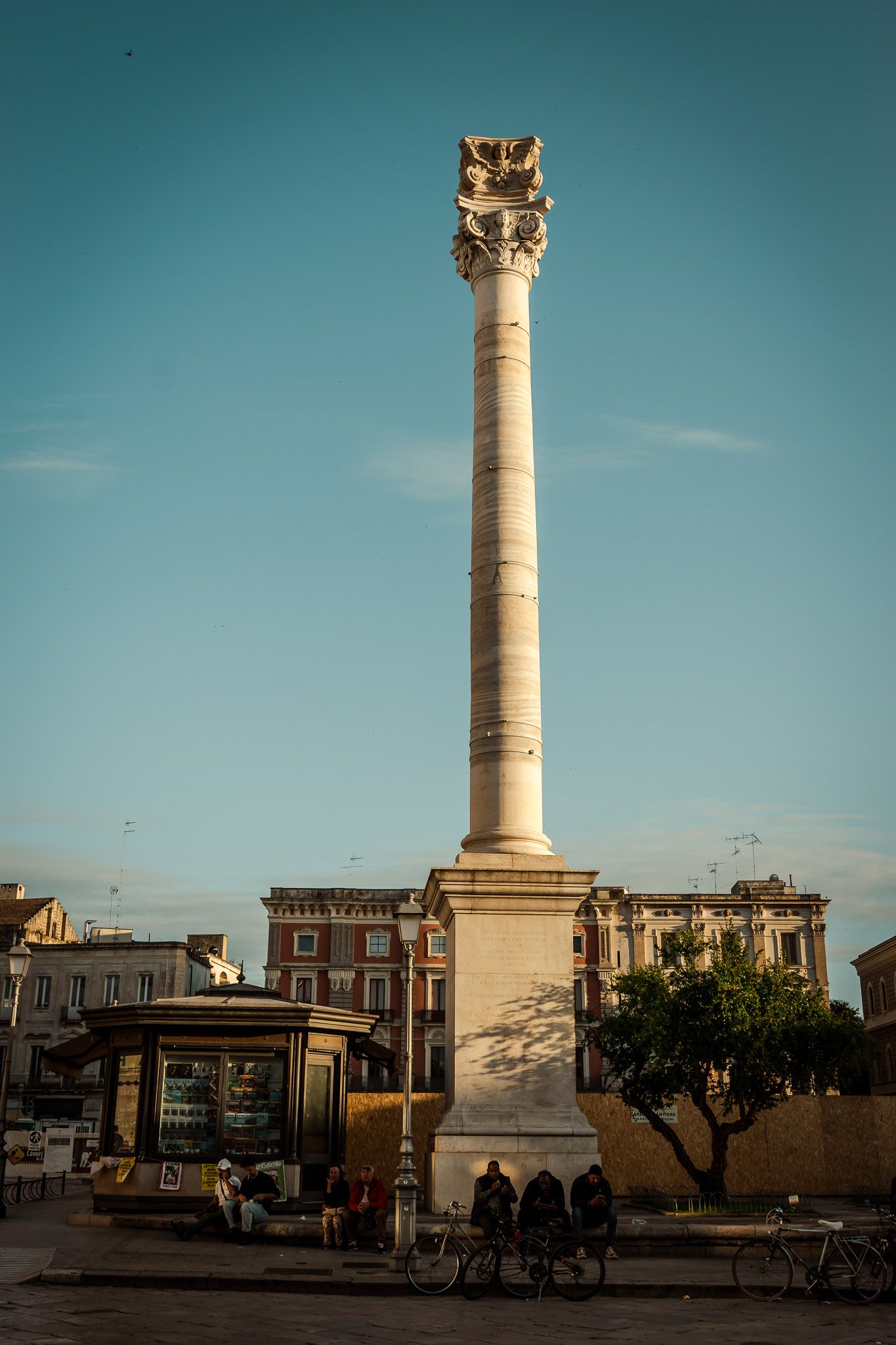 Take a Guided Walking Tour
While wandering around Lecce's old town can be enjoyable on your own, taking a guided walking tour will help you learn more about this fascinating city. 
We love guided walking tours because there's a lot of insider stories you wouldn't find out on your own such as myths of some small statues on a building that you can easily miss. It's also a nice overview about the place. At the end of the tour we like asking our local guide for restaurant recommendations.
Our guide was able to take us through some legends and inside stories that we wouldn't have learned otherwise if we were just exploring on our own or by Googling information online. We discovered that "Lecce" comes from a Latin word meaning light, not milk as we had previously thought due to its Spanish pronunciation (leche). Taking a guided walking tour also helped us understand more about the history and culture of Lecce.
Tours are usually 2 hours or more. There is a free walking tour, but since they had to dates available during our time there, we found a great alternative. You can book a walking tour here. Or combine your history lesson with a food walking tour as well with this highly rated tour by Antonella.
Get the LeccEcclesiae Combined Ticket
Admiring the beautiful churches is an essential experience if you want to take in the baroque architecture of Lecce. Unlike in many other places in Italy, the significant churches in Lecce are not free to visit. If you want to visit some of the most important churches in Lecce, getting a combined ticket is your best option.
The LeccEcclesiae ticket costs 9 euros and allows you to visit six sites: Cathedral, Basilica of Santa Croce, Church of Santa Chiara, Church of San Matteo, Seminary and Diocesan Museum.
The ticket is valid for 15 days so it's perfect if you don't have time to see everything in one day. You can buy the ticket online on the official website or from several vending points. We bought our ticket at the Seminary at Piazza del Duomo.
Note that you cannot take photos inside the church when there is a mass but attending a mass is free, of course. 
Getting single tickets isn't really worth it as they cost around 5 to 6.50 euros depending on the site. Plus with a full ticket, not only do you save money but also time as there are fewer queues when purchasing tickets compared to buying individual ones for each site. 
Here are some information about each site included in this ticket:
Cathedral
No visit to Lecce would be complete without seeing its magnificent Cathedral! Located in Piazza del Duomo (Cathedral Square), it stands out with not only one, but two facades.
The interior of the cathedral is just as impressive as its exterior, with beautiful frescoes, paintings, and sculptures.
Basilica di Santa Croce
The Basilica di Santa Croce is another must-visit site included in Lecce's combined ticket. This church is a true masterpiece of Baroque architecture and art.
The most striking feature of this church is its facade, which is adorned with intricate carvings and sculptures depicting religious scenes and figures. The interior of the basilica is just as impressive, with ornate frescoes, paintings, and sculptures.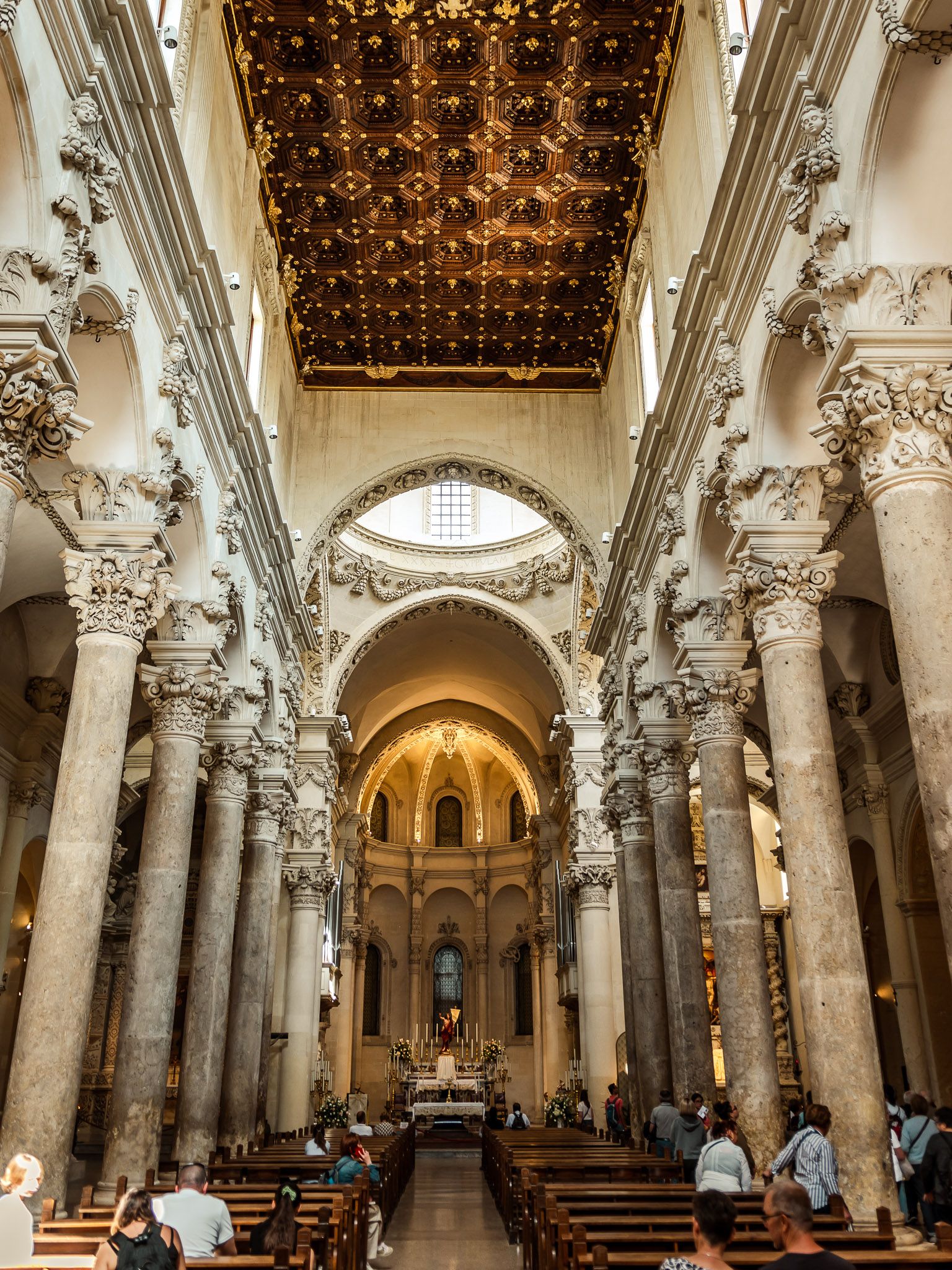 Church of Santa Chiara
The Church of Santa Chiara is another gem included in Lecce's combined ticket. The interior has stunning frescoes on its walls and ceilings depicting scenes from Saint Clare's life along with other religious figures.
Church of San Matteo
Last but not least on our list is the Church of San Matteo! The church's facade may seem simple, but once inside, you'll be amazed by its beautiful frescoes and paintings. 
Seminary & Diocesan Museum of Sacred Art
The seminary features a nice courtyard and houses several exhibitions in its rooms. Don't miss the stairs going up to the Diocesan Museum of Sacred Art. This museum houses an impressive collection of religious art from different periods, including paintings, sculptures, silver items, and more.
Check out Lecce's Roman Heritage
While exploring Lecce, you can't miss the Roman amphitheater located at Piazza Sant'Oronzo. The amphitheater is surrounded by cafes and shops, making it a great spot to take a break and enjoy the beautiful surroundings.
However, there's one thing that you might miss if you're not paying attention - the hidden theater. The hidden Roman theater is just a few steps away from Piazza Sant'Oronzo on the side of a small alley. It's fenced so you might miss it if you're not attentive. It's worth taking some time to explore this hidden gem as it provides an insight into Lecce's rich history.
Visit Faggiano House Museum
If there's only one museum that you should visit in Lecce, we highly recommend the Faggiano House Museum. This private house museum was discovered by accident when its owner was trying to fix a plumbing issue! The son of the owner was kind enough to tell us more about the place and its fascinating discovery story.
They were able to uncover artifacts from Messapi era (pre-Roman), which indicates that it was already inhabited even before ancient Rome existed! It was also revealed that it served as a sacred place of worship for Knights Templar during medieval times.
You can go up and down the cistern where they found these historical treasures while seeing layers upon layers of history unfold before your eyes.
Explore Other Museums
Apart from Faggiano House Museum, there are many other museums in Lecce worth visiting:
MUST (Museo Storico Citta di Lecce) may not be a must visit, but is a great option for those who want to learn more about Lecce's history. Combining an art gallery with their permanent exhibition about Lecce makes this museum unique compared to others.
Palazzo Vernazza: This palace was built in the 16th century and now houses a museum that showcases Lecce's rich history.
Museo Ferroviario della Puglia: This railway museum is perfect for train enthusiasts. It displays old locomotives, wagons, and other railway-related items.
All of these museums are worth visiting if you have time during your trip to Lecce. The entry price varies from 5.50 euros to 8 euros depending on the site, but discounts apply to students, teachers, and other groups.
Lecce is a city full of surprises. From hidden theaters to medieval landmarks, there's always something new to discover around every corner. Whether you're interested in history or just want to explore the beautiful streets of this charming city, Lecce has something for everyone.
Admire Views from the Bell Tower
If you're looking for a panoramic view of Lecce, then the bell tower, which is called "Up!", is definitely worth checking out. Although it costs 12 euros to enter, the elevator ride to the top is well worth it as it takes you 43 meters high and gives you an amazing view of the city. We recommend doing this on a clear day so that you can see all of Lecce's beauty in its full glory.
You can buy the ticket for Up! at the same ticket counter as that of the LeccEcclesiae ticket, just at the seminary entrance.
Eat and Drink
When in Italy, one cannot miss out on the culinary delights that the country has to offer! However, it's true that as a tourist, finding authentic and reasonably priced Italian food can be quite a challenge. But worry not, for the charming town of Lecce in Southern Italy boasts an array of dining options that cater to all budgets and taste buds! 
The town has managed to retain its authenticity and offers a plethora of eateries that serve delicious, home-style cuisine that is easy on the wallet. From lip-smacking street food to fancy fine-dining spots, Lecce has got you covered.
I wrote a detailed blog post on our favorite restaurants in Lecce. Read it here.
If you have more time, take a cooking class where you'll learn how to make an Orecchiette, which is their traditional pasta, and other dishes. Eating the food you just learned how to prepare would not only be filling but also fulfilling!
Shop
Linen lovers will be pleased to know that Lecce has many shops selling high-quality linen products. What we love about shopping in Lecce's old town is that most of the stores are artisanal shops and there are also outlet stores of Italian brands, not just commercial brands like those found in other popular tourist destinations. If you prefer popular brands, there are also options available just outside the old town where the shopping area is located.
For souvenirs, we highly recommend trying Il Fornaio's biscotti - they make for a delicious treat to bring home! They also have other items such as pasta which might be easier to carry around.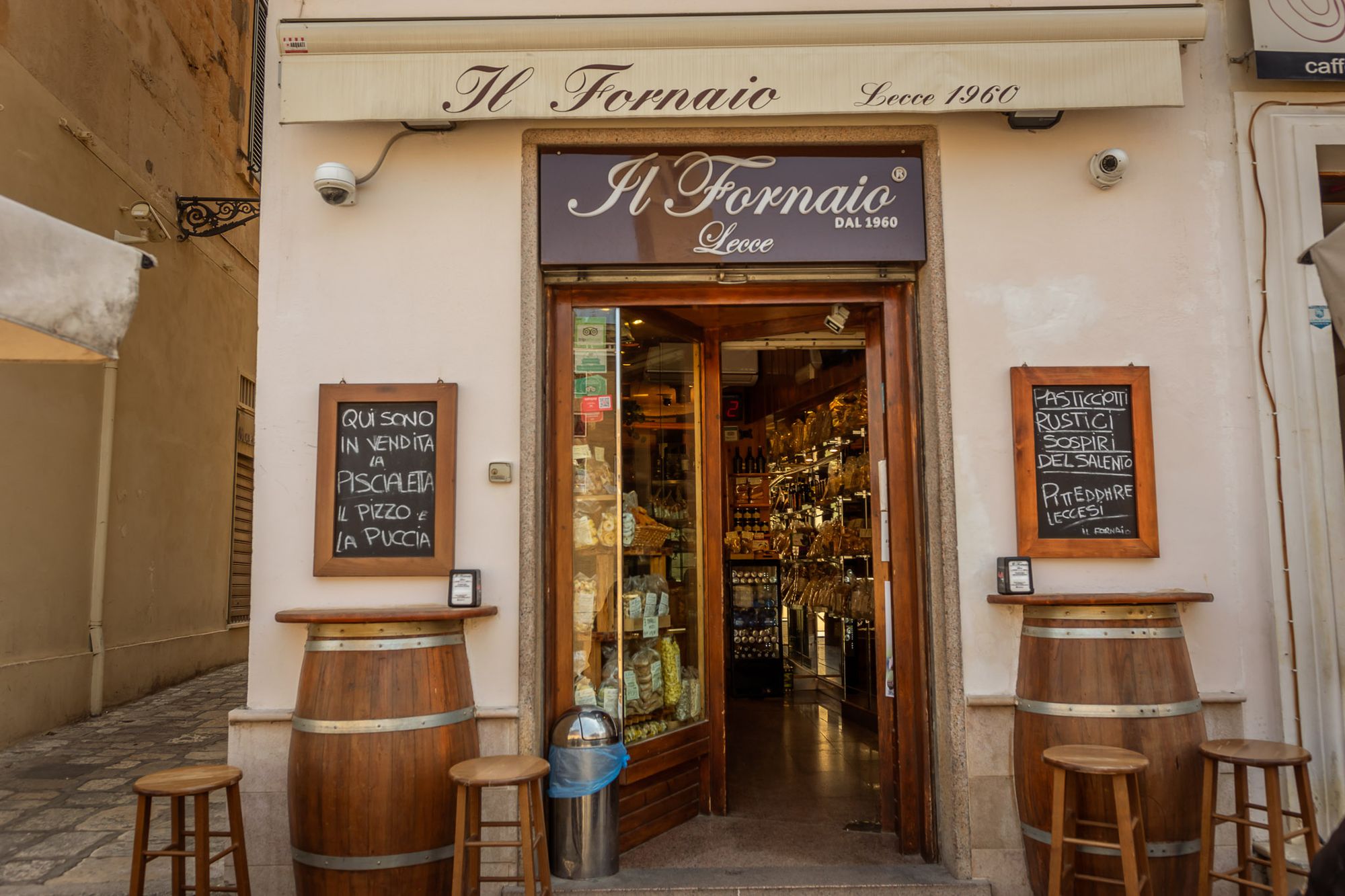 If you are ever in Lecce on a Monday, check out the weekly market at Viale dello Stadio. It's a huge market that sells fresh produce and clothes, you will find good quality Italian clothes at low prices from outlet stalls. If you do not get to see this, you might still see them in other towns in Puglia as they move around during the week, except Sundays. Market is open from 7:30am to 1pm but I noticed that they start to pack at 12:30pm. Most locals shop here so the prices are very reasonable.
Go on Day Trips from Lecce
Lecce makes for a perfect base if you want to explore more of Salento region because it is well connected by public transport. If you don't have your own car or prefer not driving around unfamiliar roads, then taking day trips from Lecce could be an excellent option for exploring nearby towns and villages.
We did two day trips from Lecce: Otranto and Gallipoli/Galatina. Otranto has direct bus connections every Sunday (and will have more buses during the peak season) while Galatina and Gallipoli have daily train connections which are on the same train line so we were able to visit both places in one day!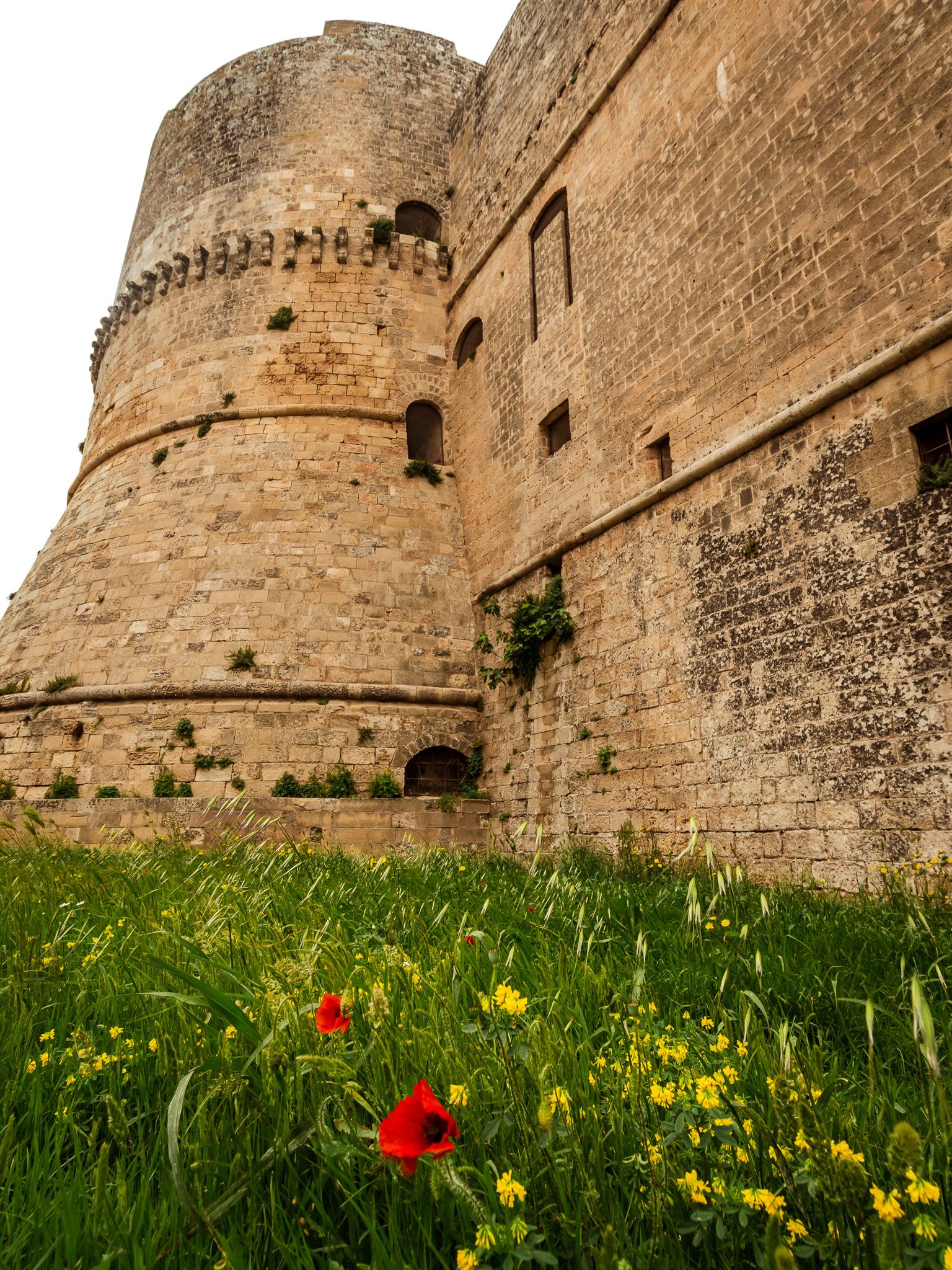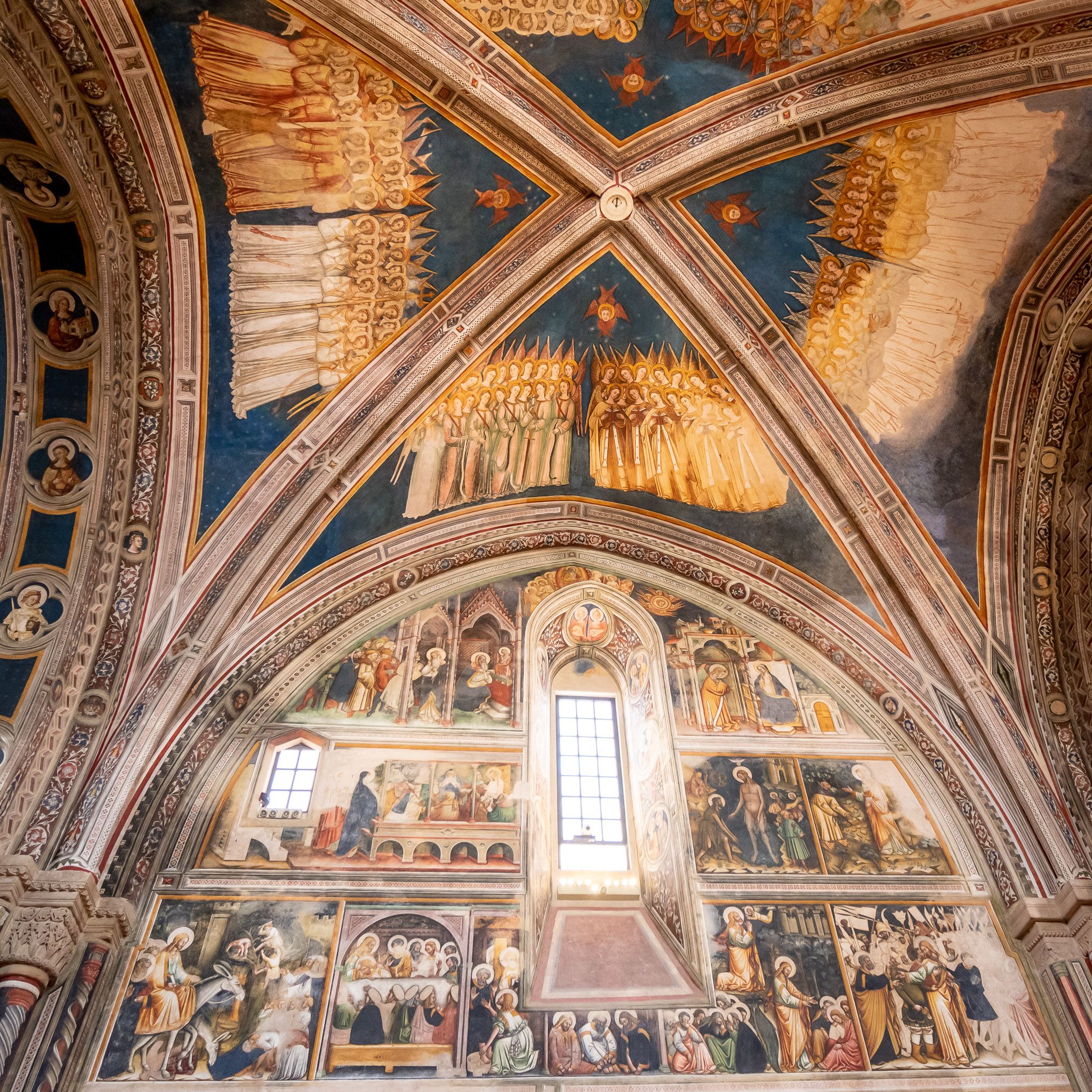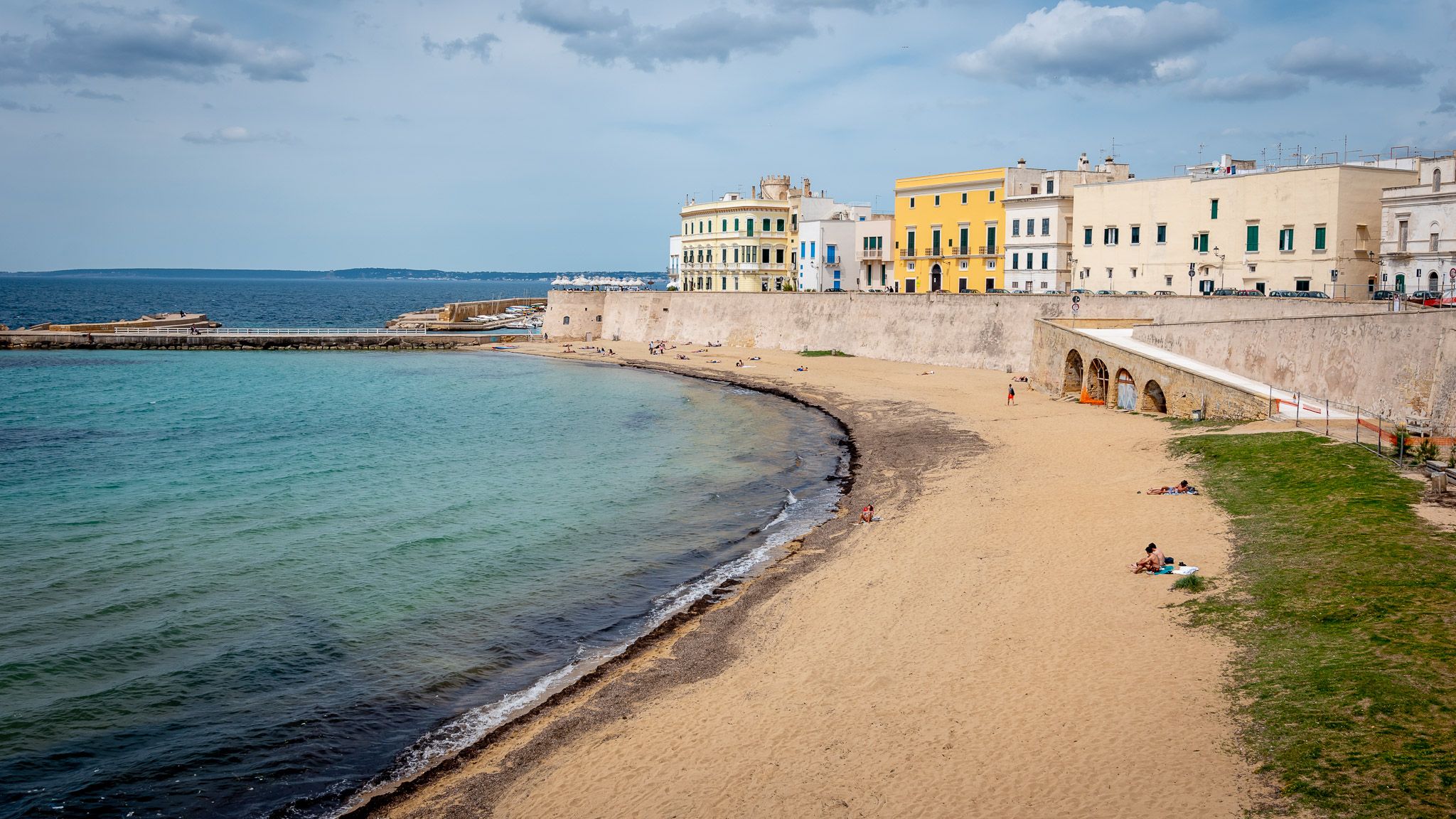 Other places in Apulia that can be visited include Martina Franca, Locotorondo and Alberobello among others because they are well connected. We didn't go on day trips there because we moved and stayed a few nights in those places.
Where to Stay in Lecce?
ConVivo Apartment - Palazzo Galateo 
$ mid-range
We personally recommend the spacious 1-bedroom stone apartment where we stayed for 2 weeks. This is perfect for a couple but it looks like they can accept more than 2 guests because there was an extra folding bed.
Our hosts, Emmanuel and Valentina are the most thoughtful hosts. You can see how they put so much love .on their newly renovated apartment.
There are 2 apartments in the complex but we never really felt the other guests' presence because we have a private entrance to the 2nd floor. We chose the one with a terrace and rooftop where we would usually have our breakfast.
The apartment on the lower ground looks pretty as well and it's even more spacious.
Here's our video tour of the apartment:
For budget option, B&B La Dimori dei Profissori has double rooms with private shower and is just walking distance to the historic center.
For luxury, you can relax in one of the elegant rooms at La Fiermontina Luxury Home Hotel and dine at their highly rated restaurant. It's also perfectly located in the old town.
Another great option is Palazzo Sant'Anna Lecce which is just beside the Church of Saint Anne, walking distance to numerous restaurants and bars. It's in the very heart of the old town. It was formerly a mansion, so you can enjoy the modern amenities with dreamy courtyards and terrace views.
Conclusion
Lecce is a city that offers something for everyone, from exploring ancient churches, hidden theaters to enjoying delicious Italian cuisine. With so many things to do and see, it's no wonder why Lecce is becoming an increasingly popular tourist destination in Italy.
We didn't rent a car in our entire Puglia trip, we only needed it in Basilicata. Lecce is also well-connected by public transportation. However, if you do not have enough time, renting a car is still the best option as train travel time is always longer than through a car.
To summarize our guide:
Start your journey by wandering through the charming streets of Lecce's Old Town
Take a guided walking tour to learn about legends and inside stories
Get the LeccEcclesiae Full Ticket to visit important churches
Check out Roman Amphitheater and Hidden Theater
Visit Faggiano House Museum and other museums in the city
Admire Viewpoint from Bell Tower
Eat and Drink
Shop for High-Quality Linen products & other Italian products
Go on Day Trips from Lecce
We hope you enjoyed reading our comprehensive travel guide to Lecce! Don't forget to share your experiences with us if you decide to visit this beautiful city.
https://www.youtube.com/shorts/VUhtZNgwwSU
Read my other blogs about Puglia