May 2021 Update: The Philippines now require 10 days of hotel quarantine + 4 days of home quarantine, if you test negative. RT PCR test will be administered on the 7th day from the previous 6th day.
List of Quarantine Hotels has been updated as of 27 May 2021 DOH inspected facilities. Jump on the Table of Contents.
June 2021 Update: Shorter hotel quarantine of 7 days and no tests for those fully vaccinated in the Philippines but no protocols yet for those vaccinated abroad. Check the news for the protocols.
The Philippines is one of the strictest in terms of requirements and procedures. I think there's more than 20 steps to return to the Philippines in this guide! 
I warn you that I am really detailed so if you want a condensed instruction, check the DFA infographic.
This is based on my actual experience after I visited Germany thru Unmarried Couple Visa, a bit more detailed, and consistent with the DFA procedures. 
This also applies to any country of origin but you have to check specific airline or transit requirements such as an RT PCR test.
BEFORE YOUR FLIGHT
1. Check if you need to take an RT-PCR Swab test before your flight.
This requirement depends on your transit and destination.
The Philippines does not require a negative test to show upon arrival. Instead, you need to undergo a 10-day hotel quarantine and an RT  PCR test on the 7th day.
I read that some countries like Qatar require a negative test even if you are just transiting.
My flight was from Frankfurt, transiting Dubai, via Emirates and an RT PCR test is NOT required. 
Dubai does not require a test if you're coming from Germany but requires it if you're coming from the Philippines . The policy is different for every origin and destination.
(An odd testing policy considering Germany has much more cases that the Philippines, anyway...back to the procedures)
This can be best checked with your airline as well.
2. Pre-register for a RT-PCR swab test at the PADLAB (Philippine Airport Diagnostic Laboratory System) no later than 3 days before your flight 
For terminal 1 and 3 passengers, click here.
For terminal 2, click here.
I registered on the terminal 3 link. The form is quite lengthy and the following information were asked: personal information, employment, travel history (for the travel purpose, I indicated "Returning Resident), contract tracing, special population (I indicated "Traveler"), exposure history, symptoms, payment (GCash or Over the Counter).
Once submitted, you will be re-directed to a page that says it was successful and includes your QR code. Print and keep this QR code/ transaction ID as this will serve as your ID when transacting with PADLAB

You can still register with PADLAB when you arrive in NAIA. However, the airline staff checked for my PADLAB transaction ID so better do this pre-flight for a smoother boarding process.
3. Pre-book an accredited quarantine hotel and arrange transport.
I personally booked mine at the Courtyard Hotel Pasay because it's affordable and near the airport. It's the only accredited hotel in Metro Manila that offers a room for less than P1000 a night (P529 per day average as price/ discount vary per day in Agoda).
Aside from the cost for 6 nights and 7 days, you have to consider the transportation cost as you have to arrange this with the hotel.
This hotel is only 3 kilometers from the airport but transportation cost is P450! If the hotel does not provide transport service, you can get an airport taxi when you arrive.
You are not allowed to get a Grab.
For the list of accredited hotels, see the list below or head over to the table of contents above so you can easily jump to the list.
I got this list from the Department of Tourism via FB messenger on 16 Feb 2021. Always check with them for updates as the DOT/ DOH links of inspected hotels are not working.
OPTIONAL PRE-FLIGHT
4. Pack snacks and instant food you can take for your quarantine.
Only if budget is a concern.
The meals at the quarantine hotels are mostly overpriced (and not the best at my choice of hotel) and some hotels do not allow food delivery services like FoodPanda.
ON THE DAY OF FLIGHT
1.  Prepare travel documents and requirements.
At Frankfurt airport, I was asked the following requirements by the Emirates staff:
flight itinerary
passport
PADLAB transaction ID QR code
pre-booked quarantine hotel (the staff checked the number of days so book 6 nights and 7 days). UPDATE: The requirement is now 10 days.
2. During the Frankfurt-Dubai flight, you have to wear your mask at all times except when eating, of course. 
3. At Dubai transit, nothing was asked. You just follow the usual process when changing flights.
4. During the Dubai-Manila flight, you have to wear a mask at all times. Face shield was not required.
Face shield was only required from my previous flight from Manila to Dubai.
Fill out the white arrival card (usual card for Immigration) and yellow health declaration form which will be given by the cabin crew.
ARRIVAL AT NAIA 3
The following procedure looks lengthy but the entire process only took 30 minutes. It was very organized and there were officers who can assist you.
1. Before disembarkation, a BOQ (Bureau of Quarantine) officer will brief you on the process and what to expect when you step on NAIA.
2. AT NAIA, the yelllow health declaration form will be collected before you enter the briefing area.
OFWs and non-OFWs are segregated, you will see signs where to go.
3. An officer will provide you an Affidavit of Undertaking to fill out. Submit it to the same officer once you're done. 
Read and understand what you're signing. Follow what you have agreed to as this is a legal document, as it states...
In case of my failure to observe the mandatory facility quarantine, I shall be held civilly and criminally liable under existing laws of the Philippines in addition to the provisions of Section 9 (b) and (e) of Republic Act 11332...
5. Proceed to the DOT (Department of Tourism) booth which is just near the briefing area. Prepare your pre-booked quarantine hotel and PADLAB transaction ID.
6. The DOT staff will verify your hotel and ask about your transportation. They will issue you a Dispatch form. Keep this as you need to give this to the coast guard before leaving the airport.
7. The next counter is the PADLAB verification and payment. They accept cash and credit card payments. The RT PCR test costs P4000.
Keep the receipt with reference number and transaction slip as you would need to present this on the 7th day. 
A PADLAB nurse will visit your quarantine hotel on the 7th day. Due to the number of tests they conduct, they could not provide the time when they will arrive at your hotel.
8. Once you have received PADLAB receipts, you may now proceed to get your baggage and pass through Immigration.
9. Message your hotel when you're ready to be picked up. You can wait near the departure gate.
10. Before leaving the airport, the coast guard will ask for the Dispatch form (from step 6) and will also check some papers from the driver to ensure that you're going to an accredited quarantine hotel.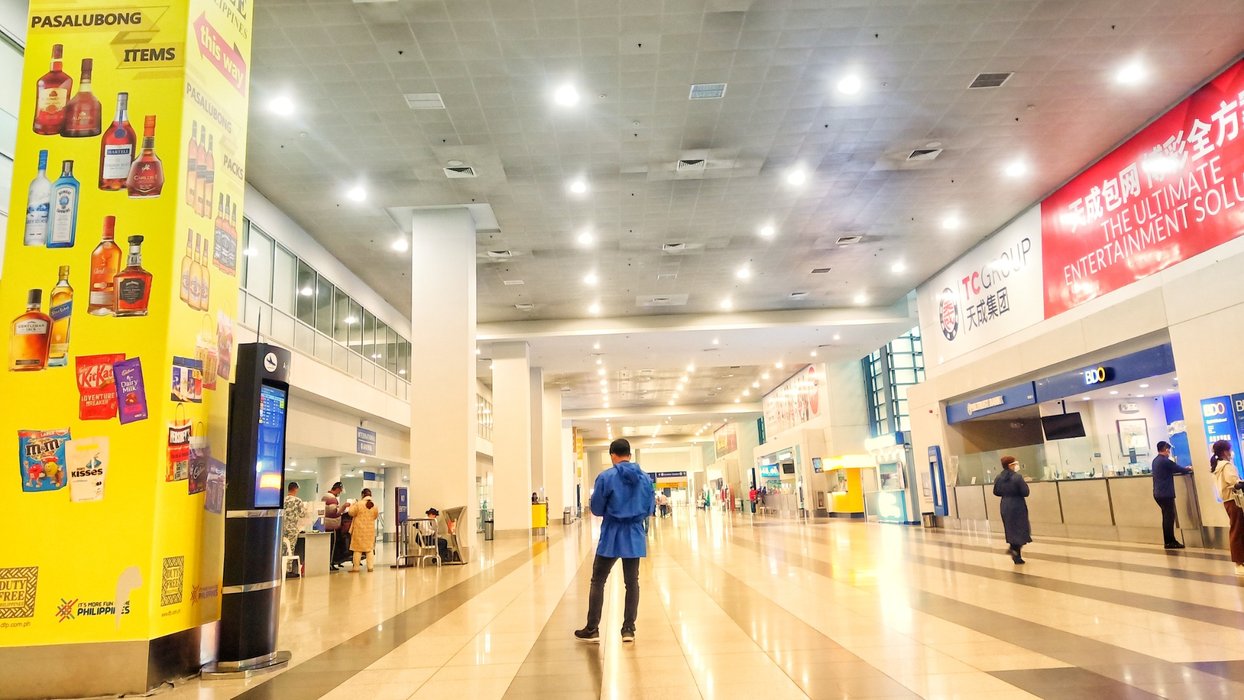 DURING QUARANTINE
1. Observe quarantine protocols such as wearing a mask and maintaining safe distance.
You can order food from the hotel. Whether you can get food delivered depends on the hotel's policies.
You are not allowed to go outside of the hotel premises.
 2. Call or message your LGU (Baranggay) to request for a Letter of Acceptance. If your Baranggay doesn't respond, contact the city or town.
This is one of the most confusing part as it seems that my LGU is unaware of this process. They didn't provide me with a Letter of Acceptance and advised me that a negative result will suffice for me to go home.
Still, report to your LGU as it's their responsibility if they would monitor your home quarantine. It's better to do this step as you have signed an Affidavit of Undertaking stating that failure to observe quarantine procedures is a civil and criminal offense.
3. On the 7th day, PADLAB will visit your hotel for your RT PCR test.
Prepare your passport, PADLAB transaction ID (the page with the QR code you got from your pre-registration) and the transaction slip & receipt you got at the airport.
PADLAB visits several hotels in a day so they can arrive at any time, even in the evening. I had my test at around 5pm and received the result the following day at 2pm.
They will email the results within 24 hours.
For follow up, contact PADLAB Facebook Page.
GOING HOME
1 You can go home once you have received the email showing a negative result. Get clearance from your hotel staff.
I forwarded the email to the hotel as proof.
UPDATE: You now have to complete 10 days of hotel quarantine
2 Inform your LGU that you are about to go home and continue observing home quarantine for the next 4 days. 
COMMON QUESTIONS
Can I take a Grab car to the quarantine hotel?
NO.
Only the accredited hotel's transport service and airport taxi are allowed.
The purpose of the quarantine is to isolate from the general population so interaction during this period is limited.
How much is the quarantine cost?
The RT PCR test with PADLAB costs P4000.
Cost of accredited hotel, transport to hotel and daily meals varies. Whether you will be allowed to order from GrabFood or FoodPanda depends on the hotel policies so check this ahead of your flight.
The cheapest hotel near the airport is Courtyard Hotel in Pasay. I paid and average of P529 per night in May 2021 (regular price is P750 but got a discount through Agoda) for a solo fan room with free breakfast (just bread, jam, coffee and they have free drinking water).
Other costs were P450 for transport, and an average of P300+ per day for meals.
I spent less than P10,000 for the entire week of quarantine (swab test, hotel, transport, food). This is the cheapest I could get.
Expect to pay more in other hotels. The average price I see is around P3000 per night. Of course, those are more comfortable hotels.
What happens next if the result turns out positive?
I do not have firsthand experience on this (thankfully!) but the staff told me that you will be transferred to a government facility and this will be free.
LIST OF DOT & DOH-BOQ ACCREDITED HOTELS (with Estimated Price)
I sent an inquiry to DOT and got the following updated list of accredited hotels on 16 Feb 2021 for STRINGENT AND MANDATORY QUARANTINE.
The list below has been updated as of the DOH inspected facilities list as of 27 May 2021. You can cross check the hotels here but I already did that for you ;)
I took the estimated lowest rate for each hotel based on the Agoda price for MJune 2021 bookings. Please note that the price varies per day too and there are days when Agoda gives a higher discount or none at all. 
This price is just an estimate for one person per night on June 2021.
I arranged it per city, and then from budget to luxury (highest to lowest), to make it easier for you to choose.
Click on the link to see actual rates for your intended date of stay, reviews and photos. The links lead you to Agoda Booking page with discounted rates.
The list below is suited for STRINGENT AND MANDATORY QUARANTINE. For a complete list of hotels including MANDATORY ONLY, check my blog here.
PASAY 
Lowest to Highest Rate per Night
The Courtyard Hotel Roxas Blvd from P580 average Agoda discounted price (click on link) or P750 regular price if you book with them directly for fan room, contact them thru FB for transport P450
Kabayan Hotel (Building A) P1,785
Nichols Airport Hotel P1,792
Hotel Sogo Roxas Blvd P1,821
Urban Travellers Hotel P1,833
Selah Loft Pasay P1,934
Asiatel Airport Hotel P1,939
Go Hotels Airport P1,999
Red Planet ASEANA P2,115
Copacabana, Edsa Pasay P2,204
88 Courtyard Hotel Roxas Blvd P2,585 
The Selah Garden Hotel Pasay P2,699
Networld Hotel P2,999
Selah Pods Pasay P3,246
The Heritage Hotel P3,600
Golden Phoenix Hotel, Macapagal P3,638
Savoy Hotel P3,702
Microtel Wyndham, MoA P3,721
Belmont Hotel Manila P4,231
TRYP by Wyndham MoA Pasay P4,427
Midas Hotel P4,730
Citadines, Manila Bay P4,767
Sofitel Philippine Plaza P5,863
Conrad Hotel Seaside Blvd P8,007
Manila Marriott Hotel P9,947
The Henry Hotel Manila can't find an available date*
Hotel Jen/ JEN Manila by Shangri-La can't find an available date*
Sequioa Hotel Manila Bay can't find an available date*
Hop Inn Hotel Aseana City can't find an available date* 
Kingsford Hotel Manila Manila Bay can't find an available date*
Pinoy Pamilya Hotel can't find an available date*
MAKATI 
Lowest to Highest Rate per Night
Eurotel, Makati P1,512
Red Planet Hotel, Makati P1,558
Lub D Hotel Makati P1,872
Privato Hotel, Makati P2,054
U Hotels Makati P2,139
Y2 Residences, Makati P2,403
E-Hotel Makati P2,504
The Sphere Residences- Makati P2,534
Makati Valero Grand Suites by Swiss Belhotel P2,638
Giles Hotel, Makati (P1,718 sold out for June), lowest price room P2,775
City Garden Hotel – Makati P2,869
The Charter House -Makati P2,882
Picasso Hotel- Makati Salcedo P3,184
Crown Regency Hotel Makati P3,439
City Garden Grand Hotel – Makati P3,752
Astoria, Greenbelt P4,021
MAXX Hotel Makati P4,074
New World Hotel Makati P4,274
Seda Residences, Makati P4,455
Somerset Olympia Makati P4,524
Holiday Inn and Suites -Makati P4,615
Lourdes Suites Makati P4,815
Hotel Celeste, Makati P4,999
Citadines, Makati Salcedo P5,107
Tiara Oriental Hotel – with conditions P5,758
IM Hotel, Makati P5,956
Dusit Thani Hotel- Makati P5,968
Makati Diamond Residences P6,026
The Alpha Suites, Makati P6,092
Discovery Primea Hotel – Makati P8,264
Ascott Makati P10,346
Raffles and Fairmont Hotel, Makati P17,303
Oyo Nano Suites Fort 55 can't find an available date*
El Cielito Hotel Makati can't find an available date*
Nest Nano Suites – Makati can't find an available date*
1898 Hotel Colonia – Makati can't find an available date*
Royal Bellagio Hotel – Makati can't find an available date*
Ritz Astor Hotel – Makati can't find an available date*
Green Sun Hotel, Makati can't find an available date* 
Herald Suites, Chino Roces can't find an available date*
Herald Suites, Polaris can't find an available date*
Herald Suites, Solana can't find an available date*
MANILA
Lowest to Highest Rate per Night
Eurotel, Pedro Gil P1,420
Manila Grand Opera Hotel Sta Cruz P1,654
Red Planet Mabini P1,755
Vieve Hotel Ermita P1,783
Hop Inn Hotel Ermita P1,808 
Octagon Mansion Hotel, Manila Malate P1,921
Swiss Belhotel Blulane Hotel – Manila Sta. Cruz P1,987
Go Hotel, Otis P2,173
Hotel Lucky Chinatown Binondo P2,267
Hotel Kimberly Manila P2,289
City Garden Suites- Manila Ermita P2,421
Manila Lotus Hotel P2,457
Cosmo Hotel and Studio Suites Espana P2,462
Go Hotels Ermita P2,444
The Aloha Hotel P2,624
Bayview Park Hotel Manila Ermita P2,724
Executive Hotel, Manila P3,048
Winford Hotel P3,321
Manila Prince Hotel Ermita P3,324
Armada Hotel, Manila P4,444
Ramada by Wyndham  Manila Central Binondo P4,620
The Manila Hotel Rizal Park P5,469
Diamond Hotel Manila Malate P6,628
Sheraton Manila Bay Malate P8,109 
H2O Hotel Manila Ocean Park P39,999 to 192,000+ (varies a lot per date)
Pearl Garden Hotel can't find an available date*
Windy Ridge Malate, Manila can't find an available date*
Hotel 2016- Manila can't find an available date*
Best Western Hotel La Corona Ermita can't find an available date*
Amelie Hotel Manila can't find an available date*
Rizal Park Hotel can't find an available date*
Pearl Blossom, Manila can't find an available date*  
Casa Bacobo Ermita can't find an available date*
Century Park Hotel, Manila Malate can't find an available date*
City State Tower Hotel Manila Ermita can't find an available date*
Cosmo Hotel and Studio Suites P. Campa  can't find an available date*
Toilena Room Board and Lodging – with conditions can't find available date*
The TNKC Hotel Malate (not in Agoda, no website)
UN Residences
BONIFACIO GLOBAL CITY
Lowest to Highest Rate per Night
F1 Hotel BGC P4,792
Seda BGC P6,977
Ascott- BGC P8,632
PASIG
Lowest to Highest Rate per Night
Red Planet Hotel, Ortigas  P1,797
Privato Hotel, Ortigas P2,206
Exchange Regency, Ortigas P2,574
The Linden Suites, Ortigas Center, Pasig P3,454
Richmonde Hotel, Ortigas P3,472
Citadines Millenium, Ortigas P4,147
Discovery Suites Ortigas P4,877
Crowne Plaza Hotel, Ortigas P5,500
Holiday Inn, Ortigas P5,796
Marco Polo Hotel, Ortigas P6,102
MAXX Hotel Ortigas can't find in Agoda and other booking sites
QUEZON CITY
Lowest to Highest Rate per Night
Winter Hotel Benitez Cubao P1,101
Red Planet, Aurora Blvd. P1,399
Go Hotels Timog P1,988
Privato Hotel, QC P2,223
Summit Hotel, QC Magnolia P3,320
Hive Hotel, QC P3,327
MC Hotel- Fairview P3,390
Wynwood Hotel Ortigas link to their website P3,451
Microtel by Wyndham Acropolis  Libis, QC P3,695 
Park Inn by Radisson North Edsa P3,923
Hotel Rembrandt QC  P4,263
Microtel by Wyndham- UP Technohub P4,361
Novotel Cubao Araneta P4,505
Seda Vertis North P4,767
Winter Hotel Imperial Cubao can't find an available date*
Go Hotels North, Edsa can't find an available date*
Sequioa Hotel QC can't find an available date*
Luxent Hotel, Timog QC can't find an available date*
Simplicity Co-living and Co-working, QC can't find an available date*
Brentwood Suites can't find an available date*
The B Hotel, Quezon City can't find an available date*
Casa Pura Inn and Suites Quezon City  can't find an available date*
Madison 101 Hotel and Tower, New Manila  can't find an available date*
Myplace  can't find an available date*
Stone House Hotel Quezon City  can't find an available date*
Vista Hotel Cubao can't find an available date*
Wow Hotel Aurora Cubao not in Agoda, link to their Contact page
Hotel Fox Novaliches, not in Agoda, link to their FB page  
SAN JUAN
Elan Hotel Annapolis P3,185
ALABANG
Parque España Alabang P3,189
Azumi Boutique Hotel, Alabang (w/ conditions) P3,759
Crimson Hotel, Alabang (w/ conditions) P4,518
Somerset Alabang Manila P5,122
Acacia Hotel, Alabang P5,478
Bellevue, Alabang P5,999
LAS PINAS
Mella Hotel C5 Ext. Las Pinas P7,225
CAVITE
Microtel Eagle Ridge P2,821
Microtel South Forbes P3,527
TAGAYTAY
Royal Parc Hotel- Tagaytay P2,614
Cabin by Eco Hotels P2,747
Days Hotel- Tagaytay P3,071
Container by Eco Hotels P3,232
Estancia Resort Tagaytay P4,083 
Hotel Domonique – Tagaytay can't find an available date*
Tagaytay Haven- Mendez can't find an available date*
LAGUNA
Paseo Premiere Hotel Santa Rosa can't find an available date*
Techno Park Hotel – with conditions can't find an available date*
BATANGAS
Microtel Batangas P4,034
Unspecified: Great Eastern Hotel (website) contact to check if this is for Makati or QC
---
*For the hotels where I can't find an available date, you may click on the link and check on your preferred date. I tried randomly checking different dates but I kept getting a "sold out" or "just missed it" result. 
---
I initially got the list from Department of Tourism and the recent updates are from the DOH website.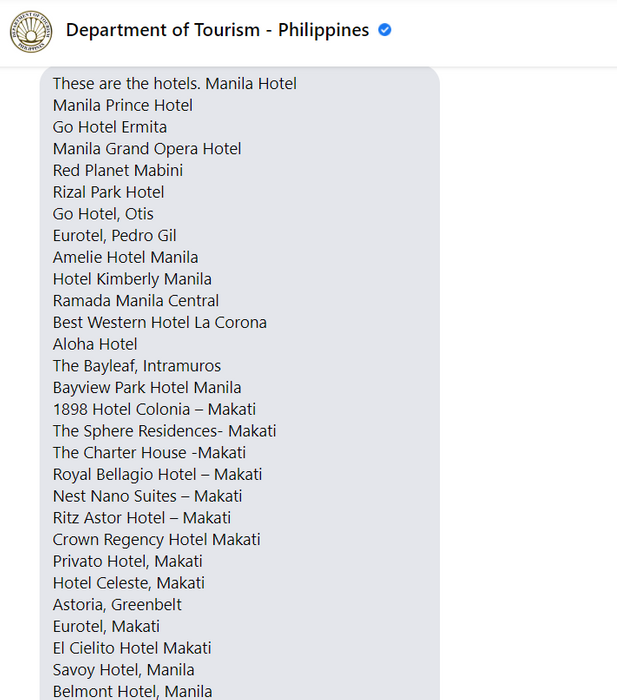 For updates, follow me on Facebook or follow my digital nomad journey in Instagram.
I posted a separate blog that lists all quarantine hotels including MANDATORY ONLY. This lists is longer so I had to put it in a separate blog: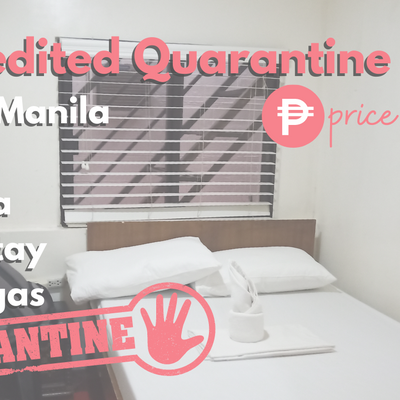 For outbound travel requirements, check out my following blogs:
➡️Outbound Travel Checklist for non OFWs and Immigration Questions 2021
➡️Avoid Getting Offloaded when Visiting your Foreign Partner during the Pandemic 2020
➡️Avoid Getting Offloaded as a Solo Female Traveler (pre-pandemic guide)
Do you prefer watching or listening? Watch this vlog instead: